Top A-Frame Travel Trailers
Folding Campers
A-Frame travel trailers eliminated several weak spots of tent pop-up campers while preserving almost all of their advantages, See top models and manufacturers...
       For long the world of folding (pop-up) campers was dominated by tent campers. 

The models of "Shattuck Trailer" or Warner Prairie's "Schooner Trailer" were introduced already in 1916. In a way, the concept of tent-campers was representing the evolution of covered horse wagons used to conquer the West and their adaptation to the age of motor-vehicles.
Those interested can follow the story at: History of Pop-up Campers
       Thanks to their unquestionable advantages (first of all affordability) tent trailers gained large population of enthusiasts. However the post-WW2 boom, growing population of middle class and escalating "appetites" for luxury considerably changed the situation. While the attractiveness of "camping under the sky" did not change, our habits, expectations and financial situation certainly did and it was definitely noticed by the RV industry. Soon, big gas-guzzlers towing behind even bigger travel trailers, fifth wheels or toy haulers hit the roads…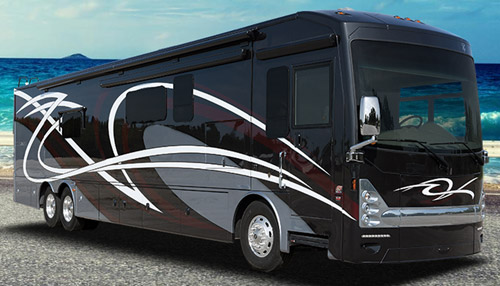 It's "residential", luxurious, but let's be honest - how many of us can afford this one? (Here Tuscany A-Class Motor-home by Thor-Motor-Coach)
      Fortunately the concept of "Small is beautiful" did not completely lose its appeal. When in early 70's Ralph Tait introduced a first A-frame pop-up camper it seemed like the new revolution started. Indeed the idea was quickly turned into the business when Aliner ((founded and owned by Ralph) started larger scale production of hard-wall pop-up campers.. 
A-frame campers eliminated the inherent weak-spot of traditional canvas-based pop-up campers – their vulnerability to weather conditions. Replacing canvas by collapsible (folding) hard-wall structure gave birth to a new class of "weather-safe" pop-up campers. Today several manufacturers like Aliner (pioneer in the field), Chalet, Rockwood, Flagstaff, Starcraft, Jayco (all US-based) and Australian Bolwell RV and Avon ….)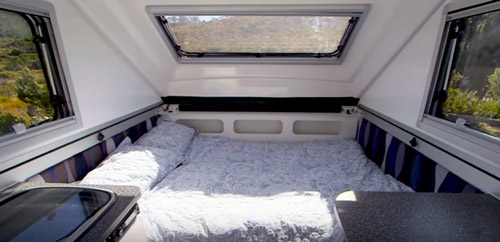 Bolwell Air: doesn't it look comfortable. stylish and warm?
      The latest most advanced designs of A-frame campers share the following characteristics:
Completely enclosed and comfortable living area
       This once for all eliminated problems related to weather. And it is more than just inconvenience of camping during the rainy (wet) conditions. The real consequences are much deeper. The tent fabric is prone to mold and accelerated "wear-and-tear" process significantly reducing camper's lifetime. It requires higher level of maintenance (when folded wet, it has to be re-opened and dried by sun and the latter is not always "on our side" :-)). And the last (but not least) is that tent-based pop-up campers cannot be efficiently cooled (or heated) due to lack of thermal insulation so their season is relatively short! With arrival of A-frame campers and especially with the use of modern composite materials, these problems are gone! As the matter of fact, new fiberglass "boxes" (structures) not only last almost forever but they also have built-in thermal insulation! 
Low profile on the road and in the storage
      A-frame campers fully retained the most appreciated characteristics of traditional tent pop-up campers. As the result, they are easy to tow and maneuver when on the road (low aerodynamic profile makes them less vulnerable to wind gusts on highways). They can be easily stored in typical garage for winter…. 

Rockwood A214HW in road configuration pretty much looks (and feels) lie a traditional tent pop-up camper
Easy (easier) setting-up/pulling down process
        A-frame campers significantly reduced the complexity of the setup process of tent pop-ups. It is especially visible in rainy and/or windy weather conditions as well in darkness of the night. Modern A-frame designs use Power-Assisted Lift system so the most difficult part of the set-up process (lifting the roof) is done at the touch of a button. But obviously nothing is perfect, so keep in mind that once the roof is up you will still have to manually set-up side walls and eventually the Dormer(s) (if equipped). And this is not all - during the setting-up/pulling-down process the "collapsible" structure is to some extent still "vulnerable to wind and rain (although less than canvas-based pop-up campers). 
Affordability
        Affordability includes much more than just the initial "ticket" price at the dealer. It is also the fuel, storage and maintenance cost. In general the fuel economy and storage cost of A-frame campers will be similar to that of weight-and-size comparable tent pop-up campers. The real bonus is the low maintenance cost of A-frame campers. Use of synthetic materials like fiberglass makes them resistant to mold and rot, significantly reduces (or even eliminates) the "wear-and-tear" process, prevents the UV-inflicted discoloring of exterior walls and makes the cleaning process smooth and easy. 
Another important factor of affordability is the towing car. From this point of view, A-frame travel trailers due to their limited size (similarly as tent pop-up campers) have weight within the towing range of popular SUVs, crossowers and larger family cars. Also, thanks to modern technology and composite materials many new A-frame designs are truly lightweight (and eco-friendly). In other words there is no need to buy heavy-duty pickup-truck to enjoy RV-ing.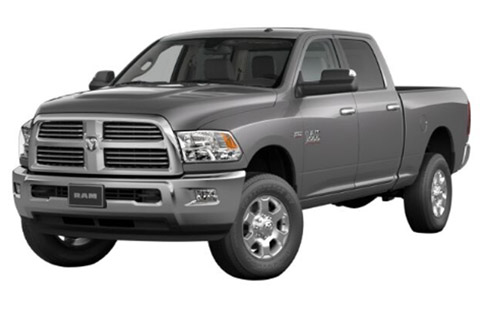 RAM 3500 Big Horn pickup truck: It's powerful, stylish.... but unless you need it for work, do not even think ($$$ initial ticket and add gallons of gas)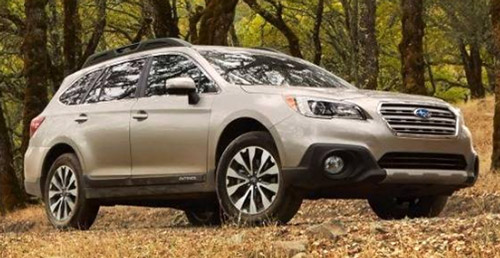 This Subaru Outback (6-cyl) has towing capacity of 3,000 lbs so can tow most even fully loaded A-frame travel trailers
       Well, there is at least one major factor where A-frame travel trailers are inferior to tent pop-up travel trailers. And this is:
Living (or rather sleeping) space.
        In fact, modern canvas travel trailers can offer sleeping space for up to 10-12 people (standard number is typically 6). This is mainly due to the fact that typically bed are deployed as "over-the-end" tend extensions. In other words, the sleeping space does not overlap with the living area (box). Two tents (and if needed a convertible to bed dinette)  makes tent-based pop-up campers well suited for family with children (even grown-up ones). 
This is not the case (at least so far) of A-frame pop-up campers. Here the sleeping space is part of the "box" and so practically A-frame campers are designed for only two people (eventually 2+1 young child, if you want still to have some comfort and privacy). You like it or not – that is the fact.
Recent design innovations like for example addition of Dormer(s) to the A-frame structure improve the living comfort (extra headroom) but does not change the fact that sleeping space is limited.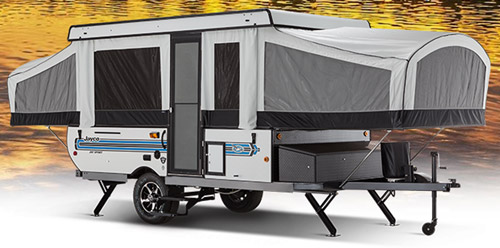 Jay Sport tent pop-up travel trailer: the "over-the-end" beds do not eat the living space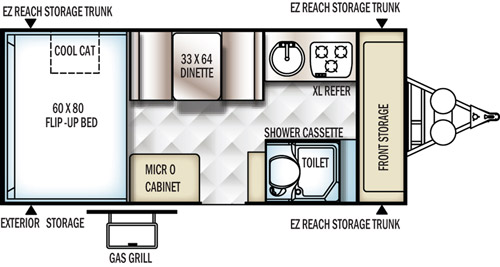 Rockwell A214HW: Typical A-frame box doe not have room for more than one full size bed. The dinette can be converted into the sleeping place, but it will be just for one young kid..... 
---
---
Summarizing: A-frame travel trailers are not for everyone, especially not for larger families. However if you are an "earlier born" family (read it – closer to the retirement age or already reached retirement age), or just young family w/o children or one child, the A-frame camper can be an ideal solution.

Rockwood A214HW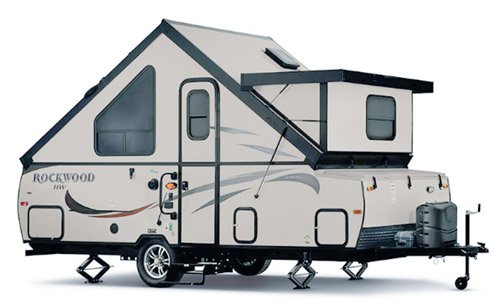 Rockwood A214 HW A-frame travel trailer
       Rockwood A214HW camper is one of the latest models of A-frame , Hard-Wall travel trailers  manufactured under an umbrella of the RV giant Forest River. 
Thanks to several innovative design features the model A214HW is at the front of the class of folding campers.  The large, fully-enclosed "box" (14' x 7') with hard-walled front dormer and quite reasonable floor-plan promises comfortable RV-ing experience. 
Behind the A214HW design there was certainly a lot of thoughtful thinking, planning and ingenuity. In limited space, the camper seems to provide all necessary features and amenities to make RV-ing adventures enjoyable. While interior is not clearly partitioned, it is still quite functional. For example the main section of the kitchen - cabinet with cook-top and sink is located in the right-front corner.....
For details see: --> Rockwood A214HW Travel Trailer
Bolwell Air
Bolwell Air is an example of A-Frame travel trailers from Australia (Melbourne) 
     The Bolwell Air is a compact hard-side folding travel trailer designed for towing by small SUVs. The shell is made from molded fiberglass with foam core for improved thermal insulation. The benefits of this modern technology are multiple like: 
no screws and welded joints (source of leaks and corrosion),
easily modeled aerodynamic shape (minimum air tug, but also stylishness and elegance) 
Lite weight (fuel and $$$ efficient as being within towing range of popular SUVs).
The company calls it "Expandable" camper (instead of more familiar North-American names "Foldable" or  "Collapsible" camper, but from the technical point of view it is (as its American "cousins") – an A-frame camper....
See details at: --> Bolwell Air Aframe Camper
Chalet XL 1935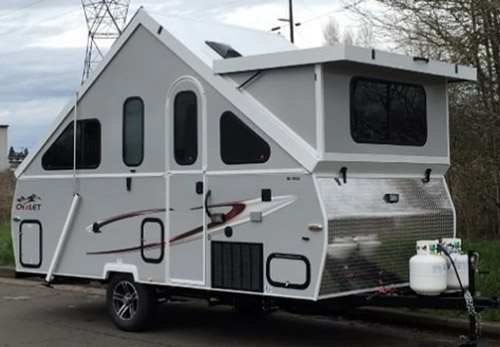 Chalet XL 1935 A-frame travel trailer
     Chalet Inc. operated in RV business for more than 3 decades offering some of the largest (and well-appreciated) A-frame travel trailers. Unexpectedly, in 2014 the company closed the doors. Two years later thanks to RV-enthusiasts Mr. M.Saeed and M. Almayah the business (and the name "Chalet") was brought back to life. Thanks to close collaboration with Chalet's former owner and re-employment of former production staff the transition was swift promising successful business future. 
Currently the company offer includes lightweight model (LTW, just 12'9" long), Classic (Alpine and Arrowhead, both 16'6" long) and XL series (models 1920, 1930 and 1935 – all 18'7" long).
The main difference between the models of XL-series is....
See details at: --> Chalet XL1935 A-Frame camper
Aliner LXE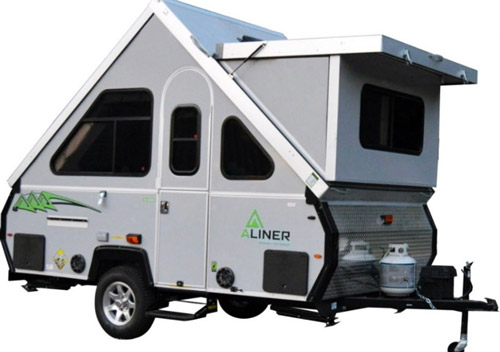 Aliner LXE A-Frame travel Trailer
      Currently Aliner offers the following models of A-frame campers: Explorer, series of Scouts (Basic and Lite), series of Rangers (10, 12 & 15), LXE, Classic and the largest one – Expedition.
For this presentation we selected the recently introduced Aliner's A-frame LXE Travel Trailer. It represents the new design concept of A-frame campers with extra dormers (sort of pop-up "attic" increasing interior headroom under the A-shaped frame). However with LXE design Aliner went further – the company replaced tent's fabrics-based Soft Dormers with "Hard-sides" ones.  This way the weakest, sensitive to weather spots were eliminated bringing Aliner's camper(s) back to the class of fully hard-sided RVs.
Compared to traditional pop-up campers.... 
See details at: --> Aliner LXE A-frame Camper
If you also want to find information about small travel trailers (not necessarily folding) or some more "exotic" designs, please see:
--> Top Hard-Side Pop-up Travel Trailers
Note:  Check with the manufacturer and / or authorized RV Dealer for the up-to-date list of features, options as well as latest specifications. These written above may not be accurate and certainly are subject to change by the factory. We are not responsible for any inaccuracy, the above text is provided only for the general information.
This review was written based on publicly available information for the benefits of the community of RV-ers. We do not receive any gratification or financial benefits from RV manufacturers, dealers, and any other promoters of RVs. 
We are NOT involved in sale and/or retail of RVs!
---