Hard-Side Pop-ups
Folding Travel Trailers
Top 2017 models of hard-side folding travel trailers keep benefits of tent pop-up campers but at the same time offer advantage of fully enclosed, weather-protected hard-wall living space; 
       Since long Collapsible Campers (also known as Folding or Pop-up Campers) keep their popularity among RV-ers. 

There are many reasons for that of which the most important seem to be:
Affordable price (for that reason they are often considered as the next step from tent camping)
Lightweight and so towable by most family cars (it actually falls into the point of affordability, because you do not have to buy new, more powerful car like SUV, minivan or pickup track to hit the road)…. 
Easy to tow, maneuver and store in the garage (while at first we may underestimate these characteristics, in the real life they prove to be very important).
No wonder that the concept of folding campers goes back to early stages of RV-ing and holds well even in our times.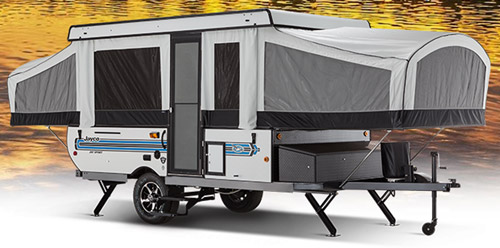 Soft (Canvas) Pop-up travel trailer with over-end beds: Here Jayco Jay-Sport (model 2017)
        The pop-up tent campers have longest history behind them, the first US patent for "Combined Camping Outfit and Box" was granted to Campbell Folding Camping Trailer back in 1916. Soon after, companies like Shattuck Trailer and Prairies Schooner as well as bunch of others joined the business starting the mass-production of tent travel trailers (Source: popupcamperhistory.com)
With appearance of modern materials (aluminum, fiberglass) and new design ideas (over-end beds, hard-tops, lift systems etc..) the tent (canvas) campers became real "homes-away-from-home" by far exceeding the initial goals. 
Regardless their unquestionable advantages, Soft Pop-up Campers (canvas-based) have one fundamental problem.  It is the tent fabrics - prone to accelerated wear & tear, vulnerable to weather elements and demanding careful maintenance.

Kimberley Karavan Classic
Karavan Classic: Once the upper shell is moved up and the rear section pulled out, the small on then road trailer offers spacious, well equipped interior.
          The first Kimberley Kamper left the factory doors in 1994. In the words of the founders (Michael Lowe), Kamper's design reflected the following principles:

Make it small when traveling, and large when camping!
Suspension can't let you down. Only the best will do.
Add lightness. Wherever possible, without losing strength.
Ready electric power is the secret to comfort. More is better. Renewable is best.
If there's a better system, use it.
Design with technology. Build with craft.
Now, almost 30 years later following the change of ownership (now James Cockburn and Brett McLaren), Kimberley Kampers offers a modernized version of an off-road Hybrid Classic Karavan (including an upgraded Eco-Suit version)....
For details see: --> Kimberley Karavan Classic
Hi-Lo Campers
The concept of Hi-Lo folding travel trailers (Here newest model from the Kerola Group) 
        Addressing these limitations, in 1956 Jim Snyder lunched the series of Hi-Lo trailers. The concept was based on two "hard-sides" half-shells with the upper one sliding up/down thanks to hydraulic lift system. The design combined both required characteristics: weather-resistance (hard walls) and collapsibility (small profile when folded).
While Hi-Lo campers initially gained some popularity, the design lost the competitive advantage with arrival of modern lightweight RVs and subsequently the company closed its doors. Fortunately, just recently (2014) the Hi-Lo rights were acquired by Kerola Group and hopefully soon we will see modern, lite Ho-Lo campers back on the road.... 
For details see: --> Hi-Lo Travel Trailers
TrailManor
TrailManor is another example of hard-side folding campers
        The TrailManor came-up with another interesting design of hard-side folding campers. The concept borrows from traditional "Tread-Storage Box" and Hi-Low camper designs. Shortly speaking - two half-shells pop-up from the main trailer box extending over its ends. Once opened, these campers offer much more interior space and subsequently more luxury than any other hard-side folding camper. When folded, they have all advantages of low-profile tent pop-up campers.....
For details see: --> TrailManor
A-Frame Travel Trailers
       And here comes time for introduction of A-frame travel trailers. The concept (initially known as "Hard-side" folding campers) was born in 70's but it took long time to gain traction and recognition among RV-ers. The collapsible part of the camper has a triangular shape (hence the name A-frame) and consists of hard walls folding on themselves. Thanks to modern materials (fiberglass and aluminum) and design's simplicity, the folding walls are lite and the whole set-up process is simple, effortless and happens in no time.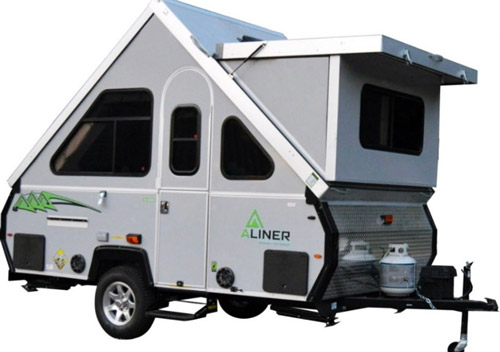 Aliner LXE w/standard hard-side dormer
      Following are the most important characteristics of A-frame campers:
They have all advantages of tent pop-up travel trailers.
Lightweight (so towable by most SUVs, minivans and even popular family cars), 
Low aerodynamic profile (so fuel efficient when on the road)
Affordable (due to fundamental limitations modestly furnished so still kind of "next step" from tent camping)
Easy to store in the garage 
Easy to tow and maneuver (so also safer when on the road)
Actually when folded (closed) the A-frame camper look the same way as the tent-pop-up one. It's a low-profile, hard-top box on the wheels!
They are superior to tent pop-up travel trailers when it comes to: 
Completely enclosed, weather-resistant shell (so no need for laborious maintenance and winterization, especially when exposed to weather elements)
Much more durable (practically no rot, mold and mildew so devastating tent fabrics, much slower wear & tear process…)
Good thermal properties (easy to heat up or cool down so they can be used over extended seasons) Fast set-up time (it is an effortless gas-struts assisted process that can be finished within 1-2 minutes (bit longer when camper with dormer(s)).
Elegance and stylishness (it's always welcomed although may cause unwanted effects known as "curiosity of by-passers").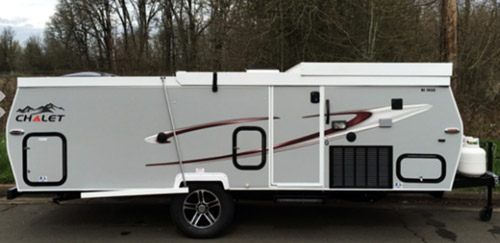 Here A-Frame Chalet XL 1935 in folded configuration
The Size
      But nothing is "perfect", so all A-frame travel trailers have one serious disadvantage compared to tent pop-up campers - The Size. Obviously large modern tent travel trailers thanks to "over-end beds" can sleep up to 10-12 people. This is not the case of A-framers; by "definition" they are small and practically can sleep only two persons (in some larger models you may be able to "squeeze" extra 2 young kids). From this point of view the Hi-Lo camper is really a visionary design, so let's see what will come out from the Kerola Group..

Summarizing the Disadvantages and let's call it Inconveniences of A-framers:
Small size with comfortable sleeping space limited to 2 adult persons. 
       Obviously an A-frame camper will not make good choice for young families with children or with children "on the horizon"
"Vanishing"  headroom effect
       While the headroom is generous at the camper's center, it quickly decreases due to steep-slope hard sides on both ends. To be fair, the recent A-frame designs incorporating dormers restored the headroom clearance over the whole length of the camper.
Finally some may complain that:
A-frame campers do not offer luxury 
       Yes, but keep in mind that A-frame travel trailers (or in general folding ones) were designed as the next step from tent camping. They serve very well as an upgrade from quite "rustic" tent camping and never pretended to replace your "residence". As the matter of fact, A-frame travel trailers are targeting nature lovers, enthusiasts of outdoor activities, RV-ers appreciating modesty and eco-friendliness over lavishness, those believing that "Small is Beautiful". And to be fair – the lack of luxury does not mean lack of comfort.  Modern A-frame campers offer complete kitchens, larger living space, heating and cooling systems and in some you will even find hard-wall bathrooms and storage decks!
A-frame campers can be damaged when setting them up/down in windy conditions.
       Yes, that is true, the wind can catch walls when not fully secured and cause damage, but well, you will have the similar problem with tent pop-up campers. And let's be honest – once set-up, the A-frame camper is much more tolerant to wind than any tent (canvas) pop-up camper.
       As of today there is growing number of manufacturers of A-frame travel trailers including Aliner (that's where the A-frame concept was brought to life ), Chalet, Rockwood, Starcraft, Jayco, Bolwell Air (the latter is an Australian company).

Aliner LXE A-Frame Camper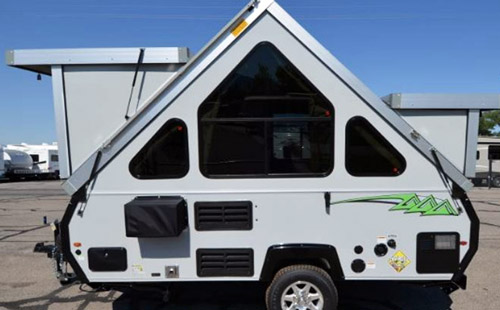 Aliner LXE A-frame travel trailer (here with two dormers)
       For 2017 presentation we selected the recently introduced Aliner's A-frame LXE Travel Trailer. It represents the new design concept of A-frame campers with extra dormers (sort of pop-up "attic" increasing interior headroom under the A-shaped frame). However with LXE design Aliner went further – the company replaced tent's fabrics-based Soft Dormers with "Hard-sides" ones.  This way the weakest, sensitive to weather spots were eliminated bringing Aliner's camper(s) back to the class of fully hard-sided RVs.....
See details at: --> Aliner LXE hard-side Folding camper
Kerola Hi-Lo Campers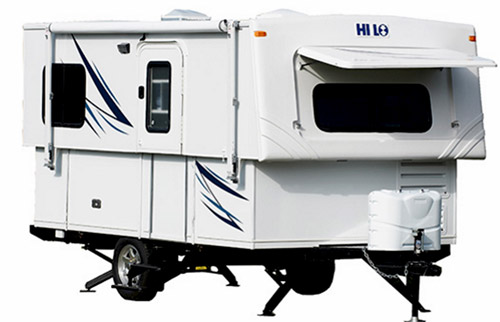 When back in 1956 Jim Snyder lunched the series of Hi-Lo trailers it was a kind of "revolution" in RV industry. These "collapsible" travel trailers brought a clever solution to two difficult to meet requirements. They offered a weather-tolerant "hard-side design" with an easiness of "towing & storage" typical for "folding" (pop-up) campers. …..
Currently the Kerola's Group designed two models of campers known under the name of Wanderer 16. With external length slightly exceeding 16 foot they belong to the class of small travel trailers. Their main difference is ...... 
See more at: --> Kerola Hi-Lo Wanderer 16
Chalet XL-1935 A-Frame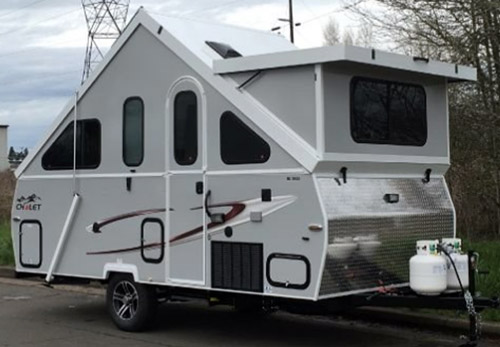 Chalet XL-1935 A-Frame travel trailer
     Good news: Chalet is back!  Currently the company offers following A-frame travel trailers: lightweight model (LTW, just 12'9" long), Classic (Alpine and Arrowhead, both 16'6" long) and XL series (models 1920, 1930 and 1935 – all 18'7" long).
     The main difference between the models of XL-series is the floorplan. For the 2017 presentation we selected the model Chalet XL-1935 as it offers the best combination of standard features and living space. While the model XL-1920 is designed to sleep 4 (presumably 2+2 kids), model XL-1930 for 3 (2+ 1 kid), the model XL-1935 is planned for family of 2. Well, while the XL-1935's side dinette can be easily converted into an extra sleeping place for child, the whole beauty of this model is its more spacious and better furnished interior......
See details at: --> Chalet XL-1935 A-frame camper
---
TrailManor 2720QB
TrailManor 2720QB Travel Trailer
        Imagine the lite travel trailer that can be easily towed by SUV, crossover or even minivan, yet comes with space and comfort offered by large hard-wall travel trailers. While A-frame and Hi-Lo RVs provide practicality of hard-wall shell (like thermal insulation, weather protection, no problems with wet canvas etc…), the TrailManor extended these benefits by offering also more permanent sleeping and living space. The fact is that TrailManor trailers are some of the most innovative designs in RV industry. 
Once opened they are as weather-proof and solid as traditional hard-wall campers, they match them in terms of sleeping and living space however they can be towed and stored like tent pop-up campers.....
See details at: --> TrailManor 2720QB Travel Trailer
---
Bolwell Air Expandable
Australian Bolwell Air Expandable travel trailer
       It's time to see what is going on abroad and this time we went to Australia:
The Bolwell Air is a compact hard-side folding travel trailer designed for towing by small SUVs. The shell is made from molded fiberglass with foam core for improved thermal insulation. 
The company calls it "Expandable" camper (instead of more familiar North-American names "Foldable" or  "Collapsible" camper, but from the technical point of view it is (as its American "cousins") – an A-frame camper. With the interior length of 12'4" (overall length of 18'4") and dry weight just under 3,000 pounds, the Bolwell Air can offer comfortable camping experience for two persons. The rear dual-size bed (83" x 55") in terms of dimensions  ....
See details at: --> Bolwell Air Expandable camper
---