2015 Pop Up Campers Prices
Pop-up campers come with wide range of sizes, styles, features and prices making them attractive for RV beginners, seasoned travelers and also for those looking for camping in "home-like" environment....
    Pop-up campers come in many different sizes, weights, and styles.
They're perfect for those who want a simplified camping adventure as well as for those who prefer the higher-end, luxury camping experience.
This versatility is what makes pop-ups one of the most favored style of campers ever.
However, these different selections come with different price tags. And the 2015 models are no different.

    Below are some of the many varieties offered in 2015. Please note that all prices are estimated and may vary

1.    2015 Rockwood Freedom 1940LTD - $8,400
       This is the most basic of the basics. Weighing 2,255, this camper has the essentials: A place to sleep, sit, and storage. Things like the heater and fridge are optional, and come with additional charges. It comes with a double and queen size bed and also a dinette that can convert into another bed.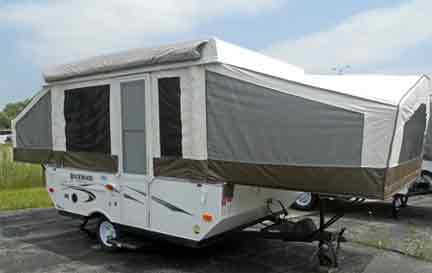 ---
2.    2015 Starcraft StarFlyer - $10,995
      Starcraft is known for its well-sized and economical pop-ups. Their eight foot model sleeps five and the ten foot option can sleep six. It has a simple setup and works perfectly for smaller groups.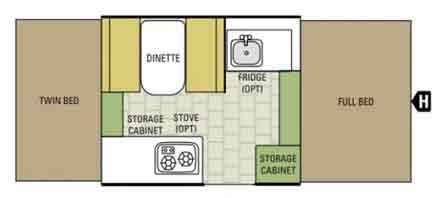 ---
3.    2015 Coachman 108ST Clipper - $12,300
     The 108ST Clipper offers ample sleeping room, with an out of the ordinary two queen sized beds. And, if that's still not enough space, it also offers a dinette that can be converted into a double bed. It also has a lot of storage and a kitchenette that's perfect for preparing meals for the entire family.

---
4.    2015 Jayco Jay Series 1007UD - $14,150
     With both a double bed and a king bed, the Jayco Jays are both affordable and spacious. They come with plenty of storage, a kitchenette, dinette, and an outdoor shower and stovetop.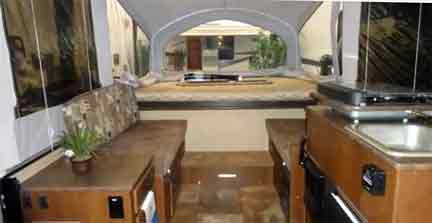 ---
5.    2015 Palomino Basecamp 10DD - $14,300

     Sleeping up to six, the Basecamp is large enough for comfort, but light enough, at 2,250 pounds, to tow easily. It has a large dinette and a stove with three burners, plenty of space and capacity to cook truly gourmet camping food.

---
6.    2015 Livin' Lite QuickSilver XLP - $15,000
   
    Known for its aluminum frame, which helps keep its weight down, the QuickSilver is all about the details. It weighs around 2,500 pounds and is over 17 feet long, comfortably holding six passengers. The QuickSilver has two queen size beds, which come with memory foam mattresses, and a dinette that converts into a bed. It comes with a fridge, sink, and huge amounts of storage space. And, it also has its own toilet.

---
7.    2015 Forest River Rockwood Premier 2317G - $16,000
    
      While a bit pricier, the Premier makes up for it in space. At over 19 feet long and seven feet wide, it sleeps eight people very comfortably. With a queen and king side bed, this pop-up has everything, including details that make it extra special. It has a beautiful bowl sink, an outdoor gas grill, and has space for a refrigerator.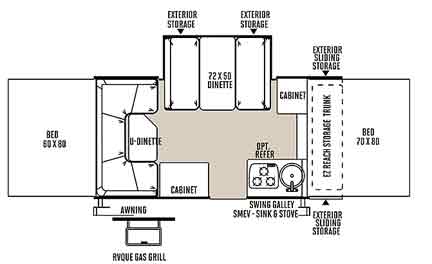 Model Premier 2317G - floor-plan

Thanks to huge choice of manufacturers and models almost everybody – from these starting RV-ing to already experienced RV-ers may find relatively inexpensive, comfortable, easy to tow and affordable pop-up camper that will meet one's expectations. ....

---
 About Us / Privacy Policy / Resources
Go to: Pop-up Travel Trailers and RVs