Oliver Legacy Elite Camper Fiberglass Travel Trailers
2017 Oliver Legacy Elite is a dual-hull, "all-molded-fiberglass" camper that thanks to clever layout, high quality shell and generous features promises everlasting comfort and satisfaction ….
      After re-opening the business of travel trailers few years ago, Oliver is back on front pages (or at least on RV forums) causing a lot of justified excitement. 
      The company has a long history although not necessarily in RV business.
What changed the course of history was the passion for outdoor activities and camping shared by Jim and John Oliver (twin brothers and co-owners of the family business).
As the story goes – "once upon a time…" they purchased Casita travel trailers and since then, they did not spare their time to change "Good enough" for "Better" in an ultimate goal to design the perfect camper.
The rest is history although not without tragedy, because John Oliver passed away before the first camper left the production line in 2007. The campers' name Oliver Legacy reflects this sad event paying homage to one of co-fathers of Oliver travel trailers.
       However, despite really revolutionary design putting Oliver Trailer (Ollie) well ahead of completion, the joy of accomplishment did not last long. The economic crisis in 2009 so badly decimated middle class (customers targeted by Ollie) that just after production of first 45 units Oliver's travel trailer business came to an end.
Fortunately, due to other well-rooted segments of the business (including fiberglass), the company survived tough times. In 2014, new "improved" design of 23.5 ft long travel trailer - Oliver Legacy Elite II came out from the production line. A year later it was followed by a new 18'5" ft long Legacy Elite.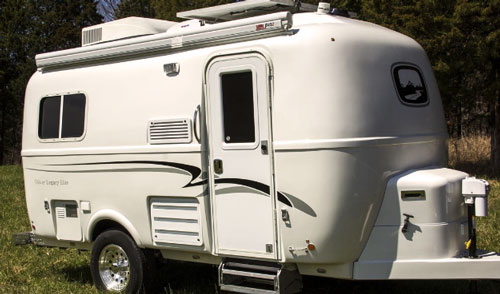 Oliver Legacy Elite "all-fiberglass" travel trailer - front view
      Below we will focus on smaller of two models, the 2017 Oliver Legacy Elite (itself an improved and longer version of the previous 17ft model from 2007-2009).
I guess the good introduction to Oliver trailers will be the statement that they are a kind of "Lexus" in the word of similar-length travel trailers. It's the "Lexus" in full meaning of famous for its quality, performance and luxury Toyota's brand.  Unfortunately for camping lovers, the mentioned above qualities are not the only difference when compared to other fiberglass travel trailers. Not surprisingly – the final price clearly reflects this difference!
     The single axle Legacy Elite with box length of 13'7" is priced starting at 45.5k$ (w/standard features) while tandem-axles Elite II with box length of 18ft is priced starting at 48.5k$ (also standard features).  At first, the Legacy Elite II it may sound more attractive with almost 33% (4'3" extra length) more of living space at a fraction of $$$. But there is a hidden cost – the Legacy Elite with its 3,640 lbs dry weight and 5,000 lbs GVWR is within the towing capability of different class of cars than much heavier Elite II (dry weight of 4600 lbs and GVWR 7,000 lbs).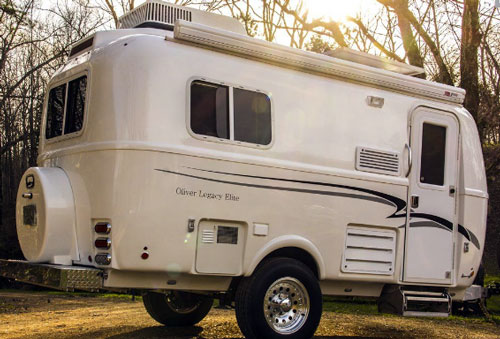 and view from the back 
     Talking about the weight – while Ollies thanks to the modern technology (fiberglass shell and aluminum frame) belong to the class of ultra-lightweight travel trailers, they are on the "higher-end" of weight (if not some of the heaviest) compared to similar-size campers from other manufacturers. 
One obvious reason is the double-hull shell with insulation layer. The other one (also understandable) is that Ollies campers in their basic versions are literally packed with features (some quite heavy), what substantially contributes to the overall weight.
      The camper's shell is built from molded fiberglass, but it is more complex than in typical fiberglass campers. Each Ollie is made from four half-shelfs making inner and outer shells. This approach allows inserting a layer of insulation in-between shells (Oliver uses core mat and honeycomb-type composite with air bubbles) making the camper (as the company claims) an "All-Seasons" travel trailer. It is worth to mention, that the thermal barrier does not only include an extra layer of composite materials but also a physical air-gap between outer and inner shells.
Some manufacturers of fiberglass campers like for example Lil-Snoozy use the coring process to "fiberglass-in" the layer of insulation (in other words to sandwich it between the outer and inner layers of fiberglass during the molding process). The air gap greatly helps to keep the temperature gradient between outer and inner shells reducing the water condensation in cold weather conditions.  After all – there is nothing worse than a layer of water pouring down the interior walls due to condensation (an umbrella will not help in such case ).
I guess the final result may be questioned by some customers facing real life weather conditions. Aas we well know, not all winters are the same (especially these north of 49th parallel). Nevertheless, certainly the "coring" process and an extra air-gap substantially improve thermal insulation rating compared to typical fiberglass shells.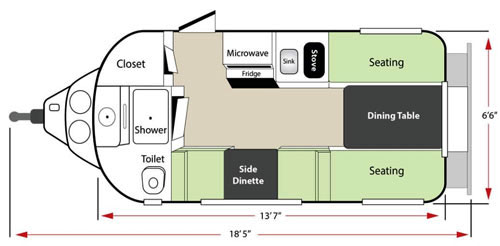 Oliver Legacy Elite: floor-plan in day-configuration
     The finishing includes layer of transportation-grade gelcoat that not only makes fiberglass smooth and shinning but also protects it from chipping. The gelcoat is applied on both – inner and outer shells and includes interior seats, cabinets, walls, floor, counters … (basically all that is made from molded fiberglass). Also, at this stage, the UV protection is added to reduce color fading due to the prolonged sun exposure.  
    Another advantage of this manufacturing process is the possibility to hide most of wiring and plumbing in between shells, keeping interior free of web of pipes and wires, highly disturbing its "aesthetical lines".  Although throughout the life time of the camper, access to these "blood-stream" connections is limited, they reliability is higher due to the fact that they are not directly exposed to mechanical stresses nor some "stray", hungry mice. 
Even more – all water tanks are installed at the bottom of the outer shell, keeping underbelly fully enclosed. As expected for "All-seasons" trailer, water tanks and plumbing are heated to prevent freezing at lower temperatures….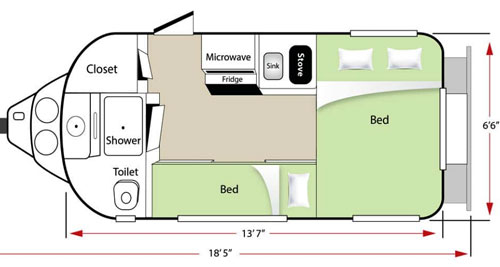 Oliver Legacy Elite: floor-plan in night-configuration
      Another innovation that may not gain widespread appreciation of customers is the fact that furniture (seats' bases,, cabinets including all overhead one, closet….) are part of the molded inner shell. It makes smooth, clean, no rot, no rivets and screws (so no holes) easy to maintain interior, but some (if not lots of) customers may say that the camper lacks something. And this "something" is the relaxing warmness and elegance of wooden cabinetry (think for example of red oak!).
It is true that fiberglass cabinetry and furniture meet the initial design goal to build a "Lasting forever" camper, but still, it may be the best example proving that the goal cannot justify at least some means.  And the wooden kitchen drawers (the only wood in the camper) cannot change these "plastic" feelings!
May be that prompted factory to offer customers nine options of flooring and upholstery (colors and texture).  
     The Oliver Legacy Elite 18'5" (similarly as Elite II) is offered in two floor-plan versions: 
Standard (Sleeps 3) - with a full -size bed at the rear-end (converting to large dining table with sofas for a day) and a single bed along the side wall (converting to small dinette and two seats). 
Twin-Bed (Sleeps 2 or 1+2 children) – with rear-end seating than can sleep one adult or two children and seating along the side wall serving as a single bed for a night. Additionally, this layout includes desk w/small folding table for eating.
     Out of two floor-plan versions, the standard one offers more than decent living, dining and sleeping conditions (as for small camper),but the twin-bed one seems to miss the purpose. It's quite difficult to justify giving up on a comfortable sleeping (for 2) and dining (for 6) space to get a desk with small, folding dining table (clearly only for 2).  Let's face it – the standard dining table can be easily used as a desk, place for any board game, computer-work space or as the matter of fact an "office" if needed.  And this is especially true, given the fact that in the standard version there is also an additional side-table with comfortable (soft) seats on each side. If needed, it will certainly accommodate lunch for two persons without disturbing the office temporarily set at the back of the camper. 
And I guess the lack of pictures of the new 2017 Legacy Elite with twin-bed version layout proves my conclusions (company website shows picture of an old 2009-version). Please note that all Oliver travel trailers are made (and furnished with options) based on customer orders followed by correspondingly 15% deposit (invoice and placing the unit in que) and 35% deposit (frame and bottom outer shell enters the production line).
To make it clear – there is nothing wrong with this approach; it actually confirms Oliver's dedication to customer needs and list of wishes (although some may be unrealistic). The company does not have "mass-production" lines "rolling-out" thousands of clone-like campers, it makes "personalized" travel trailers, each one having a "touch" of uniqueness, an "imprint" of its future owner presence during the furnishing and finishing production stages. 
     The bottom line is – Oliver Legacy Elite camper is not only made to last (physical intact), but also to offer you long-lasting satisfaction when on the road.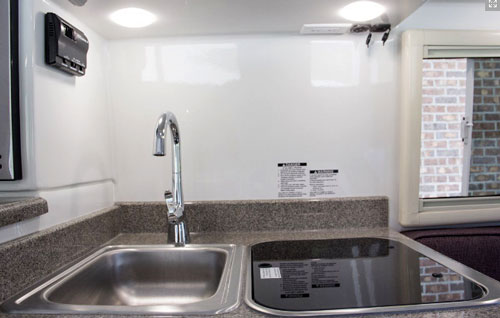 Fragment of the kitchen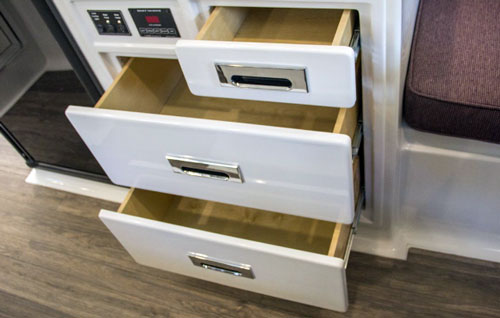 Fragment of the kitchen cabinet: it's real wood ! :-)
     The kitchen with flush-mounted 2-burner stove with cover, stainless-steel single bowl sink with chrome swivel faucet, commercial-grade stainless steel microwave and shiny refrigerator (not mentioning optional fiber-granite countertops) looks like residential one (or at least it can easily pretend to be one).  And if you search for any trace of wood in the Ollie camper – the kitchen cabinet is the right place to look at. Although the cabinet itself is an integral part of the molded inner shell, that drawers are clearly "foreign" bodies. Spacious, sliding-out and first of all durable (thanks to dovetail joints) – they are about the only factory-built non-composite elements made from real wood!
     The wet-bath located at the front of the camper is also an integral part of the inner shell.  It's spacious enough not only to fit vanity with sizeable countertop, stainless-steel sink and storage, porcelain toilet, shower, towel bar and hook but also to allow for comfortable "business" (whatever it means – let's keep privet). Actually talking about the comfort, certainly the small, sliding private window and exhaust vent improves the comfort of "business' environment", but what will make you really happy is the central heating vent under the towel bar…
All overhead cabinets (just to remind the reader – they are all integral part of the fiberglass inner shell) have mat-acrylic sliding doors and interior LED lighting (earlier versions had mirror-finished sliding doors, but for most of customers it was "too-much", so company made the modification offered as a standard feature). They are spacious, easy to clean and provide a lot of storage room. BTW – storage space seems to not be a problem in Ollie (even for demanding customers). Next to the entrance door there is a full height closet with upper shelves section and lower one designed for hanging clothes.  Under each seat there is also storage box (understandably from molded-fiberglass). 
     The side table with 2 soft seats (or dinette, as factory calls it) included in the standard layout is a very clever idea. It's a multipurpose "corner" (although it is not at all in the corner, but along the wall). It can be used for morning "tête-à-tête" talks, cups of fresh coffee, Internet browsing, reading "time", "five o'clock" tea and sweets and so on (the only limit is your imagination). It's very handy, especially when the main dinette is still in a form of bed.
Interior (Main dinette)
      Entertainment – with standard 24" flat-screen TV "stuffed" with all imaginable high-tech components (AM/FM/CD/DVD/Bluetooth/HDMI… OK, you name it) may keep you busy, especially if you also take an optional satellite antenna.  But I will suggest it only for "heavily" rainy days (they happen), as it is shame to live in virtual world when the real one, possibly unspoiled opens around! After all, the Legacy Elite is truly designed for "unbeaten" tracks allowing you to explore and enjoy Unknown….
      Towing: The aerodynamic profile of Legacy Elite camper is determined by its narrow body (only 6'6" exterior width). What also helps is the shell with rounded corners and smooth surface as well as integrated underbelly enclosing tanks, pipes etc. and all other components that when exposed, largely contribute to extra wind drag. 
The Legacy Elite's features offer an outstanding "off-the-grid" autonomy. Large size water tanks, twin-20 lbs LPG bottles (can be upgraded to twin-30 lbs ones), large battery bank that can hold up to four batteries (2 are standard features) and optional roof-mounted 2 x 100W solar panels can provide enough of water and energy for prolonged time in "out-of-civilization" environment. LED lighting exclusively used throughout the camper (including road lights) is very efficient, so if AC, furnace and freeze-protection heaters are not in use you are really good and not hungry.
---
Specifications
Total exterior length

Interior length

Exterior width

Interior width

Exterior height

Interior height

Dry weight

GVWR

Cargo capacity

Fresh water tank

Grey water tank

Black water tank

LPG

Awning

Sleeps

18'5"

13'7"

6'6"

6'2"

8'3 (9'4" w/satellite Rx)

6'1"

3,640 lbs (approx.)

5,000 lbs

1,360 lbs

32.5 gallons

32.5 gallons

18.5 gallons

2 x 20 lbs 

10ft (manual!)

3 (Standard layout)
---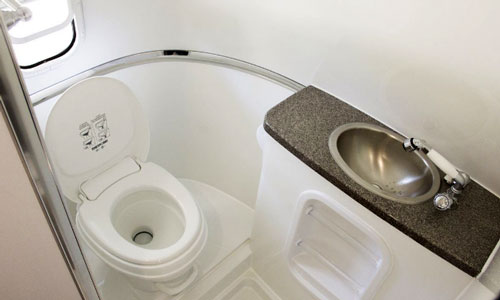 Wet-bath with an impressive vanity
Construction
Double-hull molded fiberglass shell
Composite and air-gap thermal insulation
2" x 5" tubular aluminum frame (no steel, no rust)
Sliding thermal pane windows
Quad-shocks on Dexter leaf-spring single axle
Electric brakes
Rock-guard wheel wells protection
Custom molded-fiberglass LPG tanks cover
Custom molded-fiberglass spare tire cover
Enclosed and heated water tanks and plumbing
16" aluminum rims
Aluminum storage bumper for black/grey drain hoses.
Interior standard features:
2-burner stove (flash-mount)
3-way refrigerator
Summit, commercial-grade stainless-steel microwave
Stainless-steel single bowl sink
Chrome swivel faucet
3 wooden drawers
2-way, 6 gallons self-igniting DSI water heater
Water pump
Overhead lighted compartments throughout the camper
Lighted closet
Rear dinette w/seats for 6 (converts to 74"x 52" bed)
Side table w/seats for 2 (converts to single bed)
Storage under seats
Dometic 13,500 BTU roof-mounted AC unit w/thermostat
Self-igniting propane furnace w/central heating
Monitoring system (tanks and batteries)
MaxxFan Delux roof Vent w/remote control
LED lights (11 overhead and 3 curtesy floor)
Wet-bath standard features:
Vanity w/storage (all molded-fiberglass)
Chrome faucet w/shower wand
Dometic, low profile porcelain bowl toilet
Privacy window w/screen
Mirror, tinted glass door
Towel bar & hook
Central heat vent
Exhaust vent
Waterproof toilet paper compartment
LPG tanks in molded fiberglass box
Exterior standard features:
2 x 20 lbs LPG tanks
Fresh water fill hook-up
City water hook-up
Folding, aluminum Double-entry steps 
Enclosed (sliding-out) battery storage (holds up to 4)
Shore power connection w/25ft cord
110V AC GFI-protected outlet w/cover
LED break/marker lights
4 porch LED lights (2 on each side of the camper)
10ft manual awning
3 power leveling points
Entertainment :
24" LCD TV screen w/integrated AM/FM/DVD/CD/MP3/Bluetooth and HDMI input
4-custom mounted speakers 
Safety
Detectors w/alarm (smoke, CO2, LP)
Emergency Egress window w/screen
Fire extinguisher
     Looking at the list it is obvious that Ollie Legacy Elite in its basic version is very well equipped with high quality amenities, by far exceeding similar-size campers offered by competition. We just did not mention above such details like marine-grade stainless-steel latches and hinges, interior/exterior handles and the list is still long …  Indeed, Oliver Travel Trailers seems to be "one-stop-shop" where after delivery of customized camper (see below the list of options) you can make you next stop "in the middle of nowhere" and still have fun in full comfort and safety.
Options:
200 W solar package (includes 2 x 100W roof-mounted panels, charge controller, wire harness w/30 Amps circuit breaker)
Fiber-Granite countertops
Smoked-glass stove cover
Deep-cycle battery package
Winegard (roof mounted) or portable satellite antenna 
Digital, wireless back-up camera
2kW power inverter
Mobile 4G cellphone amplifier
Surge protector
LED Reading light package (4)
Propane tankless water heater
Bike rack mount
And more (mostly high-tech stuff)…. 
Note – many reasonable requests that are not on the option list can be negotiated with the factory (for example dual-pane windows, extra insulation package, under-coach foam spray (as an extra insulation) in critical area (water tanks and pipes). It seems that you should just ask the right person….. (and have a deeper pocket :-)
---