5 Best Folding Pop-up Campers for 2015
Here is the list of folding travel trailers that made to the top of the list of best models for 2015

The New Year 2015 is not an exception. 
Traditionally, RV manufacturers are introducing to the market new or revamped models after more or less deep face-lifts. 
Although the meaning of "Best" is always subjective because it also depends on personal criteria and emotional "feelings", we made an effort to select few what we consider best pop-up campers for 2015.
So here is the list of folding travel trailers that made to the top of our list:

2015 Dutchmen Aerolite 174E

Highlights:

The 2015 Dutchmen Aerolite 174E is a hybrid folding camper and an RV which allows it to be lightweight at under 3,200lbs when unloaded
It is has aluminum wheels to lower weight as well as a Stabilitrack Suspension System and power awning for easy set up
Its high crowned roof, expandable end and frameless windows create a larger interior and open feel while inside the camper
The camper has sleeping capacity for up to 8 people and has space for a king sized bed
Other features for comfort include a residential style kitchen plus a microwave,  a stand up shower and cable/satellite TV hook-up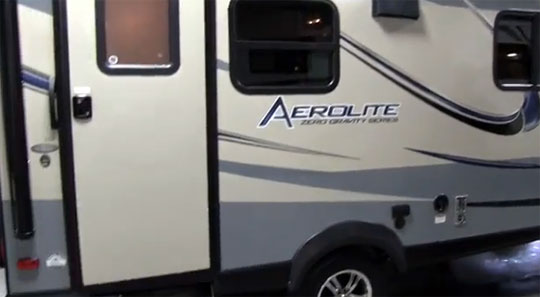 ---
2015 Forest River Rockwood Roo 233S
Highlights:
The Rockwood Roo is a hybrid travel trailer that combines traditional tent camper styling and travel trailer features for lightweight yet comfortable camping
It comes with canvas bed ends which are permanently fixed and 3 slide out beds for a total sleeping capacity of up to 8 people
A U-shaped dinette also slides out so there is great floor space when not in use
A crowned roof interior and glass windows which have safety grade, also add to the feel of wide floor space
A microwave oven, heated beds, outside grill, hot water heater for gas or electric as well as a TV cable hook-up; all bring the luxuries of home with you on the road

---
2015 Forest River Flagstaff 206LTD
Highlights:
The 2015 Flagstaff 206LTD is a wide folding camper that offers lightweight camping with the comforts of home
Set up of this camper is easy because of the slide out bunk ends that have permanently attached rods
With its double and queen sized beds, this camper can easily sleep up to 6 people
Additional sleeping comes from the heated quilted top bed mattresses,

Its kitchen has a dinette that sits 4, 2 burner cooking range, microwave and built in icebox
A satellite or cable TV hook-up, prep for solar panels and a roof vent for aeration add extra residential style comforts to this camper. Add to that privacy flaps, furnace and bed fanlight
---
2015 Jay Series 1007UD
Highlights:
The Jay Series 1007UD is a trailer pop up camper that comes with a self-storing awning and a remote controlled power roof lift for easy set up
Aluminium ceilings and fiberglass roof tops make for strong and durable construction that will last for many years
A water repellent DuraTek tent folds out to accommodate 1 double bed and a king sized one
The roof is fully prepped for carrying a bike, has prep setup for air conditioners, and a vent for aeration of the camper's interior
The kitchen amenities include a dinette, gas or electric refrigerator, water filter, carry-out stove made from stainless steel and a swing out galley for added counter space.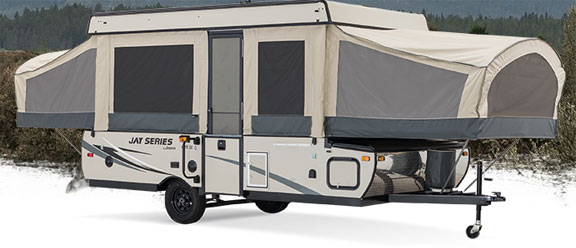 ---
Starflyer 10 Camping trailer
Highlights:
The Starflyer 10 is a no frills folding trailer that gets its lightweight frame from an aluminum exterior and fiberglass roof
The roof is prepped for Air conditioner setup  and its domed shape allows great head space from the inside of the camper
A queen sized bed and full sized one allow the camper to sleep up to 4 people
Privacy curtains, tinted windows made from vinyl and mesh bug screens, add comfort for night time while camping
The kitchen has double cabinetry on both sides of the trailer and a sink with the stove and fridge being optional
The booth style dinette is versatile and can be carried outside the camper for easy enjoyment of the outdoors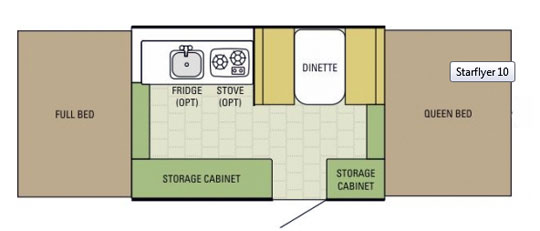 Starflyer Model 10: floor-plan

---
Starcraft Comet Hardside H1232MD

Description
This Starcraft Comet Hardside folding camper has everything you need and so much more to take your camping to the next level!
Exterior
White exterior so that it can easily be spotted after a long day out exploring
Grill for BBQing whatever you catch
Outside shower so that you can wash off the dirt before going inside
Side storage tray to bring along extra things like coolers, golf clubs and any other extras
Interior
Enough space to get a good night's rest
Neutral color that looks beautiful and is easy to clean
Features
Booth dinette to eat all your meals at, which also converts into a sleeping space at night
Full bed for two 
Microwave cabinet inside entry door
Single sink for washing off plats and three-burner stop top to cook on
Fridge under the stove to put all you food in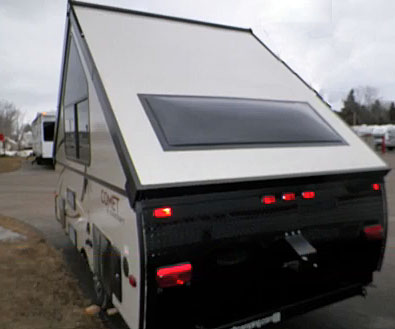 Futuristic design of Starcraft Comet Hardside 1232MD Travel Trailer

---
Summarizing:
For those looking to add more camping trips for their 2015 New Year's resolutions, here's a great list of some of the best Pop Up/Folding Up Campers for 2015! These campers have become a family favorite for vacations since they're like a tent but have amazing amenities like an RV. Plus they are a lot cheaper than pricey RVs, making them more affordable options for many families.
And because you tow them with your own car, you can easily unhitch the camper and still have access to your car to explore the city or run to the market or store when needed. And many feature a number of options, equipped with many options that have full-sized RVs, but without their expensive price tag. When not in use, these campers can easily be stored in your garage since they fold into neat little boxes that won't take up too much room.


---
 About Us / Privacy Policy / Resources
Go to:  Pop-up Travel Trailers and RVs