15 Best Winter Camping Tents
Winter camping adventure may offer a lot of excitement and pleasures, provided that your tent does not make you feel miserable. See the best winter tents and their characteristics…

Winter camping demands proper selection of the camping tents.
And it is not the matter of preferences, colors or style; it may be the matter of survival.
That is why before deciding to buy the tent for winter camping you should educate yourself know what to look for!
Several types and brands of tents are available on the market, so it is not an easy choice.
To help you we provide list of five tents that seem to be the best for winter camping.

Fifteen Best Winter Camping Tents

North Face VE 25 Tent – Has reflective guy lines and aluminium poles to allow easy set up in areas with limited light. The ten can sleep 3 people. It is brightly coloured, the fabric is water resistant and has high-low venting and dual doors. The tent has a total weight of 10lb fitted with a water resistant canopy and a peak height of 39.5 inches.


North Face VE 25 winter camping tent

---
Marmot Thor 2P- Is a 2 person tent that has a dome shaped roof to allow snow and rain deflection. Has two large vestibules that are low in weight and the tent's max weight is 8lbs (3.6kg). This tent also has a barebones setup, unique pole structure and two D shaped doors.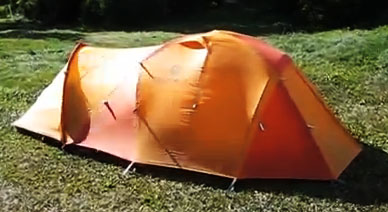 Marmot Thor winter tent for 2 persons

---
L.L Bean Backcountry Dome Tent 3 – The tent accommodates 3 people with a crisscrossing 4 pole skeleton and adequate floor space of 40 feet. The height is 4 feet, has 2 vestibules and weighs 10lbs. 

Review of the 4-season expedition tent from L.L. Bean by Scott....

---
Coleman Helios X2 Tent – This tent sleeps 2 persons and has a robust pole structure to hold heavy snow loads. It has a pole-clip structure to allow for easy set-up in case of drastic weather changes. The peak height is 3 feet 5 inches and is light in weight (only 7 lbs).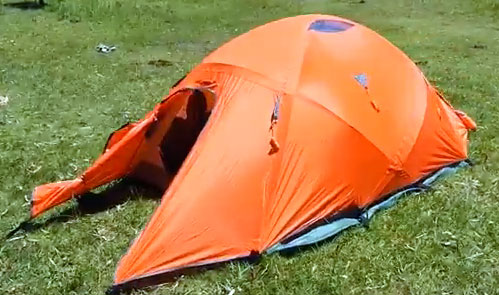 Coleman Exponent Helios-2 "all-seasons" tent

---
MSR Dragontail Tent – It's a single-walled tunnel tent for 2 people with a spacious interior. This tent has a floor area of 25 feet with a vestibular of 2 zippers. It weighs slightly over 5lb and has a peak height of 41 inches.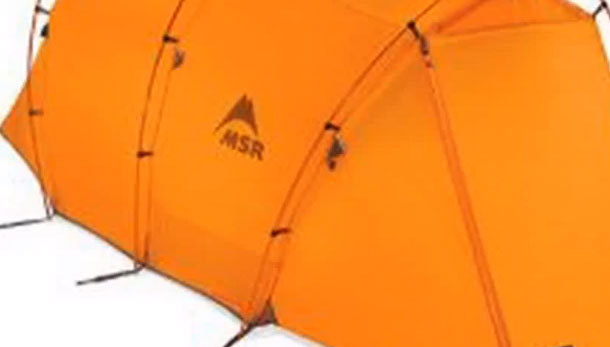 MSR Dragontail tent for 2 persons

---
Snowtrekker canvas winter tents were designed 17 years ago but they are considered as the flagship of winter camping tents. Tents feature an asymmetrical oval door which facilitates easy entrance and exit and the door flap that closes with a single vertical zipper. It offers four popular tent models such as EXP Crew, EXP Shortwall, EXP Basecamp and Exp Outfitter.


---
Mountain Hardwear EV 2
While offering the ideal balance of strength, weight, and size EV2 provides shelter from rough winter conditions. This is a single walled tent which weighs little over 4.5 lbs. It makes use of three poles Evolution Tension Arc design and features an integrated vestibule that lets campers keep their gear dry without cramping living space. The capacity is 2 persons and the internal height is 41 inches.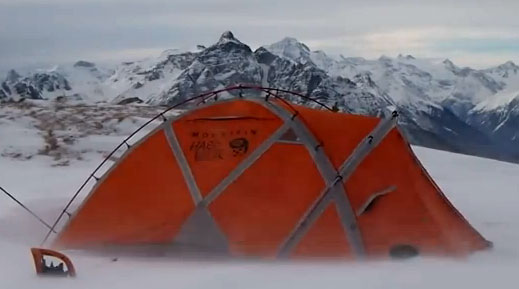 Mountain Hardwear EV 2 tent "tested" by the winter

---
Expedition Carbon Tent

Easton Mountain Products' Carbon provides lightweight protection in harsh winter conditions to the occupants of this 2 person tent. This version features Easton's AirLock carbon poles for extra weight savings without sacrificing the strength needed to withstand the high-country winds. Internal features include mesh pockets, gear loft, and gear loops to hold headlamps, hats, and other equipment and apparel. The total floor space is 35.5 square foot.

---
Black Diamond Firstlight

This 2-person 4-season tent is ideal for a gear slim camping ready to withstand inclement winter weather.
This single-wall shelter uses lightweight, breathable NanoShield fabric to protect occupants from the elements.
Three internal DAC Featherlite poles provide freestanding structure without a back-breaking weight penalty.
The floor space is 27.3 square foot and the internal height 42 inches. There is a lifetime manufacturer warranty.

Black Diamond Firstlight facing low temperatures, high altitude and strong wind!

---
Terra Nova Super Quasar

This lightweight tent boasts an aerodynamic profile that sloughs snow and water. It has two doors and two vestibules, the later providing ample gear space to organise. Mesh door provides ventilation when desired.  The double walled tent stands on four TN Reflex aluminium poles. The floor space is 34.8 square feet and the internal height is 43.3 inches. The weight of the tent is just above 8 lbs.

---
Sierra Designs Convert 3

Despite its high quality this is a fairly lightweight tent just a little over 6 lbs. Its Drizone single-wall construction offers excellent waterproof protection that gives campers a dry place to warm up and sleep soundly. The tent has two doors but no vestibules. There is a panel on the ceiling that you can zip open for more air, and its unique construction keeps snowfall or rainfall out of the body. The interior height is 3 ft 9 inches and floor space 46.5 square feet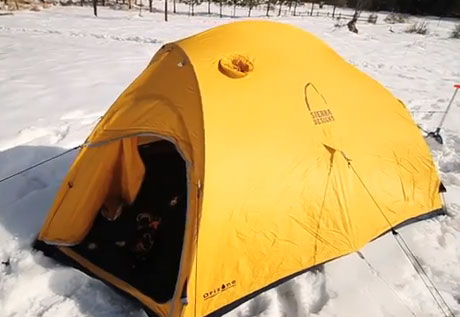 Sierra Designs - Model Convert 3

---
Mountain Hardwear Stronghold
This 10-person gigantic tent provides ideal shelter even in the worst winter conditions. With a six-foot-plus ceiling and 15-foot diameter that provides plenty of room this tent has a dome shape that sheds wind and snow. There are four perimeter vents, one roof vent, and five SVX windows. The packed weight is over 46 lb and it uses 15 poles to stand. It comes with a lifetime warranty.
---
Saitaris

This tent manufactured by Hillerberg is known for its tremendous strength and its spaciousness. It is valued for both its roomy interior and its gear-swallowing vestibules, as well as its easy-to-pitch, self-supporting structure. The inner tent door height is 40 inches. It is supported by Kerlon 1800 outer tent fabric and 10 mm poles. It is good for four occupants.

Hilleberg Saitaris tent
---
Keron 4 GT

This model is known for its superb durability and excellent wind stability, its roomy interior, and its simplicity. It is an ideal choice for demanding, extended winter expeditions. Its two walls can also be pitched separately. It comes with dual entrances and dual vestibules providing plenty of storage space for gear. The inner tent height is 44 inches.

---
Nallo 4 GT

This tent's salient characteristic may be its light weight, but it is still fully able to handle all seasons, all weather adventures. It is two walled, but the outer and inner tents may be used separately. It has one entrance and an extended vestibule. Its tunnel design only requires four poles for pitching. The maximum interior tent height is 46 inches.

What to look for (Important Characteristics)
Check for double wall construction to ensure adequate retention of heat
Dome shaped roof to endure strong winds as well as deflection of snow and rain. 
Ample vents to deal with condensation issues as a result of cold temperatures outside and warmth inside the tent. 
Strong materials used to design the tent to enable it to withstand extreme winter temperatures. 
Good storage features: A large vestibule located between the door at the main entrance and sleeping area to allow tent users have enough space to store personal belongings. 
Sealed seams for security purposes to prevent outside weather elements from coming in and facilitate proper ventilation. 
Lockable pole clips and side release buckles to ensure users can quickly set-up or disassemble the camping tent.


Where to Buy
These tents should be purchased from reputable tent suppliers with a several positive reviews. Nowadays, there are several online stores that buyers can use and have the winter tents shipped directly to them. 
Alternatively, buyers can visit tent stores nearest to them to check what they have in stock.
Buy from eBay and Amazon platforms.


Cost (price and maintenance)
 North Face VE 25 Tent - $ 619 or more. 
 Marmot Thor 2P - $ 430
 L.L Bean Backcountry Dome Tent 3 – $ 400
 Coleman Helios X2 Tent - $ 300
 MSR Dragontail Tent - $ 500


The cost of maintaining the above tents depends on the part that requires repair or maintenance. For instance, in the case of one tent repair shop, replacing lent flies on a North Face VE 25 Tent costs approximately $ 60 to $330. The average cost of pole repair is $ 15 per pole and replacement costs $ 42 per pole.

...so listen to "all-season-camping" guru for advices ....

Risks of winter camping
Winter camping is associated with hypothermia and frostbite. Loss of skin sensation, blue lips and skin with white or grey spots are common symptoms. Hypothermia can also cause confusion, exhaustion and tremors, the remedy is to warm up the affected person. Hugging and getting into a sleeping bag with them is a quick way to transfer heat before seeking medical help.

 About Us / Privacy Policy / Resources
Go to: Pop-up Travel Trailers and RVs