Your Headline
Motorhomes are certainly RV kings of the road, luxury and elegance combined with warm home-like ambiance makes them real mobile residences; see most popular models for 2015

RV industry is continuously addressing increased market demand for luxury and even lavishness.
Motorhomes being at the top of the "RV chain" are most sensible to these trends.
In fact these kings of the road can be considered as mobile residences offering the taste of "nomadic" life in truly home-like environment.
Below is the presentation of most popular motor-home models for 2015.
As you will see yesterday's options are becoming today's standards, while elegance and stylishness may not have equals even in residential market.

2015 Itasca Meridian 36M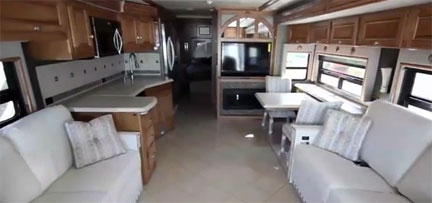 This is a ground-breaking lowered-rail motorhome designed with large storage capacity. It comes with impressive upscale amenities such as hardwood cabinetry, good entertainment systems and lot more. If you desire good quality motor-home, Meridian is your choice.

Features (Interior)
Tank-less water heater
40"Front TV 
Moveable  freezer
Electric fire place
Pairs of washer dryer

Features (Exterior)
Equipped with solar panel
Exterior ladder
King bed 
Air system
External entertainment center


Specifications:
37' 3"  length
12' 10" height
8' 5.5" width
85 gals fresh water capacity

2015 Flex Promaster Motorhome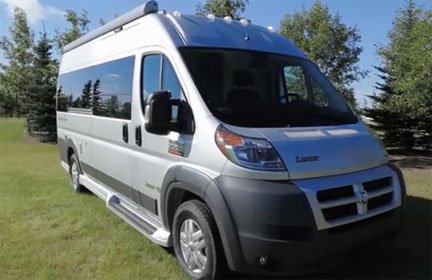 This is a unique motorhome equipped with height-adjustable bed. With this model, you can adjust your storage capacity. At the touch of the button the cargo space will expands making more room for "stuff " you would like to carry with you.

Features (Interior)
Deluxe swivel seat 
2-burner LPG mount stove
CO and propane and smoke detector
Microwave oven

Features (Exterior)
12V Water pump 
46 gals black water tank capacity
Private toilet and shower cabinet
Big rear door screen

2015 Phaeton Motorhome

2015 Phaeton is a third generation motorhome manufactured by Tiffin. It is elegantly designed and enhanced with numerous luxury additions that became part of the standard. The carefully designed air-circulation system borrows from best residential solutions. No wonder it is one of best-sellers on the market.

Features (Interior)
Ultra leather passenger and driver seats
Countertop surface with sink
Rock-hard sink covers
Made with throw pillow and bed comforter
Pre-wired DVD & satellite receiver
Headboard made of wood

Features (Exterior)
Hydraulic automatic jacks
Big tinted windshield
Heated power mirrors & integrated cameras
Insulation barrier
Remote door locking

Specifications
40' 5" length
Rustic canyon exterior
Sandpiper interior
Up to 4 slides
Sleeping for up to 4 people

2015 Winnebago Vista Motorhome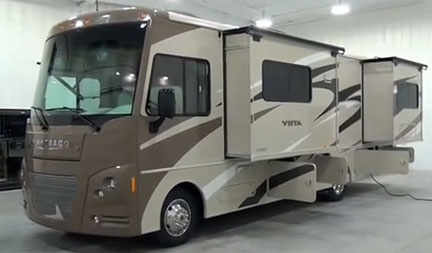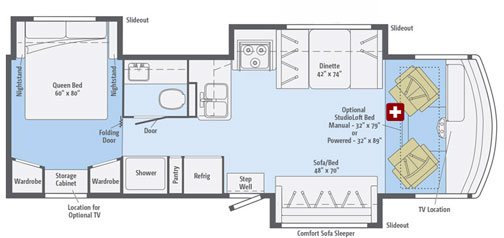 When it comes to motorhomes with all the values that make outdoor living a pleasure, Winnebago's Vista is the right choice. This model stands out among the rest with its beautiful design. There are more added features like the galley equipped with refrigerator, large storage among others.

Features (Interior)
Amplified Digital TV antenna system
Dining table and buffet chairs 
Ready satellite system 
Powered roof vent 
Tinted windows

Features (Exterior)
Automatic door steps
Front mud flaps
Porch light
Rear ladder

Specifications
12' 2" exterior height    
8' 5.5" exterior width    
54 gals fresh water capacity   

2015 Holiday Rambler's Ambassador Motorhome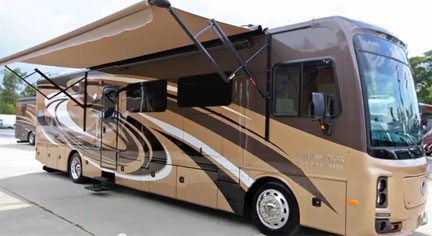 The name obliges – the Ambassador motor-home offers luxurious living and conveniences you find only in upscale residences. The distinctive living area with slide-outs maximizes your "home-away-from-home" experience while on the road. Stylish wooden cabinet doors bring warmness, queen-size bed with top quality mattress guarantees restful nights, while centralized electronic offers easy control and increased safety….

General features
10 gallon water heater capacity
84" of interior height 
Come with centralized controls
Inclusive PEX plumbing system
Side-view cameras
3-burner cooktop
Roof vent fan
Bathroom skylight
Smoke and carbon monoxide detectors
GFI circuit protection
Four-wheel ABS

 About Us / Privacy Policy / Resources
Go to:  Pop-up Travel Trailers and RVs