5 Top American Travel Trailers 2015
With spring around the corner and approaching vacations you  may like to find top American-made travel trailers for 2015....

Travel trailers certainly offer much better opportunity for recreation for those with limited budget.
Combining the best of two worlds – car and towed home they offer inexpensive mobility of car and with modern-day trailers – home like environment.
Indeed, these days travel trailers are not only economic and easy to tow option. 
They also offer a lot of comfort, and elegance far from "rusticity" of old campers. In other words, RV-ing vacations in modern travel trailer has nothing to do with Spartan life, contrary, it may be actually a "home-away-from-home" experience.
With this in mind find our travel trailers picks for 2015.

---
2015 Jay Flight
         The Jay Flight trailer is a perfect option for people on the go or families who love the freedom to vacation anywhere in a home-like environment. The Flight has over 25 different floor plans, so there is an option for everyone. The best part is that the Flight comes in a standard form, which is less expensive, but also offers several upgrades.
The Elite Package comes with things like a kitchen skylight, which adds more light to the seating area. There's also an option for a comfortable couch that turns into a cozy bed. The Elite Package can turn an amazing trailer into the perfect getaway home.

---

2015 Airstream Land Yacht

        Any trailer called a "land yacht" should automatically be considered a luxurious RV choice. The Airstream Land Yacht combines the best of trailer living with the extravagance usually expected to be found in high-end yachts.

The duality of every feature in the Airstream allows it to have more accessibility than a typical trailer. The beauty is first noticed in the wood features throughout the entertaining and kitchen area. The bedroom is an oasis from everyday hectic life , with space for a king size bed and plenty of storage. The bathroom is a blend of modern and traditional with its wooden accents and porcelain sink and shower.

---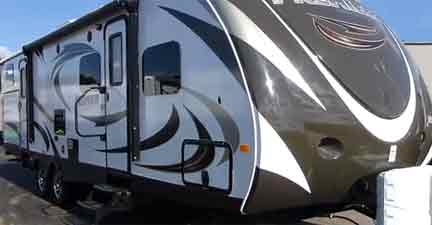 2015 Keystone Bullet Travel Trailer
 
      The Keystone Bullet was built with family in mind. This trailer can comfortably fit bunk beds and still have enough space for a lovely master bedroom. The people at Bullet know that getting kids excited about being away from home is getting harder and harder, so they made sure the whole family would be entertained in their trailer. There are outlets everywhere and cable and TV hookups in the bunk area.
The bathroom is larger than in most trailers to be compatible with the size of an average traveling family. The curve in the shower allows for more space in the bathroom as a whole. There is plenty of storage throughout the trailer. What makes the Keystone Bullet stand apart from competitors is the attention to small details that make life easier, like a laundry chute to help minimize clutter.

---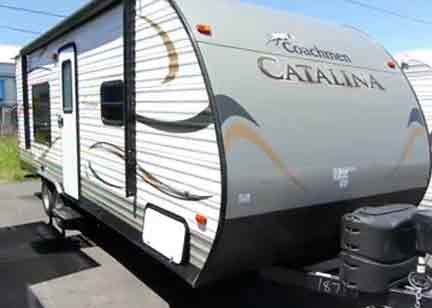 Coachmen Catalina

           Catalina returns to the simplistic features of trailer camping. The RV is filled with comfortable finishes, but has cut back on luxury to lower the price and make it affordable for middle class travelers. The main room features an eating nook and a convertible sofa. There's an entertainment hook-up for the nights when being outdoors isn't an option. The kitchen is classy and functional, with a huge stove-top and lots of cupboard space.
Most importantly, the Catalina has several upgrades and feature options, so you can personalize the space to be exactly how you want it. With multiple layout and color options, the Catalina can be your perfect home away from home.

---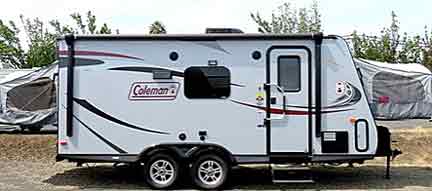 Coleman CTE211
 
       The Coleman trailer is an option for those who love to camp, but don't want to break the bank. The trailer is very lightweight, which makes pulling and maneuvering it so much easier! The interior is beautiful, packed with the essentials you need to make your trip a success. There's lots of storage, so your living space isn't cluttered and can be used for its true purpose. There's enough seating for family and guests as well as a dining space.
The bedroom slides out from the main trailer. This comfortable simplicity is part of the reason the Coleman can be priced so low. The bathroom is spacious and has a lovely skylight to naturally brighten the bathroom.

 About Us / Privacy Policy / Resources
Go to: Pop-up Travel Trailers and RVs