8-11EXLEDB Truck Camper
Northern-Lite RVs
The Northern Lite's Limited-Edition version of dry-bath 8-11EX truck camper is the high-end, stylish, comfortable 4-season RV built using molded-fiberglass technology.

Your first paragraph ...
       Northern Lite is Canadian truck camper manufacturer located in Kelowna, (BC). Their truck campers represent the combination of high quality, comfort (high-end designs), modernity (stylish, lightweight, molded-fiberglass designs) and obviously 4-season constructions (full insulation and heated basement). Behind all these achievements there is more than 30-years of experience gained not only on the factory floors but also "in-the-field" in harsh Canadian weather conditions (especially winter). 

Northern Lite 8-11EXLEDB truck camper
Source: Camp-Out RV
Northern Lite 8-11EXLEDB truck camper

and its floor-plan
      Here we would like to make presentation of the 2019 model 8-11EXLEDB (Limited Edition version w/ dry bath). Like all Northern-Lite truck campers, the 8-11EX is an all-fiberglass, clam-shell design. This technology offers several advantages, like:
No rot, no mold and in practice no leaks design (only one seam)
Lightweight (no aluminum or wooden frame)
Aerodynamic profile (molding process makes it easy to design round corners, smooth surfaces ….).
Easy maintenance.
Another Canadian accent is the 4-season design. The whole shell is block-foam insulated (R-6 for roof, walls and floor and R-12 for cab-over). 
Also, the "basement" (and with it all water tanks) is heated allowing RV-ing escapades during long Canadian winters. The ducted heating system with 18k BTU furnace and 10k BTU roof-mounted A/C unit are standard features in LE-versions of the 8-11EX truck campers (the latter is optional in SE-models). Thanks to thermal Pane Windows and Skylight together with shell's insulation and heating/cooling appliances Northern Lite promises comfortable interior temperatures regardless the outside weather conditions. Let's also mention the standard Fantastic Fan w/rain sensor (optional in SE-versions), screened windows and screen-door to have the full picture of this Northern-Lite camper.

Northern-Lite 8-11EXLEDB: view on the galley and bedroom
     Yes, it's true, the model 8-11EXLEDB is designed, furnished and finished according to highest standards rarely seen in truck campers. Model's stylishness and elegance is matched by its practicality and robustness, making it sort of "Cadillac" among other truck campers.
The "bedroom" located in the cab-over, houses queen-size mattress (60"x 80"). Obviously, like in all truck campers it is not the walk-around bed and nor walk-in bedroom. However, the numerous standard features make it bright (two side-windows and large skylight above the bed allow the light to penetrate the cab-over making it larger than it really is. And even more – the skylight offers opportunity to "reach" into the deepness of starry night. Limited cab-over space is not short of storage. On each side of the bed you will find two storage compartments, closet and storage cabinet. The 24" LCD TV is mounted on the swing-arm so you can watch your favorite programs from the bed but also from the dinette. And when fed-up with TV, you may go back to reading habits thanks to two, individual reading lights.
For the privacy, the cab-over's bedroom is separated from the main body of the camper by the plated curtain. This is because the 8-11EX camper can sleep 4 (dinette can be converted for sleeping place for children (37" x 67")).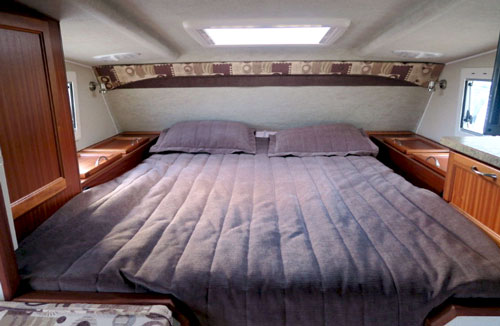 Bedroom
      The galley includes 3-burner stainless-steel cooktop and oven with glass cover, stainless power range w/LED lights, stainless sink with cover, 2-doors 3-way fridge with mirror-finished doors, microwave and plenty of storage cabinets and drawers (including one dedicated for utensils).
It may be worth to mention that all cabinetry is made from Sapele - solid hardwood and solid plywood paneling, (Russian Birch ply for drawers). 
The "face-to-face" dinette is a standard feature, however you can opt for more elegant, U-shaped one. The table (similarly as cabinetry), is made from hardwood, in contrast to typical "counter-top"-style materials used in most RVs. Add to that the leatherette seating surfaces – all that makes the dinette looking (and feel) more like the "dining" area rather than the "fast-food" corner. Keep in mind that the dinette serves also as a "mini-living" space. It has two dedicated reading lights (not only for reading books or magazines but also to offer the functionality of an "office" (note 2 USB ports and 110V outlet). It is also the area where you can watch the TV. Mounted on the swing arm, the screen can be easily rotated towards the dinette.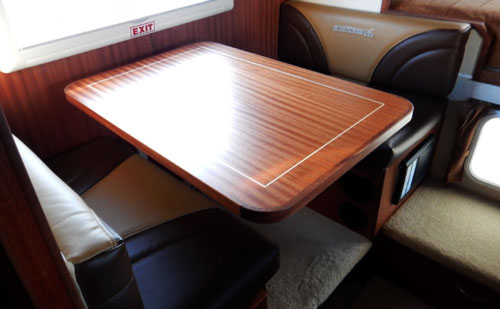 Standard "Face-to-face" dinette (can be upgraded to U-shaped one)
      Typically, truck campers have quite limited interior space, so mostly (at least in units without slide-outs) they have wet baths. Just to make it clear – the wet bath combines toilet, shower and sometimes folding sink. As the bath compartment plays also the role of the shower cabin, everything inside will be wet when the shower is used (hence the name Wet Bath).  In contrast, the Dry Bath has separated shower cabin (or compartment) so everything including toilet paper, towels etc…  is protected from the water. To make it clear – dry bath does not mean "dry-toilet" (in Northern-lite case, the toilet is water-flushed and has dedicated black water tank). 
Resuming - the Northern-Lite 8-11EXLEDB models offer the advantages of dry bath. While you cannot expect roomy areas matching your residential ones, it is definitely big step ahead making this truck camper close to a "home-away-from-home".
Dry Bath (note the curtain separating the shower)
      The rear entrance includes so-called "bumper patio" – small, but very useful area making the access to the camper safer, especially when you walk in and out carrying some stuff. Given the fact that the 8-11EXLEDB truck camper is equipped with two awnings (10 ft long on the side (cranked) and 7 ft long on the back (Electric) it offers a lot of weather-protected area that certainly can be often used as an extension of interior living space. That's why, the "transition" patio at the entrance is a great idea. 
Two large exterior storage compartments and an unusual (read it – bonus) rear-bumper accessible storage with tray provide a lot of space for camping equipment (folding chairs, table, grill and whatever you find useful) to be able to set-up nice exterior "recreational" area next to your RV.
      The whole series of 8-10EXSExx truck campers is made for ¾ ton short bed trucks. The Limited Version (LE), due to extra weight of A/C unit, microwave, extra solar panel and larger table (all coming as standard features) will need rather a 1-ton (but still single rear wheel) trucks. It is worth to note that Northern Lite not only marks the actual weight of the camper when it leaves factory doors, but also specifies the location of its center of gravity.
Note that to keep warranty, the truck must have rubber-finished bed and the camper must be attached by spring-loaded tie-downs!
Entrance with the "bumper-patio"
Specifications
---
Exterior length

Exterior width

Floor length

Exterior height

Interior headroom

Dry Weight (1)

Fresh Water tank

Grey water tank

Black water tank

LPG

Awnings

Sleeps

195"

98"

108"

94"

76"

About 3,000 lbs

33 gals

24 gals

12 gals

2 x 20 lbs

2

4
1. Approximate w/standard features. Each unit is factory-weighted and actual weight is recorded.

---
Construction
Shell: 2-pieces molded fiberglass
Insulation:  R6 block-foam (floor, walls & ceiling), R12 under-bed
Windows: Dometic Acrylic Thermal Pane 
Floor: Removable carpet
Cabinets: solid hardwood
Jacks: Aluminum, undermounted
Design: Four Season Truck Camper for ¾ (SE) and 1 ton (LE) short-bed trucks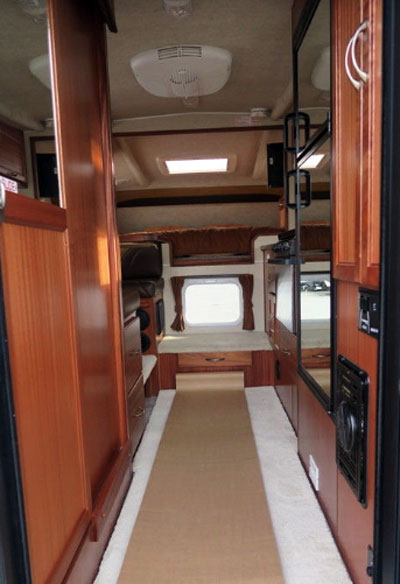 Northern-Lite 8-11EXLEDB: Interior 
The standard features presented below correspond to the Limited Edition (LE) of the track camper (8-11EXLEDB. In parenthesis we also mention availability of a given feature in the Special Edition (SE) of this truck camper (8-11EXSEDB).

Interior Features:
Thermal Pane Skylight over bed
Entrance door with 2 tinted windows, built in pleated shades and separate screen-door
Cab-thru window
Windows w/screens and blinds
Sapele hardwood interior (cabinetry, closets, table…)
Cab-over bedroom
Queen-size foam mattress (60" x 80")
Bedspread Package
Pleated Privacy Curtain
Storage at both sides of the bed
Small closet
2 x Reading lights w/USB ports
Skylight w/screen and shades
Two side windows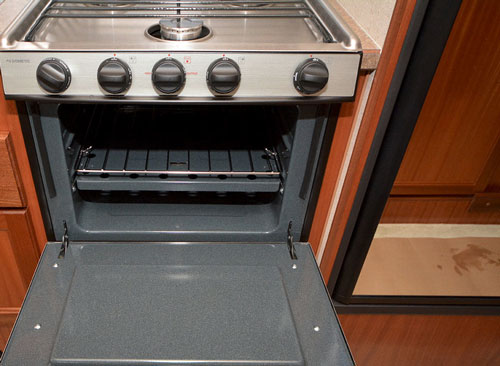 Cooktop an oven
Microwave is part of the standard features in LE models
Galley/Dinette
6.3 cu ft, 3-way. 2-doors fridge w/mirrors
Stainless 3-burner stove w/glass cover 
Atwood Stainless Steel Oven 
Microwave (option in SE version)
Stainless-Steel Sink w/cover
Stainless-steel, power range hood
Dinette "Face-to-face"-type w/Leatherette Seating Surfaces, (Table size – 26" x 36") convertible to sleeping space (37" x 67")
Under-sink cabinets w/drawers
Overhead storage cabinets
Dedicated Utensils drawer
Under-seats storage (dinette)
Dry Bath 
Enclosed dry bathroom (45 x 30 x 74) w/sliding door 
Shower
Water-Flushed Toilet w/dedicated black water tank 
Vanity
12V Roof vent
Dry bath
Entertainment
Jensen , 12V 24" LCD TV Screen w/Swing-out Arm 
Jensen AM/FM/CD/DVD Stereo w/Blue Tooth and USB port
External Speakers (option in SE version)
Cable pre-wired w/exterior hook-up
Roof-mounted Digital TV Antenna
Roof-mounted 10k BTUs A/C unit
Climate control
18k BTU furnace (auto-ignition)
10k BTU A/C Unit (option in SE version)
3-speed 7300 Fantastic Fan w/rain sensor and remote control (option in SE version)
Fantastic fan is mounted in the rear section of the hallway
Electrical
45 Amp converter /w 3 stage battery charger
Battery Disconnect Switch (located interior) 
30 Amp power cord
Electric jacks 
2 x 100-watt solar panels /w digital regulator and monitor panel (2nd solar panel is an option in SE version)
LED interior lighting
LED porch light
Dual USB and 12 volt charging centers throughout
110V outlets
Holding tanks monitor panel
Rear awning control (power and lights)
Water/Plumbing
6 Gallons DSI gas/electric hot water tank 
Exterior shower
Heated and Insulated Tanks
Water hook-ups
Dometic Water-Heater Control
Exterior Features
10 ft side awning (manual)
7ft rear power awning w/ LED lights
Rear Ladder
2x20 lbs LPG bottles on sliding tray 
Folding entrance assist handle
Compartment (designed for Honda Generator EU2000 24" x 12.5" x 19.5")
LPG Auto changeover
Rear Bumper patio w/aluminum fold-out steps
Basement storage w/tray
Bumper storage for sewer hose
Dual Battery compartment 
Rear patio
"Secret" bumper storage offers two deep compartments - one with tray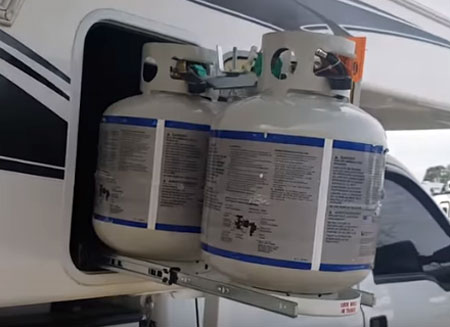 LPG bottles are sitting on the sliding-out tray
Options
Boat rack
U-shaped dinette
Summarizing: The Northern Lite Limited-Edition version of dry-bath 8-11EX truck camper is the high-end, 4-seson RV. Modern clam-shell, molded fiberglass design promises trouble-free operation over long years of RV-ing even in harsh weather conditions typical for Canada. Stylishness, elegance and well-thought, innovative design offers priceless comfort…..

Pictures are courtesy of Northern Lite and Camp-Out RV!
Note:  Check with the manufacturer and / or authorized RV Dealer for the up-to-date list of features, options as well as latest specifications. These written above may not be accurate and certainly are subject to change by the factory. We are not responsible for any inaccuracy, the above text is provided only for the general information.
This review was written based on publicly available information for the benefits of the community of RV-ers. We do not receive any gratification or financial benefits from RV manufacturers, dealers, and any other promoters of RVs. 
We are NOT involved in sale and/or retail of RVs!