Lightweight Camper Trailers
Australian Avan
Avan is known for making "no-canvas" folding campers. Models like Aliner, Cruiser, Cruiseliner and Sportliner offer advantages of traditional folding trailers with bonus of increased durability and short set-up time…
Avan is one of the most reliable and well-known RV providers on the market, having more than 20 years of experience in the domain.  
They are known for making "no-canvas" pop-up campers. Such design keeps main advantages of traditional folding campers - reduced trailer's profile on the road and better fuel efficiency.
However, on top of that the "no-canvas" design allows also for higher durability of the camper (canvas is always the weakest part of the traditional pop-up campers not only due to the shorter lifetime, but also due to its vulnerability to weather conditions, mold, humidity and mechanical damage….).  Not to mention that the "no-canvas" design offers reduced set-up and pack down time as well as simplicity of these operations.
 And finally, compared to traditional canvas-based folding campers, Avon's designs allows for good thermal insulation largely extending the comfortable camping outside of the summer season.
Cruiseliner - an example of Avan's folding camper trailer in "camping" configuration (above) and "road" configuration (below)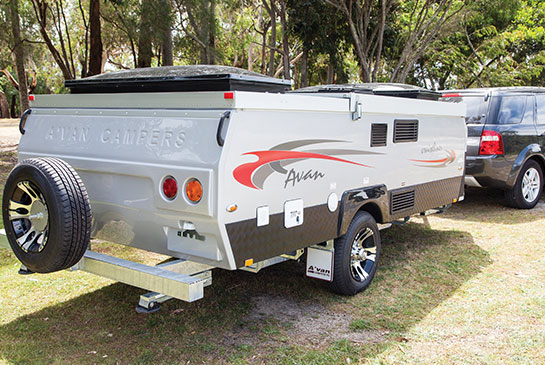 Avan offers a range of high-quality RVs, being able to offer a solution for every person that wishes to enjoy camping and exploring the outdoors more comfortably. They all use the proprietary high-strength and torsion-resistant  "Centurion Chassis" from galvanized steel .
The following RVs are just a few examples of the lightweight camper trailers you can find, made by Avan. So just take a look and see which one fits your needs best.
Aliner
      One of the most popular models made by Avan, the Aliner was created to be easy and fast to set-up and pack-down. It has a special type of chassis, made to withstand corrosive factors, which will ensure a longer life for your trailer, regardless of environmental conditions (weather and road). Aliner comes in six different floor layouts.
Aliner - camping configuration
Exterior features:
 

A spring assisted set-up for increased comfort;
The entry door has an arched form and is made out of two pieces;
The panel construction is made out of an extremely resistant material;
A low profile enables a straightforward 
The flooring is made out of one whole piece;
Interior 
The trailer is insulated, for camping regardless of season;
A 3-way fridge is available, of 90 liters;
A cooktop with 2 burners equip the kitchen 

 

The roof is designed with vents;
The floor is covered in deluxe materials;
Specifications:
3680 mm / 12'1"external lenght;
3380 mm / 11"1"internal length;

 

2075 mm / 6'10" width;
2580 mm / 8'6"interior height;

 

800 kg / 1765 lbs tare weight

 

980 kg / 2160 lbs maximum (gross) weight;
Sportliner
Sportliner folding travel trailer in camping configuration
      The Sportliner is the trailer you need to have around when you decide to go camping on the last minute. It's a kind of smaller version of Aliner, compact and easy to tow with any car, and it is highly efficient when it comes to fuel consumption. It can easily accommodate more adventurous people allowing for exploration of  roads "less-travelled"….. . It comes in three floor-plan versions for one or two persons.
Sportliner - Floor-plan (Model CL)
Exterior features:
The brakes of the trailer are 
The panel construction is highly 
The roof is a fold up one, being assisted by a spring 
Equipped with sports wheels and one spare 

  

No butt joints in the floor, as it comes in one 
The extrusion is made out of galvanized 

 

An arched door at the entry, made out of two 
External door for baggage;
Interior features:
The interior is insulated for increased 
The windows are tinted and curtains 
A large dome makes the lounge area more 
A fridge with a 90 liters capacity is 
A cook top with two burners will allow easy 
There is a protection for earth leakages;
Specifications:
2680 mm /8'9" external 
2390 mm / 7'10"ninternal length;
2075 mm / 6'10" 
2160 mm / 7'1" internal 
680 kg /  1450 lbs  tare 
980 kg /2160 lbs maximum (gross)  weight;
Cruiseliner and Cruiser
       If you want to take things up a notch, the Cruiser and Cruiseliner will help you do that. In comparison with the previous models, these two offer larger living space. They have an improved chassis and tires that are a bit bigger, to support a trailer that is more spacious. If you wonder what the differences between the Cruiser and Cruiseliner are, you should know that the last has an additional storage boot at the front of the camper allowing you to pack more of your "stuff" for the camping adventure. These campers come in seven floor-plan versions.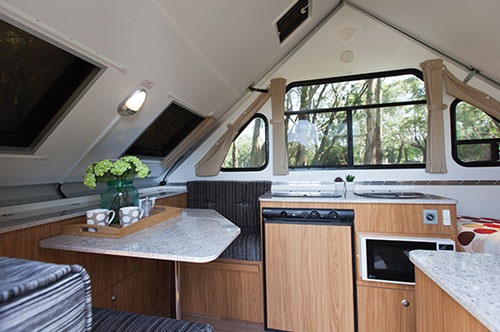 Cruiseliner folding travel trailer - interior in "Camping configuration"
Exterior features:
The trailers have a chassis made out of hot dipped centurion, with the adequate 
Safe electric 
The setup is assisted by springs, for a more convenient 
Even if it is longer than in the rest of the models, the floor comes in one single 
There are step 
An external door is available for 
The suspensions and shocks are 
Both the Cruiser and Cruiseliner have a low profile, which makes towing 
The extrusion is made out of anodized 
A storage bumper is available, of 100 
An arched door for the entry, made out of two pieces;
Interior features:
 

The trailers are insulated for an increased 
There are vents in the 
A service of electric hot water if 
Both the windows and curtains are 
The number of sleeps differs from one model to 
The lounge area is featured with a large 
The floor is covered with deluxe 
A fridge and a cook top with two burners facilitate cooking;
Specifications:
3930 mm / 12'11" external length for the Cruiser and 4440mm / 14'7" for the 
3615 mm / 11'10" internal length both for the Cruiser and 
2075 mm / 6'10" width both for the Cruiser and 
2440 mm / 8' internal height both for the Cruiser and 
1720 mm / 5'8" travel 
865 kg / 1910 lbs tare weight for the Cruiser and 910 kg /2010 lbs for the 
1165 kg / 2570 lbs gross weight for the Cruiser and 1210 kg / 2670 lbs for the Cruiseliner;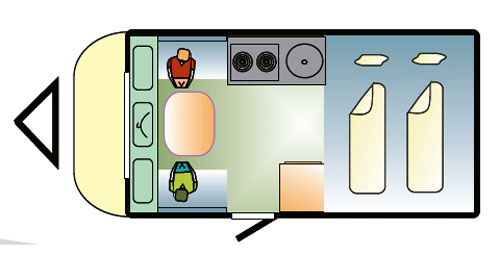 Cruiser/Cruiseliner floorplan (Model 1D)
       All above mentioned models (Aliner, Cruiser/Cruiserliner nd Sportliner) may be optionally equipped with air-conditioner, microwave oven, external shower, radio/CD with fitted speakers, porta potti ….  (just to mention most important upgrades).
Weekender
     As you may guess, this is the perfect trailer for weekend escapades into the outdoors.  It is small not-foldable travel trailer in "ready-to-go-and-use" configuration. The best part about this trailer is that you can choose from a list of optional upgrades according to your needs. Choose what to add so you can enjoy the perfectly designed trailer.
Standard Version of the Weekender: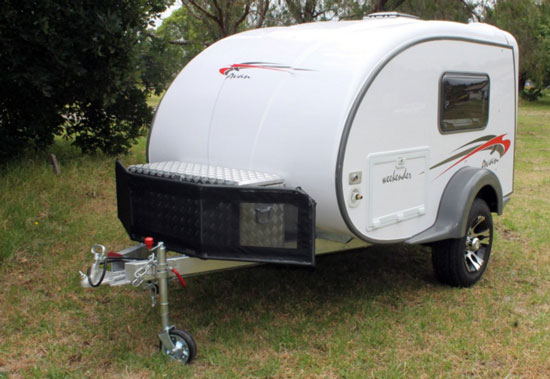 Avan's Weekender Travel Trailer
Exterior features:
 

The roof has one 

 

The trailer comes with a spare 
It has 14 inches wheels;
Interior features:
There are two lights for 
Three internal power points 
It offers two comfortable sleeps;
Specifications:
2650 mm /8'9" external 
1900 mm / 6'3" internal 
1970 mm 6'6´ 
data-custom-mark="true"1250 mm / 4'2" interior 
415 kg /915 lbs "standard"  tare 
715 kg / 1580 lbs maximum (gross) weight;
Weekender: slide-out kitchen
       Adventure package (increasing campers tare weight to 625 kg/ 1380 lbs allows the campers for "off-highway" exploration. It includes upgraded chassis and suspension, 15" alloy wheels, front stone deflector as well as some "independence" thanks  to the 95 amps battery with charger/transformer, 63 liter /17 gal water tank and 12V water pump, large gas bottle, slide-out kitchen with sink and cooktop, front storage box and canvas-made Annex….