5 Top Lightweight Pop-Up Campers 2016
Here are our picks of top lightweight pop-up campers for 2016 – Flagstaff Classic, Coachmen Clipper,  Living-Lite Coleman, Starcraft Comet and Double Duty Utility Camping Trailer.....
Forest River Flagstaff 625D
        Flagstaff 625D is the pop-up tent camper from the series Classic including also models 425D, 627D and 823D. All these trailers have the same length in closed configuration (19'1"), the same open height (61") and closed height (5'1"), external width (84") and the length in open configuration (23'9" with the exception of longer model  627D – 25'9").
An EZ-Reach storage trunk provides an extra space for "stuff" you would like to take with you on your trip. The large dinette slide-out nicely opens trailer's interior for comfortable living experience. Inner-spring mattress is heated guaranteeing peaceful sleep in colder nights.
The main difference between models is the floor-plan and standard furnishing contributing also to small difference in weight of the particular models.
Flagstaff Ten Camper - Model Classic 625D
Exterior features:
 

Roof made out of fiberglass;
The tent is made out of five large pieces of vinolon;
The bunk ends are out of plywood;
Light and sturdy aluminum frames for beds;
Windows made out of tinted vinyl;
Wooden floor made out of one piece;
A powder coated tubular steel frame supports the structure;
A tank for fresh water, of 20 gallons, is positioned under the floor;
 and its floorplan
Interior features:
Maximum capacity of 6 persons;
Kitchen equipped with faucet, sink and stainless steel appliances;
A water filter and electric pump are also available;
Shower system for outside;

 

A water heater with a 6 gallon capacity;
Stove top with three burners;
A built-in icebox;
A comfortable dinette;
Coachmen Clipper Camping Trailers 106 Sport
       Coachmen Clipper pop-up trailer had been designed with the goal to make it cost-effective and easy to tow, simple to set-up and fold-down as well as comfortable for camping. It's patent pending "Glide-N-Lock" bed system is just one of engineering solutions making the whole set-up process effortless. Despite the inherent limitations of folding pop-up camper trailers, Clipper boasts several features offering high living comfort – usually available only in higher grade trailers. Plenty of storage room, insulated tent-end bunks, large dinette table that can be used outside and large selection of options.
Coachmen Clipper - Construction
Specifications:
17'11" exterior length open
12'7" exterior length closed
4'8" exterior height closed
85" exterior width
2096 lbs gross weight
Exterior features:
Tent end bunks made out of an insulated material;
Tank for fresh water storage of 16 gallons;

Tubular Steel Frame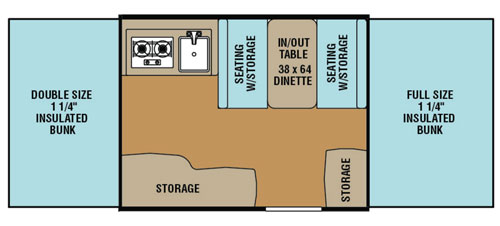 Clipper Sport Model 106 - floorplan
Interior features:
 

Sleeping space for maximum 6 persons, provided by a double bed and one full-size bed;
A dinette for meal times, with a table that can be removed and placed outside if wanted;
Storage spaces available below the dinette's seats;
The dinette can also be made into a small sleeping place;
A stove top with two burners and sink in the kitchen area;
Walnut cabinets
LIVIN LITE QS Coleman
      Coleman's Livin-Lite QuickSilver line of pop-up campers thanks to all-aluminum construction belongs to the class of ultra-lite campers. The most popular model QS8 (eight-foot) features two large beds, spacious (convertible to a bed) dinette, kitchen with a lot of storage and storage/TV compartment where can fit an AC unit. It was designed for young families with children and for towing by typical fuel-efficient cars.
It's affordable basic version provides comfortable camping experience, while large set of options allows everybody to maximize experience of living away from home according to the needs. Options include for example portable heater, gas range, plug-in lights, fans, privacy courtins, awnings etc….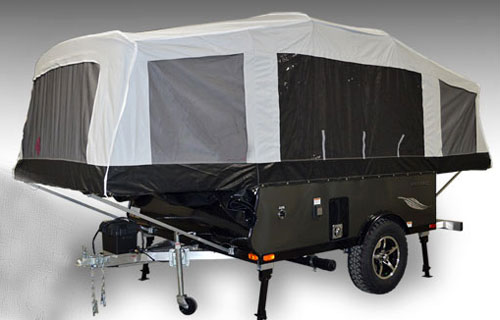 Livin-Lite QuickSilver Model QS8 folding travel trailer
Specifications:
12'0" external length closed
16'2" external length open
7' external width
4' height closed
8'2" height opened
1500 lbs gross weight
635 lbs load capacity
Sleep – 6 persons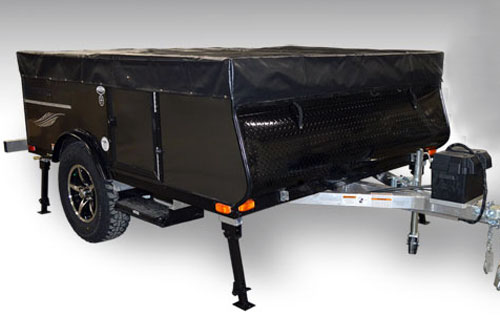 Model QS8 - road configuration
Interior features:
A cook top with two burners, a sink and faucet in the kitchen area;
Storage spaces under the cook top and sink available;
A dinette with a removable table, which can be turned into a sleeping area;
Privacy curtains, rugs, awning, fan and lights are optional features;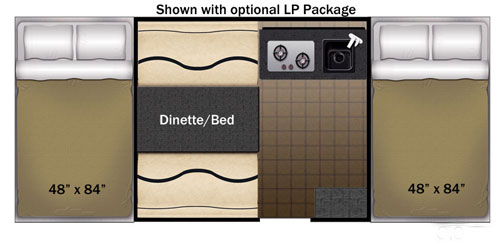 Model QS8 - floorplan
Exterior features:
A light weight trailer that holds a camping tent;
The setup and pull-down of the tent takes a few minutes;
Starcraft Comet
       The series of Starcraft's Comet pop-up camping trailers comes with seven floorplans – three of which include slide-out dinette. Tents (usually the weakest points of pop-up trailers) come with 7-years AquaShield warranty while floor and lift system with 25-years warranty. Off-road amenities allows for exploration of "rods less traveled" and great camping experience. Following are specifications for the lightest model with slide-out dinette – Comet 1224: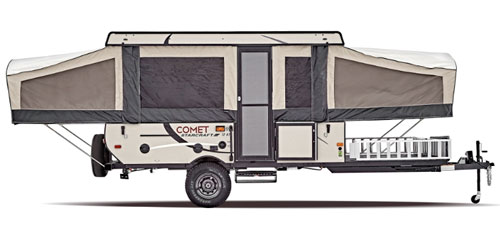 Starcraft Comet Pop-up Travel Trailer
Specifications
18' 6" external length 
23' 1"Campsite Length 
85"Exterior Width 
57"Travel Height 
81"Interior Height 
3,150 lbs Gross Vehicle Weight Rating 
1,095 (lbs) Cargo Carrying Capacity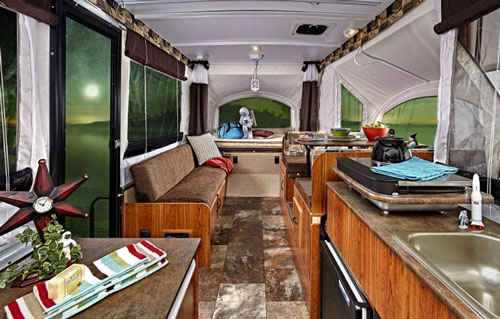 Starcraft Comet - Interior
Exterior features:
Power roof lifts for convening tent setting;
Trailer with electric brakes;
Spare tire, with carrier and cover;
A canopy awning, which has a adjustable tilt;
Fiberglass roof;
Embossed aluminum finish in the exterior, resistant to scratches;
Entry door with stepper;
20-lb. propane bottle
84"-wide storage deck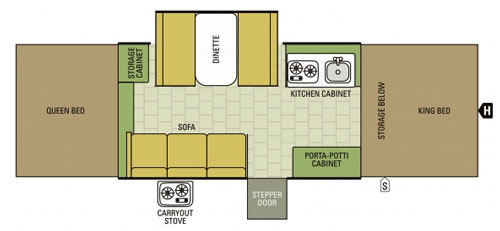 Starcraft Comet floorplan - Model 1224
Interior features:
Kitchen equipped with a 3-burner stove, refrigerator, a double sink, microwave and oven;
Bathroom with bath and shower;
Dinette with reversible vinyl backs;
Curtains for privacy;
A stove for carrying outside;
Windows made out of tinted vinyl and protected with a fine bug net;
1,050-lb. rated bunk ends
6,000-BTU furnace
Double Duty Utility Camping Trailer
     Double Duty Utility camping trailer was designed to perform two functions according to the needs – utility trailer or camper trailer. It has high-quality steel frame and triple leaf spring suspension as well as detachable ramps so it can be used for towing ATVs, motorcycles. Loading space and capacity (up to 1200 lbs) allows this trailer to carry any kind of loads even unrelated to recreational activities.
At the same time when used as the camper trailer the 7' x 5' trailer bed is used as the platform for the tent.  The set-up process converting the trailer into camper takes few minutes. The ramps become steps into the platform while 7' high, 81 square foot tent pitched on the platform with two doorways and 8 large windows offers sleeping for 4 persons (6 persons maximum).  Low cost and off-road capabilities is another advantage of this dual-use trailer, especially important for nature lovers exploring "unpaved roads".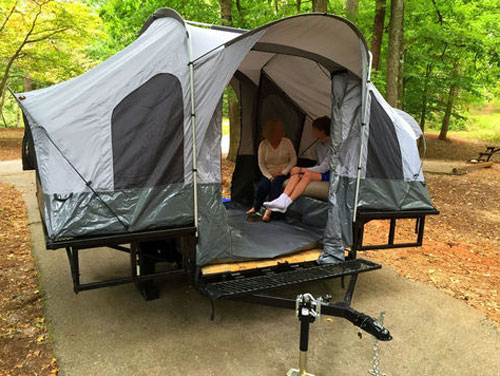 Dual Utility Trailer - Camping configuration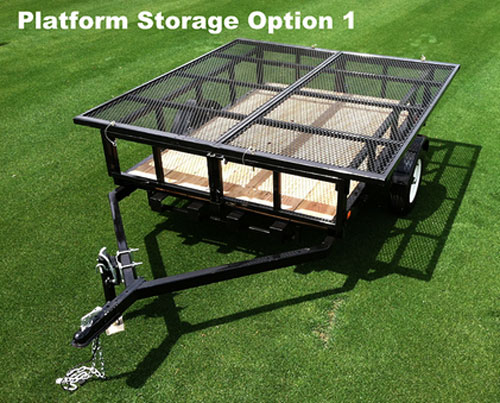 Dual Utility Trailer - cargo configuration
Specifications
88"L x 63" W x 20 1/2" H external dimensions
84 3/8" L x 59 7/8" W x 14 1/8" H internal dimensions
136" L overall length of trailer (from tip of tongue to end of trailer)
17" towing height
41.3 cu-ft utility cargo cpace
84" L x 136" W x 84" H external tent dimensions
800 lbs dry (empty) weight
1200 lbs load capacity
Setting-up the Dual Utility trailer as the camping trailer
Exterior features:
The tent can be removed and the trailer used separately when needed;
Tent is protected by a waterproof bag, while being stored, and it is made out of weather resistant polyester;
Screen vents and six large windows;
Steel frame that is rust resistant and heavy duty;
A triple leaf spring suspension for comfort;
Stabilizer jacks for the trailer;
Interior features:
It can accommodate 6 persons at most, two bed platforms and the trailer platform being available for air mattresses, which are not included;
81 square foot space inside, for sleeping and dining;
The walls have built-in pockets for storage;
The windows are protected with a bug mesh;