Airstream Basecamp 20X
Off-road campers
Like all Airstream campers, off-road Basecamp 20X brings along a well-recognized name, good reputation, and coming with it durability...
             Since the release of its first riveted aluminum travel trailer Clipper in 1936, for the next more than 80 years, Airstream became faithful to its iconic silver-sided designs. Time brought new materials, modern technologies, and comfort answering RV-ers' needs. However, the shining, riveted-aluminum bullet-like shaped silver shell and outstanding quality of workmanship successfully defended themselves over the decennia.
Till recently, Airstream travel trailers were exclusively designed for paved roads. But the growing trend to abandon crowded campgrounds in favor of less-spoiled Mother Nature brought the end to this tradition. The Airstream Basecamp 20X (similarly to its older but smaller brother - Basecamp 16X) is specifically designed for off-road environments and short boondocking expeditions. However, do not be confused - all that is still offered in an "envelope" of Airstream's traditional silver-shining aluminum superstructure. 
Basecamp 20X and its layout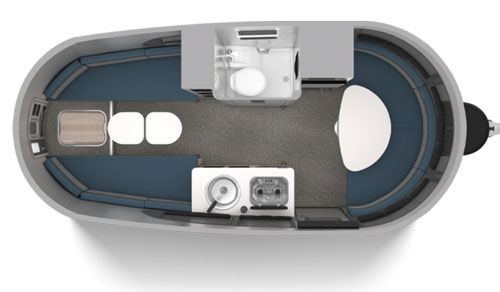 Basecamp 20X Review

            As its name strongly suggests, a Basecamp 20X travel trailer was designed for driving on unbeaten roads into the heart of nature. As a result, its design had to accommodate quite conflicting requirements including:
Small size, allowing for safe and painless navigation in a no-road environment
Good protection from stones and debris
Sufficient energy & water autonomy for out of civilization trips
Comfort and reliability expected from Airstream
           And at the same time:
Fully loaded weight in the towing range of popular midsize pickups, off-road SUVs, and crossovers
Preservation of iconic all-aluminum silver-bullet shape
Obviously, it's not easy to meet all these requirements. The Basecamp 20X is a good example of physical limitations and necessary compromises. Nevertheless, you can be sure that Airstream designers made serious efforts to make it happen.
Airstream Tradition

      Basecamp's shell does not exactly exemplify a typical Airstream's bullet-type shape. But frankly, there is not much to complain about.  It's because the elegance of panoramic, tinted-glass windows spanning the front and extending deep along the trailer's sides offers unmatched elegance.  Despite this change, the aficionados of Airstream's uniqueness, will still find the iconic, silver-shining riveted aluminum superstructure. 

Flexible layout

Interior: View from the front and from the back
Lounge in king-size bed configuration
       According to Airstream, the model 20X is designed for sleeping 4 adults. Its interior layout can be configured as follows:
Daytime configuration with U-shaped front dinette and rear lounge with either side benches or U-shaped setting.  Thanks to the size of benches and swiveling tables, the lounge as well as dinette can easily accommodate 4 (or even more) people for meals, games, work, etc…
Nighttime configurations offer several possible settings:
a) Rear king-size bed (82" x 78") that can easily sleep 3 persons (but frankly, we do not encourage this option), so let's call it 2+1
b) Rear single bed 46" x 78" with still accessible and usable the opposite side bench
c) The front dinette converted to the 43" x 78" sleeping place for 1 adult or eventually 2 smaller kids
The optional tent attachable to the trailer's camp-side expands the available sleeping and storage space beyond the mentioned above limits. Its inflatable tube frame structure makes the setup quite easy and fast. But on the other side of the equation – more people embarking on the trip means drastically decreased water autonomy. And this in turn means that the joy of off-road expeditions may become a remote dream!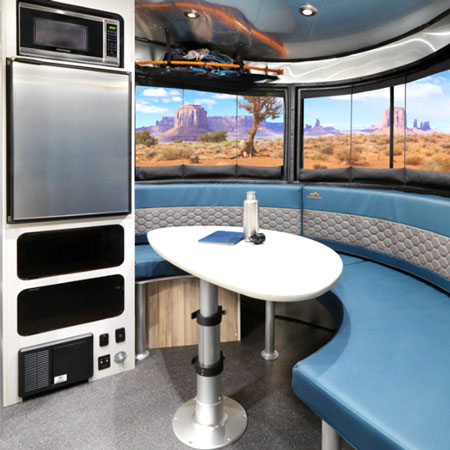 Breakfast corner (folded into sleeping space (below))
Functionality

        The Basecamp 20(X) is sufficiently longer than its older 16ft version. These extra 4 ft of space allowed designers to add a sort of frontal breakfast & leisure corner (shortly - dinette).  Surrounded by 270 degrees extending panoramic windows, it's a very attractive, fully connected to outdoor place for all kinds of daily activities.
        The modest galley (kitchenette) was moved into the center of the trailer sharing the space with the wet bath on the opposite side.  Despite its small countertop area, thanks to tempered-glass lids covering the cooktop and sink, it still offers considerable working space. Handily located pop-up power bar with 110Vac and 12Vdc outlets is useful for small kitchen appliances. Unfortunately, Airstream 20X is not equipped with an inverter, so 110Vac power is not available in an off-grid environment, which for many RV-ers may be very disappointing. Galley's cabinet provides spacious compartments, shelves, and even a utensil organizer. On the opposite side, you will find a 4.3 cu.ft  compressor refrigerator w/freezer. It runs on either 110Vac or 12Vdc with an automatic switch prioritizing shore connection (if available).  Floor-to-ceiling pantry and a few more cubicles and cupboards add to the overall kitchen-dedicated storage space. The big bonus coming with the galley is a large panoramic window! 
        A wet bath is exactly what it is (it means no more than the name promises). It's a tight space with a foot-flushed porcelain toilet, shower, and a few extras like a covered toilet paper holder, towel bars, retractable cloth line, always useful hooks. storage pockets and a handy shelf for toiletries. There is no sink bowl so for these needs you may have to use the regular galley sink or maybe better – outdoor "stuff" arranged for this purpose. On the other hand, the wet bath "cubicle" as small as it is, includes a large window with an adequate privacy curtain!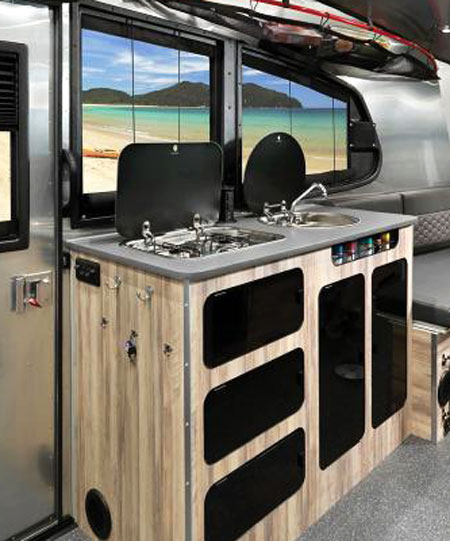 Galley
Wet bath
Off-road features

          Structurally, the Basecamp 20X seems to be well prepared for off-road adventures. Suspension raised by 3" compared to the standard 20 models, results in 1 foot of ground clearance. The departure angle promises trouble-free towing along bumpy paths. Enclosed underbelly, as well as extra skid-plates provide good protection of vital elements from mechanical damage. And the trailer front (shell as well as windows) is well protected by detachable rock guards. So apparently, there should be no major headaches when exploring the wilderness. 
But structural fitness is only one of the conditions necessary for off-road exploration. Another, and equally important is the energy and water autonomy. 
The optional 180W solar panel with 2 AGM batteries (and wiring for additional solar panels if needed) should guarantee energy autonomy for essential needs like lights, fridge, and small appliances (phone and computer chargers, etc…). Note that the two 20lbs LPG tanks can cover the needs of cooktop, outdoor BBQ, and hot water. Some may consider carrying Diesel Generator, but the whole idea seems to be a bit controversial if we want to keep an unspoiled nature unspoiled!
Water is a different story. The Basecamp 20X is equipped with 27 gallons freshwater tank so the water will be the main limitation, especially if you travel in a larger company than just 2 persons. Lakes and streams may solve the needs for a shower and toilet, but they cannot help when it comes to drinking water. So, any longer out-of-civilization boondocking must be well planned.
Stone guard plates at the front
Cargo capabilities

         It's hard to imagine exploring nature without essential camping gear. And it's not only about folding chairs, tables, BBQ,  and other supporting stuff. It's also about mountain bikes, kayaks, canoes that make a big part of the off-grid lifestyle. Fortunately, all Basecamp trailers (including the model 20X) have a rear hatch. With dimensions of 26" x 46" it offers easy access to load cargo directly into the lounge area (provided that tables are removed). With the available depth of about 120" to 130", practically the only limit for cargo is its weight (and eventually geometry). Six tie-downs along the lounge are available can for securing cargo when on the road. 
Note that due to the departure angle, the hatch opening is a bit higher above the ground level which does not help when for example loading bikes. However, it's a far better solution than storage on the trailer's roof.
       Basecamp 20X has a cargo capacity of about 800 lbs. While it also includes full LPG tanks, batteries, and a full freshwater tank, it's still a reasonable number for any extra camping gear. 
When it comes to general storage space (excluding the galley and part of the pantry reserved for kitchen needs), the Basecamp 20X offers:
5 large overhead racks with nets all along the interior walls.
Lounge - under-the bench storage (only Camp-side)  
Lounge – under the floor storage
An open area under the front dinette
Pockets with bungee nets on the entrance door and hatch.
Few general-purpose storage cubicles (w/doors) and cupboards are available in the central section of the trailer.

As well as:
Exterior storage (its long but narrow shape and small access door limits its use to specific items)
Top tray in the molded plastic box housing LPG tanks
The bottom line: with its large cargo capability and easiness of loading and unloading process, the Basecamp 20X is a great choice for gear-hauling nature lowers. 

Rear hatch opens the access to the potential cargo area
Heating/Cooling

         The Basecamp 20X is not advertised as an all-season camper. However, the manufacturer made sure that it will be safe and operational in below-freezing temperatures. After all, weekend skiing trips are too attractive to pass on. The semi-monocoque shell's structure incorporates a thermal barrier sandwiched between aluminum sheets. The enclosed underbelly is heated by the central heater, however, when outdoors, you do not have to heat the whole trailer. Individual, battery-run heating pads can be turned on to protect water tanks from freezing.
Basecamp 20X is equipped with Truma Combi Eco Plus unit. It's a universal air and/or water heater. Primarily it runs on LPG, however, when the camper is connected to the grid, it can be switched to electrical mode. And finally, at low outside temperatures, it can run in mixed mode. Finally, during the warm season, it only heats the water. The Trauma Combi heater is housed in the lunge under the roadside bench.
The ceiling-mounted AC unit (13,500 BTU) is optional and like all 110Vac devices and outlets, for operation needs shore connection. Thanks to the power strip It can be an alternative to the Trauma heater (although the latter comes as a standard feature). Note, that the only way to get around the shore power limitation will be a portable generator and fuel.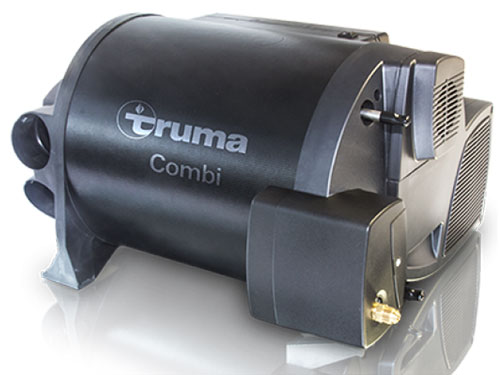 Truma Combi Eco Plus unit (source: Truma)

Control/Monitoring System

        Despite the "pressure" of modernity towards central Control & Monitor Panel and remote control through specialized applications, Airstream opted for the traditional solution - independent sets of switches for light, heater, heating pads as well as monitors for temperature, tanks water levels, etc. Frankly, such a solution may have merits of simplicity and straightforwardness in terms of use. Oddly, however, these components are not grouped together, but are rather placed in four different locations throughout the trailer!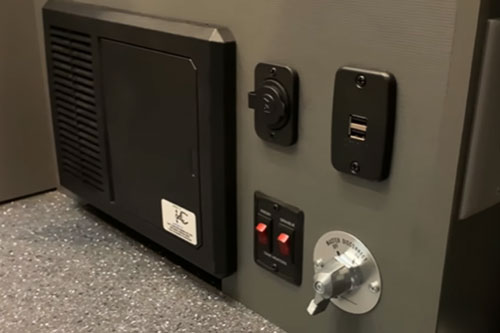 Red switches: Tank heaters, silver switch: Battery Disconnect
Structural Durability

     All-aluminum superstructure (including interior and exterior aluminum skins) makes the trailer truly rot and mildew free. The only exception is a plywood floor but being double-framed, it may also belong to the class of rot and mildew-free elements. Following the same approach, all Basecamp seating is covered in antibacterial, mildew-and-stain-resistant, and flame-retardant marine fabrics. Adding to that high-quality workmanship we can expect that the durability of Basecamp 20X will match that of other Airstream travel trailers (known for lasting decennia).

Summarizing: Basecamp (20X & 16X) is Airstream's first step into the off-road market. Yes, in many aspects it can face off-road challenges at the same time offering comfort and always appreciated stylishness.  However, given the fact that "off-road" also means ability to survive in out-of-grid and out of municipal water environment, the Basecamp 20X is rather behind the off-road competition. 
Unless otherwise indicated, Airstream company is the source of pictures
For technical details and specifications see:
---> Basecamp 20X Specs
---
Note:  Check with the manufacturer and / or authorized RV Dealer for the up-to-date list of features, options as well as latest specifications. These written above may not be accurate and certainly are subject to change by the factory. We are not responsible for any inaccuracy, the above text is provided only for the general information.
This review was written based on publicly available information for the benefits of the community of RV-ers. We do not receive any gratification or financial benefits from RV manufacturers, dealers, and any other promoters of RVs. 
We are NOT involved in sale and/or retail of RVs!