Alabama Beach Camps
Alabama, known as Cotton State actually has large part of its land covered by forests, fortunately sunbathers can find campgrounds with beaches along the narrow coastal line.....
Anchors Aweigh RV Resort
19814 County Road 20
South Foley,  AL 36535
251-971-6644

    An exclusive RV resort which offers great comfort and fun activities. The sites for the RV are paved, and they are pull-thru, back-in or big rig. They have full hookups that include water, electric, sewer, cable TV, and wireless internet. Each camping site has a patio and a picnic table. The restrooms are modern and clean. Hot showers always available after an exciting day. A laundry facility and courtesy patrol are also on site, for your comfort and safety.
The resort has a swimming pool and a heated tub, if you want just to relax. Or you can enjoy, together with your family, a genuine day at the beach, swimming, sunbathing and doing anything that's fun for you. Not far away from the resort, you can find souvenir shops, cafes, mini golf courses, golf carts and many other attractions.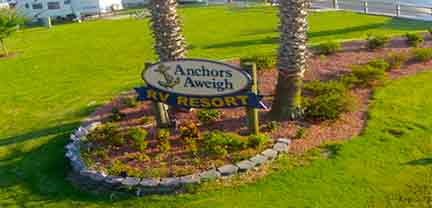 ---
Fort Morgan RV Park
10397 - 2nd Street
Gulf Shores, AL 36542
251-955-2827

    An RV park where you can get great scenery and a bay, only a few steps away. The camp sites for the RV have full hookups to meet your demand. That includes water, sewer, electricity, cable TV, and internet. You can also choose the site to be shaded, under trees, to have a bay view or a bay front, according to availability at the time you arrive at the park. The bath house is new, clean and modern, and a laundry service is ready for you.
You can bring your dog too, because there is a large opened space just a few steps away from the park, with green grass, where you can let your companion enjoy a run. It is a great place where you can go fishing because the end towards the bay of the park will finish with a dock. Near the dock, you can also find a picnic table if you want to see the sunrise as you serve your coffee near the bay. Watching the local wildlife can also be amazing, because the area abounds in bird species and small animals.

 About Us / Privacy Policy / Resources
Go to: Pop-up Travel Trailers and RVs