Aliner Lightweight Travel Trailers
Aliner Lightweight Travel Trailers - convenience and simplicity of Aliner Expedition and Classic models sensibly different in every way…..

Do you love camping, relishing the outdoors just the way you want?
Then you will undoubtedly love the Aliner Lightweight Travel Trailers.
Apart from being sensibly different and personifying the word ease, they can make any potential camper go from ho hum to stunningly beautiful in seconds.
The Aliner Lightweight Travel Trailers are utterly crafted with the holidaymaker in mind.
So there is no better way to watch an awe-striking tableau of the sunset on the lake.

Why Choose Aliner Light Weight Travel Trailers?

Convenience and simplicity is why Aliner Lightweight Travel Trailers are towable by most vehicles; they are fuel efficient, they do not sway while on the road, and they provide no obscured views on the side mirrors. It easy, hence, to forget other pop-up travel trailers when relishing natural surroundings and comfortably lounging in the Aliner A-Frame. Do not recreate in your living room, come reconnect with the outdoors.

Aliner Lightweight Travel Trailers are trouble-free to own. They come with full warranty, they are easy to maintain, and they have excellent quality construction that leaves many ogling. Forget building storage room the size of a barn with a roof touching the skies; they are ridiculously simple to store and set up.

It is easier to own Aliner Light Weight Travel Trailers. Since they not only let you enjoy life "outside the box", they are also easy to heat and cool. They are perfectly secure and provide healthy amounts of privacy. You can peacefully and comfortably sleep your way to dreamland and back. And if you think setting up wet canvas for more than 30 minutes is a shorter time, try 30 seconds of setting up an original Aliner Light Weight Travel Trailer.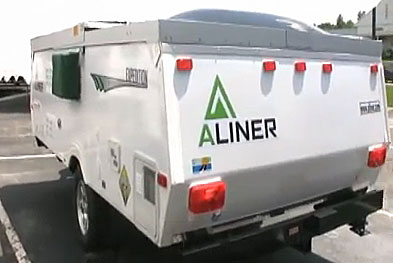 Aliner Expedition: A-frame folding camper in the "road" setting.

Models of Aliner Lightweight Travel Trailers
Aliner Expedition: Looking to honeymoon in the outdoors, or camp with your entire family? The Aliner Expedition model is perfect for you. It is the largest model of the Aliner family and yet towable by many small vehicles. The model boasts the highest capacity chassis. It contains a stove and flush mount Euro-style sink, larger beds, and taller counter tops. Put another way, the Expedition model provides nearly double the "living space". Think almost 30% space.

Aliner Classic - amazing simplicity :-)

Aliner Classic: The Classic model is just that … classic. It is comfortable, adaptable and versatile with nothing you do not want and everything you want. It is not the lightest or the heaviest. It is not the smallest or the largest either; it is "just classically right". The Classic model earned its name by satisfying customers for over 30 years. Even though all other models are variations of this original design, it is the model that pioneered it all.

---
 About Us / Privacy Policy / Resources
Go to: Pop-up Travel Trailers and RVs
or: Lightweight Travel Trailers