Aliner LXE Travel Trailer
2017 A-Frame Campers
2017 Aliner LXE A-frame travel trailer with hard-side dormers is lite, easy to tow but also spacious and well equipped for extended season trips into nature ….
        Aliner is not a newcomer in the RV market. The company started operations back in 70's coming up with revolutionary concept of hard-walls pop-up campers. 

For long years it was strictly small, family-run business. With time the concept gained popularity and with it came the name "A-Frame" camper (easy to understand why). Today after more than 40 years in RV business, Aliner is a subsidiary of Columbia Northwest Inc. 
       Basically the A-frame" campers represent "weather- resistant" solution of pop-up tent campers. Similarly as traditional pop-up campers they are lite, collapsible (so easy to tow and store in the garage), and economic (due to low aerodynamic profile on the road). Their main advantages are: full weather protection including much better thermal characteristics (you can efficiently cool or heat interior), better durability (lower wear & tear factor than for tents) and very short set-up time.
Aliner LEX A-frame travel trailer (Basic version with front dormer)
Aliner A-frame trailer in road configuration (folded)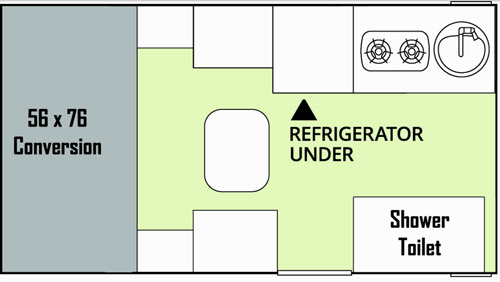 ... and its floor-plan (rear sofa/bed, front galley and wet-bath)
On the other side - despite all recent efforts to make them more spacious, A-frame trailers are small and basically designed for only 2 persons (in largest units you can eventually sleep extra 1-2 young kids). This is in strong contrast to tent campers that can accommodate large crowd (even up to 10 persons). 
      Fortunately for Aliner, there is strong and growing community of senior citizens and for them such campers (especially given their affordability) offer a real chance to "hit-the-road"…. . And the best of the story is that Aliners can be towed by small SUVs, station-wagons and even larger family cars (it's kind of "plug-and-play" RV).
Currently Aliner offers the following models of A-frame campers: Explorer, series of Scouts (Basic and Lite), series of Rangers (10, 12 & 15), LXE, Classic and the largest one – Expedition.
       For this presentation we selected the recently introduced Aliner's A-frame LXE Travel Trailer. It represents the new design concept of A-frame campers with extra dormers (sort of pop-up "attic" increasing interior headroom under the A-shaped frame). However with LXE design Aliner went further – the company replaced tent's fabrics-based Soft Dormers with "Hard-sides" ones.  This way the weakest, sensitive to weather spots were eliminated bringing Aliner's camper(s) back to the class of fully hard-sided RVs.

Here LXE with an optional rear dormer (smaller compared to the front one)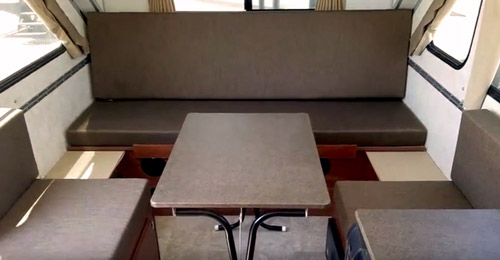 Aliner LXE - living space w/portable table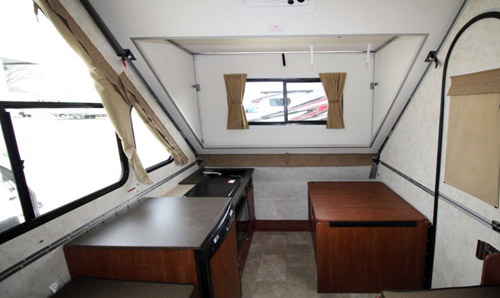 Aliner LXE - front (galley on the left and wet-bath on the right)
      Compared to traditional pop-up campers, the Aliner LXE is quite well furnished offering some sort of comfort for nature-oriented RV-ers. Indeed, from the perspective of backpackers traveling with tents, A-frame pop-up travel trailers represent a step to "luxury".
The LXE's interior kitchen includes 2-burner LP cook-top, 3 cu. feet 3-way refrigerator with internal freezer compartment, microwave and single-bowl sink with faucet. The 6 gallons DSI water heater and 11 gallons fresh water tank meet fundamental needs for hot/cold water. 
The living part of the camper is quite spacious providing most of what is really necessary even on longer trips to the nature. The sofa converts to double-size bed (56" x 76"), comfortable for two persons. Two soft chairs and a portable table make the "eating" corner (wouldn't say "dining" as the cooking conditions may not be favorable for preparation of elaborated meals). 
The storage space is located in the sink cabinet, under one of chairs and under the bed (sofa). Obviously as in all folding campers there are no overhead cabinets so the bottom line is clear – the storage space is limited. For many, it may not be enough but fortunately you have an option – a tongue mounted storage box.
Galley is small but has all basic appliances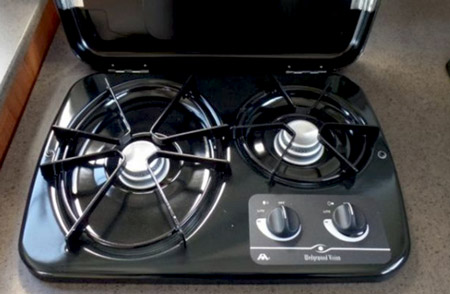 Cook-top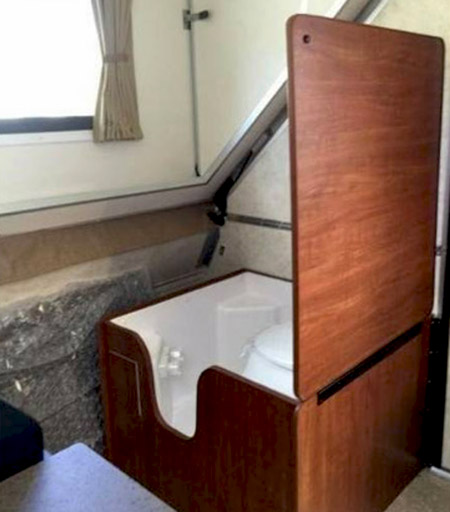 Wet-bath (here opened)
      This may seem to be modest furnishing but still comfortable enough to promise great out-of-town vacations. And actually due to much better thermal insulation of hard-side folding campers you can use the Aliner LXE over extended season. The optional 5k BTU A/C unit and 16k BTU furnace will make it possible and actually enjoyable provided friendly weather for outdoor activities.  It may be worth to mention that all plumbing is inside of the camper so basically no headaches due to low temperatures.
Recently Aliner introduced even better option to control LXE's interior temperature. Known as Cool Cat, it's a 11k BTU ducted A/C and thermo-pump unit (all in one). Cool Cat is not only improving the control of interior temperatures  but also it is more compact (so takes less space) and much nicer esthetically (nothing sticking out of the exterior wall).
         The LXE also offers the wet-bath as the standard feature. It comes with curtain and waste cassette. The latter is removable from the outside and you can consider it as "black tank".  Well, while you are on the campground it is reasonable to use the public restrooms and showers, however when in the middle of nowhere it is a precious item.
Regarding the shower – the wet-bath is very tight and I would suggest (whenever possible) making use of the exterior (provides hot/cold water and unlimited space).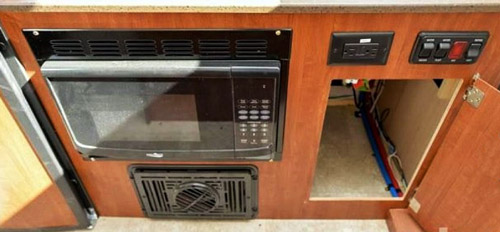 Fragment of the galley: Microwave and on the right storage with 120V GFCI receptacle and A/C & Furnace command switches above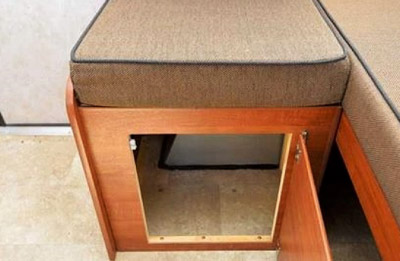 Storage space under the seating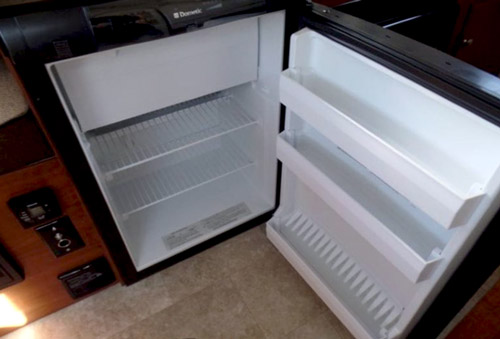 3 cubic feet refrigerator
   The LXE's basic features can be easily upgraded from the long list of options. Although what is useful and what not is an individual decision, we will highlight here (on top of already mentioned heating/cooling units) few really practical options. We assume here that optional cook-top and LPG tanks are obvious choices so we do not have to discuss them.
Awning (small, but nicely expanding the "protected" living space). It may be particularly useful given the next option which is:
Exterior LP grill (plugs right into LXE's propane system). Attached to the side-wall it makes your "kitchen" spacious, well ventilated (kind of "Open-Sky" design). It will be inviting for your favorite steak! Keep in mind that the interior table is portable so it can be used outside as well.
Front storage. It is a large lockable and waterproof fiberglass box mounted on the tongue. It will provide you much needed storage space. While not all space is for grab (part of it is reserved for LPG tanks) you will find there enough of room for your camping gear. 
Rear hard-side Dormer.  The front dormer is a standard feature providing the comfortable headroom in the area of interior kitchen and wet-bath. The rear side comes with large skylight over the sofa. If you need more spacious living area, then the rear hard-side dormer is a right solution. Panoramic view is an extra bonus!Please note that the rear dormer does not offer standing-up headroom, but you do not need it there (obviously you do not walk on the bed).
Bike rack (well, no need for further comments)
Stereo System. Well, this one comes with additional options boosting its power to 220W (not sure you need it when in the nature) and extra lighting effects. While it is nice to have chance to listen to the music, the "sound-and-light" spectacle may not be fair to the Mother Nature. Just think about starry sky, full Moon, and/or the sounds of nature…. You do not have to compete with these, and even more – you do not need. I guess that is why you are in the nature in the first place. 
Off-road Package. It will be useful if you consider going out of paved roads. The package includes bigger wheels (14" instead of standard 13") and bigger clearance from the ground. 
      Please note that the Aliner LXE travel trailer is pre-wired for solar power (standard feature). Although the company does not seem to include any solar panels on the list of options, these days you can easily find them on the market. The extended energy autonomy especially for those exploring the mother Nature may be an attractive option to consider.
Optional rear dormer
Specifications
---
Overall length

Box length

Exterior width

Exterior height (closed)

Dry weight

Tongue weight

GVWR

Cargo capacity

Fresh water tank

Sleeps

Layout

15'0"

12'0"

78"

57"

1,775 lbs

190 lbs

2,500 lbs

725 lbs

11 gallons

2

Front: kitchen, wet-bath, rear sofa/bed
---
Construction
Frame:  E-coated tubular steel
Roof: One-piece aluminum
Walls:  Vacuum-bonded fiberglass panels
Corner Cap: Weatherproof, UV protected
Diamond Plate:  Front/Rear
Dormer(s): hard-sides (front standard, rear optional)
Floor: Marine-grade Perform Max 500 w/extra water barrier
Axle: Single w/independent torsion suspension and EZ-lube hubs
Wheels:    Aluminum rims w/ 13" tires (14" with Off-road Package)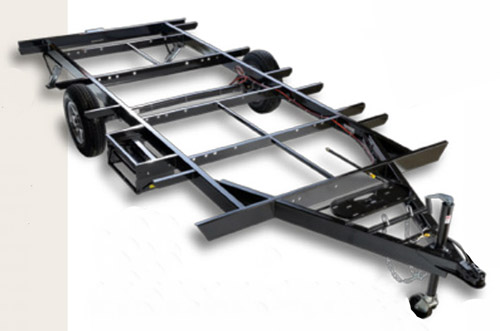 Chassis
Standard Interior features
Microwave
3 cu. ft 3-way refrigerator w/ freezer
6 gallons DSI water heater
Single-bowl sink w/ faucet
Cabinetry w/ laminated counter-tops
Convertible sofa (56" x 76" bed)
Removable table (in/out design)
Two seats (one w/storage box)
Large Skylight (or optional rear Dormer)
Fantastic fan (3-speeds/2-directions)
Wet-Bath (Shower Tub and Toilet Combo)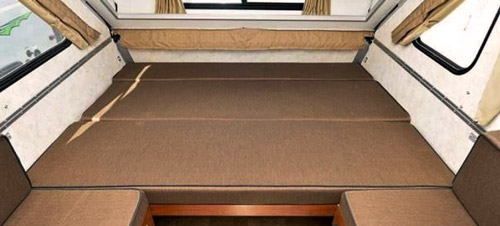 Sofa in bed-configuration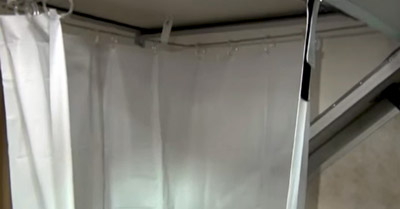 Wet-bath (upper part - curtain)
   ... and correspondingly the bottom part
Standard Exterior features
Shower w/hot & cold water
2 speakers (synchronized LED lights w/optional Stereo Boom Package)
4 Stabilizer Screw Jacks w/Sand Pads
Propane ready
Entry step
Tongue jack
Spare tire w/carrier
Split entrance door
Hook-ups (water, shore power, solar… ) 
LPG tanks tray (tongue-mounted)
Exterior shower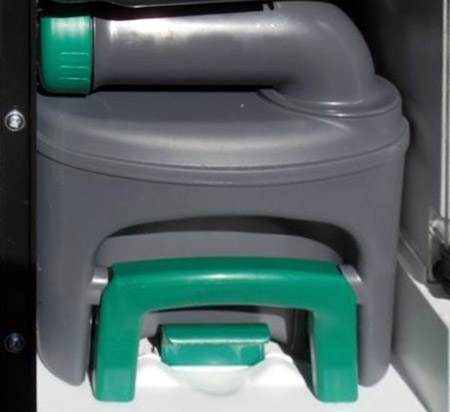 Waste Cassette (Black-tank)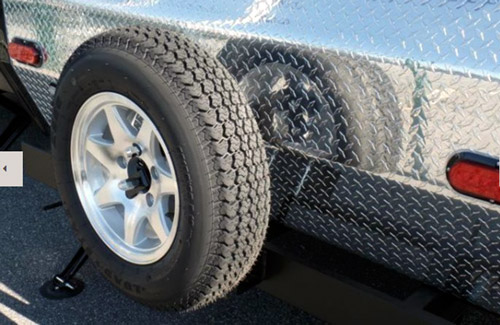 Rear-mounted spare tire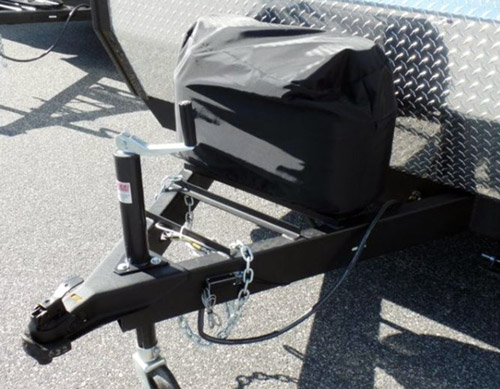 Tongue jack and LPG bottles w/cover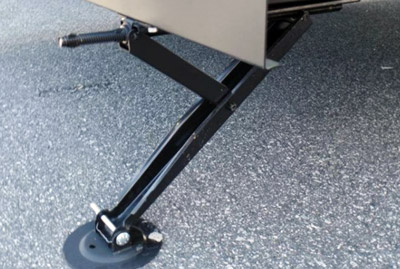 Manual stabilizer jack w/sand pad
Electrical
30 A shore service
Exterior 120V GFCI outlet 
3 interior 120V outlets (GFCI)
Solar Port (ZAMP) 
LED interior/exterior lights
Front utility light
35 Amp converter
Battery hook-up
Safety
Spare tire w/carrier
10" Brakes
Breakaway switch
HD safety chains
Fire extinguisher
Alarm/Detectors (LP, CO, smoke)
Enclosed plumbing
Exterior grill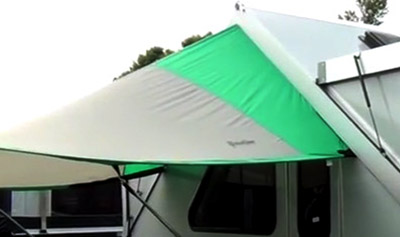 Awning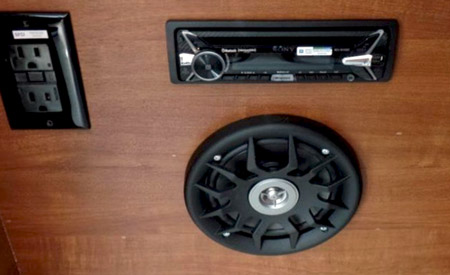 Stereo with speaker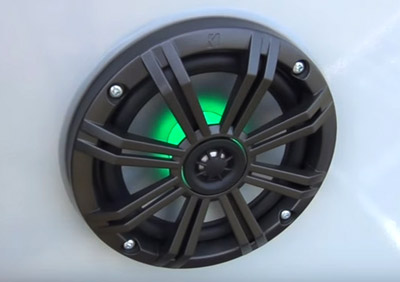 Exterior speaker (here with an optional LED-lighting Stereo-Boom Package)
Options:
2-burner cook-top (In-Out)
Exterior LP Grill (side-wall mounted)
Awning
5k BTU Built-in A/C unit and cover
11k BTU Cool Cat (Ducted A/C -Heat Pump unit)
16k BTU Electronic Ignition Furnace
Dual LPG tanks w/cover (tongue-mounted)
LP auto-switch
AM/FM/CD/Bluetooth - Stereo
Front Storage Box
Hard-side rear Dormer
Bike Rack
Lift Assist (assists in the process of camper's set-up)
High Wind kit (provides extra support to the open camper)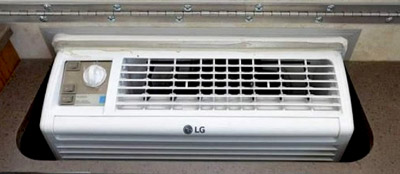 Typical A/C unit is installed just behind the kitchen's cook-top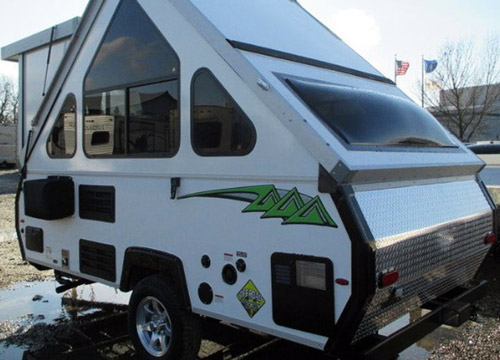 but the main part of the A/C stick-out on the camper's side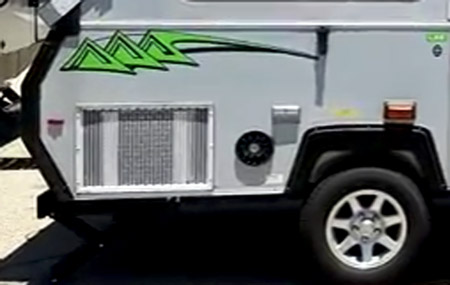 That is what you will see outside when the Cool-Cat is installed instead of the traditional wall-mounted A/C unit
Here just small fragment of the heating/cooling system (left) and the command center (right top)
Optional Packages:
Off-road package (14" wheels, stronger axle, extra ground clearance)
Stereo Boom Package (220W Stereo w/ speakers LED lighted synchronously with music) 
Ground Aurora Package (exterior, pre-programmed colors ground lighting system)
Summarizing: The 2017 Aliner LXE travel trailers provide the best of two worlds. These are: "All-weather" hard-side interior (relatively spacious thanks to dormers), Low weight (towable by small SUVs and even some family sedans), Low aerodynamic profile when folded (great for towing and storing) and Decent set of features allowing for comfortable getaways into nature.

Go back to: -->  Top Hard-Side Folding Campers
or              --> Top A-Frame Travel Trailers
Note:  Check with the manufacturer and / or authorized RV Dealer for the up-to-date list of features, options as well as latest specifications. These written above may not be accurate and certainly are subject to change by the factory. We are not responsible for any inaccuracy, the above text is provided only for the general information.
This review was written based on publicly available information for the benefits of the community of RV-ers. We do not receive any gratification or financial benefits from RV manufacturers, dealers, and any other promoters of RVs. 
We are NOT involved in sale and/or retail of RVs!