Aloha Vintage Trailers
Aloha travel trailers produced from 1954 to 1970 were designed for needs of US Pacific Northwest; although quite modest and small, Aloha campers enjoyed great popularity.

This brand catered mostly to the Pacific Northwest region comprising of Oregon, Washington and Idaho in the US and British Columbia in Canada.
Glen Gordon acquired the Aloha company on July 6, 1959, relocated it to Beaverton, Oregon (near 142nd Ave), and continued to grow the business.
During its heyday Aloha had captured 15% of market share in North-western America.
At that time the company employed hundreds of workers.
But then slowly the "Small-is-beautiful" started to lose market share to "Bigger-is-better"  and the demand for low-cost small family travel trailers decreased.
Aloha business was sharply going down. In 1969, in a desperate effort to save the production and jobs Aloha was sold to Woodtech.  New owner continued manufacturing Aloha trailers into the 1970's, but it was too little and too late to save the business.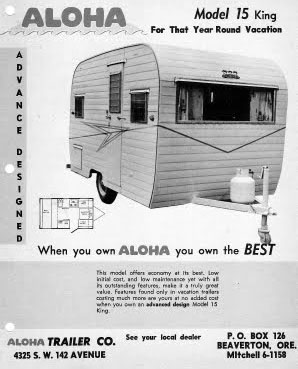 Aloha Trailer - Model 15' King: Original factory leaflet....
Source: http://alohatravelltrailer.blogspot.ca

Despite the fact that the basic features of Aloha campers were quite modest and inside space small, Aloha campers enjoyed great popularity. These trailers are amenable to great user customization. Hammocks, storing space over rear bed, benches-you just need to give shape to your imagination and Aloha will provide you the right space.
Aloha specialized on smaller campers, the size ranging mostly from 11 ft "Compact" to the 18 ft. "Deluxe", although a 28 ft. model was also manufactured. Besides travel trailers, Aloha also manufactured custom motor homes, truck-mounted campers, and even a few "house boats" built on barges!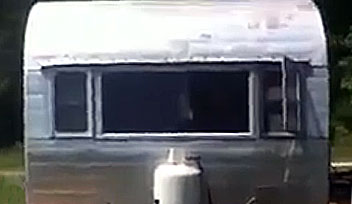 And this is how this model looks now...
Aluminum covered shell and large front window are some of unforgettable characteristics of the Aloha trailers

Beaver
The bestselling Aloha trailer model happens to be Beaver. It rolled out in the year 1955. It is a 15 ft. trailer with canned-ham shape consisting of a wood frame sheathed with thin sheets of ribbed aluminum panels. Beaver trailer was specifically designed to withstand the damp climate of Northwest. The structure included wider drip rails and thicker plywood backing along the bottom edges of the trailer and around the wheel well openings.
Beaver trailer came with two square windows on the side and one rectangular window on front. The front side featured the kitchen while bed was on the back.
The trailer was sturdy and "in a way" beautiful besides being affordable, the reasons why it had become so popular. Today Beavers are highly prized by trailer restorers searching for a classic "canned ham" style vintage trailer.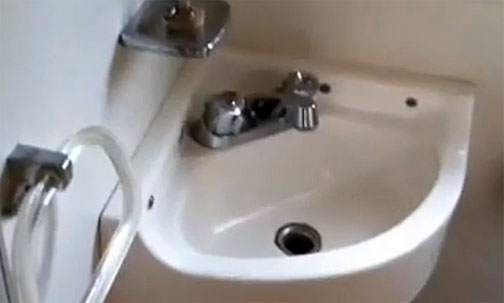 Fragment of the bathroom in the Aloha camper

"T" Model

Aloha "T" Model came with great promise for space and user comfort when it rolled out in the year 1960. The length of 16 and half feet was a major departure from Aloha's standard length of 16 feet. With the width of 7 feet the trailer weighted 1700 lbs (plus 200 lbs for the hitch). The canned-ham shape also went for a change with the new box type angular silhouette.
The "T" Model featured a front kitchen, a side dinette and a marine type toilet. The manufactures promised great towing convenience on account of its appropriate design. This model also featured a unique wall framing design that incorporated the wood platform instead of just setting the walls on top of the platform.

This Aloha 1967 18ft travel trailer is a dream for lovers of the past.....

Deluxe

Deluxe 18' was introduced in 1961. It was also called Self-contained Trailer because more living conveniences were added to create more suitable living space for campers. Because of the additional features the company catch-line for the new model was, "Stop where you please" expressing the design's philosophy to provide "Home away from home" environment.

 About Us / Privacy Policy / Resources
Go to: Pop-up Travel Trailers and RVs