Alpha Teardrop Trailer
Mini-Campers
ProCamp Alpha travel trailer belongs to the class of mini-campers; made from composite materials, lite, fuel efficient offers handy kitchenette and comfortable sleeping during short escapades for two...
     Mini-travel trailer Alpha belongs to the class of teardrop campers manufactured by the Slovakian company ProCamp. 

     Although the company was founded only few years ago (2012), it has long experience in RV business operating under the name Tavex since 1992. Today, the company makes six models of travel trailers, correspondingly: Alpha, Pioneer, Escape, Buddy, (all classic teardrops), Bushcamp (off-road teardrop) and a newest addition – Wave (the smallest and lightest one).
Out of these six models only two - Alpha and Bushcamp have galleys what makes them more suitable for comfortable camping experience. Remaining four are rather "weatherproof", ready-to-use (sleep) towable shelters…. May be the most interesting shelter will be Wave (half-cut teardrop shape) due to its weight of only 420 lbs, what makes it suitable for towing by tricycle or even bigger motorcycle.
      It may be worth to mention that ProCamp teardrop travel trailers are made under license from well-recognized US teardrops manufacturer - Little Guy. 
Procamp teardrop travel trailer - Model Alpha
      Having in mind typical RV-ers needs, we will focus here on presentation of the Alpha model. The design was strongly driven by the genuine goal to achieve "Maximum camping pleasure on the Minimum footprint" ….
Alpha's first advantage is a teardrop-shape: the design very popular not only in Europe. Very good aerodynamic profile and lite-weight guarantees fuel economy and towing within the range of compact cars. The laminated composite shell (typical for modern teardrop travel trailers) makes them very durable, most likely lasting almost forever and certainly low-maintenance. And finally, thanks to decent set of features including the kitchenette – they are handy and comfortable for shorter camping trips.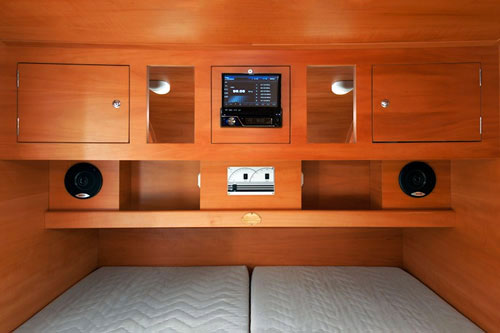 Alpha teardrop camper" Interior (here seen double bed, cabinets and DVD/Stereo set)
     The shell is divided in two parts – large interior compartment that makes the sleeping area and at the back a separated smaller section holding the kitchenette with worktop. 
The sleeping space makes comfortable bedroom for two persons (eventually 2 plus child) with full-size mattress (200 x 148,5 x 10 cm)/ (78.7" x 58.4" x 3.9"). It also provides surprisingly spacious storage space along the front-wall and under the bed. It's also the area that can be equipped with an optional audio/video system.  Roof-mounted vent as well as windows offers fresh air access. 
The small kitchenette at the rear part of the trailer is fully equipped with 2-burner cooktop, sink, fridge or cooler (optional), water tanks w/pump and cabinets. The lid opens upwards serving as the protection against rain.
The optional entrance tent attached to the camper's side provides the large reaching-to-nature living space.  With waterproof floor and walls, large windows and screens it opens a comfortable space in all-weather conditions- be it sunny or rainy days.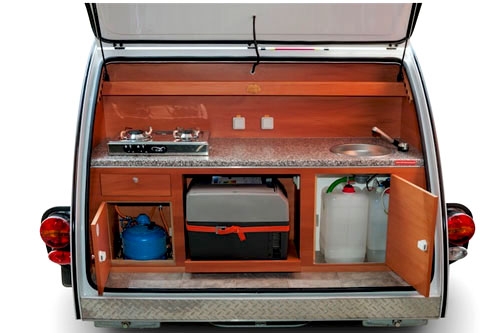 Alpha mini-camper: fully equipped galley at the back of the trailer
     Alpha travel trailer can be equipped with Park-Drive Assistant. It is very interesting option rarely seen in campers that allows owner to automatically park the trailer using a remotely controlled self-driving system. The set of electrical engines attached to both wheels and powered by the internal battery can be activated and controlled at the touch of the button.  While teardrop travel trailers are usually very easy to maneuver when attached to the towing car, the self-parking system may be of great help for "week-end" drivers.
Eco-conscious camping enthusiasts may be encouraged by the fact that all ProCamp travel trailers (including Alpha) are made from recyclable materials. This greatly helps to keep nature unspoiled and unaffected by our industrial civilization!
Mini-camper Alpha: Park-Drive Assistant
     Obviously, teardrop campers cannot replace residential-like "home-away-from-home" RVs. They are designed for short escapades and weekend adventures to explore the Mother Nature. An optional rack for two bicycles (or lite scooter) greatly enhances encounters with the wilderness.   
ProCamp's travel trailers are distributed across the Europe (they all have appropriate certifications for the EU market). It may be worth to mention that the company in addition to mentioned models of travel trailers is also opened for custom designs based on individual requirements.
Specifications:
---
Overall length

Exterior body length (w/rear galley)

Interior body length (sleeping space)

Overall height

Interior height

Overall width

Width w/fenders

Interior width

Dry weight

GVWR

Maximum cargo

Sleeps

380 cm (12'6")

260 cm (8'6")

200 cm (6'7")

167 cm (5'6")

99 cm (3'3")

154 cm (5'0.6")

204 cm (6'8")

148.5 cm (4'8.5")

400kg (882 lbs)

750kg (1,653 lbs)

350kg (772 lbs)

2
---
Mini-camper Alpha: here with front storage box
Construction:
Chassis:  galvanized (made by German manufacturer Knott-Fahrwerk) 
Shell: Laminated polyurethane sandwich panel (28mm/  )
Suspension: Spring-Loaded w/Shock absorbers
Security: Brakes
Rims: Steel 
Tires: 185/70 R13
Colors: standard white (acrylic-metallic), others available as options 
Standard Features
2-burner LPG cooker w/lid
Single-bowl sink w/faucet
14 l Refrigerator (may be optional)
Fresh water tank (may be optional)
Grey water tank (may be optional)
Mattress (200 x 148,5 x 10 cm)
Basic cabinets (oak veneer)
Storage under the bed
Ceiling fan
80Ah battery 
Converter and battery charger 
Door w/window including screen and blinds
Opening windows w/screens
2 x 12V outlets
LED interior lights (3 pieces)
13-pins socket
Exterior 220/12V power sockets
Rear stabilizer
Interior upholstery
Alpha mini-camper: roof-mounted solar panel
Options:
Electric Fridge or cooler
Heating system (LPG, gasoline or diesel with remote control by cell-phone)
Bicycle rack for 2
Motorbike rack (up to 100kg/220lbs load)
Stereo system
Park-Drive Assistant (uses battery-powered, remotely controlled camper's auxiliary engines)
Front storage box (240l/8.5 cu. ft, removable, lockable)
Roof-mounted or external Solar Panel
External tent (designed for ProCamp trailers)
Awning or Tent
Spare wheel
Alloy rims
Cover
Choice of colors (and graphics)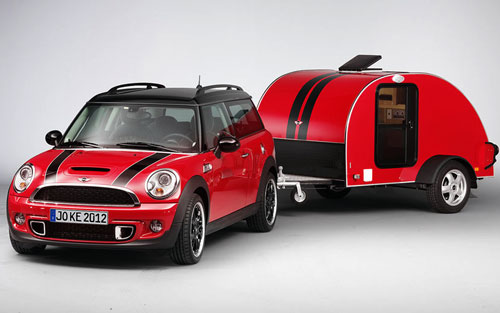 Stylish tandem: Mini and Cowley teardrop travel trailer
      The Alpha teardrop camper became so popular, that the company designed also "tuned-up" units based on the mentioned model. One of them is a "Mini-Cooper" tuned version known as Mini Cowley.  It is especially designed to match the style and trim of the famous "English-born" (but today BMW-owned) Mini-Cooper cars. Indeed they both make a "sexy" tandem.
The Mini-Cooley (named after the old Cooper's Oxfordshire factory) offers more standard features compared to the standard ProCamp's Alpha version….
Let's finish this presentation with the "moving pictures". Although you may have problem to understand the language (Slovakian), the presentation of the Alpha Teardrop Travel Trailer is more than understandable 
And now, let's go back to: Best Mini-Travel Trailers for 2017