Aluma-Lite Lightweight Travel Trailers
Aluma-Lite comes in three variations: Aluma-Lite C, Aluma-Lite Ultra, and Aluma-Lite TT, but they all share the same goal offering a sense of familiarity and a home like feeling….

Travel trailers or campers popularly known also as RVs are sort of "upgraded descendants" of a simple tent, which since long is considered as an inexpensive "survival kit" for a person who likes travel adventure.
These days many companies are trying to bring this "old idea" to perfection by designing and manufacturing lightweight, more productive, space efficient and "home-like" campers.
They are dedicated to this genre of automobiles, solely investing in the construction of travel trailers.
Holiday Rambler is one of them. This brand is looked upon for making luxury coaches, which are tow-able, making the on-road experience more resilient and prosperous.

Endeavor, Ambassador, Vacationer, Augusta, Presidential, and Aluma-Lite are the products manufactured by Holiday Rambler. All these great products use top technology to deliver the best to the customers. Aluma-Lite is ideal for the family weekends. It is built in a way to occupy and accommodate the necessities.
It comes in three variations: Aluma-Lite C, Aluma-Lite Ultra, and Aluma-Lite TT, but they all share the same goal. These travel trailers give a sense of familiarity and a home like feeling, so that when you are on the go, you will not feel homesick. They are light weight, and thus is easily towed by your car.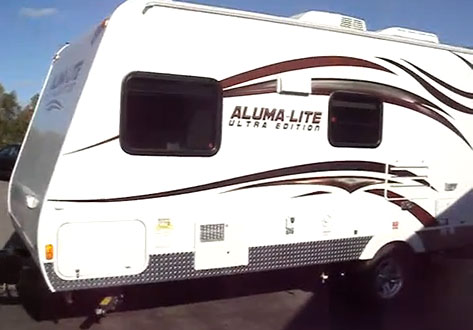 Aluma-Lite in its Ultra Edition version

The Aluma-Lite Travel Trailer comes in half a dozen different floor designs. This is an incredible option and in a showroom gives one more freedom to take their required plan from a given choice. The six floor plans have a refrigerator, sofa, dinette, shower, bath, microwave as well as bunk beds, king size beds, T.V, radio, pantry, and cupboard. The style changes from a very basic to a more furnished one, depending on one's needs. The interior boasts of a very stylish dark cherry painted cabinetry and arched ceilings. 
The bathroom and an entertainment portal let you experience the comforts of household and yes, not to miss your pet shows.  There will not be much of a conflict in one's daily routine. The dark tinted window assures that nobody disturbs your privacy. One is not restricted to a single layout, as seen in the case of other light weight travel trailers, where one compromises on the interior because of the caravan's durability and price.

Not to say that the Aluma-Lite TT lacks behind – it delivers a high glass cote exterior, which makes it look sleek and prevents the outer weather to move the interior quad. An aluminum chassis is welded on all the six sides of the travel trailer, thus that it is solid enough to avoid a dent and damage to the insides. This travel trailer is efficient in addition to being light weight and comfy.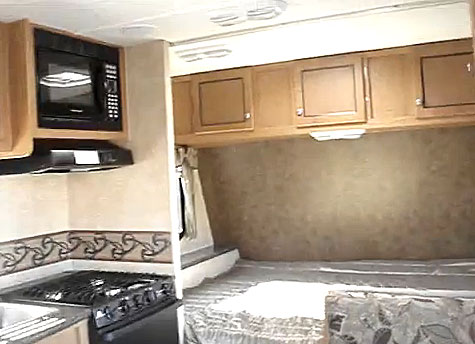 Aluma-Lite: View into kitchen and bedroom

Aluma-Lite TT weighs 6,160 lbs, and hence is of much light weight when compared to its counterparts in the industry. It takes in a height of 9'9'' which is very much sufficient for people to go around indoors with ease. In that location is no concern in mind when it comes to buying this travel trailer. Low-cost and extremely appreciated, Aluma-Lite Travel Trailer can be the best bet you get in your lifetime.                

---
 About Us / Privacy Policy / Resources
Go to: Pop-up Travel Trailers and RVs

or: Lightweight Travel Trailers