Aristocrat Vintage Trailers
Aristocrat trailers made history for their very unique feature – they were designed to fit into regular garage, but still roomy inside and extremely well built…..
Irving Perch started production of Aristocrat trailers in California.
In 1969, after initial success of Aristocrat trailers another factory was opened in Indiana.
These homes away from homes were manufactured during the period 1956 to 1974.
Ability to be stored in the garage was advertised as their attractive feature. In fact, with a spare set of metal wheels height of these retro trailers could be reduced to fit them in typical garages.
People loved Aristocrat trailers for their height and roomy feeling inside. The famous Lo Liner model got its name exactly due to the fact that optional metal wheels allowed it to fit for parking. The trailers were extremely well-built with aircraft construction techniques such as metal beams.
This love did not go away, today Aristocrat vintage trailers are greatly appreciated by community of RV-ers.

Lo-Liner Vintage Travel Trailer
13 or 15 feet trailers with width of 6 feet and 6 inches rolled out around in the 60's and 70's. The longer versions came with two separate sitting areas (kitchen and dinette), three sleeping areas, two sinks, closet and good storage space. Windows on all four sides adds to the spacious feeling.  Dry weight of Lo-Liner is 1600 lbs. Corner cabinets and ceiling beam extrusions add strength to the body. Parking inside the garage was publicized as an added advantage of this model because the owner could use it as an extra bedroom or guest room or even study room for children while parked in garage.

Original Lo-Liner trailer - it definitely needs some work, but despite its age it still radiates with glory of 60's

Mainliner

Mainliner model catered to the travellers' aesthetic sense with its pre painted aluminium exterior and shiny kitchen fittings. It came fitted with a good oven range and an ice box with gas refrigerator being supplied optionally. The body blanket-wrapped in fiberglass insulations adds to the feeling of security. Electric brakes also enhanced the safety features. Mainliner featured polyclad interior, large storage space under the beds and a large wardrobe.

Land Liner

Land Liner came fitted with tandem axle and electric brakes which allowed carefree traveling. It provides sleeping space for six with foldable beds in the kitchen, lounge and the inside roof. Insulated floors, walls, decorative wrought iron railings and ceilings added to the interior comfort and elegance while the pre-painted aluminium exteriors supplied a smart look.  The kitchen has 14 drawers and vinyl flooring with a stainless steel sink. Length of Land Liner is twenty foot and the weight 2100 lbs.

If you have doubts - this one is stored in the garage!

Pick-up Partner

The trailer was advertised as the strongest camper in the industry. Insulated walls, double insulated ceilings, vinyl and vapour barriers gave it a strong and secure characteristics. This 81/2' camper offers additional 20% space compared to similar trailers of other manufacturers. The propane refrigerator was optional in this model, but the ice box was a standard feature. The high output fluorescent lights, double steel sinks, porta-potty, and wide sweep faucet were adding extra appeal to the trailer . It has provision to sleep six.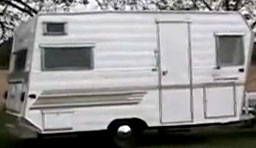 Original Aristocrat Land Commander from 60's

Land Commander

The model is spacious, sturdy and secure because of its extensive safety features. Great thought has gone to make the dinette an important living and sleeping area for the campers. The large dining area, drop down dinette table, and an additional fold down table made the inside highly roomy. The kitchen comes complete with Magic Chef 3-burger cooking range, wide sweep faucet and other mod cons like gas refrigerator or ice box. The length of Land Commander is 16 feet and the weight 2250 lbs.

 About Us / Privacy Policy / Resources
Go to: Pop-up Camper Trailers and RVs