Bear Teardrops Apache
Carpexpedition Off-Road RV
CARP Expedition Apache is an off-road trailer designed for adventurers willing to experience the beauty of nature along unbeaten paths …

       CARP Expedition (better known as Bear Teardrops) was founded by Mark Weseloh – himself known as one of those hard to die aficionados of escapes into nature. Obviously, the best way to experience the beauty of Mother Natures is to go off beaten paths.  Not surprisingly Mark (given his creative spirit, combined with professional experience and skills), took the matter into his own hands. The rest is history- in this case measured by the success of his Bear Teardrops trailers.  And just for the clarity – recently Mark decided to change the company's name to Camping and Recreational Products (hence this mysterious C.A.R.P. Expedition) as it seems to better reflect the character of the business.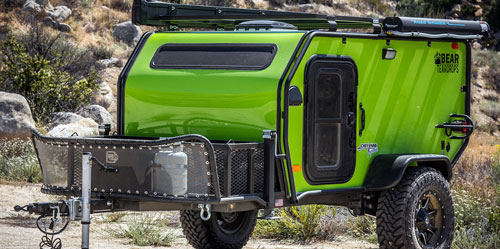 Apache off-road teardrop travel trailer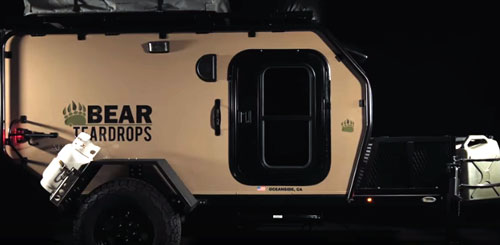 Apache: Here with LPG tank and cargo on A-frame platform
       The company located in Oceanside (CA) currently offers two models of off-road trailers: C1 Tent Trailer and Apache. The first is a sort of off-road cargo trailer with small pull-out galley, substantial storage space and roof-top-tent (RTT) providing the off-ground sleeping place.
By contrast, Apache is an "almost classic" teardrop trailer in the sense that it offers typical configuration with an interior sleeping space and exterior rear galley. Well, "almost" reflects the fact that its expected characteristic teardrop's shape is slightly altered by 50 deg departure angle necessary in off-road driving environment.
       As most of "no-roads" RVs designed for serious adventures, Apache's design is mostly determined by its off-road and obviously off-grid functionality.
Its frame is made from 2" x 3" x 0.12" square-tube steel, welded than powder-coated for weather protection. The shell structure is built from laminated cross-members and dado-jointed panels of marine-grade plywood, then finished with 90 mills thick painted aluminum skin. An extra protection from branches is provided by so-called "Brush-Guard" (steel tube profile along the exterior side walls). Similar way are protected trailer's exterior road lights.
Apache: Road-lights protection (also visible fragment of "Brush-Guard" protection)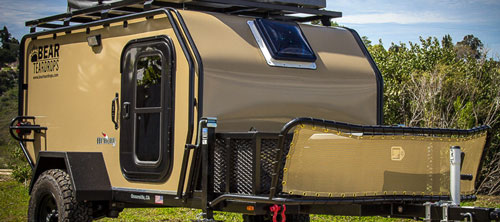 Bear Teardrops off-road Apache trailer

        Apache's interior is simply a sleeping space. Comfortable (almost queen-size with 4" foam mattress) but in its basic configuration, just with minimum features like cabinetry (about 5 cu. ft of storage), screened roof vent/fan, LED dome lights and USB ports. The maple interior finish makes a nice accent creating the warm ambiance. And this is pretty much all, surely not much, but certainly it should make nature lovers happy when it comes to sleeping space.
Like all teardrops, especially those with substantial ground clearance (24 inches in the case of Apache) there is not much room for interior storage (physically almost impossible to built-in pass-through storage compartments). But here comes the large stainless-steel A-frame with its capability to install optional storage. In fact, the manufacturer offers a 15 cu.ft metal front basket storage (60" x 24" x 16") as well as a molded-plastic lockable storage box. Both can be protected from road damage by an optional (and impressive) Rock Guard.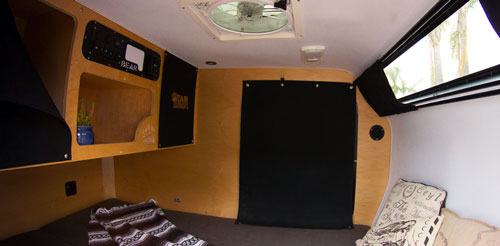 Cabin: Sleeping space
Standard real galley with its stainless-steel work-space and under-counter storage
Apache: Galley
Apache: Galley's cabinetry
      Generous storage space (about 25 cu. ft) offers the rear galley. The main storage is located under the trailer-wide stainless-steel countertop (the weak part of the design is that you must clear the countertop (working space) to access the storage, what seems to be not very practical and sometimes simply frustrating. The maple-finished cabinetry with an easy access provides here some help.
Obviously, the available options include many very useful features that will make the galley more functional (cook-top, freshwater storage, but also road shower etc..). Note that the 11lbs LPG tanks is part of the standard features.
The roof-long rack (standard feature) can also provide space for camping gear although its main purpose is to carry spare tire (mount included), kayak, surfing boards, etc… (for bikes manufacturer offers more handy, optional bike-hitch).
        Out of the available options, two seem to be worthy of attention. One and probably the most important is the Tepui roof-top tent. It can serve as an extra sleeping space (when you travel with kids). Keep in mind however, that this RTT can also serve as the main, off-ground sleeping space freeing this way the teardrop's interior for all sorts of camping gear. Note, that thanks to substantial Apache's GAWR (compared to its standard dry weight) the trailer can carry generous amount of cargo.
Another on the suggested list of "musts" options is 270 degrees Batwing awning. Given unpredictable weather and minimum interior living space, it creates an impressive and "to some extent" protected outdoor living space.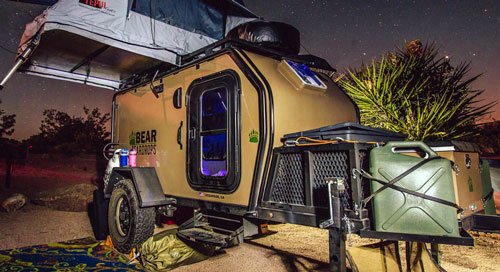 Apache: Here almost "fully-loaded" with Tepui RTT and A-frame housed cargo

      More dedicated adventurers may also opt for an optional solar power (plus accessories) to extend the availability of electrical power (note that the trailer has its own 12V battery). If necessary, the trailer may be also equipped with shore-power but let's face it, in the middle of nowhere you should not count on hooking-up to the grid)!

Specifications
---
Overall length (1)

Exterior height

Exterior width

Cabin length (2)

Cabin width (2)

Cabin height (2)

Cabin interior length

Cabin interior width

Cabin interior height

Dry weight (3)

GAWR

Ground clearance

Departure angle

Sleeps (4)

15 ft

90"

87"

107"

48"

60"

86"

44,5"

58,5"

1,300-1,500 lbs

?

24"

50 degrees

2
---
1.       Includes A-frame (tongue)
2.       Exterior dimensions
3.       Depends on options
4.       The roof rack can also support Tepui RTT with extra sleeping place for 2)
Construction
Frame: Powder-coated, square-tube steel 2" x 3" x .12"
Shell: Laminated crossmembers, marine-grade plywood w/dado-jointed panels
Exterior finish: painted aluminum skin (0.090" walls, 0.040" roof)
Suspension: Timbren axle-less
Wheels: 15" black aluminum w/ BFG KO2 All-terrain Tires
Galley: Rear
Coupler:  2" ball
Connector: 7-blades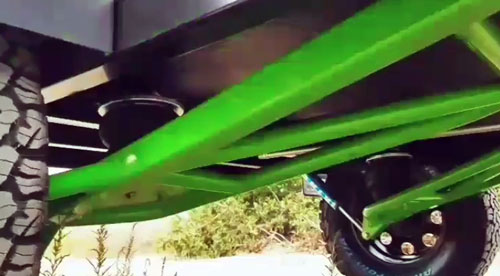 Timbren axle-less suspension

Cabin
Maple interior finish
Queen-size sleeping area (82" x 57") w/4" foam mattress
3-speed screened vent/fan
Cabinetry
2 LED dome lights
Power Panel (switches, Voltmeter, 2 USB ports, w/access to fuses)
Optional step facilitates access to the cabin
Galley
Stainless-steel countertop
Maple-finished cabinetry and under-counter storage (25 cu. ft total)
Dome LED light
12V outlet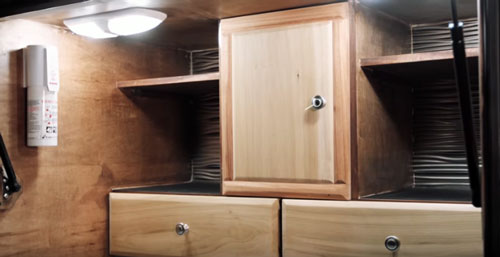 Galley: Upgraded pantry
Exterior
Fulton XLT Stainless-steel, wheeled tongue jack
2 front stabilizing jacks
Full-length roof rack w/spare mount
Profile "Brush-Guard"
Load-rated fenders and sliders
11lbs LPG tank
Porch LED light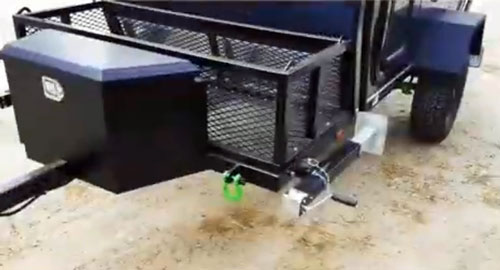 Optional cargo space
Molded fiberglass box houses the battery
Options
Tepui RTT
Rhino Awning or 270 degrees Batwing
Road shower
Shore power
Jerry-Can w/holders or Rotopax Water Storage
Rear stabilizer jacks
Entry step (Pull-up)
Front Rock Deflector
Bike Hitch
MaxxAir 10-speed Fan/Vent
Porpx heater
Upgraded Air Ride suspension w/King Shocks
Front storage basket (60" x 24" x 16" – 15 cu.ft)
Solar panel
Pictures: Courtesy of CARP Expedition
Go back to: --> Review of Extreme Off-Road RVs
Note:  Check with the manufacturer and / or authorized RV Dealer for the up-to-date list of features, options as well as latest specifications. These written above may not be accurate and certainly are subject to change by the factory. We are not responsible for any inaccuracy, the above text is provided only for the general information.
This review was written based on publicly available information for the benefits of the community of RV-ers. We do not receive any gratification or financial benefits from RV manufacturers, dealers, and any other promoters of RVs. 
We are NOT involved in sale and/or retail of RVs!