Best 2015 Lightweight Teardrop Trailers
Modern teardrop travel trailers on top of their "nostalgic" shape offer a decent living space, fuel economy and easiness of towing and maneuverability, see our picks for 2015.....

         Traditional travel trailers are typically large, heavy and as a result - difficult to tow.
By choosing a smaller teardrop trailer instead, you will be able to eliminate these issues once and for all.
For many, an extra bonus is their nostalgic "old-timer" shape bringing back memories from the past. 
And due to their limited size you will be able to pull them by just about any vehicle; you won't need a massive truck to get the job done.
Obviously these days with so many models available on the market, the choice is not easy. That is why we are proposing here our picks – considered as best lightweight teardrop-shaped travel trailers for 2015. 
You may find that teardrops' features that are available will greatly make up for what they are lacking in size.

 Silver Shadow 6x10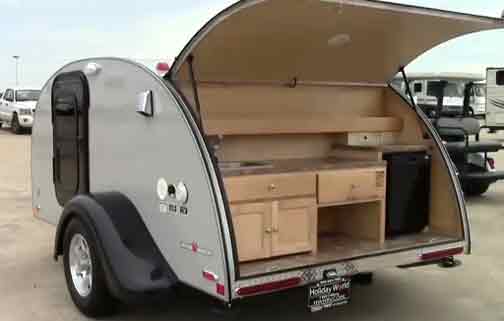 This 6 x 10 trailer has quite a bit to offer in the small space that it provides. For example, it has a king size bed included in the design that provides more than right amount of space to sleep comfortably. This is also a great option for those who are looking for a classic design, because it has been fashioned after some of the most popular styles of the past.

Features and Specifications:

Silver exterior and birch interior
LED Lights
A-frame tongue that is meshed
Options for kitchen appliances
Option for built in AC
Fiberglass fenders
Baby Moon Hubcaps
Window Shades

 560 Ultra Raindrop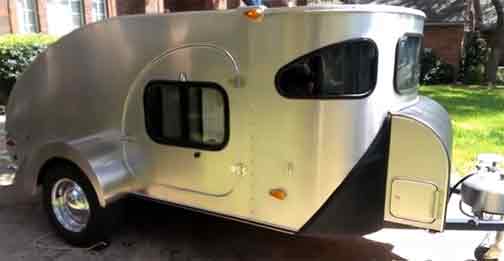 This raindrop trailer has been designed as a heavy duty unit that will go anywhere that you need it to go including off-road paths.  It includes several features that will ensure comfortable vacation on the road. For example, the couch can be converted into a bunk bed. Indeed this model was designed very wisely providing not only decent living space but also a lot of storage capabilities. It is a practical solution for nature loving and adventure hungry family.

Features and Specifications:

5 foot wide cabin
Queen size sleeping arrangements
Vintage style raindrop design
Aluminum Exterior
Insulated roof
AC Option
Storage Cabinets
Additional storage under the floor
Roof Fan

2015 Teardrop Rover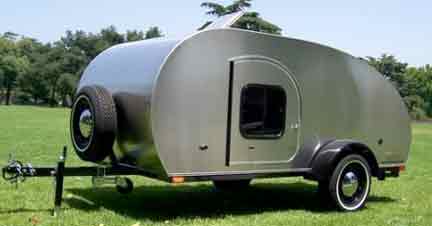 This trailer is perfect for a camping excursion and offers enough room to add some amenities to make the trip more comfortable. It has been designed with high quality materials, which makes it durable and sturdy. Another advantage of this model is that you can easily customize its design to meet your individual needs. This way, you will know that nothing will be missing when you take it on the road with you.
 
Features and Specifications:

Size: 4 x 9 ft
47" inside cabin width
Two burner stove
Options for a cooler or fridge
Additional storage in rear

Vistabule Lightweight Teardrop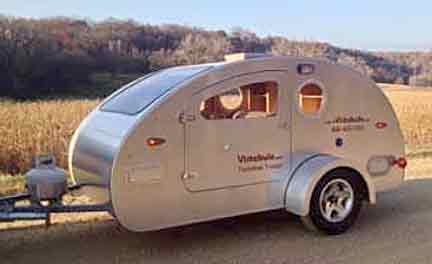 This teardrop model is a bit different from other teardrop trailers. It offers a view of the outside world that is not typical with these styles of trailers. It has enough space to fit a queen size bed with an additional storage space built-into the bed's frame. Also, there is a clear view of the road when you are driving because of the special pass thru opening that has been included in the design as well.

Features and Specifications:

Large Windows and doors
Storage under the bed
Privacy Screens
2 burner stove
Fan and 2 air vents
Space for charging electronics and lighting

Eggcamper Teardrop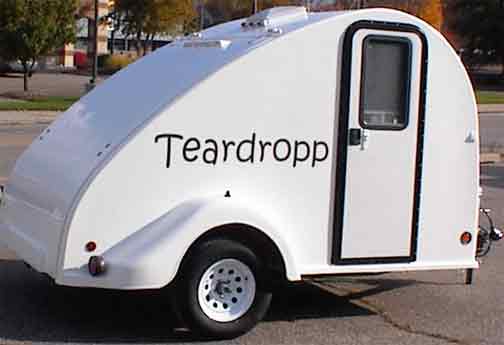 This unique design is a throwback to the styles that were popular during the 1930s. With a comfortable sleeping area inside, you will also be able to enjoy cooking because the galley has been placed under the lid in the rear. There are also many options available that will help make this trailer a more comfortable choice for your family. It offers a nice compromise between the living, sleeping and cooking space, weight and size and price. With the practicality of this model, you will know that everything is ready to go when you are ready for your next camping excursion.
Features and Specifications:
Options for heater and air conditioning
Screen Door
Kitchen appliance options
Additional seating
Large bedding 
Hidden storage

Conclusions

       One of the best things about teardrop trailers is that they take up very little space when you are storing them. They will also not compromise your fuel economy require because of their light weight. Their maintenance schedule is simple and minimal. If you are looking for a cost-effective way to travel, a teardrop trailer may be the answer for you. Be sure that you check out the options listed above in order to find the best one for you.

 About Us / Privacy Policy / Resources
Go to:  Pop-up Travel Trailers and RVs
or to: Benefits of Lightweight Travel Trailers