5 Best Portable RV Air Conditioners
Portable air conditioners can easily be moved where needed, using them in RVs or travel trailers can greatly improve your vacation experience in hot summer days....
            When looking for an air conditioner for your RV, most persons chooses one that either hangs outside of the side windows or mounts on the roof.
While roof-mounted RV ACs are most elegant and "trouble-free" solutions there is another, often forgotten option: portable ACs.
The beauty of portable ACs is that they are not "tight" to the place.
In other words they can be easily moved around and used in most demanding areas. This flexibility allows them to be used also at your home, or summer house. Controlling the temperature inside of your mobile home be it an RV or in general a travel trailer is just one of possibilities to consider.

The five best rated portable air conditioners are:

 Soleus LX-140
    This is a 14,000 BTU Portable Evaporative Air Conditioner. It has a LCD control panel that is simple and easy to navigate, with two fan speeds. The unit has a 4-in-1 option, allowing it to provide heating, cooling, ventilation and dehumidification. It cools up to 525 square feet, has remote control operation, 24 hour programmable timer, automatic defrosting system and an easy to install window kit if you choose to put it in a window.
In addition to this, it is compact, quiet and Eco-friendly. This portable AC comes in white color and has a 1 year limited manufacturer's warranty.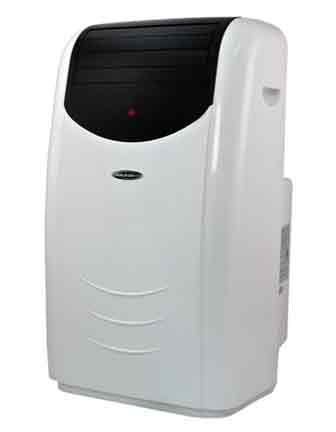 ---
NewAir AC-12000E
 
        It is a 12,000 BTU Portable Air Conditioner that has two fan speeds and a 24 hour programmable timer. It has a self-evaporative condensate system that maximizes cooling efficiency and lessens condensation. It uses Eco-friendly refrigerant, has an easy to install window system and is perfect for cooling medium to large rooms, which makes it perfect even for a large RVs. This portable AC can cool up to 425 square feet, it can also dehumidify up to 60 pints per 24 hours.  It comes in silver and black and has a 1 year limited manufacturer's warranty.

---
Avalon Bay AB8K

            It's a 3 in 1 portable air conditioner that is ideal for smaller RVs as it can cool up to 125 square feet with a cooling power of 8,000 BTU. It comes with three fan speeds and has adjustable air louvers so that you can choose which direction you would like to direct the air current. It has remote control operation, a 24 hour programmable timer, an easy to install window kit, and a sleep mode operation.  The unit uses an Eco-friendly refrigerant and can dehumidify up to 38 pints every 24 hours. It comes in grey color with a 1 year warranty and weighs 50lbs.

---
NewAir AC-14100E

        Is one of the most powerful portable air conditioners as it has commercial grade components and  construction with a powerful compressor that results in unparalleled cooling. With its 14,000 BTU's of cooling power and three fan speeds it can easily cool 525 square feet areas. It has a programmable 24 hour timer that allows you to be energy efficient, Eco-friendly refrigerant and has castor wheels and handles for easy portability.  It comes in white and grey colors.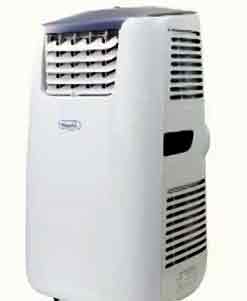 ---
American Comfort ACW500C

       It is another extremely powerful portable air conditioner that comes with 13,000 BTU's of cooling power – able to cool up to 475 square feet. It comes with castor wheels, and side handles for easy moving. What makes the American Comfort a bit different from others is that it comes with a washable air filter, an ABS plastic window venting kit, and a direct drain function that can be set to automatic mode of operation. It is first and foremost an air conditioner, but can also heat, and dehumidify up to 65 pints a day.
It comes with two fan speeds, a 24 hour programmable timer and remote control operation. This portable AC is available in black and has adjustable fans for easy air circulation.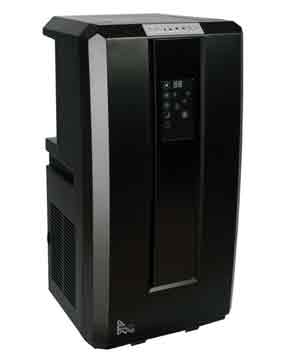 ---
Finding a portable air conditioner that works with your RV will be dependent on how much moisture you want to remove, how much air you want to circulate, and whether you want to have other features such as auto drain technology or heat. Choosing one from the above five, will not disappoint, as these are easy to use and are long lasting.

 About Us / Privacy Policy / Resources
Go to:  Pop-up Travel Trailers and RVs