Bolwell-Air Expandable Camper
2017 Hard-side Popups
Bolwell-Air expandable camper is an Australian-made A-frame travel trailer; it's spacious, stylish, offers comfort for 2 and incredible amount of storage space…
      The A-frame campers are popular in US thanks to specialized manufacturers like Aliner and Chalet. 

It seems however interesting (and educative) to see what is happening abroad in this class of RVs. That is why with pleasure we are presenting here an A-frame travel trailer designed in Australia. 
      Melburne (Australia) -based Bolwell RV started operations more than 50 years ago but for long the company was recognized only as the manufacturer of sport cars. Bolwell entered the RV business in 2010 with introduction of very modern and stylish clam-shell Edge travel trailer.  Two years later factory introduced another model – this time an A-frame travel trailer Bolwell Air.  Shortly after, the fire destroyed major part of the plant, but fortunately for RV-ers, now the company is back and with it the Air (as well as Edge) travel trailers. 

Bolwell Air A-frame (Expandable) Travel Trailer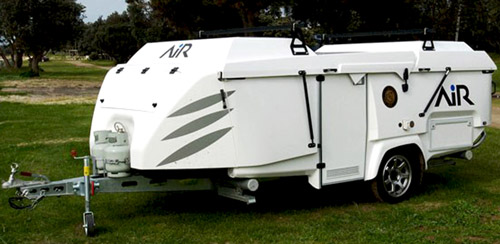 ... here in travel configuration
The Bolwell Air is a compact hard-side folding travel trailer designed for towing by small SUVs. The shell is made from molded fiberglass with foam core for improved thermal insulation. The benefits of this modern technology are multiple like: 
no screws and welded joints (source of leaks and corrosion),
easily modeled aerodynamic shape (minimum air tug, but also stylishness and elegance) 
Lite weight (fuel and $$$ efficient as being within towing range of popular SUVs).
The company calls it "Expandable" camper (instead of more familiar North-American names "Foldable" or  "Collapsible" camper, but from the technical point of view it is (as its American "cousins") – an A-frame camper.
Description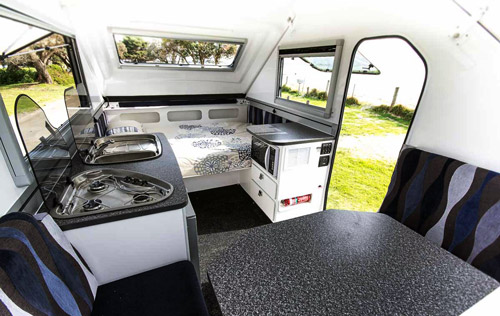 Bolwell Air - Interior view from the dinette side (front)
Closer view of the "bedroom" (note the location of Audio next to the bed)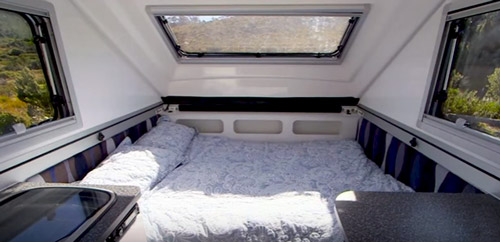 Well, here is the "Master Bed" (note the panoramic windows on all sides)
      With the interior length of 12'4" (overall length of 18'4") and dry weight just under 3,000 pounds, the Bolwell Air can offer comfortable camping experience for two persons.  If necessary, the dinette can be converted into bed for child but that is pretty much all in terms of "crew". 
The rear dual-size bed (83" x 55") in terms of dimensions is almost matching queen-size one. From the point of view of comfort (mattress, adjustable reading lights, bedside control of Audio/Stereo and plenty of windows w/screens and shades) this little "bedroom" corner delivers more than expected. On the opposite side of the camper (front) there is dinette with table. It is spacious enough to provide seating place for 4. As mentioned earlier, the dinette can be easily converted to comfortable (in terms of size) sleeping space.  You just lover the table, re-arrange the cushions and it's ready. But due to lack of privacy it should be considered only for young kid(s).
     The galley takes the central part of the camper. It is equipped with 3-burner cook-top (with cover), large single-bowl stainless-steel sink with integrated draining board (and cover), microwave, 3 cubic feet refrigerator and enough of countertop working space. Iit should easily meet most expectations. Out of three kitchen cabinets, one (under the cook-top) houses the fridge, the 2nd one on the opposite side has built-in microwave oven and two drawers while the last one (under the sink) offers three large drawers. This is pretty much all when it comes to the storage space dedicated to kitchen.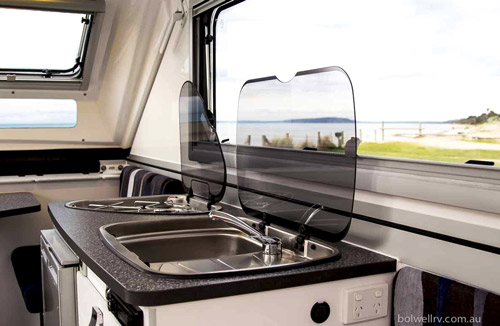 One more view on the galley (note the stove and sink covers)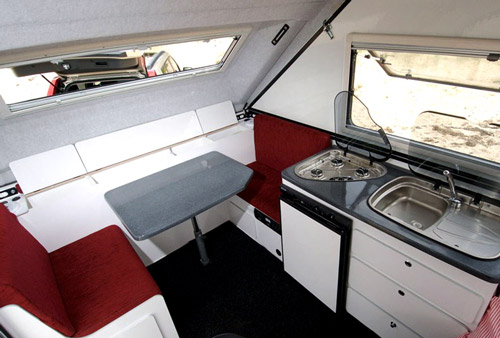 Dinette and the street-side part of the galley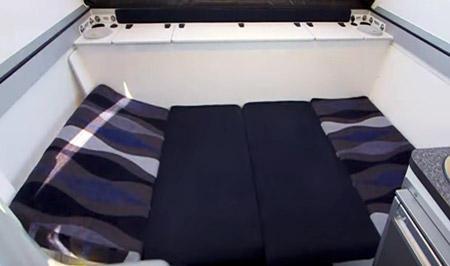 Dinnette converted into the bed
      But we just "touched" the subject of storage space. In fact the Bolwell Air is very cleverly designed and offers abundance of storage space. Once the rear bed is lifted up (thanks to gas-struts it is an effortless process) you have access to the large storage area. To make it more "user-friendly" the under-bed storage is also part of the exterior "pass-through" storage. Thanks to that you can easy handle the stored gear and access it even when the camper is in travel configuration (folded). 
Similarly both dinette benches offer large storing space (accessible from the top after removing cushions) and also from the side (only the bench next to the door). To finish with dinette – all along the front wall there is also the shelf (very handy for keeping "stuff") and storage below.
But you will find the real storage "bonanza" at the front of the camper (see video below). Accessible from the outside and lockable it makes part of the molded shell. It seems to be so spacious that the only limitation may come from GVWR. Indeed you have available cargo limit of about 700 lbs but water and LPG will "eat" some 200 lbs from the limit.
     And there is more – two underbelly tubes correspondingly located at front and rear part of the camper are designed specifically to store fishing rods, awning and annex-room pols and practically everything that is narrow and not longer than the width of the camper (about 7'6").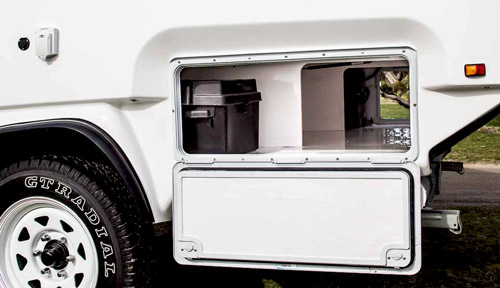 Pass-through storage (visible 2 batteries)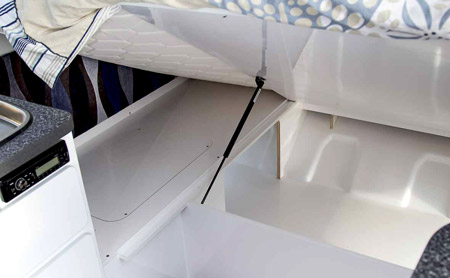 Under-bed storage (here also visible exterior access). Note the cover on the left side of the storage - it is an opening providing access to the batteries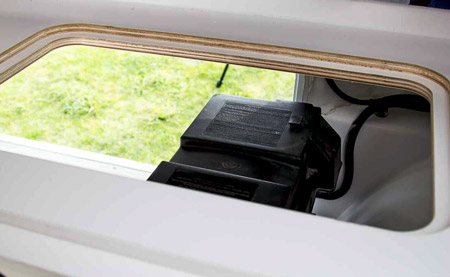 After removing the lid, here is what you see - the battery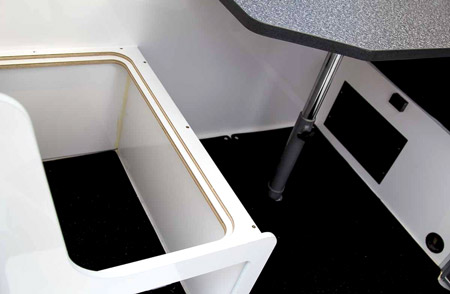 Under-bench storage (Dinette)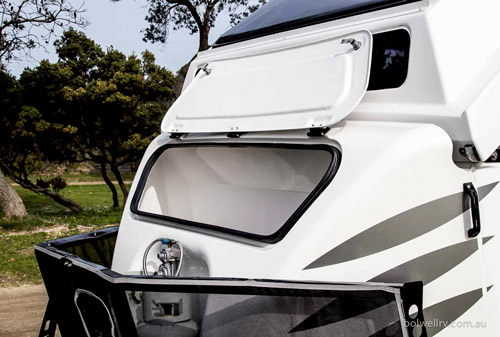 Exterior front storage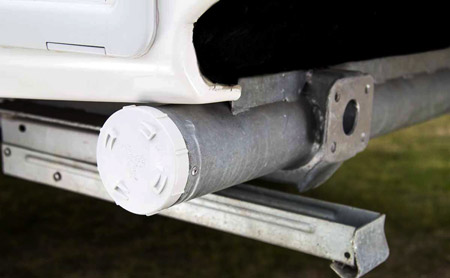 One of two storage tubes
     Note that roof bars (ingeniously incorporated into camper's roof-raising gas struts) may be used as a rack for bikes or canoe. But once again – keep track of your cargo load. 
OK, that's what comes as standard. The optional tongue-mounted mesh shield "basket" can be also used as "temporary" (not lockable) storage when on the road (for example for camping chairs……..) or even on the campground to keep some "less-valuable" outdoor gear…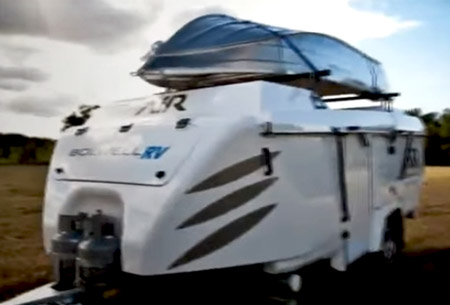 Yes, thanks to the optional roof-rack you can carry with you the small boat/kayak/canoe...
     Panoramic windows are all over around, so the natural light literally floods the interior. They all can be opened to provide good ventilation but interior stays protected from flies (and any other flying or crawling "crap") by screens. Finally for privacy the blinds are ready to use.
Inside you will find 12V outlets/charging stations that can be used for charging phones, iPads and even plug reading lights right where you need them as well as 240Vac outlets. 
Notes:
The company web-site provides tons of photos (which is good), however you will notice lack of basic information: Specifications! You can get them only at the request after disclosing a lot of mandatory (but unfortunately) private information. That seems to be quite weird.
Due to this lack of information there is a bit confusion regarding "what-is-what". For example the company states that the 110 liters (3 cubic feet) refrigerator works only on electricity (12Vdc/240Vac). It's OK when on the campground connected to grid, but when out of shore power the fridge will quickly deplete your battery. It seems that 3-way fridge will be more practical, especially given the facts that the Bolwell Air is designed for off-road conditions. In other words – out of grid camping is part of its destiny.
Air is a bit pricey. The basic version with standard features comes at around $43k Australian dollars (currently about $33k US). But options (some of them really useful) will add few more k$.... Well, nothing is free, hopefully this higher initial cost is well compensated by the fact that for towing you can use your already owned SUV….
Note that Boldwell's core business focuses on truck cabs for Kenworth and Iveco, so company's fortune is not solely dependent on its RV segment. The RV segment is actually a joint-venture operation with Chinese manufacturer in Hangzhou (fiberglass shells on wheels) and Australian Outback HQ  (Track Trailer) responsible for final assembling, tests and quality control. The latter gained good reputation for its quality RV manufacturing (pop-up campers) so we can expect that the quality of Bolwell Air Expandable travel trailer will not disappoint as well.
Summarizing – the expandable Bolwell Air camper is not only spacious and comfortable but also very stylish and elegant. The molded-fiberglass body incorporates cabinetry, storages, shelves making it robust, durable, practical and easy for maintenance. 

Specifications
---
Exterior length

Internal length

Travel height

Expanded height

Interior height (peak)

Exterior width

Dry weight

GVWR

Cargo capacity

Hitch weight

Fresh water tank

LPG

Sleeps

Layout

560 cm

377 cm

191 cm

310.5 cm

240 cm

231 cm

1,280 kg

1,600 kg

320 kg

130 kg

82 liters

2 x 4.5 kg

2 (3)

Rear bed

18'4"

12'4"

5'11"

10'2"

7'10"

7'6"

2,822 lbs

3,527 lbs

705 lbs

287 lbs

21.7 gals

2 x 10 lbs



---
Construction
Chassis: Laser-cut high grade galvanized steel
Body:     molded fiberglass/synthetic composite with urethane foam core insulation
Suspension:  Al-Ko Independent Rubber Torsion
Axle: Single
Brakes:  Electric (10" drum)
Wheels:  rims (sunrasia, steel)/ tires 235/75 R16
Hitch: 50 mm ball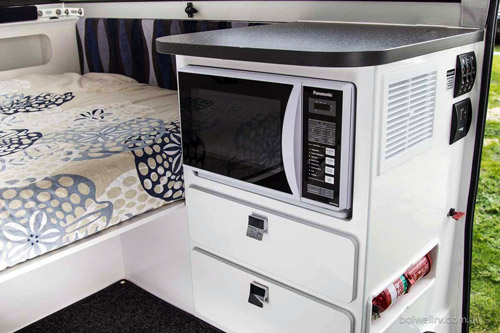 Curbside part of the galley: here microwave and two large drawers (note the Command-& Monitoring Center on the cabinet's side)
Hinged shelves and storage along the dinette 
Interior standard features
Double-size bed (83" x 55") / or twin single beds
Dinette w/seating benches (converts to single bed)
3-burner cooktop w/cover
Microwave oven
3.9 cu. ft (110 l) 2-way (240V/12V) Waeco refrigerator
Single-bowl stainless-steel sink w/drain board and cover
Folding faucet w/single lever
Opening, panoramic windows w/built-in blinds and screen
Truma water heater (gas/electric)
LED lighting throughout
80 Ah deep-cycle battery
Battery charger (Projecta IntelliCharge 10Ah)
Fusion CD/AM/FM Stereo w/speakers and bedside controls
12V outlets (for plug-in reading lights and as charging stations)
240V receptacles
Control & Monitor Center (water heater, water pump, lights, DC outlets, water tank(s) gauge level, battery level…)
Fire extinguisher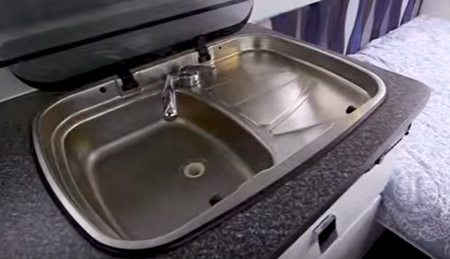 Stainless-steel sink with integrated draining board
3-burner cook-top
Exterior Standard Features
Extra-large lockable front storage
Rear pass-through storage w/under-bed access
Storage tubes (front & rear)
Shower w/hot/cold water (in lockable compartment)
Aux Battery charging outlet (Anderson)
2 x 4.5 kg LPG bottles
Bayonet LP port (for exterior BBQ)
12V receptacle
240V receptacle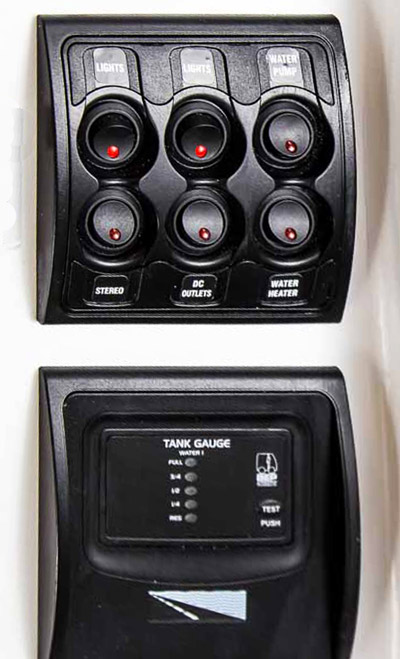 Control & Monitoring panels (standard feature)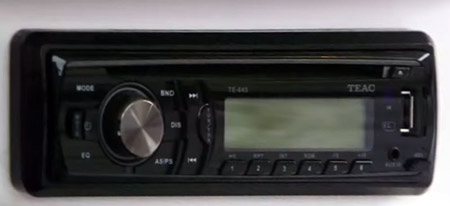 Audio/Stereo set
Two LPG tanks mounted on the tongue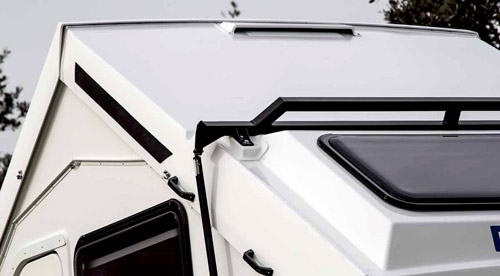 optional roof-bars (rack) can be used when camper is in travel configuration (folded)
Options
Electronic Stability Control (Al-Ko)
Flexwing awning
Flexwing Annex (Room) Walls package
Mesh-rack w/Stone guard
Hitch-master DO35 coupling (upgrade from 50mm ball)
Backup camera Waeco RV-S550 w/car monitor & cable
105Ah deep cycle AGM battery (IPO 80Ah)
Additional 105Ah deep cycle AGM batter (installed)
A/C unit (Truma Saphir w/ducted reverse cycle and remote control
120W solar panel w/cable & Anderson plug
Battery charger (Projecta IntelliCharge 25Ah) – Upgrade from 10Ah
TV hook-up
Roof rack bars
OK, after all these words and picture let's see it 
Final note (Quoting from manufacturer's web-site): The Bolwell Corporation has an enviable reputation for the creative application of composite materials – from sports cars to trucks and many products in between. And it was our unique combination of heritage, expertise, innovation, and application that led to the design and manufacture of cutting-edge caravans under the Bolwell RV banner.

Go to: --> 2017 Hard-side Folding Campers
or       --> Top A-Frame Travel Trailers
Bolwell Edge Travel Trailer
Just to give you better idea about Boldwell RV– here few words and pictures presenting Air's older brother: clam-shell shaped Edge.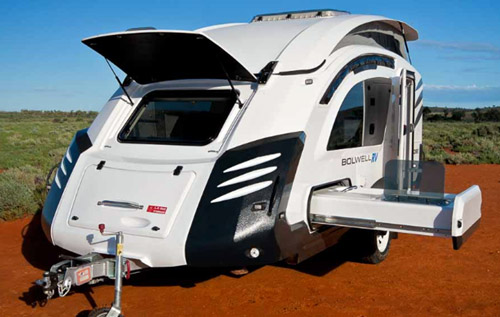 Bolwell Edge travel trailer (here with external kitchen pulled out) BTW - this is actually what the Expandable Air is missing 
Bolwell Edge interior is fascinating....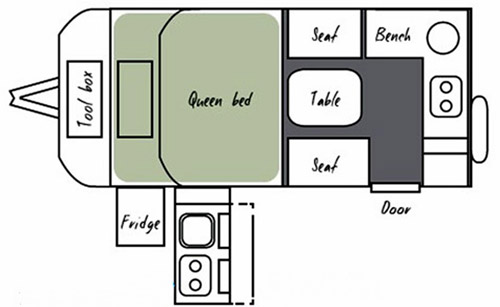 Bolwell Edge floorplan
All pictures are courtesy of Bolwell RV
Note:  Check with the manufacturer and / or authorized RV Dealer for the up-to-date list of features, options as well as latest specifications. These written above may not be accurate and certainly are subject to change by the factory. We are not responsible for any inaccuracy, the above text is provided only for the general information.
This review was written based on publicly available information for the benefits of the community of RV-ers. We do not receive any gratification or financial benefits from RV manufacturers, dealers, and any other promoters of RVs. 
We are NOT involved in sale and/or retail of RVs!
---