Camper Rentals in South Carolina
Everything you are looking for: beaches, museums, state parks, beautiful sceneries you will find in South Carolina, just rent a camper and start your Odyssey…

If you are planning to spend your vacation in South Carolina, your decision is excellent because this state is not only rich in history and culture but also it is a place of adventure.
The state located in southern part of the United States is a highly popular vacation destination.
There are many interesting places to visit in South Carolina such as Charleston, Hilton Head Island, Myrtle Beach, Rock Hill and many more. All these places have their own highlights.
If you want to learn something about the rich history of the state, make sure not to miss Charleston with its numerous museums and beautiful, well-preserved architectural structures.
The Charleston Museum is the oldest municipal museum in North America, founded in 1773. It is devoted to the history and natural history of the coastal region. Other significant museums in Charleston are: Gibbes Museum of Art, built in 1905 which includes the collection of more than 10,000 pieces of art and objects of the American South; American Military Museum dedicated to men and women who have served or are serving in the armed forces of the United States; Citadel Archives and Museum in Charleston… The latter was founded in 1842 displays the history of the Military College of South Carolina.
Top 5 attractions in Charleston

Hilton Head Island is another attractive and popular vacation destination in South Carolina offering unspoiled beaches. It is suggested to visit the Coastal Discovery Museum where visitors can learn about the heritage of the South Carolina and then the Harbor Town Lighthouse built in 1970. The viewing platforms offer excellent vistas of the island.
In island's natural reserves you will find local flora and fauna, and the best news - these nature sanctuaries are perfect for bird watchers.
Hilton Head Island offers many outdoor activities especially during summer months. Swimming, sailing, kayaking, jet skiing, and charter fishing are some of the activities that are very popular in this region.
Myrtle Beach is another attractive destination in this state. It is ideal place during a very hot weather with 60 miles of wide, powdery sand beaches. Here you can take part in some water sports, go golfing or fishing.
South Carolina has many state parks: Jones Gap State Park, which is part of Mountain Bridge Wilderness Area, is located in the foothills of the Blue Ridge Mountains, Edisto Beach State Park known for wide sandy beaches, is located on Edisto Island.
Everything that you are looking for be it beaches, museums, state parks, beautiful sceneries or anything else, you will find in South Carolina. If you are planning to travel around this state, rent a camper at one of below rental companies and live an unforgettable vacation experience.


---

Source: www.toddsrvrentals.com

Todd's RV Rentals is a family owned rental company located in Lexington. The company offers luxury diesel motor homes and temporary housing rentals. Rates for motor homes are starting at $300 per day. Units can sleep up to 5 people and are fully equipped.

Todd's RV Rentals
5548 Beckman Road
Lexington, SC 29073
(803)-755-1666(803)-755-1666(803)-755-1666(803)-755-1666
Website: toddsrvrentals.com


---

Source: www.charlestonrvrental.com

Charleston RV Rental is the premier independent recreational vehicle rental organization in the Charleston, which offers very competitive rates and wide selection of models. Their fleet consists of Class A and Class C motor homes as well as travel trailers. Rate for Class A motor home is $495 for two nights, for Class C rate is $445 for two nights while for travel trailers the rate is $395 for three nights.

Charleston RV Rentals
2637 Clements Ferry Rd
Charleston, SC 29492
(843)-478-5165(843)-478-5165(843)-478-5165(843)-478-5165
Website: charlestonrvrental.com


---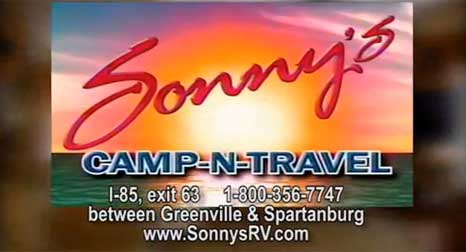 Source: www.sonnysrv.com

Sonny's Camp-n-Travel is one of the largest RV dealers in South and North Carolina. They offer travel trailers and motor homes for renting. No matter which unit you rent, Sonny's Camp-n-Travel provides vehicles which will make your vacation enjoyable and comfortable.

Sonny's Camp-n-Travel
333 Frontage Rd
Exit 63 off I-85
Duncan, SC 29334
(864)-433-0887(864)-433-0887(864)-433-0887(864)-433-0887
Website: sonnysrv.com


---
 About Us / Privacy Policy / Resources
Go to: RV Rentals