Campgrounds Directory Arizona
List and description of campgrounds in Arizona – state with hot summers, pleasant mild winters and spectacular parks waiting for visitors....
Arizona has beautiful desert regions which are simply amazing in the spring, when the plants start blooming.
It also has ski resorts in the area of Flagstaff, where you can enjoy other winter sports as well.
There are several national parks and national monuments in this state, including the Grand Canyon national park, one of the most spectacular ones in the whole USA.
Monument Valley is another well-known site, and it is the place where most Hollywood western movies have been filmed.
With such areas Arizona can offer an experience of true awe and beauty for all those who decide to visit this state.
 Campgrounds
Desert Edge RV
2398 W Williams Dr.
Phoenix, AZ 85027
Phone: 623.587.0940


Desert Edge RV is located in North Phoenix. You can enjoy the beauty of the desert and still have all the comfort you need: there is a heated pool/spa, an exercise room, pool table, laundry room, restrooms and showers as well. You can also enjoy full hookup for your camper. There are golf courses nearby for those who love this sport, and hiking is also possible. There is wireless internet available, and pets are allowed, so if you are traveling with your dog or another pet, they will be welcome at Desert Edge RV. The staff at this park is known to be friendly, so do not hesitate to give them a call and make a reservation. The park is open all year round and during the winter there are winter snowbird parks available.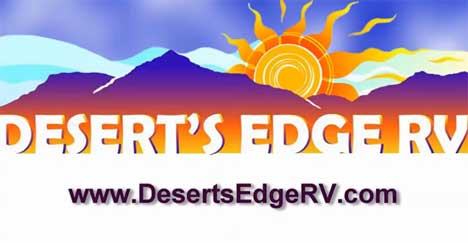 Welcome to the Desert's Edge RV in Arizona

Superstition Sunrise RV Resort
702 S. Meridian Rd.
Apache Junction, AZ 85120
Phone: 480.986.4681

The Superstition Sunrise RV resort is open all year. It has handicap access and paved roads for an easier drive. You can fully enjoy satellite RV, wireless internet and public phones as well. There is also a computer room. Not only that they have nice restrooms and showers, but they also have a beauty and a barber shop, swimming pools and spas, and even a ballroom. If you like sports, you will also enjoy their fitness room, tennis courts, golf course and hiking activities. For less sporty people there is a library and church service that they can enjoy.


Virtual tour of the Superstition Sunrise RV Resort

Eagle View RV Resort
9605 N Fort McDowell Rd.
Fort McDowell, AZ 85264
Phone: 480.789.5310

This is a RV park for people of all ages - perfect for kids and families but also for those already enjoying retirement and a great area for get away with friends. They have full hookups and public transportation access. Phone jacks, cable TV and high speed WiFi are also available. There is a heated swimming pool and spa for ultimate comfort, even plasma TV, and clubhouse with library. You can also take care of all your laundry here at the laundry-room. And guess what – campground also offers continental breakfast! It is worth to note that there is a nearby gas station.

So if you are planning a comfortable camping vacation, you can have a great time here.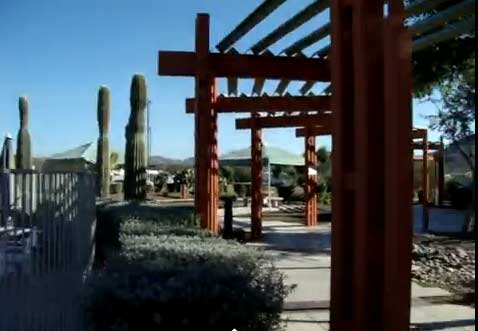 Eagle View RV Resort (note presence of tall cactuses - well, that is Arizona)

Butterfield RV Resort & Observatory
251 S Ocotillo Ave.
Benson, AZ 85602
Phone: 520.586.4400

The Butterfield RV Resort & Observatory is an award winning park that you must visit if you are going through Arizona with your camper. It is located close to Tucson.


It has an observatory with on-site astronomers eager to help you to understand mysteries of Universe on one of these cloudless nights. 
Not only that you can take a rest here, but you can also learn to use computers (Internet is available), line dancing,  water aerobics, and various kinds of crafts.
It is fun for the entire family!
Nearby there is a golf course. For domestic animals lovers - pets are allowed at this park.
Magic Circle RV Park
700 N Virginia Ave.
Willcox, AZ 85643
P: 520.384.3212

Arizona is known for its magic and for its vortex areas. If you are interested in positive energy and a beautiful view of the desert, visit Magic Circle RV Park. There are full hookups, cable TV and a recreation room. There is free internet at the park. They also have a large dog run that you can enjoy with your pets. Another great benefit of this place is that they have an RV parts and supplies store, where you can find almost anything that you might need for your RV.


 About Us / Privacy Policy / Resources
Go from Arizona Campgrounds Directory to US Campgrounds Directory