Cheap (Low Cost) Travel Trailers for Sale
Low cost travel trailers are perfect for nature lowers, small, lightweight and economic, they can easily go off road....
        The best way to explore the countryside and enjoy the nature is by going "mobile".
Being mobile allows you to choose the roads "less traveled", farther from big cities and their hectic life, closer to marvels made by Mother Nature.
In this case mobile means that your "home" travels with you.
Obviously not all of us can afford big, luxurious motor-homes and even if we could, they are not well designed for off-road conditions attractive to real adventures. Fortunately for those interested, the market offers a large choice of what we can call: cheap (or if you prefer- inexpensive) travel trailers.

The main advantage of these trailers is obviously their price and as the result affordability. But there is much more to that then just the size of our budget and deepness of pockets.

On top of mentioned above mobility and affordability, cheap travel trailers offer several other advantages: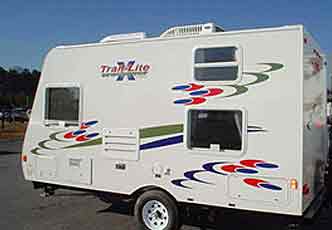 Trail-Lite model 160 BH is a good example of a modern, lightweight and low cost travel trailers

They represent good entry solution for RV-ing beginners.
For those that are not sure if their passion will survive first attempts and time, the low initial cost is a big plus.  
They are easily customized to meet your personal needs and requirements.
Unlike big, luxurious travel trailers, cheap units are rather finished in "Spartan" style. That leaves a lot of room for re-modeling and personalization, and quite often it can be done in diy way. 
They are rather small in size what has a double positive effect.
Small size makes towing an easy task, greatly improves maneuverability and allows for driving on dirt-roads (in other words closer to the nature). 
Proportionally to the initial cost, the exploitation and maintenance costs are also lower. Let's face it – fuel economy is an important factor similarly as the insurance cost, if not controlled, they can "eat" a sizeable part of your vacation budget.

The bottom line is clear: cheap (inexpensive) travel trailers are great option for all those who want to move one step up from backpacking experience to RV-ing. 

Trail-Lite: Floorplan shows it all. This one has even bath with toilet and shower.
Specs: Dry weight 2294 lbs, cargo capacity 1376 lbs, Interior headroom 76", length 17'6", width 7'3", includes water (30gal), Grey (25 gal), Black (25 gal) and LP (40 gal) tanks  - all under 13k$

The cost of an RV can be quite scary. If you are not yet ready for one, cheap travel trailers can be the option that is best for you. The prices for basic trailers are quite affordable as long as you know where and what to look for.

Size

       The size of the travel trailer must be right for you. Do not buy something that is too big or too small. Remember – in the real life "good enough" is the best solution. Everything else is often an "extravaganza" (gadget) that does not bring any value and potentially cause problems.
So make sure that your future travel trailer meets your requirements in terms of whatever is needed: be it kitchen, sleeping, living and storage space.

Weight

      The maximum loaded weight of your travel trailer is a limited by your towing car. Obviously, you wouldn't like to be forced to buy the new (bigger) car to meet towing requirements. So carefully measure your "appetite" to make sure it matches your abilities.

Cargo

      Taking the roads less traveled to "kiss the nature" usually imposes some extra conditions. You may have to carry with you more essential and emergency stuff, possibly some spare parts and tools, as well as food. Wilderness sets several conditions, and you cannot count on the presence of a General Store waiting for you behind every second tree. The truth is – that's not gonna happen! In other words pay attention to cargo space and load available in your cheap travel trailer.

Available Features

      Most likely choosing a cheap travel trailer, you will have to give up on bathroom and possibly even forget the interior toilet. Fortunately on top of opportunities offered by Mother Nature there are also inexpensive portable solutions "fixing" this problem. Market offers numerous external showers and portable toilets to answer these needs. 

Maneuvering

      Wilderness is "unpaved", so take into account the fact that maneuverability has tremendous advantage. The deal is clear – smaller the trailer, farther (or rather "deeper" you can go.

Warranty

         So far it was assumed that a cheap travel trailer means  a second-hand unit. In general it is true, although we have to keep in mind that there are some limits because "too cheap is often too good to be true" or if you wish, "cheaper is costly (at the end)". The opposite is also true – expensive does not automatically mean "Better".

Unfortunately most owners of inexpensive travel trailers do not keep (or do not have at all) any maintenance records. If possible, before commitment to buy the trailer let a mechanic to check "state of the matter". Especially, if you plan a lot of off-road trips make sure that the frame, shell, suspension and safety stuff (brakes….) are in good shape.

But that brings us to cases when you may decide to go for new, inexpensive travel trailer. With new trailer you will get manufacturer (or dealer) warranty.  However make sure to read the fine print that goes with it. Check the warranty and its coverage. This can save you a lot of headaches.

 About Us / Privacy Policy / Resources
Go to:  Pop-up Travel Trailers and RVs