Cirrus 920
Top Truck Campers
Cirrus 920 is a modern, stylish, very well equipped, lightweight truck camper designed or long bed trucks.
      Cirrus 920 is one of the latest models of truck campers introduced on the market by NuCamp, following the success of its younger "brother" 820. While the latter was designed for short-bed trucks, the model 920 is designed for long-bed (8ft) trucks. Despite its generous dimensions and features, thanks to its well-engineered lightweight construction it can be carried by popular ¾ ton pickup trucks. 
Cirrus 920 was voted as the truck camper of the year!

 Cirrus 920 - floorplan
      Before going farther, it may be worth to mention that Cirrus' manufacturer – Pleasant Valley was founded quite recently (2005) and till 2014 was known for making teardrop campers. The prototype of company's first truck camper - Cirrus 820 came out in 2014 while first commercial models left the factory door year later. This probably was the key-element of market success, because the model 820 and subsequent 920 were designed based customers' feedback without any (usually heavily weighting) manufacturer's habits. These starting conditions let the company to come-up with several innovative solutions not seen in typical truck campers. No wonder, the model 920 quickly gained the recognition as the Truck Camper of the Year awarded by readers of the Truck Camper Magazine. In fact, two years after its release, the Cirrus 920 is still considered as one of the most comfortable, luxurious and elegant truck campers available on the market.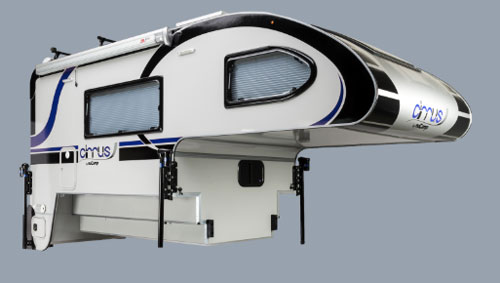 Once again - Cirrus 920 truck camper
Seen from the outside, thanks to its stylish rounded lines and graphics, the Cirrus 920 already nicely differentiates itself from competition.
Cabover
        With its internal height of 3'6" the cabover offers as expected a tight sleeping space. However, designers did everything possible to make it as comfortable as possible. The queen-size bed is made up of a mattress and the base with FROLI system. The latter is a grid of individual springs providing independent suspension adapting to body weight and movements. What makes a big difference however is the fact that the FROLI System allows for air-flow circulation between the mattress and the base. This solution provides two benefits – it prevents accumulation of humidity under the mattress, but also when the central heating system is active, it allows for circulation of the warm air under the mattress. It's the revolutionary design bringing the sleeping experience to the new levels.
But this is not all – the large stargazer window right above the bed opens the cabover sleeping space to outdoors allowing you to reach into the deepness of the night sky. Even more – it can be opened so the visual sky-effects are enhanced by the sounds of nature, all that in the comfort of warm queen-size bed!
The tight cabover space offers few more surprises – abundance of handy storage space. Overhead cabinets on both sides of cabover, then two, very handy storage hampers along both sides of the bed ending with "Penguin-shape" cabinets with shelves and individual LED reading lights on sides. And if this is not enough the headboard provides more storage space as well as 110Vac and 12Vdc outlets. 
Cabover is also pre-wired for optional 19" TV (if you prefer to watch your favorite programs from the comfort of the bed rather than certainly less-friendly dinette's bench facing the main ET center with 28" TV screen.
Fragment of the bedroom (cabover)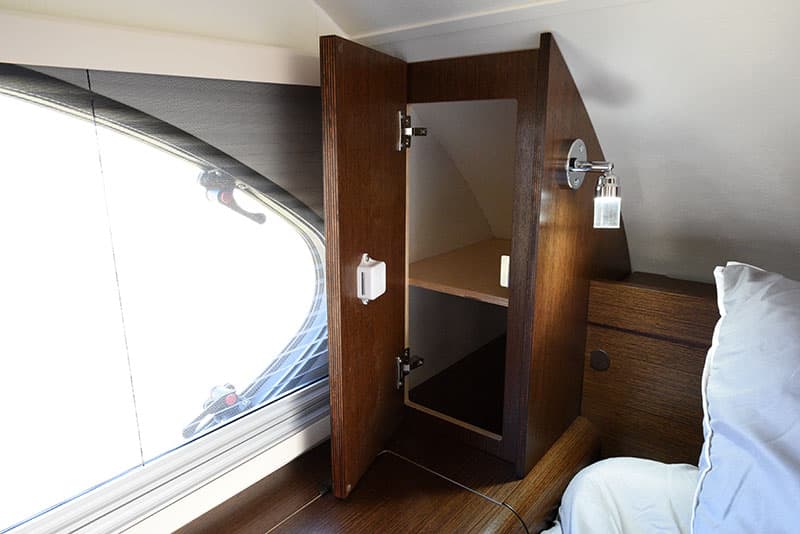 Bedroom: Storage cabinets with shelves
Bedroom: Overhead storage converted into bunk bed
Kitchen/Dinette 
     Cirrus' kitchen delivers more than it can be expected in such tight space. First of all, it's a lot of storage space with spacious under-the-sink cabinet, section of 3 drawers, overhead cabinets and even a pull-out pantry next to the fridge. But kitchen's real star is the 2-burner cast-iron cooktop (Thetford). It's not only its stylish design but also several "built-in" features like flame-failure shut-off safety system, piezo-ignition, sealed burners that make a big difference compared to competition (bit also to company's earlier model 820.
The stainless-steel sink does not have residential-style high-rise faucet, often offered in higher-end RVs but rather small folding-away one. It is however a well-thought design idea, allowing to cover the sink with flush-mounted glass-lid maximizing this way the working space.
At first look, the 5 cubic feet two-door fridge may be a bit confusing because most of us will assume that the bottom door belongs to freezer. Turns out that functionally it is also fridge specially designed for drinks (bottles, cans etc..). There is a small interior freezer, located in the upper part of the fridge. 
On the opposite side of the galley there is dinette booth. The table (standard version) is rather small and certainly does not reflect abilities of the kitchen. It seems to provide space for morning coffee with croissant for two, but certainly not for lunch or dinner. Fortunately, manufacturer as one of the options offers much larger dinette's table allowing RV-ers to take full advantage of so well-equipped kitchen.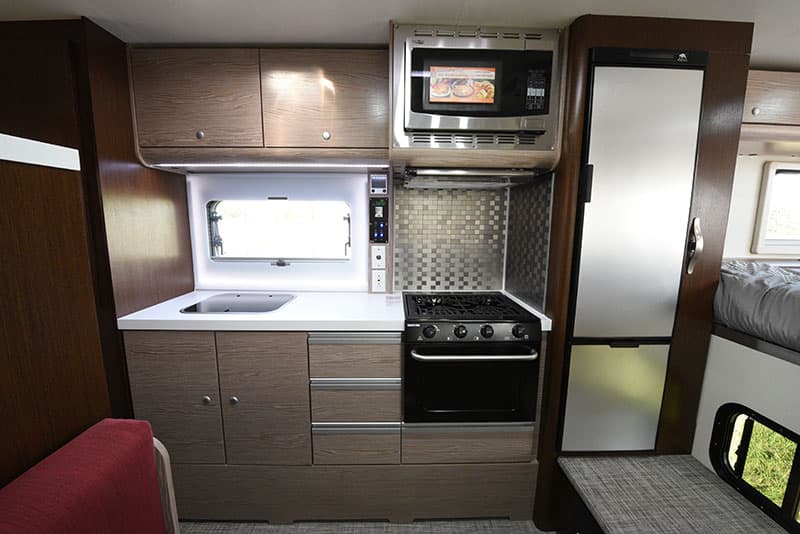 Galley
Cast-iron cooktop 
Cirrus-920: Flush-mounted sink with lid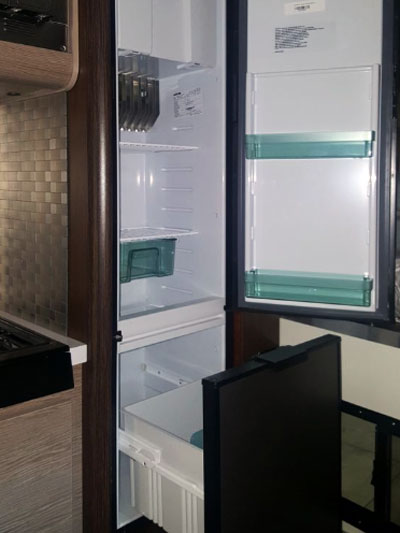 Fridge (the pull-out pantry is on its right side)
        The Cirrus 920 offers one more interesting solution. Turns out that the overhead cabinetry across the galley can be easily converted into a bunk bed offering one more sleeping place.  To make it clear – it is suggested for a teenager as it may be too dangerous for small kid and too tight for an adult. Well, it's just a possibility, so if needed, you can still keep dinette's booth in its main configuration instead of converting it to an extra sleeping place. 
Wet-bath
       The bath is still an object of dreams in majority of small RVs. Cirrus 920 seems to brake another barrier. Located at the rear end next to the entrance doors, Cirrus' wet-bath offers plastic, low profile toilet, fold-out vanity sink, shower with curtain, mirror, towel rod and believe or not – hermetic storage compartment. The skylight with Fantastic Fan provides lite and ventilation. 
BTW – the central plumbing control system located in the bumper (driver's side) gives easy access to all valves, drains etc (it also offers an external shower).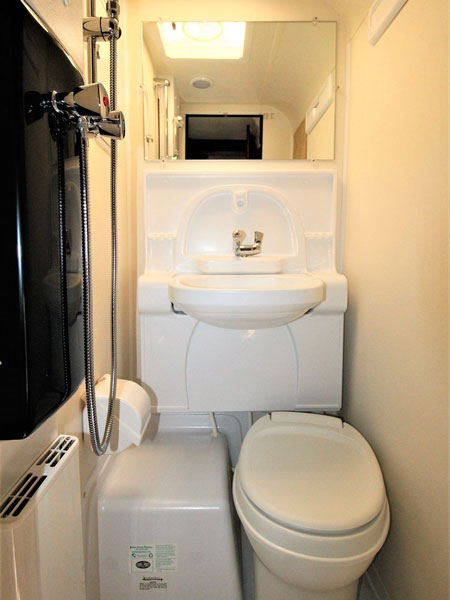 Wet-bath (not the quality of the nickel-plated shower)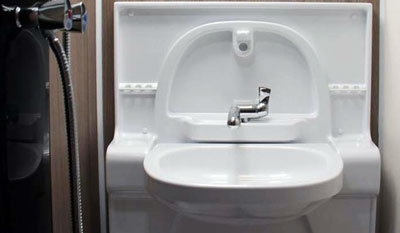 Wet-bath: Vanity sink
Four-seasons design 
Cirrus 920 is built as all-weather RV. And it's not only thanks to its no-rot/no-mold construction (aluminum frame and structure, Azdel side walls w/block foam insulation, dual-pane windows ect…). What really makes it the 4-season truck camper is its Alde's central heating system. For those unfamiliar – Alde is a leading manufacturers of hydronic heating systems for RVs. Such systems distribute heat through the network of pipes circulating the ethylene glycol (popular anti-freeze). They guarantee uniform distribution of the heat throughout the RV. But the most pleasurable part of such system is the heated flooring giving you chance to experience warmness regardless where you are – bed, dinette or just standing on the floor. It may be worth to mention that the same Alde heating system also provides hot air for mentioned earlier FROLI structure (heated mattress) as well as hot water.
Find more about hydronic heating systems:
--> Hydronic RV Heating Systems
Needless to say, that the subfloor and holding tanks are also insulated and heated.
Specifications
---
Overall length

Exterior height

Exterior width (1)

Floor length

Interior height

Cabover height

Interior width

Dry weight

Wet weight (2)

Center of gravity (3)

Fresh water tank

Grey water tank

Black water tank

LPG

Water heater

Awning (4)

Sleeps

Truck type

18'0"

91"

86"

10'1"

6'6"

3'6"

?

2,905 lbs

About extra 500 lbs

43"

38 gals

32 gals

18 gals

2 x 20 lbs

1 gallon

8ft passenger's side

2 +1

Long bed
---
1. Without jacks (with jacks 98")
2. It corresponds to the weight of full fresh water tank (38 gallons), water heater (1 gallon), two full LPG bottles and 2 batteries.
3. With optional Onan generator – 45"
4. Rear 6ft awning is optional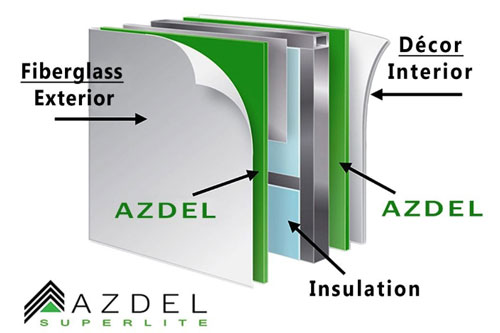 Structure of the Azdel panel
Construction
Frame: Aluminum
Walls: laminated and bonded Azdel w/block foam insulation
Note: Azdel is a blend of polypropylene and fiberglass, creating an extremely strong and lightweight composite panels. wall. They are 50 % lighter than wood, water resistant and have much better R-factor (thermal insulation) than wood.
Roof: Seamless aluminum
Exterior Finish: Fiberglass
Subfloor: Removable access panels
Windows: PLASTOFORM dual paned, acrylic
Rock Protection: Diamond-plate bumper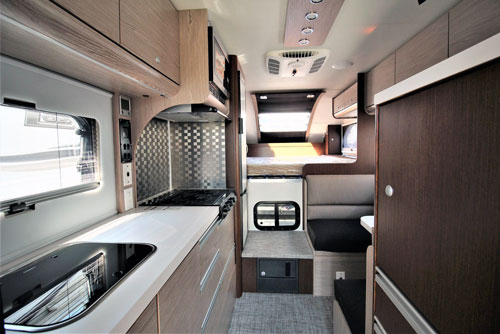 Cirrus-920: interior
Interior features
Wood and wallpaper finish
Vinyl flooring
HORREX window screens and shades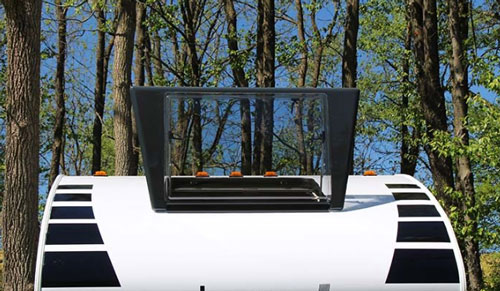 Bedroom: Stargazer window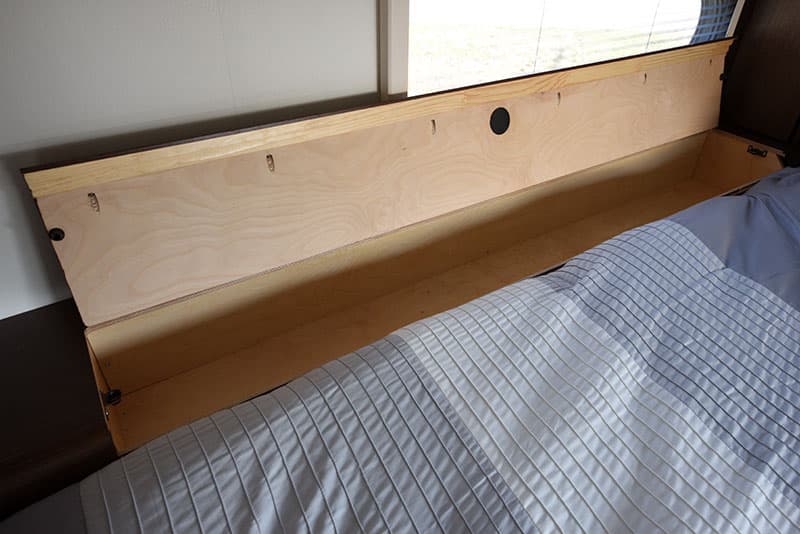 Bedroom: On of the hamper storages
Cabover Bedroom
Queen-size bed (60" x 80") w/ FROLI Sleep System
Overhead cabinetry (both sides)
2- Corner cabinets w/shelves
Two side-storage hampers and headboard w/storage
Large, stargazer window
Driver's side tinted window
12 Volt USB and 110 Outlets 
LED Reading Lights
Pre-wired for an optional TV 
Kitchen: plenty of drawers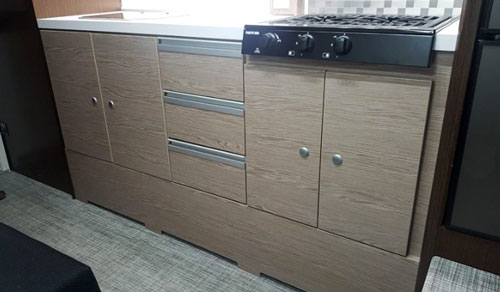 Kitchen's cabinets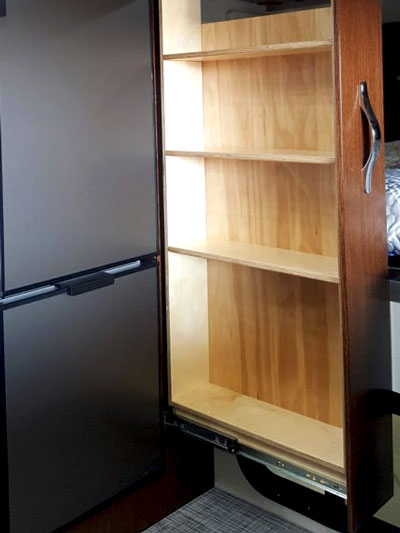 Pull-out pantry
Kitchen
2-burner cast-iron cooktop (Thetford XC200)
1kW Microwave oven
Stainless-steel, single bowl sink w/folding faucet and flush-mounted glass-lid
Stainless Steel Mosaic Tile Backsplash
5 cu. ft 3-way fridge (Thetford N3141)
Pull-out pantry
Lite PLY cabinetry w/drawers and shelves
Slim hood w/LED lights and power fan 
Window along the galley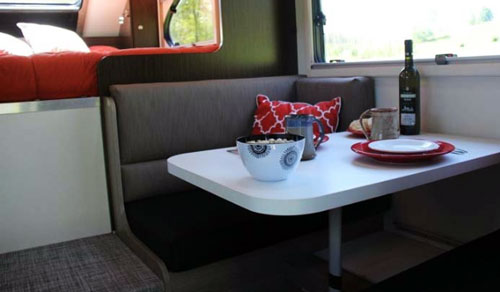 Dinette booth (here seen a larger, optional table)
Dining/Living
Dinette (table and benches) convertible to sleeping space
Overhead cabinets (convertible to bunk bed)
Storage w/drawers (part of ET Center)
12 Volt Dinette Outlet
Wet bath
Plastic, Aqua Magic Low Profile Thetford Toilet
Fold-out vanity sink
Mirror
Nickel-plated adjustable shower w/curtain
Hermetic storage compartment
Skylight w/fantastic fan
Towel rode
Alde® Radiant Heat Panel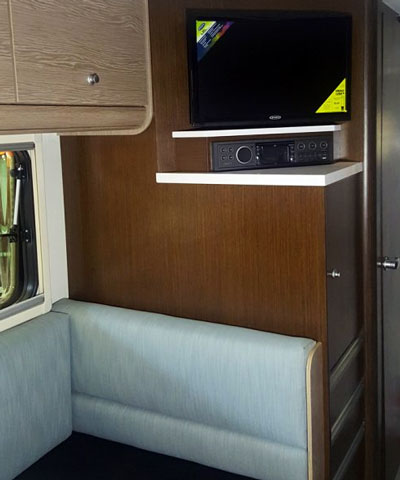 Entertainment center includes TV, Stereo and large storage cabinet
Entertainment
28" TV and Stereo/CD/DVD/ Bluetooth with interior and exterior speakers
HDTV Omni Directional Satellite Dish & Cable Coaxial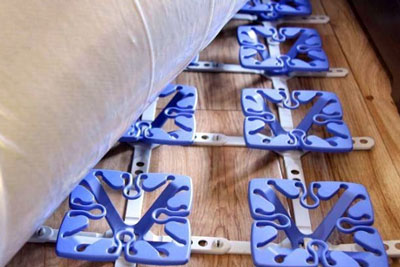 FROLI sleeping system allows for air circulation under the mattress 
Climate Control
9,2 kBTU Coleman Mach-8 roof-mounted A/C unit
Alde Hydronic Central Heating System (11 kBTU ?) 
Heated and Insulated floor and subfloor with holding tanks
FROLI heated bed system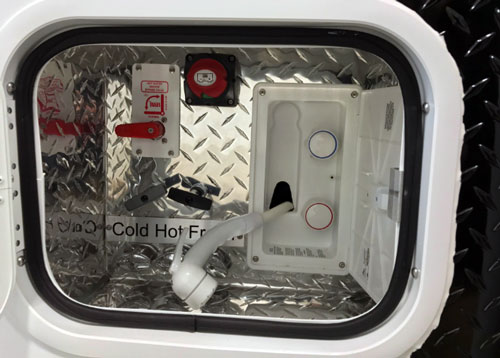 Exterior shower
Water/Plumbing
ALDE Water Heater (1 gallon)
Central Plumbing Controls in Bumper (water valves, dump valves, shower)
Exterior shower (hot/cold)
Water hookups (resh, city)
Hose storage (bumper)f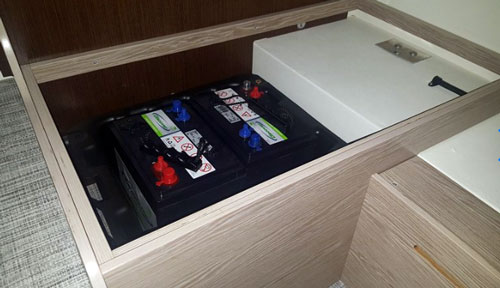 Dual-battery compartment
Electrical
Dual Battery Compartment (interior) w/ two, 6-Volt AGM Batteries (224 Amp)
Battery disconnect switch
Titan Electric Jacks with remote control
Central Systems Control Panel (kitchen)
Power converter with distribution panel.
ALDE Digital Control Panel
Shore power hookup
LED Lighting throughout Interior and Exterior
110Vac and 12Vdc int/ext outlets
Prepped for Backup Camera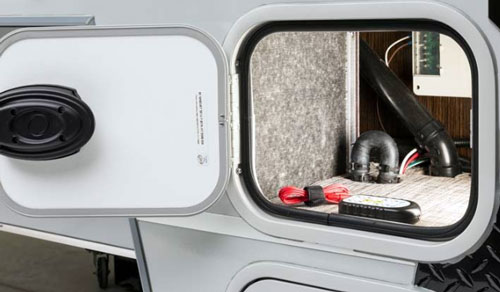 Exterior storage pre-wired for Onan Generator
Exterior features
Rieco Titan Electric Jacks (4 x 2,500 lbs capacity, 36" lift)
Note: They come with a remote control (One button will raise or lower all jacks or any combination of jacks).
Pull-out entry steps
Swing-Out Entry Assist Handle
Roof access fold-up ladder
8' passenger-side FIAMMA™ Power Awning
Patio LED lights
Keyless entry
Shower with hot/cold water
Radius door and windows
Storage compartment (Pre-wired for Generator)
Insulated, sliding Dual LP Tank Compartment
Rear docking station (water, tank valves, shower, battery switch)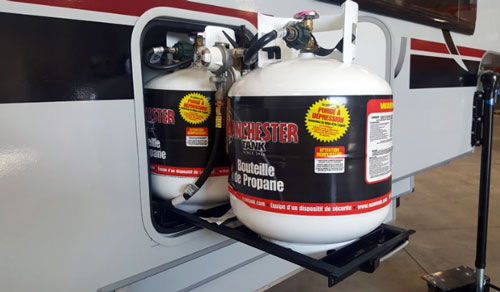 Side-out storage for LPG tanks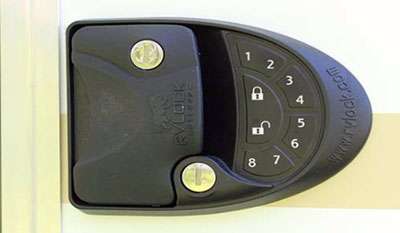 Key-less entry lock
Options
Oven (Therford XR17200)
TORKLIFT aircraft-grade aluminum lockable GlowSteps
Roof rack (works with Thule or Yakima products)
Solar Kit w/200W roof-mounted panels)
Large dinette table (20" x 25")
6ft rear awning
Wireless rear camera
12" x 19" sliding Pass-Thru window
Slide-in Cummins Onan QG 2500 LP Generator
19" Cabover TV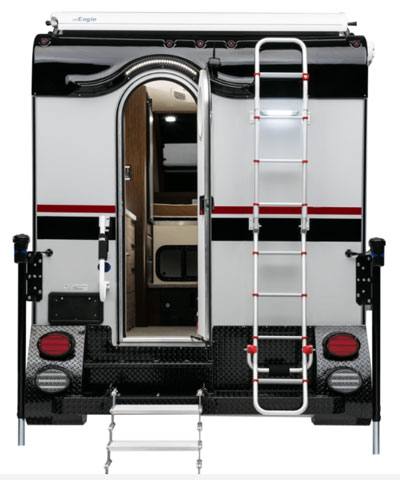 Rear side of the Cirrus-920 truck camper
Summarizing: The Cirrus 920 is one of the best truck campers on the market in its class (as of 2019). Very elegant, stylish, built to last (aluminum, Azdel...), lightweight but offering most of what is expected in mobile home. And if it is not enough - designed for all-seasons RV-ing.
Go back to: --> Top Truck Campers
All pictures are courtesy of NuCamp (Cirrus-920)
Note:  Check with the manufacturer and / or authorized RV Dealer for the up-to-date list of features, options as well as latest specifications. These written above may not be accurate and certainly are subject to change by the factory. We are not responsible for any inaccuracy, the above text is provided only for the general information.
This review was written based on publicly available information for the benefits of the community of RV-ers. We do not receive any gratification or financial benefits from RV manufacturers, dealers, and any other promoters of RVs. 
We are NOT involved in sale and/or retail of RVs!