Coleman Pop Up Camper Parts and Accessories
Many RV repairs can be successfully done using original manufacturer kits, here are examples of Coleman repair kits....

It is very important for camper owners to be aware that low cost replacement parts may be also of low quality.
Although such parts and accessories at first look are attractive in the long term they may prove to be unreliable and our "happiness" – short living. 
On the other side, spending a lot of bucks on for example replacement canvas is not easy task.
However if they are aware about patch kits available in the market they could consider investing a fairly reasonable amount on it and get a similar result as a total canvas replacement.
The components listed below are the main accessories which are sold at Coleman and each of included parts has been descriptively identified therein.

---
Auto change-over (LP gas system) - This kit is provided in order to give users the ability to install the "dual LP Gas functionality" which would not require any manual intervention.

---
Bed shelf component parts – Although the shelf is not sold separately this kit is sold with a collection of all the necessary parts required for ones' camper including, 2 white vinyl end caps, 2 nylon spacers, 5/32" x 2 1/2" support rod, 2 assembly cables, 4 rivets and 2 washers. Mentioned components will allow users to replace missing, broken or worn out parts.

---
Canopy component parts – This is a highly cost effective, permanent solution to fix  leaks and other damages to the camper canvas as users do not need to replace the entire hood in order to fix a small patch. However it is essential to identify the brand and quality of the product prior to making the purchase as only waterproof canopy parts would provide the best results for the longest period of time.

---
Power Lift Components – There are several parts which are included in this set such as: current limiter, power head motor, 4" adapter and pin, mounting weldment, hand controller, shear pin 1" x 3/16", 40 amp breaker and  a 2 1/4" bushing.
---
Deluxe add-a-room components – This kit includes the following parts, 10" plastic hook stake, lashing hook, tek screw, velcro hook adhesive back (sold/yard), entrance zipper & pull package, zipper pull,  storage bag, 1/4" shock cord (150 pc. pkg.), shock cord crimp, brass grommet w/teeth, 1" x 16" velstick hook strip (black), zipper adapter 47 1/2" x2 - Americana, E1, E2, E3, Sedona, zipper adapter 52" x2 - Cobalt, Destiny Series and a zipper adapter 40 1/2" x2 - Highlander Series, E4

---
Double crossbar kits – It's important for customers to know that the towers are not sold separately and any individual parts need to be purchased by contacting the respective personnel. The components included in this package are, two 84 inch crossbars, 4 crossbar end caps, rail rider tower pkg. (pkg. of 4) and two crossbar pads

---
Furnace kits – It's highly essential to identify whether a particular furnace kit contains all the necessary components required for carrying out a successful repair as the inability to find the right parts will certainly lead to farther frustration. A furnace kit should have the following parts, six 1/4" screws, 4 normal screws, two 1/4 screws, wood screw, 6 clamps, 2 washers, 6 rivets, 4 rivets, 3/8" flared tee, flared tee 1/2" x 1/2" x 3/8", four 3/8" flared nuts, elbow x1, wood screw, 3 yellow wire connectors, 1/2" split bushing, black butyl tape 1/8" x 3/4", white butyl tape 1/8" x 3/4", two 2" x 2" wood block, exterior vent kit "long" 8", escutcheon 3/8" OD, thermostat, thermostat plastic base "brown", thermostat plastic base "black", gas line assy. "short", heater harness, thermostat harness, heater grill "brown" and a heater grill "black". All these components are essential in order to maintain and fix any issues which one may face with the furnace.

---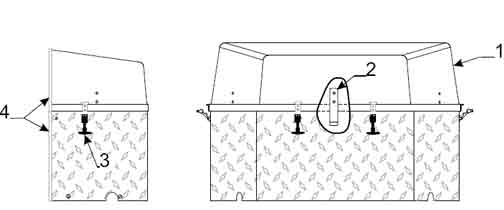 Gas bottle cover "molded plastic" – This kit contains only 6 main components including 3 lid clips, 4 latch, strike & rivets, 4P edge molding (8' pc. pkg.), 4 cover keeper w/rivets, screw grommet and 2 license plate screws. It should also be understood that the primary purpose of this kit is to make sure that the gas bottle is safe and protected.

---
Molded gas bottle cover assembly – Although the LP cover lid is not available in this kit the five other main components which are included herein are, lid mounting hardware, cover mounting hardware, chrome thumb turn lock, latch tail and latch strike.

---
Outside drain hose kit – These are only three main parts included in this set which are: 10 feet drain hose, an elbow nut and washer and two hose clamps. The main purpose of this kit is to prevent spill of water next to the camper.

---
Screen room component parts – There are various parts in this set including: top sliding window pane, stationary window pane, rubber seal, door latch assembly, 2 hinges,  M25 rivet, screen door support, vel stick, stud w/screw, spring package, large top bracket, top bracket hinge, small top bracket, cable assembly, corner brace hinge, screened stationary pane, 36x18.5 screening, d-seal "white" and a window lock package.

---
Reading light /Fan combo components – This combo bundle consists of two main parts which are correspondingly  the lens "snap on" and the gripper clip

---
Tire cover "molded plastic" – This set includes several vital components. These are: two top keeper brackets, two side keepers (Highlander), plastic grommet, expansion rivet, two bottom keeper brackets, plastic grommet, expansion rivet ad four screws.

---
Vanity mate component parts – This component set comprises 11 main parts including, 2 plastic trays, mirror, wing nut, two  adjustable L-brackets (3 hole bracket), nylon spacer, painted rivet, painted expansion rivet, two tube caps, towel bar, storage bracket (riveted to ceiling) and a painted expansion rivet.

 About Us / Privacy Policy / Resources
Go to:  Pop-up Travel Trailers and RVs