Coleman Stoves
See most popular models of Coleman's camping stoves, grills and ovens, no doubt they can satisfy even the most demanding customers…
The Coleman Inc. started its operation in 1905.
Company's beginnings were very modest – it all started when Mr. W.C Coleman spotted in the local drugstore a new type of gasoline-burning lamp giving a steady, white flame.
It was a shocking discovery because popular at those times kerosene lamps were offering a flickering, smoky, yellowish light.
Inspired by this "discovery" Coleman lunched the business of new light sources that soon found their places under roofs in American farms.
The rest is history - the company grew rapidly throughout the years introducing new products – mainly designed for the "outdoor" activities. Currently, impressive line of products includes also camping stoves and related accessories. Propane, liquid fuel and back packing are the three main types of stoves which they sell and every stove is available in either mini or small sizes.
The list below elaborates about few of the stoves available at Coleman:

---
Triton™ Series 2 Burner Stove
           This two burner propane stove is designed with the state of the art technology which allows it to automatically regulate to optimum temperature while maintaining a steady supply of heat and prevent flames from moving around all at the same time. Due to its large cooking surface it could accommodate two pans of 10 and 12 inches respectively. The controls are independently adjustable, thereby allowing the heat to be controlled anywhere from simmer to boil and as it comes with a built in handle it could also be carried away easily after use.

---
Portable Stove Oven Combo
      As the name suggests, this is a good stove for those who need an oven in addition to a stove for a camping or other holiday need. As this stove provides up to 3000 BTU of oven output and 12000 BTU as a stove output, it would be the perfect choice to bake a large 12 inch pizza or a few cookies and an average-sized cake.

---
Perfectflow™ Instastart Grill Stove

        This is an ideal stove for camp lovers as its 10000 BTU stove also comes with an attached grill which would help to grill a turkey while cooking burgers at the same time. Its steel crafted body and non stick surface also shows that it doesn't require much effort to be carried away after it's used. Although it's made in China the whole product is backed by a 5 year warranty to ensure that its durability and technology would not let you down throughout its lifetime.

---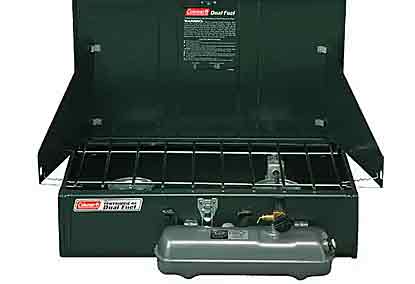 Dual Fuel™ Powerhouse 2-Burner Stove

             The primary benefit of this stove is its cost efficiency as it could work even on liquid fuel and unleaded gasoline without compromising on energy losses. As it provides 17000 BTUs through high performance Band-a-Blu™ burners it has a tank capacity of 3.5 pints. The primary burner uses up to 9000 BTU while the auxiliary burner uses up to 8000 BTU from the stove.

---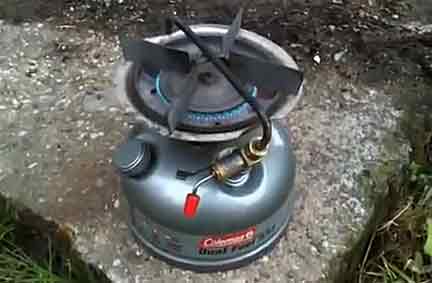 Sportster II Dual Fuel™ 1-Burner Stove
    
        As this stove uses the Duel Fuel technology it is also a cost effective solution for camping, hunting and emergency situation. It should also be noted that it only takes 4 minutes to boil a quart of water in this stove and has a fuel capacity of only 1.1 pints. It's made in the USA and offers wind protection and built in pot support as well.

---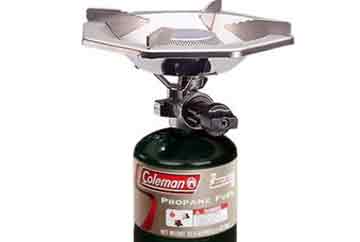 Perfectflow™ 1-Burner Propane Stove

       A unique feature about this single burner 10000 BTU stove is its compact design which facilitates the separation of the burner from the propane bottle so that it would require less space for storage. Although it's highly energy conscious and could work for up to 9 hours on low, the burner could accommodate a large 8 inch bowl with ease.

---
Perfectflow™ Portable Grill

       Although this is only a 11000 BTU portable grill, it has a cooking area of 1160 square centimeters and if necessary the shields could also be folded downwards to be used as side tables for additional work space. As its non stick surface is porcelain coated it doesn't require much effort for cleaning and therefore makes it a good choice for short term holiday seekers and campers alike.

---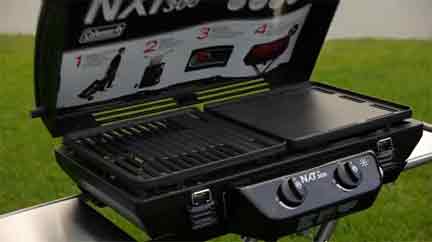 NXT™ 200 Grill
 
    This is an ideal choice for any outdoor BBQ picnics or backyard parties as its 20000 BTU grill is sufficient to cook several burgers simultaneously. It comes with its own thermometer on top so the cooking status of a particular dish could be checked without lifting the lid. The cast iron grills are porcelain coated to withstand higher temperatures when cooking. Customers also have the option to choose a griddle and stove top separately if they need to as it's also designed to be used as a portable stove as well.

---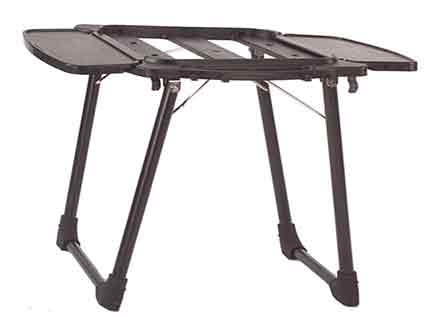 Roadtrip® Portable Table Top Grill Stand

      Although this is not the grill nor stove, it is worth to mention it here. The truth is that this portable grill-stand considerably improves your outdoor cooking experience. It has a considerably large side table to provide sufficient space for preparing meals and drinks.The legs could be folded down so that it could be stored in a small space. Its rugged and durable design is backed by a one year limited warranty to ensure that it could be used without any mechanical defects or faults as any other unit in its category.

---
        Summarizing, it could be said that each of the stoves and grills which have been discussed above is not only of high quality and workmanship but is also sold by one of the leading manufacturers of camping supplies. It's also essential for potential customers to know that in order to get the best performance from the stoves it's highly recommended to purchase accessories which have been built for the particular type of stove/grill which one has purchased.

 About Us / Privacy Policy / Resources
Go to:  Pop-up Travel Trailers and RVs