Conqueror UEV-440
Extreme Off-Road Trailer
     Conqueror UEV-440 is a hybrid trailer designed for extreme off-road conditions; jam-packed with amenities, it offers most you may need on your discovery journey. 

          We got used to the "picture" that the North American RV industry has an undisputed world's leader position in this very lucrative market. Well, while it may be true when it comes to big luxurious rigs, it is far from reality in relatively new but fast-growing Extreme Off-Road niche of the RV market. Yes, in recent years you will find more and more US-designed and built off-road RVs, but these are rather "modified" designs of standard models with reinforced frames, suspensions and all-terrain wheels. Nothing wrong with such an approach, these generally inexpensive models give first chance to explore the nature by those trying to escape the hectic city life and overcrowded campgrounds. But when it comes to aficionados of more extreme adventures, trying to go well beyond the beaten paths, the US RV industry is still far from traditional off-road champions like Australia and South Africa. And this is for the reason – these geographical areas are still vastly covered by an unspoiled nature rather than an "asphalt".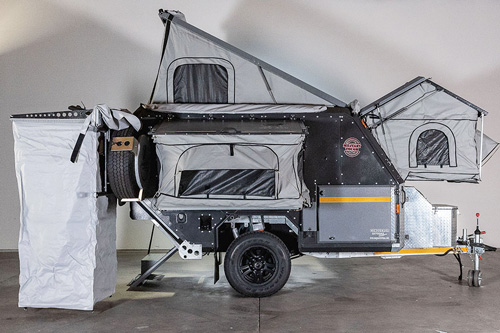 Conqueror's Flagship Off-road trailer: UEV-440 Extreme
Above: in camping configuration
Below: in road configuration
It is a matter of necessity and security to match "extreme" travel conditions by matured extreme off-road designs. It's then obvious where should we look not only for inspiration but also for proven solutions.  One of such examples can be the Conqueror International – a leading South African manufacturer of rugged, extreme travel trailers. 
         With their 20-years long experience in manufacturing military and off-road vehicles "built for South African safari and Australian Outback" (as the company proudly claims), you know that with their models not much can go wrong. The technology and manufacturing process of Conqueror's extreme off-road RVs were utterly tested over the years of operations in vast territories of African and Australian wilderness. 
       As of today, Conqueror series of Urban Escape Vehicles includes models: UVE-310, 310 Lightning, 330, 390, 440ST, 490 ST and 490 Platinum. The good news is that most of these models in their re-engineered for US-market configurations are now offered by Conqueror-USA.
           Conqueror UEV-440 is a hybrid trailer, in other words a combination of hard-wall shell, horizontally expanding tents and popping-up roof. Such structure offers the best of two words:
Compactness (much needed for towing in no-road environment)
Off-ground sleeping and living space (offering safety and some level of comfort)
UEV-440: Floor-plan
Conqueror-UEV-440: Rear-end in road configuration

         All UEV models are built not only to last (as we would usually say) but first of all, to Deliver (in other words keep their original performance in challenging surroundings of wilderness). Needless to say, that any mechanical break-down in Australian Outback or in one of African Safari Parks is not just an end to dream vacations, it can be a matter of survival. That's why UEV took the design (concept, materials and workmanship) to the highest level. Conquerors' frame and body is made from hot-dip galvanized (or powder-coated) steel. The frame is bolted using Nylock nuts, while shell assembled using high quality fasteners and polyurethane glue. There are no welded components, prone to corrosion and sensitive to mechanical stress. All non-structural parts (hinges, latches etc..) are made from stainless-steel or aluminum. Wood is fully eliminated from the list of construction materials and with-it, rot and mold.
The UEV-440 was designed for extreme adventures in no man's land environment. That requires not only compact (easy to tow), rugged and reliable but also well-equipped and highly practical design. Well, the Conqueror UEV-440 is loaded with features and accessories promising not only safe but also enjoyable adventures.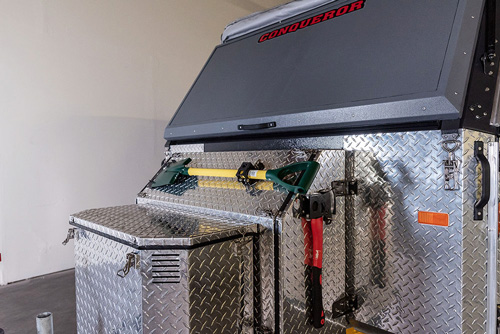 Conqueror-UEV-440: Tongue-mounted storage box and optional nose-box for LPG tangs and water heater....

Interior storage can hold 3 large suitcases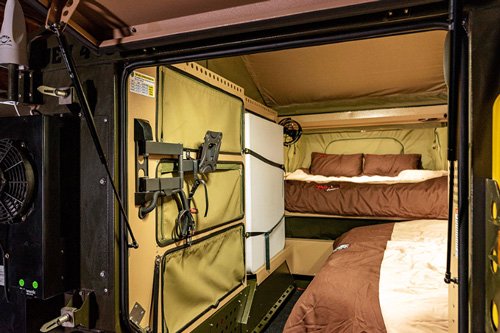 Conqueror-UEV-440: On the left 3 shelves for suitcases (here zipped for protection)

But that's not ball - if designers missed something you will find necessary, the UEV-440 offers surprisingly generous storage space:
Interior compartment with shelves for 3 large suitcases (all zipped to protect suitcases from falling when on the road).
Exterior compartment with removable (sliding) general-purpose Wolfpack boxes and canvas-made pockets on the door.
Large tongue-mounted storage box
Pantry with shelves and folding worktops (accessible from exterior and interior).
Kitchen drawers for cutlery and crockery 
           Two pop-out tents with beds offer comfortable sleeping area for 4 adults. When unfolded, they still leave some interior space to freely move in and out, while tip-up roof offers ample headroom, so you can easily dress inside of the trailer. 
Note that interior space is free in both - road (when tents folded) and camping (when tents unfolded) configurations. Such design offers an extra storage space for larger camping gear like folding table, chairs etc… freeing towing car from extra stuff and making is "instantly" available (unloaded) for trips around (be it grocery shop or just a discovery tour).
The front tent with its dimensions of 79" x 68.5" closely matches the dimensions of the queen-size bed (actually it is 8" wider), while the side tent offers almost double-size sleeping space (68.5" x 53" makes it 7" shorter). The latter is perfect for teens but may be a bit short for adults. Beds come with foam mattresses, linen sheets, 4 pillows (2 for each bed) and covers. 
The tents' fabrics is made from coated rip-stop canvas promising not only durability (slow tear & wear process) but also weather-resistance (sun, rain, wind….) and low maintenance.  Each tent has 3 windows with nets and zipped privacy covers. With additional 3 screened windows on the walls connected to the pop-up roof, interior is well infiltrated by sunlight and fresh air. 
Front sleeping place and fragment of the side sleeping area
Double-size bed in side-pop-out tent
        With a bit of "experience" setting up the UEV-440 trailer for camping may take no more than 10 minutes (opening the rear doors and entrance step, setting stabilizers, lifting-up roof, unfolding both tents, making beds. Note that door and roof are assisted by gas-struts while tents (beds) are self-supporting, so they do not need stabilizing poles. You will need extra time to set the awning and deploy solar panels. 
        Part of the strategy to guarantee long-lasting performance and comfortable living conditions in usually dusty as well as possibly wet and humid environment is Conqueror's "dust-and-water-tight" design. It is achieved using thick rubber seals along all openings and the pressurization of interior. The high-pressure fan sucks the air through high-quality filters and keeps interior pressure slightly higher compared to exterior conditions. This way it effectively eliminates potential infiltration of dust into the cabin. BTW- the fan can be remotely turned On/Off by an application from your smartphone so it can be easily activated on the road whenever needed without the need to get out from the towing vehicle. 
Conqueror-UEV-440: Slide-out kitchen
Conqueror-UEV-440: Pantry with workspace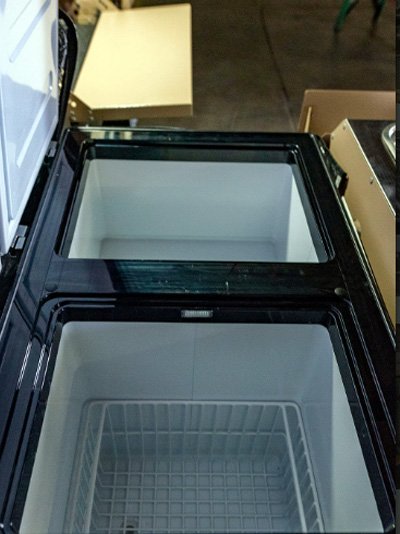 Fridge
    Compactness of UEV-400 and its generous sleeping space for 4 did not deprive this off-road trailer of well-equipped kitchen. Manufacturer rightfully recognized the fact that feeding our souls, minds and eyes with marvels of Mother Nature wouldn't be enough, our stomachs have their own needs and expectations! Well, let's make it clear - despite obvious space limitation of extreme off-road trailers, the Conqueror UEV-440 offers very functional outdoor kitchen quarter. It is located on the driver's side of the trailer and includes:
1. Large, sliding-out galley with:
3 cu. ft. stainless-steel fridge with removable baskets
2-burner, stainless steel cook-top w/flush-mounted lid offering workspace,
Sort of double-bowl sink with faucet and hot/cold water consisting of two, easily removable plastic basins supported by robust holders. Note that UEV-440 does not have grey water tank, so removable basins offer very practical field-solution.
Sort of "cabinetry" including two large drawers for cutlery (plates, bowls, cups and even wine glasses…) as well as silverware.
2. Two-sections pantry with:
Deep wall cabinet with shelves for food, but also for pans and pots (in fact any larger kitchen appliances) as well as fold-down worktable. This section has access also from inside of the trailer. 
Shallow door section w/holders for bottles (sort of mini-bar) and fold-down shelves including one large offering extra work-space.
       The whole area is covered by L-shaped awning fully protecting the galley, an extra space for camping table and chairs and rear entrance to the trailer. Note that with some experience it will take no more than 5 minutes to fully set-up the kitchen.
Interestingly, despite its compactness, the cleverly designed outdoor kitchen has room for 2 persons to work together on preparation of meals, not even mentioning that cooking and eating surrounded by nature has its own merits, rarely experienced inside of large rigs!
The freshwater tank with capacity of 42 gallons (160 liters) offers decent water autonomy. The 12V water pump feeds kitchen with hot and cold water, but in the case of failure (or depleted battery) there is also a "gravity" tap at the front of the trailer offering easy access to the water. The LPG (or diesel) water heater is housed together with LPG tanks in tongue-mounted nose box (all optional, but highly recommended).
        But the surprises do not end here, in fact you will be amazed to realize how much was packed into this trailer. For example, the rear spare wheel serves as the mounting "bracket" for the BBQ grill. It can be set over the small fire, enhancing this way your experience of "cooking" in nature. The back side of the wheel bracket houses exterior shower and holder for portable washing basin also fed with cold and hot water. The privacy is assured by the vinyl curtain.
Electroplated BBQ grill
Exterior shower cabin
        For those wanting to bring "exterior world" into wilderness, Conqueror offers optional Stereo/CD/DVD/MP3 multi-speaker sound system as well as HD TV screen, but frankly we would think that nothing can replace voices of nature as well as truly 3-D panoramic scenic views you will have chance to experience when making close contacts with Mother Nature.
The electrical system is supplied from two AGM or Lithium batteries (both are optional). These in turn are fed by the thin layer of folding, flexible solar panels that can be deployed on the awning and plugged into the system via an Anderson connector at the front. The Control Panel is the symbol of ingenuity – back-lit buttons control LED lights and positive pressure fan, screen allows for monitoring the battery charge, level of water tank and the best – it can all be controlled and monitored from your towing vehicle by using the smartphone application. The panel also provides breakers including the one for shore power (when connected to the grid).
Specifications
---
Overall length (1)

Exterior height

Exterior width

Ground Clearance

Dry weight (2)

GVWR

GAWR

Fresh water tank

Sleeps

15'6" (4,74m)

7' (2,13m)

74.8" (1,9m)

17,6" (44,7cm)

2,755 lbs

3,970 lbs

7,700 lbs

40 gals 

4
---
1. Includes rear spare wheel
2. With standard features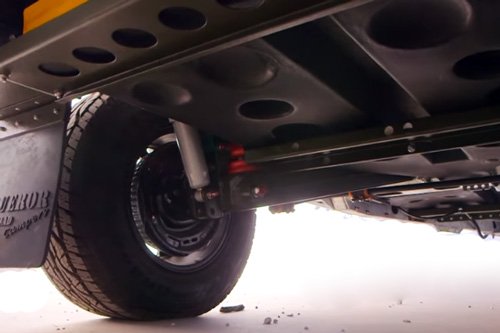 Bottom part of the frame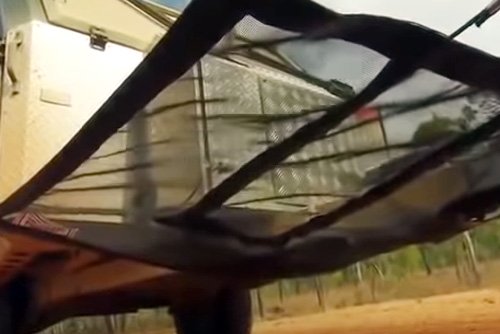 Rock protection net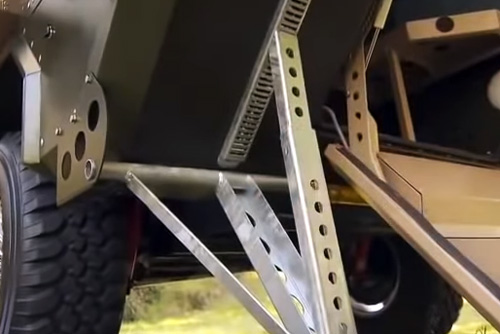 Rear stabilizer
Construction
Frame: 0.12" (3mm) thick, hot-dip galvanized bolted/riveted steel w/extended A-frame section
Shell: Powder-coated steel, assembled w/fasteners and polyurethane glue
Roof: rear tip-up w/hard-top and canvas sides
Rock-guard: Aluminum Stone Protection and Removable Front-Protection Net
Suspension: Independent torsion bar w/long coil springs and HD shock absorbers
Ground Clearance: 18"
Coupler: 360 degrees Max Off-road
Brakes: 12" Electric (Al-KO off-road)
Wheels: Alloy w/Dunlop AT3 245/70/16 tires (optional Cooper ST Maxx 75R16)
Tent fabrics: Coated rip-stop canvas
Entrance: Rear door (opens upwards) with fold-out step
Two beds (queen-size in the front tent and double-size in the side-tent)
Sleeping areas
Two pop-out tents w/rain-fly covers and zipped net windows 
Fold-out 79" x 68.5" queen-size bed (front)
Fold-out 68.5" x 53" double-size bed (side)
Two high density foam mattresses w/cover
Two bed linen sets and 4 x pillows w/covers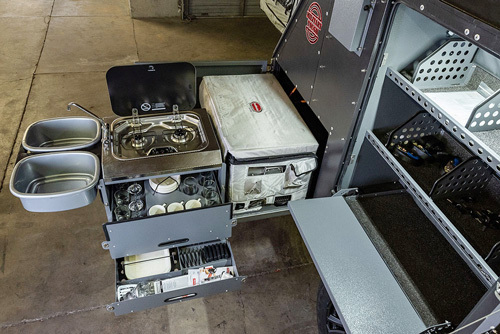 Kitchen and pantry on the right
Conqueror-UEV-440: Pantry

Stainless-steel 2-burner cooktop
Kitchen (Exterior slide-out)
Dometic stainless-steel 2-burner propane stove w/flush-mounted lid
Two portable sink-basins with hot & cold water faucet
Stainless-steel 3 cu. ft (85l) Fridge/Freezer with removable baskets
Storage for sink basins, pots, pans
Drawers for glasses, plates, bowls, cutlery and utensils
Pantry w/shelves and folding worktables 
Minibar w/holders for bottles
BBQ grill (electroplated, mounted on the rear spare wheel)
Electrical
Neutron 12 Intelligent Power Management system with Smartphone apps
Breakers and battery terminals
LED lights (3 x interior, 2 portable, exterior, tail & marker lights)
Water pump (about 2.4 gals/minute)
2 AGM (or Lithium) deep-cycle batteries (optional)
Shore/Solar plug with 53 ft (16m) cable
Positive-Pressure blower
UBS ports
Shore outlet
Inverter/Battery charger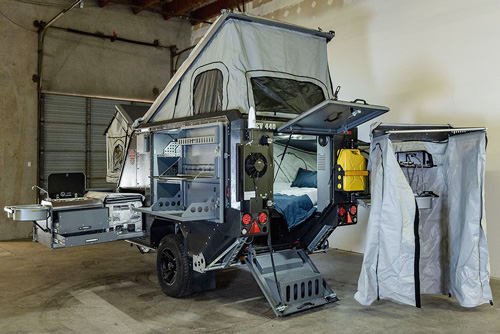 Water/Plumbing
42 gallons (160 liters) freshwater tank w/water pump and gravity tap
Shower stall w/washbowl 
Stainless-steel taps (kitchen faucets, shower)
Interior features
6 tie-downs for portable camping gear
Mosquito nets (windows and doors)
Carpet floor
3 storage shelves w/zipped protection covers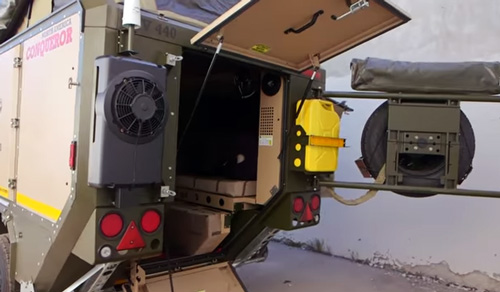 Shower housed on the back of the spare wheel bracket proves that in UEV-440 every inch of surface has its purpose :-).
Exterior features:
Rear Adjustable stabilizers
Folding front tongue jack w/wheel
Spare wheel bracket (spare wheel optional)
4 x large, slide-down Wolfpack storage boxes (exterior storage compartment)
L-shaped awning (covers exterior kitchen and rear entrance)
Two 20 liters Jerry cans w/holders
Large tongue-mounted storage box 
Tongue-mounted nose box (for LPG tanks)
Axe and spade w/mounting brackets
Mud flaps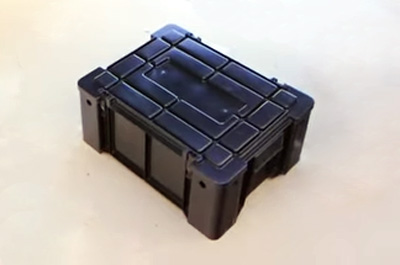 Wolf-pack storage box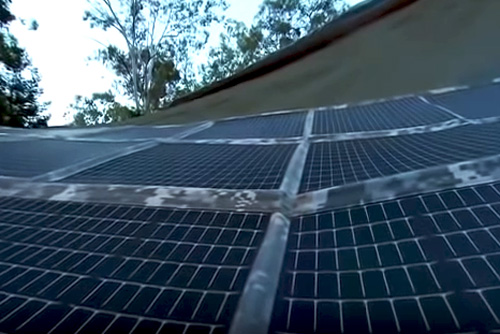 Flexible solar panels can be deployed on the awning!
Options
12V HD TV (HDMI/USB/
FM/DVD/CD/SD Stereo
Sound System w/subwoofer
Water Heater (Propane)
Furnace (Propane)
Two interior fans
Batteries (2 x100Ah Lithium or 2 x 115Ah AGM)
Aluminum (or steel) Propane Tank (tongue-mounted, can accommodate up to two 20lbs LPG bottles and heater)
Portable toilet (Porta Potty)
Three Cooper ST Maxx 75R16 tires w/wheels
Bundutec 360 degrees Awning
160W folding solar panels 
A/C unit (requires 2kW shore power or equivalent generator) 
Summarizing: Conqueror UEV-440 Extreme is one of the best off-road travel trailers on the market. Compact on the road, very well equipped for longer journey to wilderness, it is reasonably priced for what it really offers. 
Go back to: --> Extreme Off-Road RVs 
Unless otherwise specified, all pictures are courtesy of Conqueror USA
Note:  Check with the manufacturer and / or authorized RV Dealer for the up-to-date list of features, options as well as latest specifications. These written above may not be accurate and certainly are subject to change by the factory. We are not responsible for any inaccuracy, the above text is provided only for the general information.
This review was written based on publicly available information for the benefits of the community of RV-ers. We do not receive any gratification or financial benefits from RV manufacturers, dealers, and any other promoters of RVs. 
We are NOT involved in sale and/or retail of RVs!