Dub-Box Retro Camper
Fiberglass Travel Trailers
Dub-Box camper is a new incarnation of the glorious past: one piece molded fiberglass shell in the shape of the famous T2-like VW van with flexibility of choices of modern features....
      Dub-box is a fascinating story brought to life by lovers of famous T-2 style VW Vestfalia campers. 
Those "earlier-born" still well remember that T2 was a symbol of freedom, symbol of youth; it was an expression of individualism breaking the rigid social rules…..  
And although the standard of life as well as "lifestyle" significantly changed since those times (not necessarily for better) the vibes of old times never vanished …. 
It was then just a matter of time to see someone bringing back the best from the past in a new incarnation taking the best of modern day technology, but at the same time preserving nostalgic warmness of shapes and colors that are so deeply rooted in our "collective" memory.  
     It all started in England thanks to Matt and Becky Clay – a couple not only passionate about retro camper vans, but also about the lifestyle characterizing "old good times" of 60-s-70's. They designed and started manufacturing travel trailers featuring the same rounded-rectangle shape, square windows and two-toned exterior paint as original T2s vans.
The name Dub-Box seems to make reference to box-like shape of Volkswagen campers hence (boxy VW or V-Dub).
Dub-Box camper in road configuration (looks familiar :-)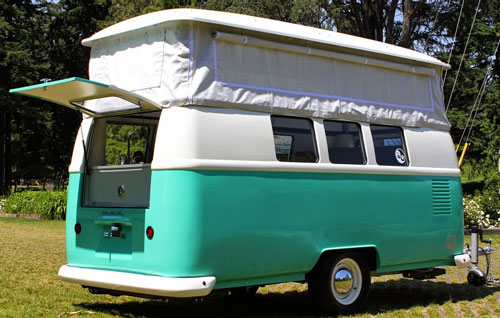 Dub-Box camper w/lifted roof (camping configuration)
    As stated by the company - all Dub-box campers share only two common characteristics: shape of the box and single axle. Everything else can be customized based on needs and wishes. Indeed, buyers can make the choice of interior and exterior colors, flooring, blinds, upholstery, countertops and appliances. Believe or not, but even the front-end of the frame (A-frame) can be modified (for example shortened) if needed.  As a result, most of Dub-Box travel trailers have individual characteristics of their owners rather than factory standards. 
As a sign of time - iconic boxes (shells) are made from molded fiberglass. Actually each box is a "One-piece" shell. The floor (also from composite materials) is subsequently attached (bonded) to the shell. That allows making floor stronger, with an extra thermal insulation. The box is then attached to a galvanized-steel frame.
Iconic picture presenting an old T2 VW van towing a new Dub-Box trailer....
      Dub-Box travel trailers come with lifted roof offering decent interior headroom (the roof is made from the fiberglass; however the sides of the lifted roof section are made from tent-like "Sunbrella"  fabrics). The typical interior features include: full-size L-shaped convertible to bed couch (with storage), wardrobe, storable dining table, kitchenette with 2-burner stove, stainless-steel sink w/faucet, refrigerator and cabinets, exterior shower.  Options include: solar panels, heating and berths for children although let's face it – Dub-Box campers are basically designed for 2 persons.
Now following an earlier statement regarding customization (even if it may sound unreal) – you can have special requirements like for example shorter or longer bed, wider cabinets, drawers, taller wardrobe. The company claims that each reasonable request (wish) will be seriously considered and implemented to accommodate individual needs. This seems to follow the spirit of the past when lifestyle was breaking all standards and norms freeing human imagination…. 
Dub-Box camper: Instead of floor-plan, panoramic view of the interior (one of customized versions)
   For sure, it did not take long to see the Dub-Box concept "exploding" in US. Obviously, it is land where Hippies movement was born and Beatle tradition is still well-alive. Few years ago the Dub Box USA started operation in Oregon and it was an instant success.
See it yourself :-)
Dub-Box-USA Camper
Specifications:
Exterior length

Box length (including bumper)

Exterior width

Exterior height (from ground)

Interior height w/roof lifted

Interior height w/roof closed

Dry weight

GVWR

Cargo capacity

Fresh water tank

Grey water tank

Sleeps

16'

12'3"

5'8"

6'

6'6"

4'4"

2,300 lbs

3,500 lbs

1,200 lbs

22 gallons

27 gallons

2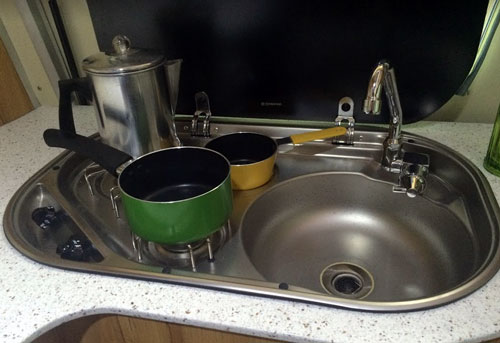 Dub-box USA: fragment of the kitchen (hob sink/stove combnation)
Construction:
One piece molded fiberglass shell
Galvanized still frame
Flexiride axle braking system
205/75 R14 tires w/Moon caps
Walls insulation (reflective sheeting)
Glass windows
Custom paint colors
Pop-up fiberglass roof (automatic)
Dub-box camper - L-shaped sofa
 ... and storage
Interior standard features
Hob sink/stove combination
3 cu ft. electric refrigerator
Cabinets
L-shaped couch (converting to full-size bed)
Wardrobe w/vanity mirror
Power converter
Battery
Solar prep
Wired for iPhone/Smartphone USB
Bluetooth stereo and speakers
LED lighting
Portable toilet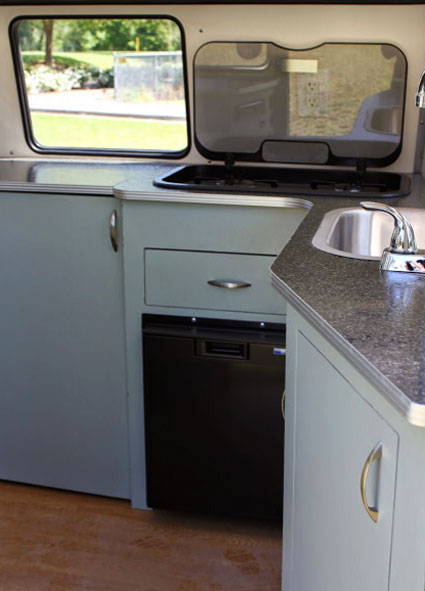 English Dub-Box: example of the galley
Exterior standard features
Hot/cold shower
4 stabilizer jacks
110V/30 Amps hook-up
Dinette
Options:
Storage box on tongue
AC unit
Roof rack (vintage VW bus luggage rack)
10' x 8' retractable awning
10' x 6' shade awning
LPG water heater
Back and side-tent rooms
Dinky Dub-Box (USA) camper
       Thanks to the popularity of Dub Box USA campers, the company is about to launch the new model called Dinky Dub Camper (according to the latest news it will be available in 2017). It is the outcome of customers' inputs and wishes. The Dinky Dub will be smaller, simple and weighting less than its "older brother" (Dub Box camper). The shell will preserve the unique VW-van retro style (name obliges), but the roof will be stationary.
The major change compared the traditional Dub Box camper is the modular interior design. Here customer will have much bigger flexibility and larger offer to choose from – either the space for "toys" (kind of hauler), or bigger dinette or larger sleeping space etc.. .
This approach will also lower the basic price for the trailer. Following pictures may give the best explication as of what is coming soon on the market.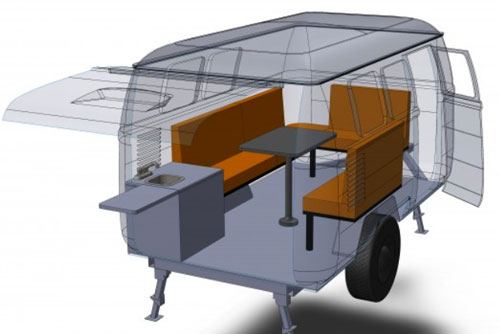 Some versions of the future Dinky Dub Box USA travel trailers
Above: big dining area
Below: big sleeping space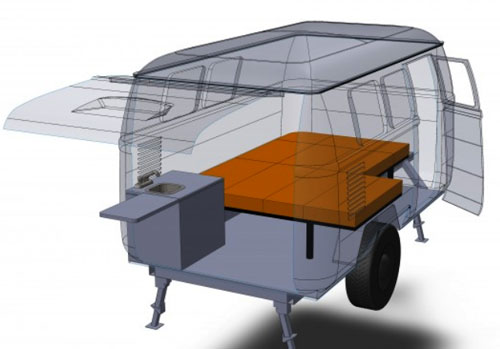 For those interested - it may be worth to mention that Dub Box (including its USA branch) based on the same VW-van concept offers a wide range of fiberglass trailers designed as food carts, event trailers etc…
---