Duo Therm Air Conditioners Dometic
Newest duo-therm RV air conditioners from Dometic provide depending on your needs cooling or heating and are easy to install….

These modern electric units are actually descendants of the original heat absorption technology that the founders of Dometic created in 1922. 
Albert Einstein was impressed by the technique.  He was concerned about the toxicity of the gases (ammonia) used in the early days. 
He and his student Leó Szilárd designed their own model that was completely sealed and leak-proof.
This safe technique of extracting heat is still used in propane-powered refrigerators in recreational vehicles.  The wide availability of electricity nowadays permits us to use compressor technology instead; and that is at least five times more efficient, whether we choose to use 12 volts DC while we're moving, or a shoreline when parked. 
But nothing beats the convenience of propane when 115 volts isn't available.

These particular A/C units from Dometic require 20 amp circuit protection though none draws in excess of 16 amps, and some as few as 13 amps, when in cooling mode.  If your gas powered generator has 1800 watts to spare over and above your needs, you're all set to power any of these installations.
    They fit in a 14.25" x 14.25" roof opening, of the type typically used for vents, so they're relatively easy to fit securely and safely.  They weigh in from a modest 70 up to 106 pounds.  Of course the opening must be framed so that the unit doesn't draw air from the roof cavity, and so that it is strong enough to support the weight of the load generated when the vehicle is moving.  The dynamic load can be up to 160 lbs, but since most roofs are rated for at least 200 lbs. this shouldn't be a problem.

---
Brisk Air II Air Conditioner/Heat Pump

        Dometic offers straight A/C units, or Heat Pump units, like the sort that are available for houses; they switch from the provision of cooling to heating by the flick of a switch.  Their newest product in this video introduction is called the Brisk Air II Air Conditioner.  It is available in both the 13,500 BTU model and a 15,000 BTU model.
Or perhaps you would prefer the model, named the Brisk Air II Heat Pump which can both heat and cool, maintaining the temperature from 30 °F on up.  It is available in a 15,000 BTU version.

---
Commercial Grade Rooftop A/C
           Another unit, the Commercial Grade Rooftop A/C is tougher, designed for rougher road conditions and nastier weather.  It's the sort that might be mounted on a construction trailer, but if you're the off-roading type it might suit your purposes too.

---
Penguin Low-Profile Rooftop A/C / Heat Pump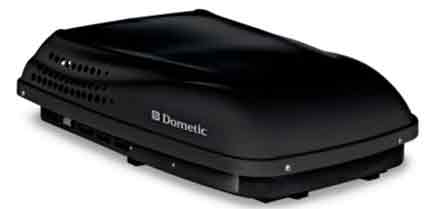 If your RV is already pretty tall, you might appreciate the lower, sleeker units.  The Penguin Low-Profile Rooftop A/C is less than 10 inches tall so you don't have to fear bridges and toll-booths.  It is suited for ducted or non-ducted cooling systems.  It comes in both Black and White and cranks out 13,500 BTUs of cooling.  It does not come with an electric heating option.
On the same note, the Penguin Low-Profile Rooftop Heat Pump will match all the stats and information above, but does incorporate a heating function.  Perfect for those chilly desert nights, or heading out for a skiing holiday, or the Quebec Winter Carnival in Canada!

Conclusion
    Hopefully, armed with this information, you can select a unit that truly suits your style.  Whichever one you choose, you should be able to rely on it for years of dependable service.

 About Us / Privacy Policy / Resources
Go to:  Pop-up Travel Trailers and RVs