Dutchman Pop Up Campers
Dutchmen is a manufacturer company for RVs that creates some of the most well known brands of RVs.
They are the manufacturers of the Coleman campers, but also of campers such as Aerolite, Bayridge, Denali and more.
They have become famous for their innovative designs and modern looking campers.
Dutchmen pop up campers are quite uncommon and rare nowadays, and because of this it is also difficult to find information about them. The manufacturer of these campers has stopped creating them a while ago.
The Dutchmen pop up campers are still high quality ones with a comfortable interior and a crank mechanism, like the classic pop up campers have.
Dutchmen campers are lightweight with a comfortable interior. Dutchmen manufacturers pop up campers with canvas sides, which can be towed even by smaller cars. Some larger units offer a lot of space for the whole family. There are also hard sided Dutchmen pop up campers, which are sturdy and they offer a safer and more comfortable camping experience.
Dutchmen manufactures pop up campers of all sizes, some of them suitable for large families, while others perfect for an intimate weekend getaway with your partner. There are also some that have been designed to accommodate children with smaller sized sofas and tables that can be converted into beds. The largest of these RVS offer sleeping place for 8 people. Most pop ups made by this company range between a size of 8' to 15' in length when they are set up.
One of the greatest benefit of Dutchmen pop up campers is that they are lightweight. Depending on their size they weight between 500 lbs and 4000lbs. The smallest ones are a great choice if you want to be efficient and save some money on gas. It won't take a lot of extra fuel to tow these pop up campers made by Dutchmen.
Besides the benefits mentioned above, Dutchmen pop up campers are also known for their comfortable interior that will make camping much more fun for people of all ages. Thanks to many various facilitates and appliances that these pop ups come with you can go camping even for weeks. Some pop up campers made by Dutchmen come with a small kitchen, a dining area, a bathroom area where you can take hot showers, and very cozy sleeping areas for any kind of weather condition.
Dutchmen campers can be bought at your local dealer. In order to find the closest one to you, visit the website of Dutchmen, where you can find more information about dealers in your area. You can also buy Dutchmen pop up campers online, there are various websites that sell both new and used Dutchmen pop up campers. Some of the best places that you can check out are Camping World RV Sales, Yakaz and eBay.
Dutchmen travel trailers such as their pop up campers com with a strong, durable construction that will last for many years. These campers have steel rims, easy lube axles, diamond plate front rock guard, dark windows for privacy, and a strong steel frame. They can also come with a lot of facilities that will make your camping more fun, such as dual outside speakers, manual patio awning, digital TV antenna and interior speakers as well.
This way you can watch your favorite TV shows and listen to your favorite music no matter where you are. Inside the campers there is a sofa that can be converted into a table, microwave, air conditioning, and a three burner stove. All these features assure that you won't miss the comforts of home. You will be able to cook, watch TV, and enjoy nature in a more comfortable way. The facilities inside depend on the model some of them have more comfort while others are made for a quicker weekend getaway. Besides the standard features there are many other options to upgrade your pop up camper.
If you have some special needs or preferences, you can add further facilities that will make your travels more fun. Keep in mind though that since Dutchman pop up campers are no longer manufactured, it might have to be your responsibility to add some new facilities and appliances to the camper that will make your camping experience more enjoyable.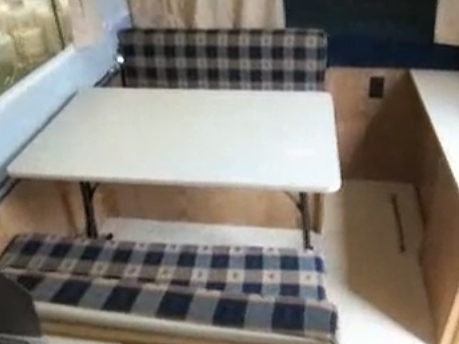 Inside view of the Dutchman pop-up camper....
Source: The video below.

The Dutchmen Voyager pop up camper.

Dutchmen Voyager campers come with all basic amenities such as privacy curtains, quite big windows for a lot of light and a roof vent. The Dutchmen Voyager comes with an awning, stabilizer jacks and also a spare tire. There are further options to choose from, such as a fridge and an air conditioner as well.
If you like camping for a longer time and you have a lot of friends or a family, this is the ideal pop up camper made by Dutchmen. It has a lot of space for people and it has also quite a lot of storage space for your gear or whatever you decide to bring along.
Although this camper appears to be small from the outside, it is quite spacy inside for a family. It can be hooked up to electricity and water at camping sites very easily with the help of an extension cord. Thanks to this you can watch TV, listen to music, or use an electric heater or fan according to the weather outside.
The sleeping area of this pop pup camper is quite spacy, with sleep accommodations for 6. There are two double beds on either side, and the kitchen area can also be converted into a sleeping area at night. The table converts to a bed and the sofa slides out to convert to a bed as well. Two people can also use this camper very comfortably, without having to convert the kitchen table into a bed, and having more space this way.
The Dutchmen Voyager comes with a sink and a kitchen area with a table and chairs. There is also a tiny fridge box and counter tops where you can prepare food. There are also cabinets and a stove if you want to store food and cook. A 3 burner stove that works with a propane tank is another facility of the Dutchmen Voyager pop up camper.
While this camper has a lot of benefits, there are also some less convenient characteristics that come with it. Setting up a Dutchmen Voyager pop up camper takes about 20 minutes. While this is a little bit more than some newer types of pop up campers offer, keep in mind that this tent trailer is also quite large.Another downfall is that it has no gray water tank.
This pop up camper has a 10 gallon capacity water tank but you have to figure out a way to get rid of gray water. For example you can also easily hook it up to water at a campsite and use a container to get rid of the gray water.
Watch the video of a Dutchmen pop up camper:
---
Visitor's Story .....

You do not see many Dutchman pop up campers around these days, but they are out there.
Finding a 1979 or a 1980 Dutchman pop-up might be easier in some places than others.
Try looking for a Dutchman in Tennessee or South Dakota.
You can usually find these campers in areas where camping is seasonal.
People tend to give up popups if they cannot get out enough.
You might try doing an online search to find out more about these pop-up campers, although there are many forums and chat rooms for campers to talk and express their opinions.
Camping in South Dakota is especially nice during the fall, although many people enjoy the summer. You will see many popups during the summer months, especially during Sturgis. You see many Dutchman campers at that time.
I do not where they are hiding, but they seem to come around at certain times of the year. If you need replacement parts for this camper, you will have to look under Dutchman parts and usually you will find better deals at outlets online that deal in many different camper models. Pop-up camper parts and repair may also be available at some local dealers.
If you have ever had any Dutchman pop up campers, you know they are nice little popups that stand up strong against their competitors, even though you do not see many. They are just as beautiful inside and tastefully decorated outside.
You might even see some improvements you could make inside if you have an older model. If the exterior is great, then there is no reason not to fix up the interior to suit your changing needs.
You can always make changes to improve your camper and then you will have a newer version of the old pop-up.
 About Us / Privacy Policy / Resources
Go to: Pop-Up Travel Trailers and RVs
or to : Pull Behind Campers,  Top-10 Lightweight Travel Trailers,  Benefits of Lightweight Travel Trailers