Escape Trailers
Fiberglass Travel Trailers
Escape Trailer Industries offer molded fiberglass campers; lite and lasting forever with modern amenities they are factory pre-sold then personalized according to customer needs...
     Escape Trailer Industries is a family-owned company located in Chilliwak BC (Canada). 
Behind the success story are Race and Tammy Harmatiuk – an "energetic" couple that their passion for campers converted into one of the hottest RV businesses selling all-fiberglass ultra-lightweight RV trailers in North America. 
Their first travel trailer – 17ft long Escape was built in 2003 and it was an instant success thanks to company's wise decisions.
First of all they decided to build Escape campers from molded fiberglass.
This technology offers durable, "lasting forever" shells (see details at -->  Fiberglass Travel Trailers). On top of being waterproof and easy to maintain (almost care-free) they are also lightweight, a characteristic more and more appreciated in our times when we as a society realized that "smaller" (in this case long-lasting, lite, more fuel efficient etc..) is beautiful.
 BTW - it may be worth to mention that first all-fiberglass (or molded-fiberglass as more often we call them) campers were manufactured in Canada from 1968 till 1988 by Boler (Winnipeg, Manitoba). The truth is that Boler was a great source of inspiration for Harmatiuks (in their own words - "a great stepping stone for teaching us what we wanted and what we did not want").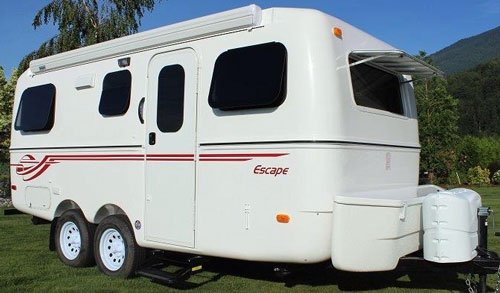 Escape Travel Trailer - Model 19 with shell made from molded fiberglass
      The second part of the success is a result of owners' decision to live a large choice of features and options to customers, allowing them to have the final "say" regarding interior and exterior features that the delivered camper will be equipped with.  In other words – all new Escape trailers are "pre-sold" so the final "touch" (choice of features) is done based on the customer input. 
The company offers 3 different models of Escape trailers – correspondingly 17ft, 19ft and 21ft long as well as Escape 5.0TA Fifth Wheel camper all made from molded fiberglass. 
and its floor-plan
     Here we will present in details the mid-range trailer model – 19 foot long Escape. It is the trailer, Escape Industries are especially proud of, because its floor-plan and standard features were largely designed based on the customers' inputs!
      It is a spacious, tandem-axle trailer designed for 4 people. The permanent, queen-size bed (60" x 80") is located at the rear-end of the camper.  The kitchen is located in the central part of the trailer. Equipped with 2-burner stove (3-burner optional) with power range-hood w/light, stainless-steel sink with single-lever chrome faucet and cover, 5-cu. ft 3-way refrigerator ("enormous" compared to similar-size trailers), and microwave-ready cabinet (Microwave is optional) even in its standard version offers more that needed when on the road.
The kitchen cabinets (with countertop extension), overhead cabinets throughout the trailer, large wardrobe all finished in natural oak not only offer a lot of cupboard space, but also create a structurally-sound and warm interior.  Note that anchor blocks are "fiberglassed" into the shell's body at the molding stage, so the box does not have any "unnecessary" holes and potential leaking spots.
Escape trailer (model 19): view on the galley and dinette
     The dinette is located at the front of the trailer, facing a large opening frontal and two side windows, allowing for light penetration as well as visual contact with a surrounding nature. The dinette converts to an extra sleeping place (44: x 80") for 2 more persons.  
Between the dinette and wardrobe the is a spacious wet bath (40" x 27") including toilet, sink, shower as well as medicine cabinet w/mirror. Frankly, the private wet-bath and appropriately sized water tanks are considered as essential elements of modern-day campers, so no wonder, Escape put a lot of efforts to design a functional, spacious "private-corner". 
Extra storage space under the bed and dinette seats as well a huge exterior box located at the front on the tongue provide opportunity to take your favorite stuff with you (especially thanks to some 1,400 lbs trailer's cargo capacity).
       Thanks to the lite weight (dry weight about 2,500 lbs) and an aerodynamic shape, the Escape trailers can be towed by most minivans and SUVs with towing capacity of 4,000 lbs. Typical for all-fiberglass campers, the center of gravity of Escape trailers is low guarantying better road stability and safer trip!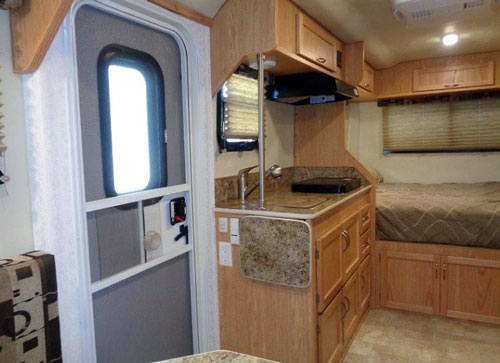 Escape Trailer model 19: interior view (galley and queen-size bed at the back)
Specifications:
Exterior length 

Interior length

Exterior width

Exterior height

Interior height

GWVR

Dry weight

Cargo capacity

Fresh water tank

Grey water tank

Black water tank

LPG

Awning

Sleeps

19'6"

15'8"

7'

8'6"

6'5"

4,000 lbs

2,610 lbs

1,390 lbs

28 gallons

26 gallons

19 gallons

Dual 20 lbs tanks

12ft (electric)

4
The video-tour of the Escape Travel Trailer - model 19ft long
Construction
2-pieces molded-fiberglass shell
Frame: 3/16" thick 1 ½" x 3" T1 steel tubing
Vinyl laminated foam (R5 Insulation grade) headliner/wall covering
Tandem 2500 lbs Torsion Rubber Ride suspension
Linoleum flooring
Front rock-guard protection
---
---
Kitchen
2-burner stove w/cover
Power range-hood w/light
Stainless-steel sink w/single chrome lever and cover
5 cu. ft. Dometic 3-way fridge
Microwave-ready cabinet
Countertop extension
Wet-bath features:
Thetford Aqua Magic 5 toilet
Shower
Sink
Medicine cabinet w/ mirror
Power ceiling vent
Privacy door-lock
Interior standard features
Queen size bed
8" queen-size custom coil mattress
12,000 BTU Atwood furnace
Custom wood finish
2 roof vents
LED lighting
Draw-down window shades
Valences
Screened windows and door
Detectors (smoke, carbon monoxide, propane)
Fire extinguisher
Exterior standard features
12ft Dometic power awning
Storage hatch
Entry step
20ft sewer hose storage
LED road lights (break, marker…)
Dual 20 lbs LPG tanks
Mud flaps
Front and rear stabilizing jacks
Full size spare tire w/cover
Safety chains
Break-away switch
Electric brakes
Bike Rack ready receiver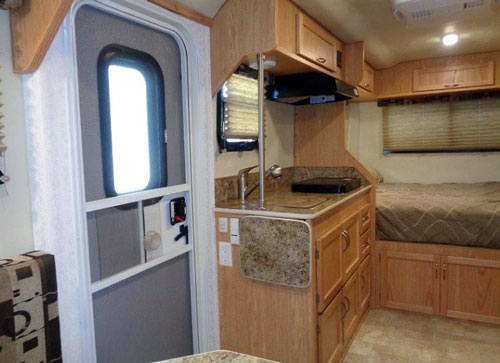 Interior (area of entrance door between dinette and kitchen
Options 
Stoves: (3-burner stove, 2 or 3-burner stainless steel stove, oven w/3-burner cooktop)
6 cu ft. 3-way Dometic fridge
Microwave (built-into-cabinet)
6 gallons DSI 2-way water heater
11,000 BTU Roof-mounted AC
Foot-flush toilet
Winterizing T-valve
Exterior shower
Interior/Exterior 12V outlets
USB outlet
12V/6V batteries 
1500W inverter
160W solar panel w/charge control (roof-mounted)
Surge protector
Removable external power cord
Additional exterior LED light
Wireless back-up camera 12V display monitor
Stereo/DVD player w/2 speakers
TV-ready, TV antenna, TV-jack….
Thermal windows
Extra insulation
Opening kitchen/bath thermal windows
Aluminum rims
Additional countertop extension, drawer….
Storage box (front of the trailer)
Custom flooring, fabrics and laminates)
Equalizer hitch
Expandable wall-mounted TV arm….
      And here it should be written: "and more", because the Escape travel trailers can be highly customized (contact the factory for details, because the business owners are even going farther – whenever possible, they try to incorporate customers' "out-of-standard" suggestions because they understood that "there's nothing worse than buying a trailer and having to make changes after you get it home"…..
---