Escapod Topo Teardrop
Off-road Travel Trailers
Escapod Topo is a rugged off-road camper, with huge cargo capacity, functional and stylish design it offers a "hitch-and-go" solution for nature lovers

        Enthusiasts of escapades to nature usually have few choices.  For some, the traditional backpacking may still be a preferred choice for short weekend trips. Its main limitation is obvious – you must carry everything (including tent and food) on your back.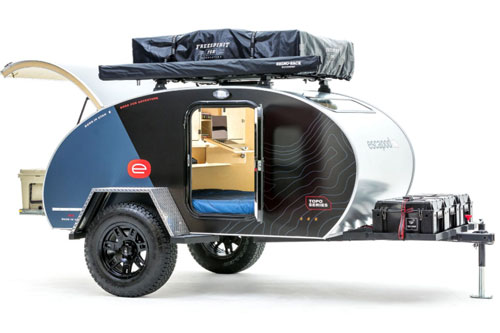 Escapod Tipo - here with an optional RTT and tongue-mounted storage deck
That's why for many, especially those planning longer trips requiring "mobility" and more "stuff", much more practical is either RTT (roof-top tent) carried by your car or small off-road travel trailer. And in many cases the latter solution is a clear winner. Such trailers cannot offer luxury, however they address basic needs (galley, sleeping and storage space, water…), as well as offer much appreciated safety and agility. When ready (loaded with stuff), you just have to hitch it to the towing car, and then hit the road! (forget time consuming loading and unloading your car each time you would like to get on the road).

Escapod Tipo: Standard rear galley and Free-Spirit Recreation (FSR) 55" Roof Top Tent

         One of successful newcomers in this segment of the RV market seems to be the Escapod's Topo. It's the "classic" teardrop travel trailer with interior designed for sleeping and storage, rear galley with exterior access and roof for carrying stuff (bikes, canoe…) or a roof-top tent (as an extra sleeping place).
The idea of Escapod was born in 2015 in a small city Wanship (UT) - as the company's founder Mr. Chris Hudak claims today - "out of necessity". The first off-road teardrop trailer "Dreamscape" was designed and then hand-made in equally small garage to serve as a base camp on wheels ready to embark on any trip whenever a towing vehicle can go. It was designed for nature-oriented adventurers (like Mr. Hudak and his wife Jane themselves) offering no more than you may need on the road. Obviously, this assumes "rugged, well-thought basic design" for travel off beaten paths and long list of options to match your individual needs if necessary.  
In fact, all that applies to Escapod trailer, so not surprisingly, thanks to its unquestionably functional design and robust construction as well as stylish look, it gained positive reception among adventurous RV-ers.
The initial success did not change much the business model. Four years later (2019) only 3 hand-made Escapod-Topo travel trailers (successors of the Dreamscape) leave the factory doors each month. Well, for many of us, automatic production line is a synonym of superior quality, but the Escapod, proved that with the quality of raw materials, good craftsmanship and attention to details the "hand-made" production also has its merits.
As mentioned earlier, Escapod Topo is designed for off-road (and short-term off-grid) environment.
The Escapod Topo combines the best of few worlds:
rugged, clearly over-built compact design, guaranteeing huge cargo capacity and good reliability (with the dry weight of only about 1,600 lbs and 3,500 lbs rated torsion axle it promises good handling of dynamic loads on uneven paths, well within built-in safety margins)
Warmness and elegance underlined by interior birch-ply finish and exterior stylish graphics.
Cost-effectiveness due to standard "budget" design and adds-on options as needed.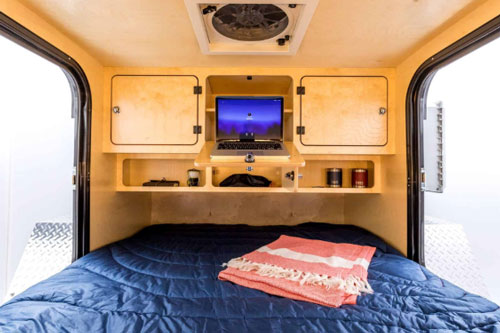 Escapod Tipo: Interior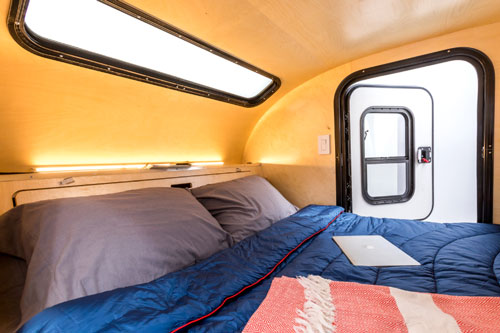 Sleeping space (note the angled headboard w/storage and stargazer window)
Interior Cabin
     The interior finished with Baltic birch-ply welcomes with warmness, on evenings greatly enhanced by recessed, dimming LED lights. Comfortable, almost queen-size foam mattress, headboard with leather-covered storage trays and a large interior storage space accessible via a drop-down front panel, two USB ports (one on each side of the "bed"), strip of stargazing window – all that looks assuring. Yes, the window is narrow, but still gives chance to reach into the deepness of the sky and makes the bed a place where not only you can sleep but actually have nice dreams and wake-up the next morning with a smile.  After all, "connecting" with Mother Nature is one of the reasons and joys of camping!
The 3-speed Fantastic fan in the ceiling provides a sort of "climate control" (or at least a breeze of fresh air rushing through the interior) at your wish (and touch of a button).
Despite its compactness, interior also can also provide a "working" or entertainment space. The door of one of cleverly designed general-use 12"-deep cabinets (on the opposite to headboard wall) smoothly converts into a tablet/laptop desk. Thanks to this design you can comfortably do some work, prepare your next day adventure (Googling) or simply enjoy watching good movies before the sleep….
Note that two side doors (typical for any small teardrop trailer) and the support offered by small steps attached to the fenders make the access to/from the camper easy. The steps also facilitate access to the roof rack.
Clever "mini-desk" for the laptop
        Topo does not have much of dedicated storage space. If you exclude galley's "pantry" then you have only 3 interior cabinets and cubbies as well as narrow (but wide) storage in the headboard. The latter is ideal for miscellaneous camp supplies (even larger ones), non-perishable food etc..
However, you can use the whole interior space as a storage for let's say much needed camping gear like for example folding chairs, table etc… Thanks to huge cargo capacity practically there is no limit on what can you carry with you, although for practical reasons clogged cabin is not a good solution even if you choose to sleep in an optional RTT that can be mounted on top of the Topo.
Typical options: side-mounted water heater w/shower and LPG tank
          The large list of options opens quite impressive possibilities to increase the quality of escapades into nature. It doesn't mean however that you cannot add something extra (out of the available list). The factory will work with you to make it according to your needs (provided it is feasible). And obviously, if you are kind of DIY-guy, you can make by yourself your dream coming true (although keep in mind that making any changes to the integrity of the camper's structure may affect manufacturer's warranty).
The price for Topo's basic version starts at around 16.5k$ (quite competitive with similar models available on the market). Please note however, that add-on options can quickly move the overall cost well above your budget's red line, so be sure to control your temptations when making decisions.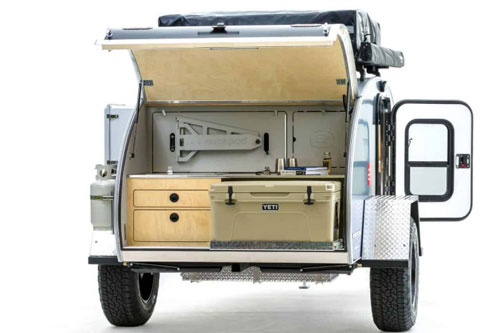 Standard galley with YETI cooler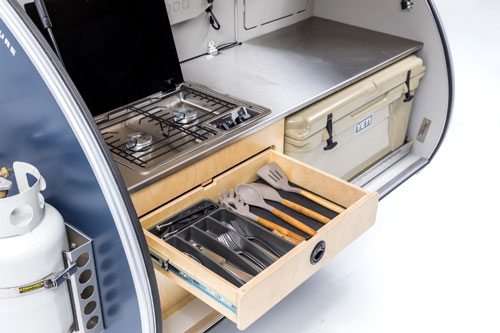 Galley: here with optional 2-burner, flush-mounted cook-top
Galley
         In its basic version, the rear galley is quite "minimalistic", truly representing Escapod's design philosophy (no more than you need). It offers sort of pantry cabinets with HDPE faces that can be used as a cutting board (smaller one) and as a small table with supporting leg that can be attached to the side the camper (larger one). Note that HDPE – which stands for High Density Polyethylene is much safer for food than any other traditional plastic.  
The large stainless-steel countertop (18" x 65,5" - across the width of the galley) offers an ample but also clean and easy to maintain workspace. The standard features also include 2 locking drawers (correspondingly 3" and 6" deep) and another heavy-duty locking drawer with Yeti Tundra 65L cooler. The strip of LED lights along the galley, two side porch lights and an "umbrella" provided by the opening upward galley's door makes it an "open-air-kitchenette" that can be operated 24/7 regardless of the weather.
      Most RV-ers will eventually chose optional 2-burner cook-top, LPG bottle (mounted on the rear sidewall of the camper next to the galley, 21 gallons freshwater tank (in/out nozzles/valves integrated into the fender step), water heater with pump and shower.  Some may also replace the cooler by Dometic fridge. These seem to make the typical set of appliances that will greatly help you to "function", although, let's face it – they are sort of "luxury" in the wilderness.
Escapod does not suggest any permanent, internally routed plumbing so you may have to improvise your sink and faucet with some plastic bucket and hose.  And there is a valid reason for that – any plumbing will be vulnerable to freezing temperatures (let's make it clear – the Topo is designed as 4 season teardrop trailer). To make you feel better, I will repeat the common truth – "Simple (and Small) is Beautiful" and so by definition better fits into an unspoiled nature. BTW- will you really haul a luxurious, full of stuff and gadgets some 40ft long RV deep into the Sacred Kingdom of Wilderness? It will be like slapping the Mother Nature in the face!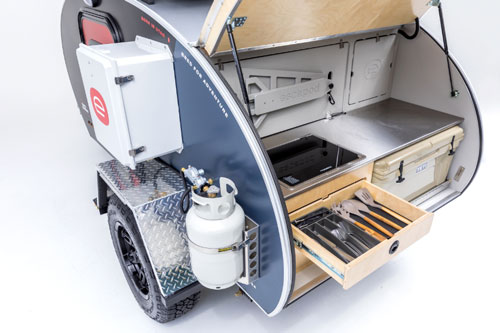 Galley: Stylish glass lid covers the flush-mounted cooktop
Off-road design
        The Topo is built on welded, powder coated frame (2 x 2, 1/8" thick steel tubes). The shell is made from ¾" exterior-grade plywood that together with ¾" thermal insulation (1.5" for ceiling) is wrapped in 50 mills aluminum skin. It sits on a wooden (2 x 4) frame wrapped in waterproof undercarriage material and bolted to the steel frame. For extra protection, the aluminum roof is also powder-coated. 4-sides Insulation (including also both doors and dual-pane windows) as well as triple waterproofing makes the Escapod Topo a four-season travel trailer able to provide a comfortable shelter maybe not in Arctic, but it certainly guarantees an "extended" travel season. BTW- list of options also includes a heater and an A/C unit, but hey, I'm pretty sure that in most cases the nature (shade and fresh breeze) can take care of heat! And anyhow – where in the wilderness will you plug the A/C unit?
Topo's 18" ground clearance is most likely bigger than that of your towing car, so obviously it should not limit your ability to handle rough "no-road" conditions. The standard 17" all-terrain tires will also help to "negotiate" the terrain!
      Topo comes with 12Vdc electrical system fed by its own deep-cycle battery. For longer stays you may purchase an optional solar system (solar panel and charger/controller). Given the lack of power-hungry appliances, solar power should greatly extend your off-grid trips. Escapod can also install (option) the 110V power system if needed (shore connection, inverter, 110Vac outlet etc..) but keep in mind that these teardrop trailers are specifically targeting off-road and off-grid environment so the 110Vac system does not seem to be "justified".
Topo's basic version comes with roof crossbars and an awning. And here is the large room for manufacturer's options or your own solutions. Escapod offers an extra awning, as well as roof racks for bikes, for kayak and (if you want to expand the sleeping space to 4) – an RTT (55" FreeSpirit Recreation model, if needed also in an insulated version).
Another useful option to consider may be welded cargo platform at the front for extra stuff you would like to take on the trip
       Note that due to relatively low Topo's GVWR, it can be towed by many small, more fuel-efficient and eco-friendly crossovers. Let's be honest - an idea of exploring an unspoiled nature in one of those HD gas-guzzlers does not make much sense. After all, if we will keep doing so, sooner rather than later, there will be no more unspoiled nature to explore!
Specifications
---
Overall length (1)

Exterior width (2)

Exterior height

Cabin exterior (LxWxH)

Cabin interior (3)

Frame dimensions)

Dry weight

Tongue weight

GAWR (4)

Ground clearance (5)

12'6"

7'

6'6"

114" x 60" x 48"

92" x 56.5" x 42

8' x 5'

1,600 lbs

125 lbs

3,600 lbs

18"
---
1.  Measured from tip to tip
2.  Including fenders
3.  Largest dimensions
4.  Gross Axle Weight Ratio
5.  Measured from the lowest part of the frame
Construction
Frame: welded, Heavy Duty powder-coated steel (2"x 2" - 1/8" thick tube) w/integrated fenders and steps
Shell: 3/4" exterior-grade plywood and ¾" insulation wrapped in 50 mills aluminum with triple-sealed edges (vinyl tape, trim and caulking).
Roof: As walls with powder-coated aluminum skin
Cabin base: 2x4 wood frame w/insulation wrapped in weatherproof material and bolted to the steel frame
Suspension: Dexter 3,500 lbs Independent, torsion axle
Wheels: 17" black-aluminum
Tires:  Goodyear Wrangler Trailrunner AT tires (265/70/17)
Weather Protection: Triple (redundant) waterproofing
Insulation: 4 seasons (3/4" walls, roof, 2 side-doors and 1.5" roof)
Windows: dual pan
Interior finish: pre-finished Baltic birch ply (floor, walls, ceiling and cabinetry), HDPE (cabinetry faces)
Note: HDPE (High-density polyethylene) is a much healthier (and safe for food) version of PVC (the latter is associated with Bisphenol A).
Headboard storage

Standard Interior Features
Almost Queen-size, (80" x 56.5") 5"- thick memory foam mattress
Headboard w/storage and leather-lined trays on top
Three 12"-deep cabinets w/ Integrated Laptop Mount
Three 6' Cubbies
Stargazer window (9" x 41")
Galley: Pantry's cover (with supporting leg) can be used as a table attached on the side of the trailer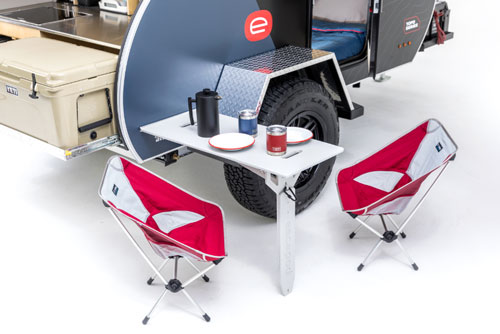 Here is how it looks like: table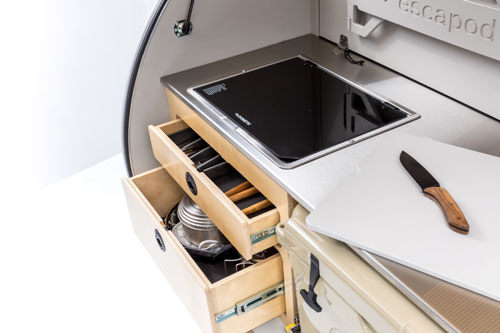 Galley (here with the optional cooktop). On the right - HDPE pantry's cover used as a cutting board
Standard Exterior Features
2 entrance doors
Galley w/2-locking drawers (3" and 6" deep), cabinets, 18" x 65.5" stainless steel countertop) and pop-up door
Cooler (YETI Tundra 65L) in HD locking slide-out drawer
Storage (covered by removable cabinets' HDPE faces that can be used as adjustable table or cutting boards)
Rhino Rack Crossbars
Rhino Rack 7 ft Sunseeker Awning
Rear Welded Receiver
3,000 lbs Rated Rear Stabilizing Jacks
Standard galley w/ YETI cooler installed on HD sliding drawer
Electrical (Standard 12Vdc system)
LED lights (recessed interior, porch (2) and galley)
3-speed Fantastic fan
2 dual USB ports
12V outlet
Deep-cycle battery
100W Solar panel (option)
110Vac with A/C outlets, 1kW inverter/charger (option)
15A Battery Charger (option)
Water pump (option)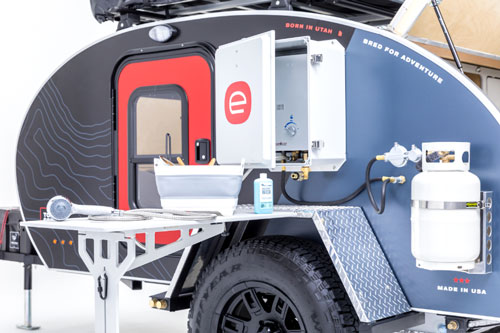 Optional water-heater and LPG tank
Note water valves integrated into the step (water tank is not visible)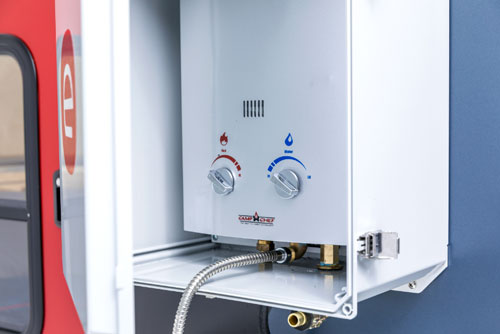 Water heater
Options
LPG Tank w/mounting brackets
Two-Burner Stove 
21 gallons Water Tank 
Water Heater & Shower 
FreeSpirit Recreation (FSR) 55" Roof Top Tent  (includes also its upgraded Tri-Layer Insulation version)
Rhino Rack Pioneer Platform Rack Upgrade 
Awning upgrade (wider standard and 2nd awning)
Rhino Rack Pioneer Thru Axle Bike Carrier
Rhino Rack Bike Rack
Rhino Rack Kayak Rack 
1kW Inverter/Charger
15A Battery Charger 
100W Solar Panel (w/Renogy suitcase charging system))
Propane Heater 
Dometic Fridge/Freezer 
Custom Tongue Box
Welded Storage Deck 
Electric Brakes
Timbren 3500HD Axle-Less Suspension
Fully Articulating Hitch 
Spare Tire & Mount
A/C Ports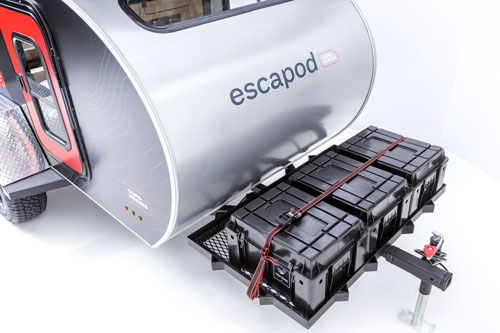 Tongue: Welded storage deck can be used for cargo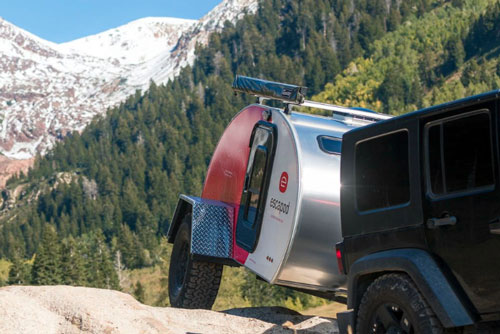 Escapod Tipo "in action"

Summarizing: The Escapod Topo is a rugged camper designed for off-road environment. With its huge cargo capacity, functional design and furnishing as well as stylishness not only due to warm interior's birch-ply finish but also exterior graphics and inherent to teardrops charm, it offers a simple "hitch-and-go" solution for nature aficionados.

Go back to: --> Best Off-road RVs
Note that Escapod also runs the rental operations in Utah, setting the grounds for those preferring the "try-before-buy" scenario.  

Pictures are courtesy of Escapod
Note:  Check with the manufacturer and / or authorized RV Dealer for the up-to-date list of features, options as well as latest specifications. These written above may not be accurate and certainly are subject to change by the factory. We are not responsible for any inaccuracy, the above text is provided only for the general information.
This review was written based on publicly available information for the benefits of the community of RV-ers. We do not receive any gratification or financial benefits from RV manufacturers, dealers, and any other promoters of RVs. 
We are NOT involved in sale and/or retail of RVs!