Escapod Topo-2
Off-Road Lightweight Travel Trailers
All-fiberglass, ultralight Topo-2 off-road travel trailer proves that comfort and stylishness can go together with durability even on unbeaten paths.
         The idea of Escapod Topo was born in 2015 in a small city Wanship (UT) - as the company's founder Mr. Chris Hudak claims today - "out of necessity". The "Topo" was designed for nature-oriented adventurers offering no more than they may need on the road. Obviously, this assumes a "rugged, well-thought basic design" for travel off beaten paths and a long list of options to match customers' individual needs if necessary…. Thanks to a good combination of well-targeted design goals and reasonable prices (about 20 k$), the Topo quickly gained popularity among RV-ers.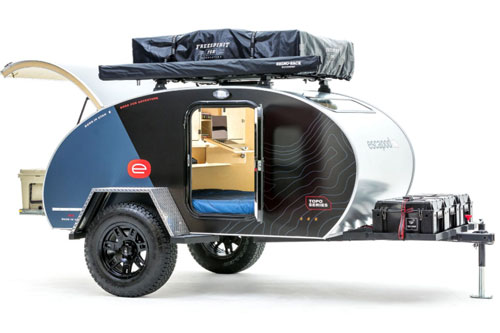 Escapod Topo - now, obsolete, marks the beginning of success story.... 
Topo-2: new, advanced "incarnation" of the Topo
       However, as it often happens in life, our "appetite grows as we eat", so not surprisingly, the manufacturer came up with a new "upgraded" model under the name Topo-2. The design probably still follows the concept to offer "no more than you may need", although it considers the fact that what was good enough a few years ago, now by large, does not meet this criterion. As a result, the new model Topo-2 is a bit larger to accommodate new features that seem to answer customers' expectations as well as includes numerous TOPO's options as standard features. Sadly (for some RV-ers), to fully focus production efforts on the new TOPO-2 model, its predecessor TOPO was discontinued.
There are many reasons behind this decision – but the main one is due to the fact the production of TOPO-2 is using new, advanced technologies not compatible with the previous model.

Topo-2: Monocoque all-fiberglass shell with an integrated tongue box.
Shell
      The original TOPO shell was made from3/4" plywood and ¾" insulation wrapped in 50 mills aluminum sheet. While this technology for years was successfully used by the RV industry, it proved to be not good enough for off-road RVs. First - such structures are far from lightweight. But what makes it worse is that shocks, vibrations, and mechanical stresses induced by driving off-beaten paths have a serious impact on their mechanical integrity. With that comes the rot, mold, and with time - deterioration of the whole structure.
         The TOPO-2 with its all-fiber, single-piece shell represents a radical technological change compared to the previous model (TOPO). It is made of high-density polyethylene (HDPE) and a lightweight honeycomb PET core (for eco-conscious RV-ers let's mention that the core is made from recycled milk bottles!). Thanks to the "resin infusion" process used during the construction of the shell, and the precision of CNC cuts of the composite material, the shell is structurally strong. This inherent rigidity eliminated the need for an internal 'skeleton". As a result, TOPO-2 shell is about 250 lbs lighter than that of its predecessor TOPO.
          The monocoque body does not have any glued joints, it's fully watertight. In addition, the shell has a built-in system of molded gutters along both side doors, the tongue, box and the rear hatch, so the rainwater is effectively channeled out of the areas prone to water leaks. As a result, of all these technological and structural changes, the cabin guarantees unparalleled longevity and durability!
Topo-2's shell is also wider by about 12" compared to Topo's one. However, the exterior width of the trailer didn't change, because now the wheel wells are partially built into the shell (6" deep).

Topo-2: Rear view shows that the wheels are partially covered by the shell, which made possible to widen the shell without changing the trailer's external width.
Frame
      In Topo-2, the previously welded 2" x 2" powder-coated steel frame was replaced by a lighter one made from hot-dip, in-and-out-galvanized 2" x 1 steel tubes. The new A-frame keeps pretty much similar geometry as the Topo's one, however its weight was cut by almost 300 lbs! It's because the Topo-2 molded shell floor does not need any extra reinforcing steel structure, the composite monocoque body is strong enough to be directly bolted to the A-frame. (Just to mention – the Topo needed a 2 x 4 wood frame with insulation wrapped in a weatherproof material).
          Fenders are made from 1/8" steel plate bolted to the frame. However, they are now half-inserted (6") into the wheel minimizing this way the extension outside of the shell's footprint.

Topo-2: New, galvanized frame is less complex, so it also weights less compared to the Topo's one. 
Interior
       The full-size Queen bed (80" x 60") with a 6" thick memory foam mattress offers a generous sleeping/resting space (just to remind you – Topo's bed was only 56.5" wide). But that's not the only advantage of Topo-2's wider shell.
The extra interior width is shared by two (one on each side) 4.5"-wide compartments. The upper part has 2 coat hooks and is designed for potentially wet cloths, jackets etc…. The bottom part forms a "mudroom" designed to "safely" keep wet, muddy shoes out of the sleeping area. Both compartments are forced-air heated, so we can assume that they will well serve the purpose. If you are already worrying, let me mention that the standard four-speed MaxxAir exhaust fan is ready to keep the interior air "enjoyable".
Another novelty (compared to Tipo) are two nightstands. Each includes a little storage space with a cupholder, a wireless phone charger, and a USB port on the top. Above each nightstand, you will find a dedicated LED reading light.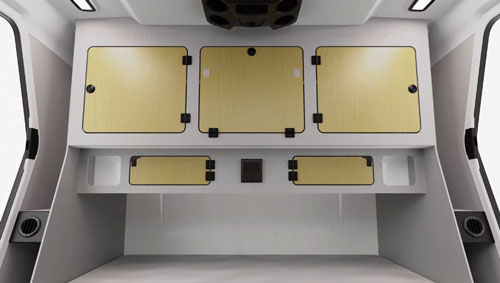 Topo-2: General purpose storage cabinets and visible on both sides nooks for wet jackets and dirty shoes. 
Topo-2: Large, opening stargazer window and roof-mounted adjustable rack
      The huge (5ft x 2.5ft) stargazer window in the frontal part of the trailer is a real asset, especially given limited interior space and headroom (42.5" max). The good news is that the window can be opened, allowing not only access to fresh air but also better infiltration of the surrounding nature (don't worry, the screen prevents unwanted visits). In other words, the window creates not only the means to wander into the depths of the Universe, but also to appreciate the full spectrum of voices of nature.
        Three 12"-deep front cabinets with locking doors and two 6"-deep cubbies offer about 8 cubic feet of storage space. Additionally, there is also about 5 cu. ft. of storage behind the slightly angled headboard. But that's not all when it comes to storage space. The exterior tongue-mounted box, is designed for the camping gear, tools, LPG bottle, and extra equipment (generator, inverter, etc…)… .
Note, that the interior structures (cabinets, drawers, and in general, whatever is not part of the "single-piece" molded shelf) are also made of high-density polyethylene (HDPE) and lightweight honeycomb composite. They are all CNC precision cut and for added strength, assembled using a mortise & tenon scheme.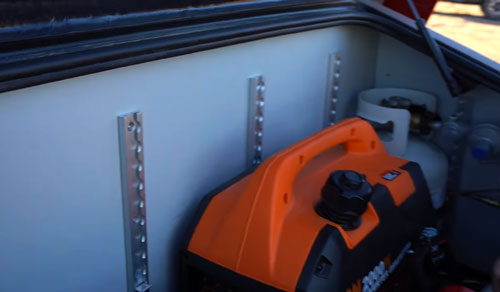 Topo-2: Integrated tongue box comes with LPG tank and propane distribution system. Remaining storage space is available for whatever may be necessary (here an Inverter)
Ambiance: On top of the remarkable impact of the stargazing window, the interior ambiance is also "highlighted" by the Baltic birch cabinets' faces and walls' finish as well as recessed dimmable, charmingly warm LED lights.

Galley
     In difference to its predecessor, Topo-2's galley is quite well equipped for what may be necessary during off-road adventures (in Topo almost all galley's features were optional). Well, after all the Topo-2 was designed specially to make the "Comfort" and "Adventure" compatible instead of (as it often happens), contradictory.
     Under an "umbrella" of a rear hatch cover you will find:

Topo-2: Galley (visible sink, steel countertop and fragment of ARB fridge/freezer on the slide-out tray).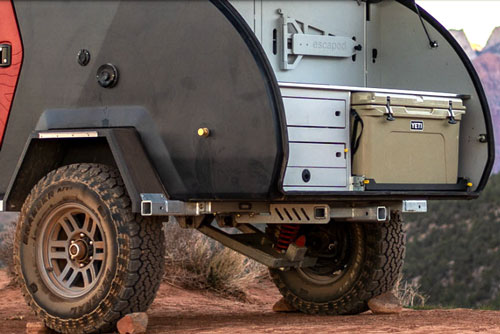 Topo-2" Here with the standard Yeti 75l cooler
65" wide stainless-steel countertop.  It offers generous (and easy to clean) kitchen working space. In addition, a removable cabinet door can be firmly attached to the side of the trailer (fender) to serve as an extra "food preparing/cutting" space.
Large (22"L x 16"W x 8"D) Ruvati sink with high faucet and cold/warm water. The 21 gallons freshwater tank with pump as well as Truma Combi water/Air heater provides cold and almost instant hot water. For practical reasons (no municipal water systems in the wilderness), the trailer is equipped with a gravity-fill port! Note that the water tank, pump, and Trauma heater are all housed inside of the insulated trailer, which offers some protection over periods of moderately freezing temperatures.
75 liters (about 20 gallons) Yeti cooler installed on a pull-out tray. It seems big, although you must remember that typically coolers require about 2:1 "Ice-to-content" ratio for a reasonable operation time, so ultimately, the "useful" capacity of coolers is largely reduced. To address this issue, the manufacturer offers ARB 63 fridge/freezer as an option.
Portable ABS fridge/freezer units are manufactured by an Australian company (with a US presence). They are designed with a built-in 12/24Vdc and 100/220Vac power integrated battery protection system and offer a cooling range from 50oF to 0 oF (10 oC to -18 oC). The model ARB 63 has about 12.5 gallons (1.7 cu. ft) capacity.
Slide-out 2-burner LPG ENO stove (8 kBTUs). It is "ready-to-use" (permanently connected to the propane installation regardless of the position of the slide-out tray).
Topo-2 comes with an 11 lbs LPG tank housed in the integrated tongue box and full installation delivering propane to the rear section of the trailer to feed Truma water/air heater and the ENO stove (in Topo, LPG tank, Trauma heater, and stove were optional; and sadly, the first two units were "hanging" on the side of the trailer!).
Multipurpose cabinets including dedicated knife storage, drawers for utensils and pans/pots, and a special place for spices (altogether combined 7.5 cu. ft of storage space). Note that some shelves have adjustable dividers so you can manage the sizes of individual compartments according to your needs.

Topo-2" ENO, 2-burner stove in a slide-out drawer  
Not to mention power outlets (12Vdc,110Vac and USB) as well as LED lights (white but also yellowish-pinkish, which are not attracting insects).
Exterior Features
      The tongue-mounted box makes part of the all-fiberglass shell (in other words it is not an independent, detachable box, but an integrated one with a shell). A small fraction of its storage space is dedicated to the LPG bottle (and necessary propane distribution system). The remaining space is available for whatever you may need (generator, inverter, tools, camping gear etc…).
       Topo-2 comes with a standard, adjustable roof-mounted rack. It's a good decision because a factory-controlled mounting scheme guarantees the integrity (water tightness) of the roof. It's an extra storage space (great for bigger items) or (if preferred) a perfect nest for the installation of the rooftop tent. Both stand-on fenders are of help when it comes to loading/unloading the rack.
      The rear receiver is a standard feature, however, if needed, two extra receivers can be mounted on the trailer sides (just behind the fenders).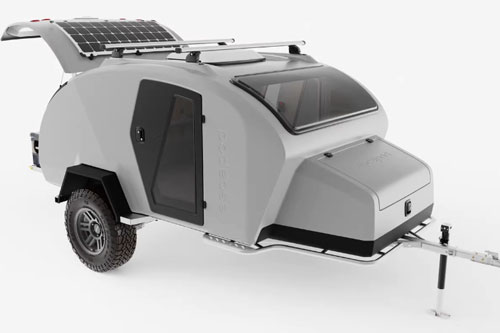 Integrated tongue box
Off-road capabilities.
     A lightweight, single-piece shell and an in/out hot-dip galvanized frame is certainly contributing to the successful off-road design. However, equally (if not more) important is the suspension system and adequate wheels.
     All Escapode Topo-2 trailers use an independent suspension (in difference to the torsion-axle previously used in Topo). The original design was procured from Australian manufacturers, considered to be world champions of off-road RV-ing. Escapod however, slightly modified the concept by adding an in-house developed Freeride Suspension sub-system. It consists of trailing arms with an inline shock-in-spring module at each wheel, which thanks to independent "travel-&-damping" actions (distance of up to 5") are able to significantly "smooth" shocks and vibrations so typical on unbeaten paths.
       The trailer rides on 16" Vision 2 Overland wheels with General Grabber AT 265/75/R16 tires. With the ground clearance of 23" (measured from the lowest frame point), and the departure angle of 35 degrees, the Topo-2 seems to be ready for any off-road (or rather "no road") adventures.
Note that the shell's outstanding level of water tightness does not only provide protection from the infiltration of water (rain, moisture…) but also from the omnipresent dust you will face on unbeaten paths. And that's an equally precious gift!
      Off-road escapades imply an off-grid environment and a need for an independent energy source guaranteeing some level of comfort. The Topo-2 comes equipped with a 100 Ah VPR 4Ever Lithium-Ion battery. It powers the internal 12Vdc installation (12Vdc outlets, USB ports, LED lights…). The standard 140W solar panel on the rear hatch extends Topo-2's energy autonomy. Its molded design matches the curved profile of the hatch, so the overall stylishness and aesthetics of the trailer are preserved. But there is more – the panel is easily detachable so you can deploy it in the area exposed to the sun, while keeping the trailer in the shade. An extension cable and built-in kickstand make this operation a sort of "no-brainer".
      The Simarine Smart Monitor allows for the control of battery status and power consumption, but also internal and external temperatures as well as the tank's water level. The Solar Power Controller optimizes the battery charging process.
Note that 110Vac outlets are powered ONLY when the trailer is connected to the shore power or generator (Topo-2 does not have an inverter).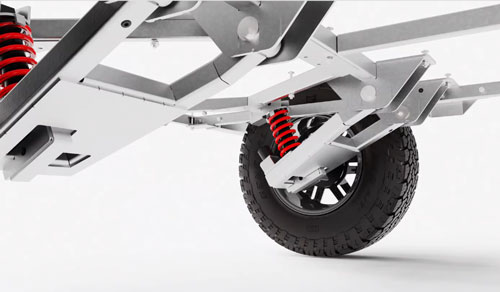 Topo-2: Independent suspension with a proprietary Freeride sub-system
4-Season or Not?
       Thanks to good thermal insulation, central forced-air heating system (LPG), and the location of all sensitive to freezing-temperatures modules and components (water tank, water heater, plumbing …) inside of the insulated shell, the Topo-2 can be considered as a 4-season RV. In fact, when connected to the shore power, it really is an all-seasons travel trailer..
However, the relatively small energy autonomy of the trailer can make longer off-grid adventures (especially at sustained well below-freezing temperatures) questionable….
Note that the Fresair A/C can be used only when 110Vac is available (either grid or generator)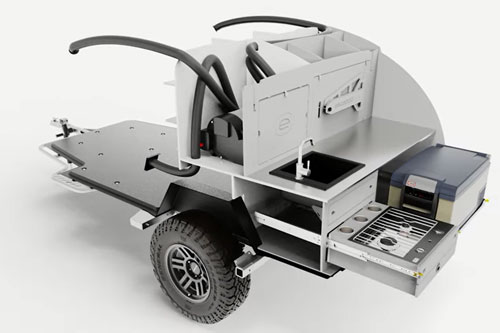 Topo-2: All sensitive to freezing temperatures modules and components are housed inside of the shell in a dedicated space.
Specifications (for comparison, also Tipo specs)
---
Parameter

Exterior length
Exterior width (1)
Exterior height (2)
Shell length (3)
Shell exterior width
Shell exterior height
Interior headroom (4)
GVWR
Dry weight (5)
Tongue weight
Fresh water tank
Grey water tank
LPG
Sleeps

Tipo-2

14.5 ft
84"
80.5"
12'3"
72"
57"
42.5"
3,600 lbs
2,000 lbs
250 lbs
21 gals
-
11 Lbs
2


Tipo

12'6"
84"
78"
9'6
60"
48"
42"
3,600 lbs
1,600 lbs
-
option
-
option
2
---
1. Including fenders
2. 81.75" with a roof-mounted AC
3. Topo-2 shell includes an integrated storage tongue box
4. The highest point
5. TOPO-2's shell and frame are significantly lighter compared to those of the original TOPO. However, Topo-2's dry weight is higher because most of TOPO's options became standard features in TOPO-2.
Topo-2: Larger doors compared to Topo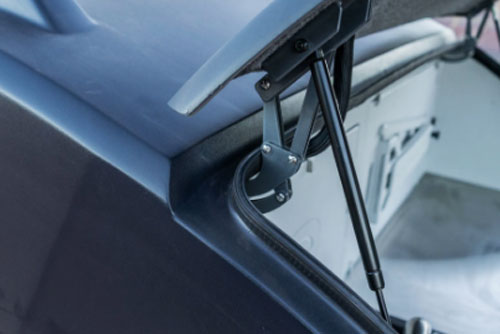 Topo-2" molded gutters along the rear hatch
Construction:

Frame: Hot-dip galvanized (in/out) 2 x 1-inch steel tube w/ integrated wiring
Shell: Monocoque (one piece) molded fiberglass made of High-Density Polyethylene (HDPE) and a honeycomb composite core (Note that HDPE is a much "healthier" version of PVC (the latter is associated with Bisphenol A).
Entrance: two side doors (wider than in Tipo)
Suspension: Independent, w/proprietary Freeride Suspension
Wheels: 16" Vision 355 Manx Overland w/ 265-75R16 General Grabber ATX tires
Fenders: 1/8" steel plate bolted to the frame
Departure angle: 35 degrees
Ground clearance: 23" (from the ground to the lowest point of the frame)
Finish: textured, auto-quality paint (4 body colors and 3 side-doors colors)
Other: Molded gutters around all openings (doors, star-gazing window, tongue box)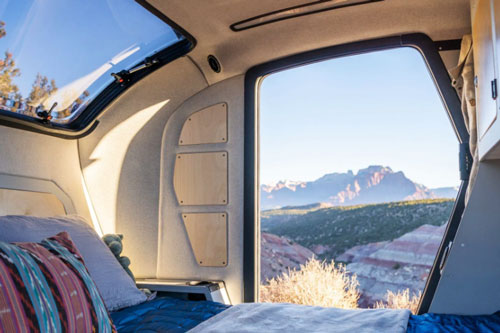 Topo-2: Interior
Interior

Queen-size (60 x 80") bed w/ 6" thick memory foam mattress
Angled headboard w/storage behind
2 nightstands – each w/cupholder, little storage, wireless phone charger, and USB port
Reading LED lights
2.5' x 5' stargazer window w/insect net and shade
Integrated heating ducts
Three 12" deep and two 6" deep cabinets w/Baltic birch doors (8 cu.ft of storage)
Heated 4.5" x 32" side nooks w/hooks for wet jackets and "mudroom" for dirty shoes
MaxxAir fan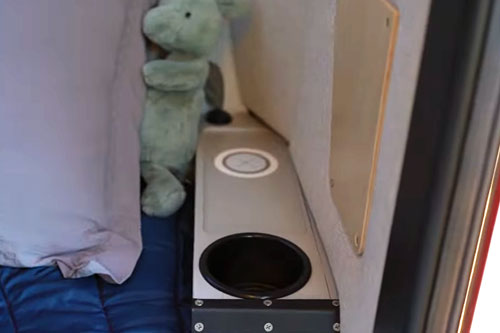 Topo-2: nightstand w/cup holder and wireless phone charger
Galley

Slide-out 2-burner ENO stove (8 kBTUs)
Ruvati sink (full-size: 22"W x 16"L x 8"D) w/faucet
Slide-out Yeti 75l cooler (ARB 63 fridge/freezer is an option)
Multipurpose cabinets (7.5 cu. ft space) including adjustable compartments, hidden knife storage, drawers for spices, utensils, and pots/pans
65"-wide stainless-steel countertop.
Removable door (when attached to the fender, can serve as a table for preparation of food)
LED lights
110Vac/USB ports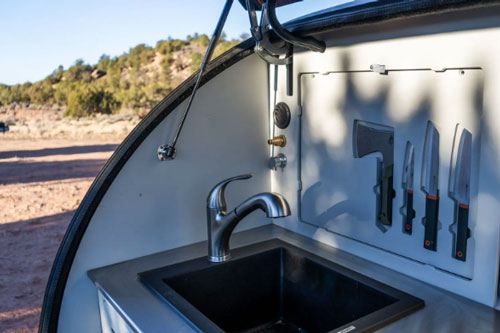 Topo-2: Hidden knives storage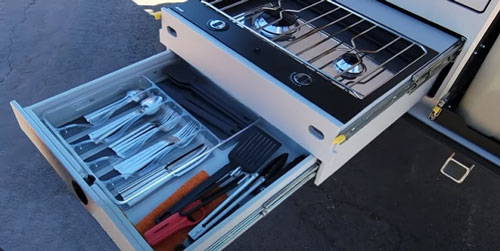 Topo-2: utensil drawer
Exterior Features

Rear receiver (side receivers are optional)
Adjustable roof rack
Integrated tongue box
Manuel tongue jack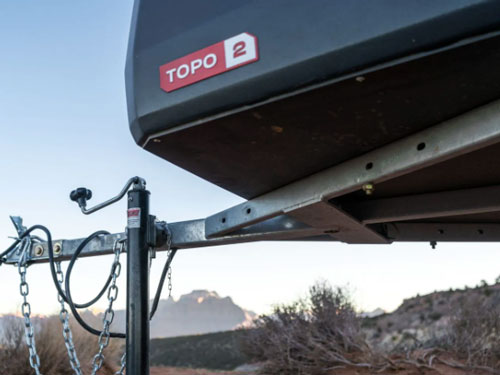 Topo-2: Manuel tongue jack
Electrical

100Ah Viper 4EVER Li-Ion battery w/ Progressive Dynamics charger
30 Amps shore hook-up
Truma Combi water/Air heater
Dimmable, LID lights (Interior and galley)
2 x Reading lights
2 x porch lights (beneath each entry door)
12Vdc & USB ports (interior and galley)
4-speed MaxxAir fan
Simarine Central Control System (battery consumption and level, solar charge, ext/int temperature, water level…)
Hatch-mounted 140W Lightleaf Solar panel (removable, w/extension cord and built-in kickstand)
Solar Power Controller
Master Power Switch (disconnect switch)
Thermostat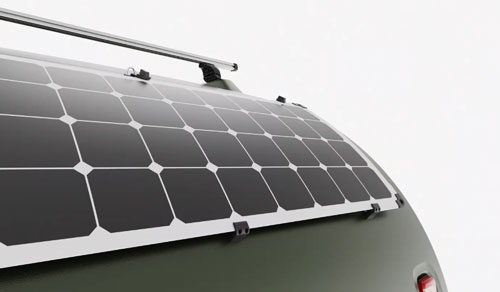 Topo-2: Standard, removable 140W solar panel matches the curvature of the rear hatch
Topo-2: Simarine Smart Controller
Plumbing

21 gallons freshwater tank (insulated)
Gravity-fill port
Water pump
Water cut-off system
Storage

8 cu.ft cabinet space
5 cu. ft space behind the headboard
Two 4.5"-wide storage nooks w/coat hooks
Two 4.5"-wide mudrooms
Integrated tongue box
Options

Spare tire (mounted underneath the trailer)
ARB 65 fridge/freezer
2 x side-receivers
There is no free lunch:
Above: aesthetic lines of the |Topo-2 trailer with tons of standard features
Below: Topo (predecessor) as a sort of "Christmas Tree" with hanging along the sides options
Summary: The Topo-2 teardrop trailer offers:
- The durability of the all-fiberglass shell and in/out galvanized frame
- The comfort of a well-thought design with a generous set of standard features
- The enjoyment of off-road adventures
- 5-year manufacturer's warranty!
Well, there is no free lunch. All that comes at an almost double price (Topo-2 goes for about 40k$ compared to 20k$ asked for Topo in its "Basic Configuration"). However, to be fair, the original Topo in its basic configuration requires a lot of extra money (tons of "options" to make it "compatible" with modern-day off-road travel requirements. So, in reality, the difference in cost is much smaller (if at all). The Topo (now discontinued) was probably a good choice for "rustic" adventurers and/or "handy" RV-ers able to upgrade the trailer on their own!
So all others - let's appreciate the ingenuity of the design, comfort, and stylishness of Topo-2.

Go to: --> Best Off-road RVs
All pictures are property of Escapod
Note:  Check with the manufacturer and / or authorized RV Dealer for the up-to-date list of features, options as well as latest specifications. These written above may not be accurate and certainly are subject to change by the factory. We are not responsible for any inaccuracy, the above text is provided only for the general information.
This review was written based on publicly available information for the benefits of the community of RV-ers. We do not receive any gratification or financial benefits from RV manufacturers, dealers, and any other promoters of RVs. 
We are NOT involved in sale and/or retail of RVs!