Extreme Tears Travel Trailers
Off-Road RVs
XTR Extreme Tears classic and off-road travel trailers come in several sizes with different sets of standard features; lite and affordable, they offer good RV-ing solution for nature lovers...
         Extreme Tears offers four series of classic and off-road travel trailers - correspondingly Limited, Weekender, Overland and Extreme. 

       All XTR models are offered in various sizes ranging from 4x8 (WxL), 5x8, 5x9 and 5x10 (dimensions in feet). The main difference between the mentioned series is determined by the list of standard features. The Limited series (as the name points out) is the most economic (Entry-Level) solution with prices starting at around 8k$. The Weekender represents "Best Value" models, Overland correspondingly "Top Sellers" and Extreme fully-loaded ones with prices in the range of 14k$-15k$. It may be worth to mention, that Extreme Tears travel trailers are manufactured by Vintage Trailer Works Inc (Dothan, AL) – a company with almost 30 years of experience in this field.

XTR Extreme Tears travel trailer
XTR: View from the back
      The name "Tears" relates to a teardrop-like shape of the trailers. They are all built as strong, tough structures allowing you to explore any path your towing vehicle can follow. Interestingly enough (and actually also surprisingly) all cabins (shells) are built from plywood. From the outside, the 7-ply ¾" birch plywood is protected by 0.040" aluminum sheets while inside the plywood is covered by the layer of polyurethane. In fact, it's a bit "unconventional" approach, especially when it comes to off-road models. And the main reason is the destructive impact of shocks and vibrations off-road campers are exposed to. With time, such stress may compromise cabin's hermeticity and then the water and moisture will start to do the "nasty" job.
On the positive side, all Extreme Tears models are surprisingly lite (depending on size and set of features the dry-weight ranges from 1,000 to 1,400 pounds). The bottom line is – they can be towed by almost any car.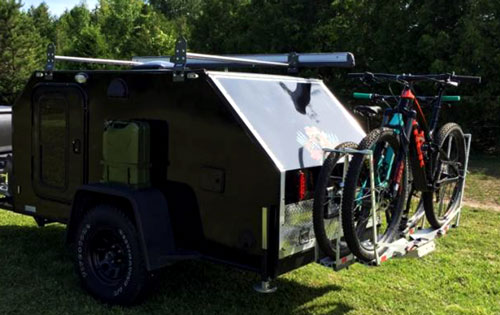 Rear bike rack blocks the access to the galley when on the road
      The top seller models (Overland and "higher") come with standard roof-rack. If you opted for more economic version, you may consider buying the roof-rack from the list of options.  With load rating up to 400 pounds you will be able to carry with you not only extra camping gear but also kayaks or bikes. While the trailer has standard rear receiver for general-purpose or bike rack, keep in mind that whatever you attach at the rear side of the trailer will block the access to the galley when on the road. For some it may not be a big deal, for some an "annoying" obstacle. Note that flat shape of fenders and attached to them small "steps" are sturdy enough to be help reaching the roof.
Standard galley is rather "empty".....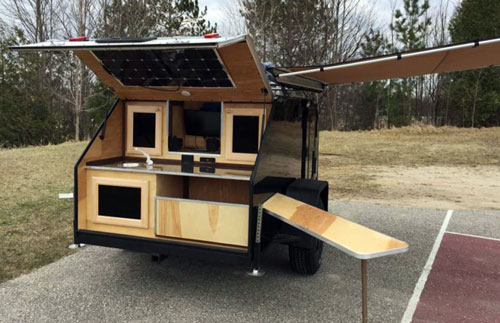 Optional Deluxe Galley makes it a functional place for preparation of meals
Here with a cooler (blue box in slide-out compartment) and grill
 The galley (similarly like in most teardrop campers) is located at the rear side of the trailer with the access from the outside. It includes kitchen cabinets (one with pass-through access) and stainless-steel countertop as a work-space. It is however suggested to choose the optional Deluxe Galley Package (Standard feature in Extreme series) as well as grill.

      The package on top of higher quality galley's cabinets brings such crucial features like slide-out compartment for portable 12V cooler of fridge, stainless-steel sink, 10 gallons water tank w/water pump. The gas grill (quite essential appliance in the kitchen) comes with 2 removable side tables largely extending outdoors kitchen's work-space.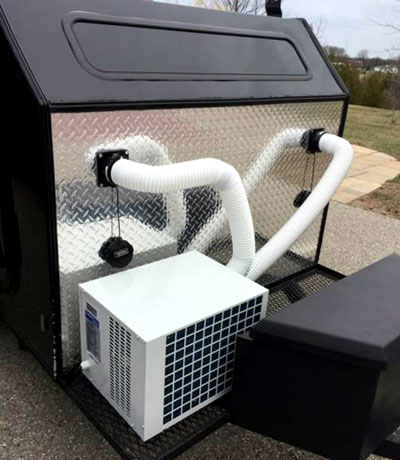 AC/Heat-Pump unit takes a lot of space and adds significant amount of pounds....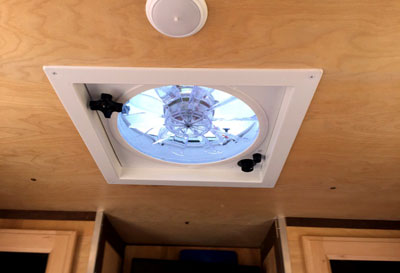 Cabin's thermal insulation (1.5 inch layer), sliding door windows, standard condensation-preventing vents and Fantastic Fan should be sufficient to keep interior temperature under control....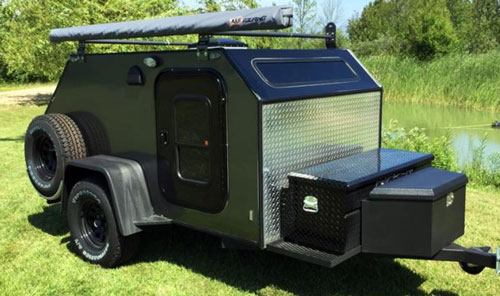 And it is much better to use the tongue rack space for an extra storage box....
       The shore connection (120V power cable) and 1.5kW inverter provides electric power when the grid is available. It feeds LED lights (interior and exterior), 12V power outlets, USB ports, 12V, 3-speeds Fantastic Fan and if equipped – an optional Entertainment Center. The Power Package (standard for Overland models) offers some degree of energy autonomy and coming with it functionality and comfort when you venture into out-of-grid areas. 12V deep-cycle battery (2nd one is optional), 50W Solar Panel (2nd one is optional) make possible short-term adventures into remote areas.. 
The Power Package also comes with an installation kit for an optional AC/Heat module. It seems however, that the AC/Heat module will be rater a burden than blessing. Mounted on the tongue it will add substantial weight to the camper and take sizeable amount of space on the front rack. And obviously it can be run only from the shore power source, so has limited "availability". 
In fact, the cabin can be pretty well ventilated thanks to running on 12V battery roof-mounted Fantastic Fan (3-speeds) and doors' sliding windows (protected with insects' mesh). These can be quite effective and certainly more natural and eco-friendly methods to control interior's climate. It 
The "Underbelly" sliding box is ideal for storage of dirty stuff. It also prevents any "crawling" creatures to snick into for boots and shoes if left on the ground 
      The underbelly slide is designed for storage box. It is very practical on the campground to leave dirty shoes, boots etc.. for the night before entering the camper. You have to remember however, to remove the box and store it inside of the cabin for travel. 
The large 8 x 8 feet awning offers protection from scorching sun (or drizzling rain). It covers the curbside area of the trailer. The kitchen area is partially protected by the hitch (mover upward it makes sort of "roof".....
Continue --> NEXT 
to find XTR's technical specifications, construction details as well as standard features and options.
---
Pictures are courtesy of Extreme Tears
Note:  Check with the manufacturer and / or authorized RV Dealer for the up-to-date list of features, options as well as latest specifications. These written above may not be accurate and certainly are subject to change by the factory. We are not responsible for any inaccuracy, the above text is provided only for the general information.
This review was written based on publicly available information for the benefits of the community of RV-ers. We do not receive any gratification or financial benefits from RV manufacturers, dealers, and any other promoters of RVs. 
We are NOT involved in sale and/or retail of RVs!