Flagstaff Hard Side Camper Trailer
Flagstaff Hard Side campers are becoming increasingly popular again as they are light, compact and thanks to large selection of options can meet everybody's needs
        Hard Side trailers are becoming increasingly popular again, rising in sales for the first time since 2008.
These versatile campers allow for quick, simple set-up and easy storage capabilities. However, some camper trailers stand apart from the rest.
The Hard Side series created by Flagstaff offer some one of a kind hard side options.
These light, compact trailers are the perfect option for family vacations, camping trips, or other adventures.

      The Flagstaff Hard Side series has nine different options, all labeled T12-plus their specifications. For example, the camper that offers the longest open length is the T12RBTH, which has a length of 22'1". These nine campers have hitch weights that range between 247 lbs-354 lbs, with the T12RBTH being the heaviest. They all have an exterior width of 85", making them uniform in that aspect.

Let's start with Flagstaff's set-up video....

One of the truly great things about Flagstaff Hard Side camper trailers are how easy they are to store. They all have a 12' box size and, when closed, have heights that range from 5'0" to 5'7". This makes keeping them when they're not being used very easy. And because they're hardtops, boxes can be piled on top of them when they are being stored.

These amazing campers also come with a multitude of features that make traveling and vacationing with them a dream. They all come with easy to use AC and heating and a six gallon water heater, which is gas or electric depending on the specific camper. They come with a multitude of appliances, like a 3 burner stovetop, a microwave oven, and a refrigerator. Each camper comes with an AM/FM radio and a CD stereo. For the quiet, relaxing nights, there is a TV antenna, which makes it easy to sit back and watch some favorites.

The Flagstaff Hard Side campers also come with a diamond shield, to protect the camper from damage. They also come with gas and smoke detectors, offering that extra peace of mind. The power lift options make setup a breeze and adding an awning or screened room can add extra space to the compact campers.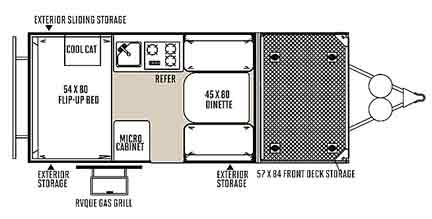 Flagstaff Hard-Side Camper: Model T12RBTH floor-plan

       If you're still not sure if the Flagstaff Hard Side Camper is for you, take a moment to visit the Forest River, Inc website. There you'll find a plethora of information on the many hard side camper options. They also have a number of videos to help once you have your own camper. There you will find how to setup your new camper, with clear visual aids for each step of the process. They also offer a video on how to close the camper, quickly and efficiently.

 About Us / Privacy Policy / Resources
Go to:  Pop-up Travel Trailers and RVs