Living-Lite Ford 220RB
2017 Ultra-Lite Travel Trailers
Ford 220RB RV is an ultra-lite travel trailer; attractive floor-plan, added exterior kitchen, plenty of storage makes it ideal for family of 2 w/kids, while Ford's accents bring appreciation by owners of F-xxx truck.  
        Ford (especially with its F-xxx series of trucks) is one of the leaders of towing technology. 

So it should not be surprising that the company decided that it's time to provide "more complete" solution for their customers. When Ford's licensing manager Mark Bentley pointed out that - "Exploring America is already in DNA's of Ford's customers" it was obvious that the company is entering the RV business.  
To jump-start the process, Ford teamed-up with Living-Lite (one of the leaders of Thor Industries, known for its ultra-lite RV technology). As the result, the first models of Ford's Slide-in Truck Campers followed by Travel Trailers and Toy Haulers were introduced on the market in the second-half of 2016. 
      Here we will present the 2017 model of Ford 220RB Travel Trailer. It's an ultra-lite camper with one slide-out and rear-bath layout.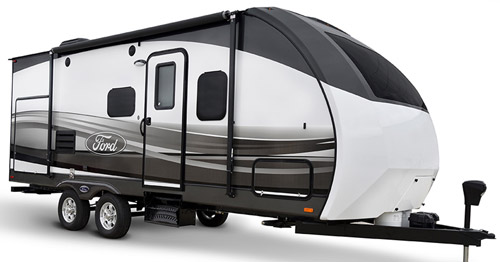 LivinLite/Ford 220RB Travel Trailer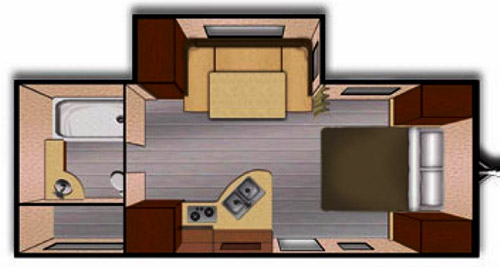 ... and its floor-plan
     While the 220RB camper is using well-proven steel I-beam technology for its frame (chassis), that's about all when it comes to steel. The body including exterior walls, floor and roof makes use of aluminum alloys and fiberglass. Aluminum-framing eliminated the traditional wood from the structure. As the result the structure has much lower weight (qualifying the 220RB camper to the class of "ultra-lite RVs) and much higher durability (no rot, mold, mildew…) and obviously no corrosion (at least in its well-known form).
       But the all-aluminum body alone wouldn't provide required weight reduction. Let's face it – most 26ft long lightweight travel trailers will have dry weight much higher than mere 5,144 lbs as is the case of Ford 220RB model. And this is because aluminum frames also found their way into cabinetry, replacing heavy, wood-based structures. Well, not entirely, because in order to keep "unscathed" elegance and warm ambiance, cabinets' doors and drawers' front panels are still made from the hardwood. 
Cabinetry - aluminum frames
Ford 220RB - Interior
Trailer's external walls are made from Azdel panels (it's a composite material of about half weight of wood and with about 3-times better thermal insulation compared to the wood). 
Well, these are not the only strong points of the combined Ford-Living-Lite RV design. The 220RB floorplan also brings some interesting features as we will see below. 
Sleeping Space (Bedroom)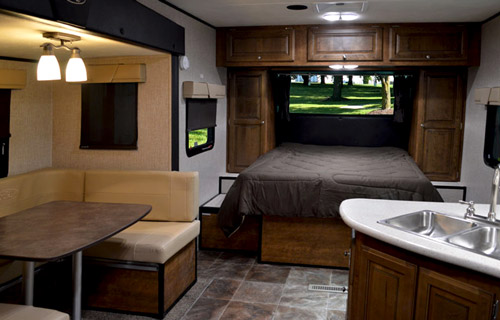 Ford 220RB: Sleeping area with the large panoramic window  
The under-bed storage is easily accessible thanks to gas-struts
      The sleeping space is not separated from the kitchen and "living quarters". And this is because the 220RB travel trailer is basically designed to sleep 2 persons (folding dinette can sleep two more, but preferably young kids so the privacy is not in question).
The walk-around queen-size bed seems to be comfortable place for sleeping. Two (curved) wardrobes with bars for hanging cloths as well as two nightstands on both sides of the bed provide enough of space for what you may need on a daily basis. For less often needed stuff you can use the under-bed storage box. Thanks to gas-struts the access is almost effortless and easy.
The reading lights at the touch of hand can switch to blue nightlight(s). Two 120V receptacles will give you chance to feed your iPad, phones or computer if needed. 
        But the most interesting part of the "bedroom" is the large, tinted, windshield-type window at the bed's head.  It is certainly part of Ford's design initiative benefiting from company's huge experience with windshields. Understandably, it is not popular solution seen in travel trailers because the front cap is typically exposed to all kind of "flying" debris when towed on the road.  
What the front window offers however is a great morning view on the surrounding nature and possibly starry night sky.  If needed, the curtain gives you chance to sleep longer undisturbed by the daylight (the privacy is assured by tinted-design). 
    Another important fact to note - the Ford 220RB TT is 6 inches wider than most RVs (102" versus typical 96"). And it is clearly visible in the bedroom where the queen-size bed truly deserves the name "Walk-around" compared to typical case of "squeeze-around" beds. Extra 3 inches of space on each side of the bed make big difference!
Kitchen
Main kitchen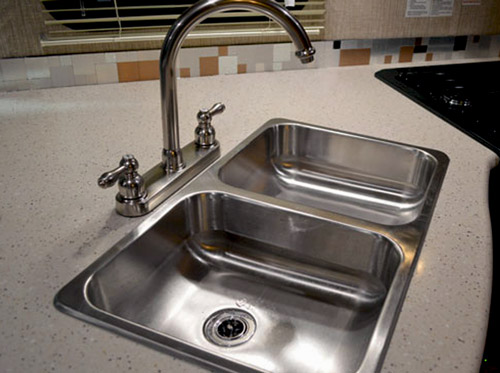 Stainless-steel sink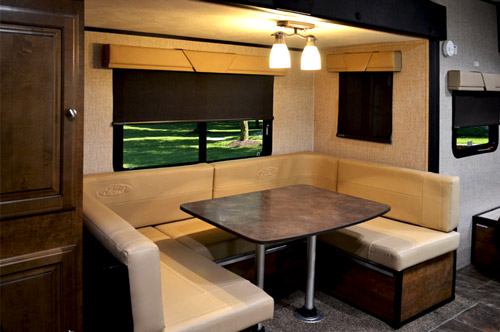 Dinette booth with Ford's all-leather seating cushions
      The beauty of Ford 220RB travel trailer is its functionality. Its interior kitchen is well equipped to prepare even some more elaborated meals. The 3-burner range with oven and hood, 7 cubic feet refrigerator with freezer (2 doors), built-in microwave oven and stainless-steel dual-bowl sink with high-rise faucet should live up to expectations.  Also the solid-surface countertop and spacious cabinetry (including pantry) seems to provide enough of working and storage space.  
The U-shaped dinette shares the street-side slide-out with large full-height pantry.  Dinette's all-leather seating and logos matching the style seen in F-series trucks is a nice accent that will be especially appreciated by owners of Ford pickup trucks.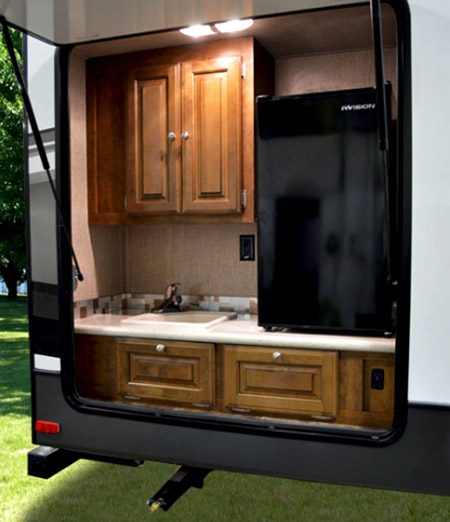 Exterior kitchen (missing on this picture is an optional rear-bumper mounted grill)
      But as vacations are focused on outdoor activities, to make it easier, Ford 220RB camper includes an external galley on the curbside of the camper (rear-end). It comes with large storage cabinet, sink with hot/cold water, countertop space and relatively large fridge w/freezer that can definitely store much more than just cold beverages. It is not clear what comes as the standard feature and what is optional, but for sure to make this exterior kitchen fully functional you will need an optional rear-bumper mounted grill.  And then you are ready for an outdoor party … 
The upwards opening door serves as a handy protection "umbrella" in either "burning" sun or rain weather conditions. 
Bathroom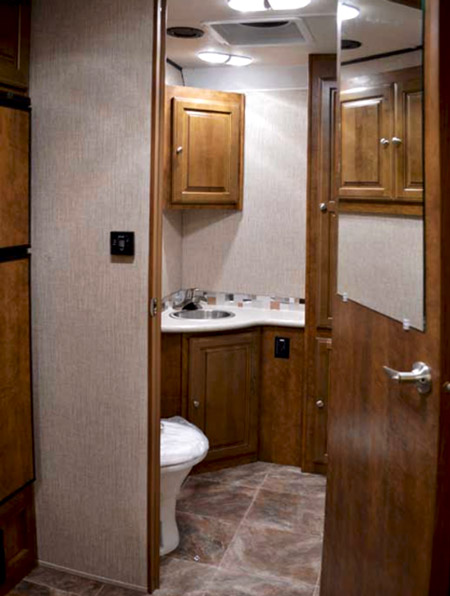 View into the bath (the mirror on the back of the dorr reflects the extra storage niche)
All "extra large" - shower cabin and linen cabinets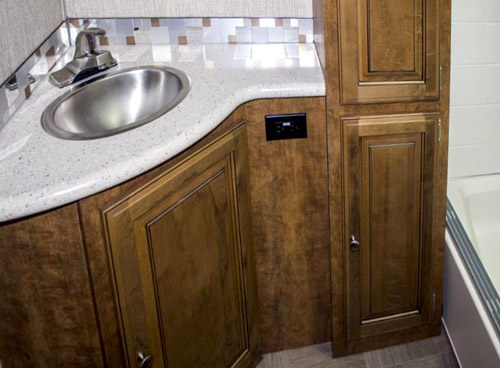 Bath: vanity with sink and bottom art of the linen cabinets
      The walk-in bath has large shower tub and cabin with sliding glass doors, standard porcelain foot-flushed toilet and abundance of storage space. The latter is what really makes a difference compared to other campers of similar class. The vanity with sink has extended solid-surface countertop offering always appreciated area for all kind of toiletries.  Above, hanging on the wall is sizable medicine cabinet with mirror.  But the real "abundance of the storage space" comes thanks to full-height linen cabinet and extra–large niche in the wall (located above the exterior kitchen).
The medicine cabinet mirror is small and basically god to assist you during shaving or applying some cosmetics. The "real-size" mirror is attached on the back of the bath's door. It will give you chance to "scrutinize" yourself before appearing to the "outside world"…..

Notes:
Pantry (here shown the side-access storage door)
The pantry extends over the slide-out depth so it is quite deep. To make it practical, it is divided into front-access and side-access space (the latter from the dinette). Well, in terms of access, the side-storage is not very convenient, but certainly we can make good use of it!  We all agree that when it comes to storage space, "more" is never a bad thing.
The external pass-through storage (about 30 inches wide) is ideal for camping gear (folding chairs, tables, detachable grill, all whatever you need for outdoor activities. 
The power awning opens much needed Living Space. It will allow you to keep close contact with the Mother Nature without "cutting-off" the vital links with the "nearby" kitchen and fridge (external one) and soothing music (there are two exterior speakers). 
The Ford 220RB camper has an enclosed and heated underbelly as well as good thermal insulation (Azdel panels) so it can provide comfortable vacations over an extended period of time throughout the year. If needed, optional tanks heaters can be installed to protect water from freezing.
The energy autonomy is provided by two 30lbs LPG bottles. The electrical energy can be extended beyond the limits of an auxiliary battery by extra solar panels (the camper is "solar-ready").  Talking about LPG tanks – it's worth to mention that they are located inside of the front-cap. This not only improves camper's elegance but also its aerodynamics. Actually the front cap with is windshield window is very stylish and traditionally tongue-mounted LPG tanks will simply "spoil" the perfect look…… 
The increased width (6 inches more than traditional 8ft) will make you feel that this RV is "much roomier" than it really is. The 220RB it is not an "isolated" case - as the matter of fact recently more and more manufacturers started offering wide-body travel trailers....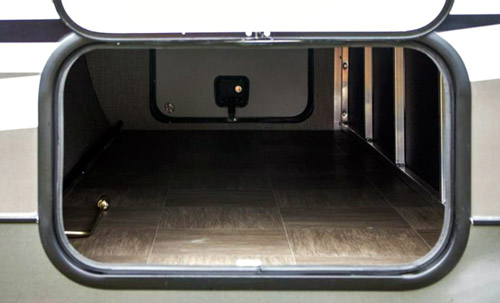 Pass-through storage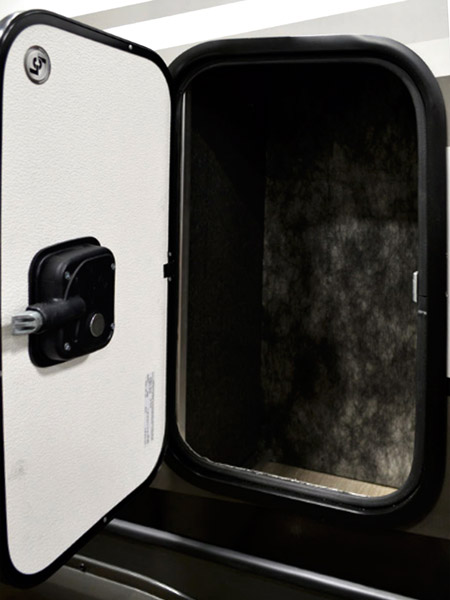 ... and another external storage
On the negative note: Yes, we understand that the lightweight design puts some restrictions on everything including the size of water tanks. But their current capacity of just 37, 25 and 25 gallons for correspondingly fresh, grey and black water seems to be too small. 

Specifications
---
Overall length

Body length

Exterior width

Exterior height with A/C

Interior height

Dry weight

Hitch weight

GVWR

Cargo capacity

Fresh water tank

Grey water tank

Black water tank

LPG

Awning

Sleeps

Layout

26'4"

22'4"

102" (1)

11'4"

84"

5,144 lbs (2)

600 lbs

7.600 lbs

2.456 lbs (2)

37 gals

25 gals

25 gals

2 x 30 lbs

1

2 (4)

Rear bath
(1) Wide-body trailer (standard width is 8ft = 96")
(2) Reflects standard features
---
Construction
Frame: Steel I-beam
Body: Aluminum alloy, Azdel composite high-gloss fiberglass laminated sidewalls  ?
Roof: Azdel decking w/one piece laminated olefin-based membrane 
Front cap: laminated fiberglass w/tinted windshield-type window
Underbelly:  Fully enclosed and heated
Floor: HD aluminum covered with vinyl /carpet
Windows: UV-tinted, frameless (except slide-out end walls)
Axle: twin w/electric brakes
Wheels:     Aluminum rims / tires R15
Bedroom
Walk-around queen-size bed w/under-bed storage
Pillow-top mattress
Two bed-side wardrobes
Two bed-side nightstands
Overhead cabinetry
Two Reading lights/night blue lights
Two side 120V receptacles
Large, Windshield-type front window
Bathroom: Toilet
Bathroom (Walk-in)
Shower w/ glass sliding door 
Skylight
Vanity w/stainless-steel sink, solid-surface countertop and backsplash
Porcelain foot-flush toilet
Medicine cabinet w/mirror door
Full-height linen cabinet w/shelves
Extra-large bath cabinet
GFCI 120V receptacle
Ceiling Power fan
Large Mirror (on the back of bath's door)
Main galley
Kitchen (interior)
3-burner 17" range w/oven and hood
7 cu.ft. Refrigerator w/freezer
Microwave
Double-bowl Stainless-steel sink
High rise faucet
U-shaped Dinette (slide-out) w/ under-benches storage
All-leather benches (Ford Official Leather seating))
Solid-surface countertops w/backsplash
Cabinets w/drawers, shelves and storage
Pantry w/extra back storage (slide-out)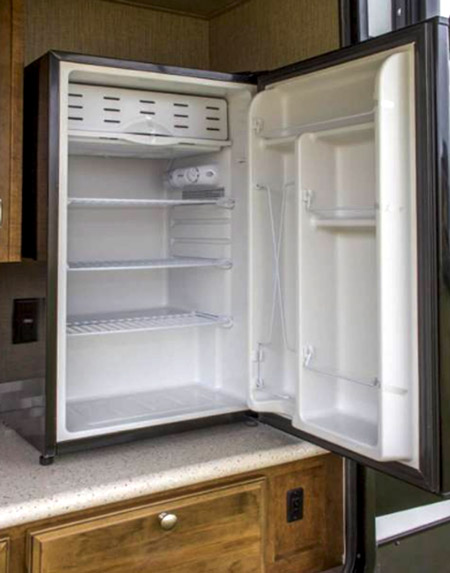 Fridge in exterior kitchen is quite spacious
Kitchen (Exterior)
Single-bowl sink
Solid-surface countertop
Large cabinet
Storage
120V GFCI receptacles 
Bumper-mount grill (optional)
Fridge (optional)
Upward opening overhead door w/struts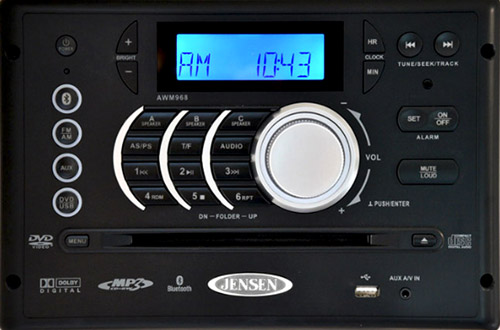 Jensen Stereo
Entertainment
24" LED TV swing-arm mounted
DVD/AM/FM/MP3/USB/Aux/Bluetooth Audio system (Jensen)
Speakers (including 2 marine grade exterior)
Cable hook-up
TV antenna
Full height cabinet w/open shelves (may change in new models)
Interior Features
Solid-surface countertops (kitchen, bath)
Soft-touch, slow-rise roller shades 
Aluminum-framed cabinetry w/Azdel composite panels and wooden fronts
LED lighting
Vinyl flooring /(dinette carpet)
Front power jack (behind visible LPG bottles partially hidden behind the front-cap wall)
Exterior features
Stabilizing jacks (manual) / Power jacks (optional)
Power awning w/LED lighting
Pass-through storage (front) w/ slam-latch doors
Power tongue jack (optional)
Two 30lbs LP tanks (integrated in front cap)
Triple-step entrance w /grab handle
Shower (exterior)
Two marine-grade speakers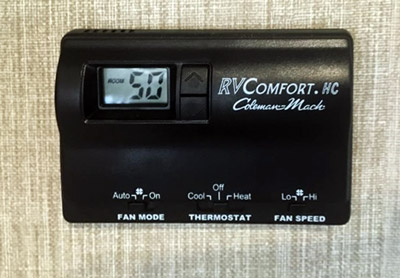 Thermostat
Climate Control
14.5k BTU roof-mounted ducted A/C
30k BTU LP furnace (ducted)
Ceiling power vents (Fantastic)
Thermostat (Cool/Heat, Fan Ctrl…)
Electrical
Solar-ready
Interior & exterior LED lighting (option)
30A converter
Shore Receptacle w/detachable power cord
GFCI receptacles (bath, exterior kitchen)
120V/12V receptacles
Convenience Center (slide-out, awning, water pump, water heater, lights controls, water tanks level monitors, …)
Interior/exterior LED lighting
Aux battery w/battery charger
Water hook-ups
   ... and an exterior shower
Water
6 gallons elect/gas DSI Water heater
City and Fresh water hook-ups (exterior)
Fresh, Grey and Black water tanks
Exterior shower
Exterior sink
Safety
Electrical brakes
Spare wheel w/carrier (rear-mounted)
Alarms/Detectors (CO, LPG, smoke)
Fire Extinguisher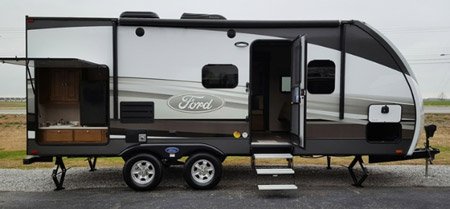 Once again - Ford 220RB travel trailer in all its beauty
Options:
Tongue power jack
Power stabilizing jacks (front & rear)
I-cool mattress
Bumper-mount grill
Beverage fridge (exterior kitchen)
Dual-pane windows
Water Tanks heaters
Let's follow the tour of Ford 220RB travel trailer
Summarizing: The 2017 Ford 220RB travel trailer thanks to its ultra-lite weight and innovative layout seems to be a good choice for many customers (mainly family of 2 or 2+ kids). Especially it will be greatly appreciated by current owners of F-xxx series of pickup trucks…  Currently (as of January 2017) the new models are offered at low 30k$.

Go back to: --> Top 2017 Ultra-lite Travel Trailers
Note:  Check with the manufacturer and / or authorized RV Dealer for the up-to-date list of features, options as well as latest specifications. These written above may not be accurate and certainly are subject to change by the factory. We are not responsible for any inaccuracy, the above text is provided only for the general information.
This review was written based on publicly available information for the benefits of the community of RV-ers. We do not receive any gratification or financial benefits from RV manufacturers, dealers, and any other promoters of RVs. 
We are NOT involved in sale and/or retail of RVs!