Fox Mountain 235RLS
Top 2017 fifth wheels
Northwood Fox Mountain 235RLS fifth wheel is the ultra-lite mid-size camper designed for all-seasons vacations for family of 4; it's easy to maneuver and tow by half-ton truck 
     Northwood Manufacturing was founded in 1994 by Ron Nash. The company operates from La Grande (Oregon) but recently also opened a plant in Winchester (Virginia) to extend its offer to eastern US. 

Northwood produces wide range of Travel Trailers, Fifth Wheels, Truck Campers and Toy Haulers (including lightweight versions) of which the most recognized brands are Arctic Fox and Fox Mountain.
For the presentation of 2017 fifth wheels we selected the Fox Mountain model 235RLS. It belongs to the class of lightweight campers. With the dry weight of just 7,235 lbs it can be towed by almost any "half-ton" truck. But there is a trick here – if you want to fully use its enormous cargo capacity of about 4,200 lbs, the 235RLS will definitely need a top full-size truck (more a 3/4 ton-like). Additionally, what also prompted us for this selection is good reliability of Northwood's campers.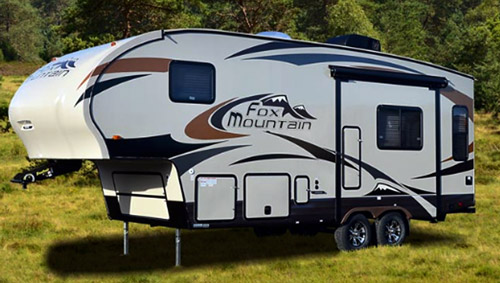 Northwood's Fox Mountain - model 235RLS fifth wheel
    .... and its floor-plan
      The Fox Mountain 235RLS with its length of 27'10" is a mid-size camper with the overall area of 235 square feet including only one slide-out. The floor-plan divides the interior into two sections:
Master Suite (including bedroom, shower and vanity and private toilet)
Living area enlarged by the slide-out (including galley, dinette and lounge w/entertainment center)
Galley and lounge with panoramic window behind
      In its basic configuration, the FM 235RLS camper can sleep up to six persons (bedroom, rear sofa and convertible dinette). However, given its medium-size, the camper is rather suitable for no more than four persons (ideally just a young/senior couple or parents plus children). Obviously the attractive Master Suite floor-plan offers an "open-space" feeling, but the price to pay for this "luxury" is the limited privacy. It will go well with small children, but not so with adult friends…
That's why it is rather suggested to "enhance" the living quarter by either replacing the dinette booth with a free-standing table and chairs or the rear sofa with recliners. In both cases the interior ambiance will be greatly improved and still (just in case) there is additional sleeping place for two!
Master Suite – Bedroom

Master Suite: Bedroom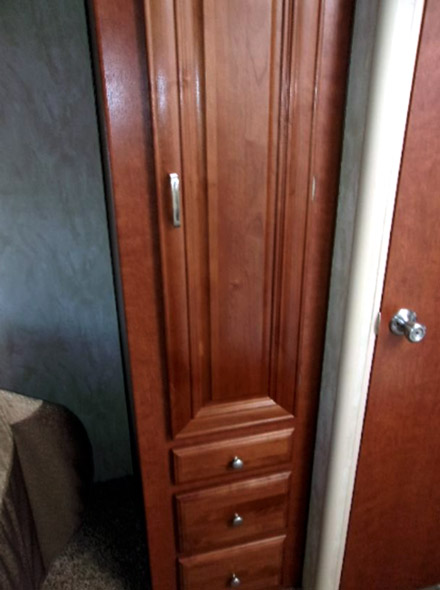 Full height wardrobe includes section for hanging cloths and drawers
       The walk-around queen-size bed takes the central place in the sleeping area. As the bedroom does not have any slide-out, the available storage place for cloths is quite limited. Two narrow wardrobes hanging over nightstands offer very limited room (note that the current floor-plan does not yet reflect this change for 2017 models).
The full-height corner wardrobe is practically the only "sizable" storage for what you will need on a daily-basis. Well, the under-the-bed storage certainly has a big capacity but its use is limited by "inconvenience". 
The 12Vdc and USB charging stations on both sides of the bed allow you to keep "operational" all modern-day toys (phones, iPads....) to stay "connected" (if that is what you wish).
Two relatively large windows on both sidewalls keep the bedroom bright during the day while reading lights give you chance to enjoy an interesting book before falling asleep. Finally, the remotely-controlled Fantastic ceiling vent (w/rain sensor) promises fresh airflow when needed.
Master Suite - Bathroom

Master Suite: Bathroom
Private Toilet: Porcelain toilet (above), Overhead cabinet and window (below)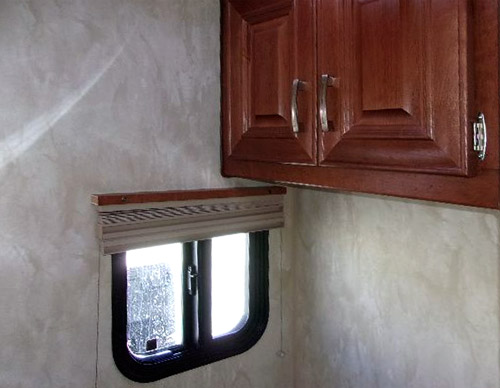 The "open-space" suite includes an elegant angled shower with skylight above, vanity with acrylic sink and medicine cabinet with mirror door. The protected (GFCI) 120 V outlet gives you chance to plug-in your hair-dryer, shaver. …  Facing the shower is the enclosed toilet room. Inside, as expected in this class of campers you will find standard porcelain foot-flushed toilet and just enough of room (but no more) to do what is expected. The overhead cabinet hanging above the toilet offers handy space for towels. Unexpectedly, the toilet has its own opening window (on top of the ceiling vent fan). It's small, but better than nothing!
The whole Master Suite area is separated from the rest of the camper by an accordion-door in front of the steps.  When needed, the sleeping space may be separated from the bath by hanging curtain, but as mentioned earlier, it's not the solution you would like to use on the regular basis. 
Three steps are carpeted, but although the carpet cover provides anti-slippery protection, it seems not to be the practical solution in such relatively "high-traffic" area. To make it worse (some may see it better) the strip of carpeted floor extends into the bedroom, leaving only small area of bathroom's floor (next to the vanity and shower) covered by vinyl.
Kitchen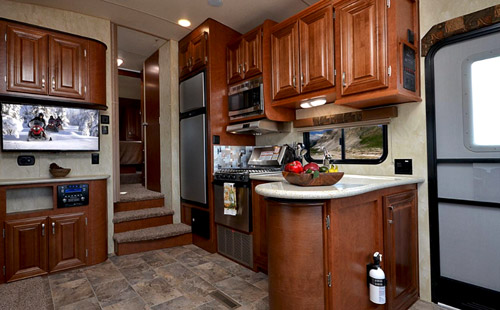 Galley (right) and the Entertainment Center (left)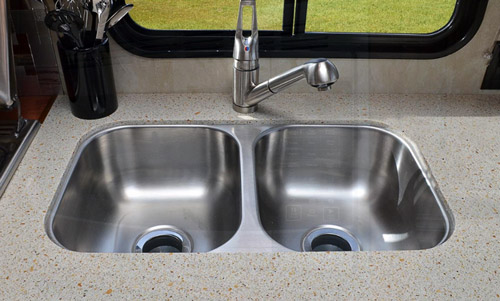 Stainless-steel sink
        The galley is located along the curbside of the camper and ends at the entrance door with L-shaped cabinet.  Stainless-steel appliances, wooden-doors cabinetry and solid-surface (Corian-like) countertop give the kitchen the residential look. But as we know, the kitchen is not only about look, but first of all about making meals.
And yes, the 3-burner range with lid as well as hood (w/light and exhaust vent) for sure will make it possible. Large (two doors) fridge with freezer, built-in microwave oven, stainless-steel dual-bowls sink and plenty of countertop space makes this galley a comfortable place to work on even more elaborated meals. If necessary, the work-space can be increased by covering the sink.
The abundance of space in standing and overhead cabinets should easily meet even demanding requirements especially if we notice existence of the large pantry in the slide-out on the street-side of the camper. 
       It may be worth to mention that the Command Center is conveniently located on the side of the overhead kitchen cabinet just next to the entrance door. 
Living/Entertainment

View on lounge, dinette booth and pantry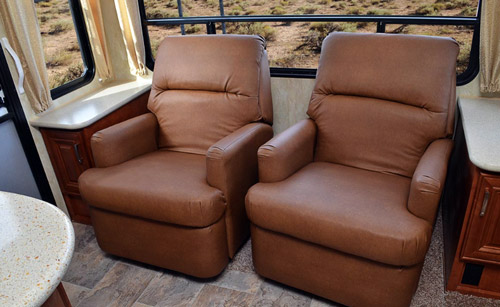 lounge with recliners (seems that most customers opt for this option)
        At the rear end of the camper you will find a sofa and two side cabinets with solid surface tops. It's the place where you can relax, read your favorite magazines, books, sip the coffee, drinks or simply watch the TV across the room or listen to the music. When needed, the sofa can be converted into a bed offering sleeping place for two persons.  However if you are planning the FM 235RLS fifth wheel for your retirement time, it may be a good idea to replace the sofa with two definitely much more comfortable recliners. They will give new, more stylish, lounge-like "look" to the living area, but at the same time it will irreversibly deprive you from extra sleeping space. 
The TV screen is mounted on the wall bracket so its viewing angle can be easily adjusted. Even more, the TV can be detached from the wall (if temporarily needed in the patio). It sounds clever, but unfortunately not very practical (these days an extra TV screen can be purchased for almost no money).
Talking about TV and music – the optional Surround-Sound system with sub-woofer speaker will certainly add extra dimensions to your "entertainment" experience…..
Dinette (on the right side there is pantry and behind the exterior storage)
      The deep dinette booth in the slide-out offers a comfortable dining environment for 4 (but it will be much harder to fit there 6 persons, even that the camper in its basic configuration can sleep six).  The overhead cabinets throughout the living area, Entertainment Center cabinetry and extra "boxes" in both dinette benches offer generous storage space. 
      Northwood also offers another option – replacing the dinette booth by the free-standing table with chairs (you can have up to four).  It will bring more stylishness to the living area and create more personalized ambiance. One more benefit – because the table is shorter than the dinette, you will be able to easily reach the bath and the bedroom in camper's road configurations.  The truth is that when the slide-out is closed, the narrow space between the dinette and the galley may cause problems for those "less-slim" to sneak-in. 
The main floor is covered by easy to maintain and keep clean Beauflor vinyl, but the perimeters (dinette and lunge area) offer more softness with carpet flooring.
General Remarks
       The power awning offers much appreciated patio and allows the direct contact with the surrounding nature. The exterior weather-resistant speakers as well as an available TV-mount allows you to enjoy your favorite music or TV shows in outdoors' ambiance.  The large pass-through storage is ideal for all kind of bulky stuff so camping chairs, folding table, bbq should be readily available for a "party". But the best is still to come –in the external wall of the slide-out unit there is a roomy, 6 ft tall storage (it's behind the pantry). So just use your imagination to figure out what you can take with you for the trip. And as you will see reading specs (below), given camper's cargo capacity of 4,200 lbs your imagination can fly high (provided your truck will take it). 
       The Fox Mountain (as the name obliges) is designed if not for total wilderness, than certainly for "out-of-grid" conditions. The spacious water tanks and gravity water fill provide good water autonomy. Standard solar-ready feature enables you to hook-up solar panels extending the energy independence. Given the fact that FM 235RLS's custom made heavy-duty cambered steel chassis is built for off-road conditions , extended "out-of-civilization" autonomy offers real chance for "deeper" contacts with the Mother Nature.  And let's face it – the nature has quite different requirements for cloths (compared to cities), so in these circumstances the lack of larger wardrobe in the Master Suite may not be a "big deal"…. 
       The company offers an optional Slide Out Topper protecting slide-out's roof from falling leaves. It's good addition for nature explorers although it will be also practical in any wooded area on the campground.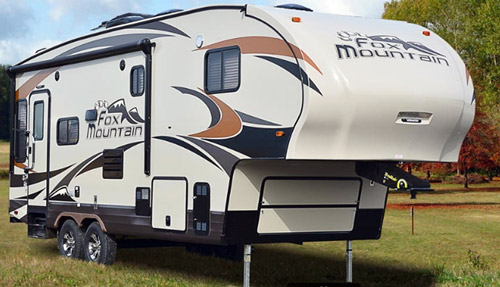 FM 235RLS 5th wheel - curbside view
        Another standard feature coming with the Fox Mountain 235RLS is the Four Seasons design. It's the promise of extended vacations well beyond the "hot-season" (not only due to temperatures but also to crowd that can be as annoying as is the sweating or freezing weather). 
Unfortunately the FM 235RLS comes with mid-40k's price tag, quite pricy as for this class of campers. But at the end it usually comes to "You got what you paid for" (if you are lucky). 
       As mentioned earlier, Northwood campers are recognized for their good reliability. Life shows that this can be definitely said about Northwood craftsmanship and quality of materials. However it may not be necessarily true regarding some third-party features like notoriously breaking faucets, or "questionable" quality of seating (sofa, dinette benches…). Fortunately, Northwood's customer service seems to act quickly and decisively so problems (if any) are being solved "on-time"….

Specifications
---
Exterior length

Exterior width

Exterior height

Interior height

Dry weight

Hitch weight

GVWR

Cargo capacity

Fresh water tank

Grey water tank

Black water tank

LPG

Slide-outs

Awning

Sleeps

Layout

27'10"

80"

12'7"

?

7,235 lbs (1)

1,375 lbs (1)

11,500 lbs

4,265 lbs

59 gals

42 gals

36 gals

2 x 30 lbs

1 (88" x 38 ½")

1

6 (4)

Rear Lounge/Front Master Suite
(1) – with standard features / no water

---
Construction
Chassis:  Custom, welded, cambered steel for off-road conditions
Body: welded, aluminum frame/polyurethane laminated fiberglass walls
Front Cap:  Molded-fiberglass, gel-coated 
Underbelly:  enclosed
Insulation: Four Seasons including: high density block foam sidewalls, blanket ceiling (R-18), reflective foil slide-out (R-15), heated water tanks and valves.
Roof:  arched with 3/8" decking and rubber membrane
Axle:  Dual, E-Z Lube w/self-adjusting
Suspension: Shock-absorbing Equaflex
Pin Box: Rota-Flex 
Windows: Tinted, safety glass
Wheels:   Aluminum rims / Tires ST225/75R15D
Floor:  Beauflor vinyl/ carpet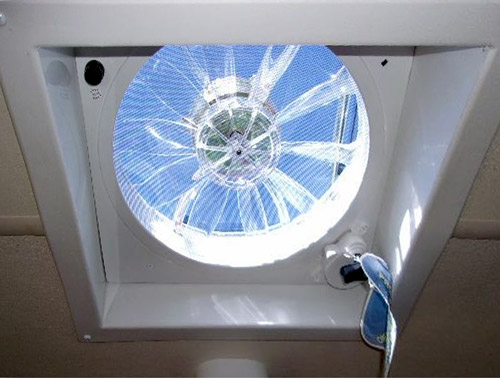 Bedroom's remotely controlled FanTastic fan w/rain sensor
Master Suite (Bedroom)
Queen-size bed w/under-bed storage 
"TruRest" Mattress w/bedspreads
Two nightstands w/ small wardrobes over 
Full-height single-section standalone wardrobe
Reading lights
Two USB/12Vdc Charging stations 
Remotely-controlled Fantastic ceiling vent (w/rain sensor)
Carpet floor
TV prep (cable and power)
19″ 12v LED TV (option)
Privacy curtain (separating bedroom from the bath)
Vanity's sink
Master Suite (Bathroom )
Angled Shower w/glass enclosure
Vanity w/acrylic sink
Medicine cabinet w/mirror doors
Skylight
Fantastic exhaust vent
Private Toilet (Porcelain foot-flush toilet, paper holder, overhead cabinet, window, ceiling vent)
Accordion doors (separating the Master Suite from the Living area
Stainless-steel Microwave Oven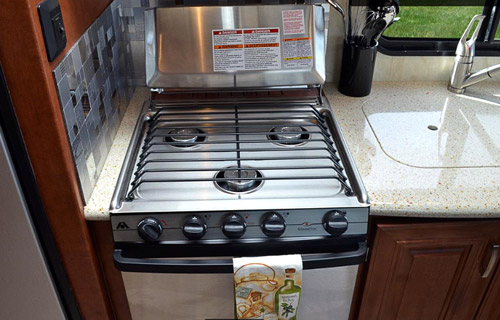 Range (on the right visible sink with cover)
Kitchen
3-burner stainless-steel range w/cover
8 cu. ft. stainless-steel Fridge and Freezer (10 cu.ft – option)
Microwave (built-in, stainless-steel)
Double-bowls stainless-still sink w/solid-surface cover
Single levier faucet w/pull-out sprayer
Backsplash
Solid-surface countertops (L-shaped)
Cabinetry w/hardwood doors, drawer panels, and roller-bearing guides
Large pantry 
Booth dinette (or optional Free-standing table w/2 chairs and 2 extra chairs)
Overhead cabinets above the lounge recliners
Living
Jackknife sofa w/pillows (or optional two lounge recliners)
Two end-cabinets w/solid-surface tops 
Overhead cabinets w/glass doors
Ceiling vent
Reading lights (lounge)
120V outlets
Audio/Video set in the Entertainment Center
Entertainment
32" LED HDTV (110Vac)
CD/DVD/AM/FM Audio-Video system w/Bluetooth
Interior/Exterior speakers
TV antennae
Satellite prep
29″ Surround-Sound Bar  (option)
Interior features
LED lights throughout
Overhead cabinets throughout
Floor: Beauflor vinyl/carpet
Day/night shades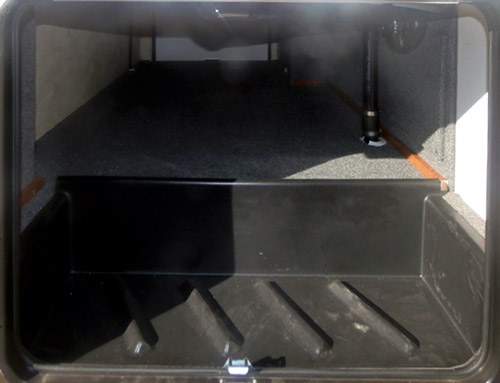 Pass-through storage
Exterior features
Power awning w/ adjustable pitch hardware
12V power landing gear
Power stabilizing jacks (rear)
Entrance door w/ large handle and friction-hinges
Entrance steps
Rear ladder
Storage (pass-through)
Slide-out storage (H72" x W18" x D17")
Magnetic slam-latch doors (storages)
LED lighting
Color-keyed sidewalls and skirts
Diamond Plate bumper wrap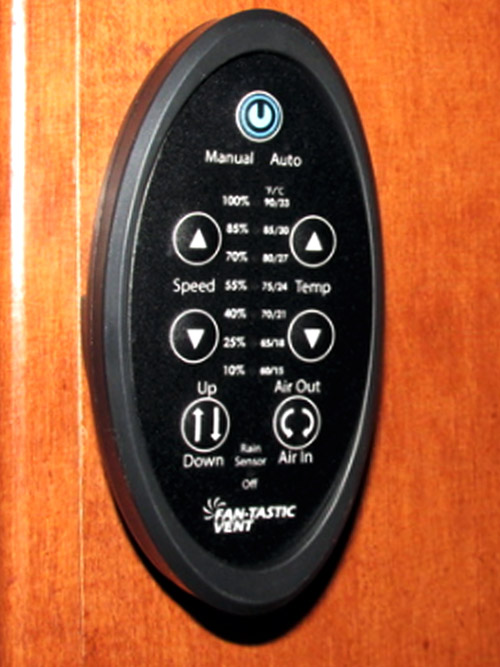 Fantastic Fan remote controller
Climate
30k BTU Auto-ignition furnace
13.5 BTU A/C w/ ducting (15k BTU Optional)
Digital Thermostat
Fantastic Fan w/ remote, thermostat, rain sensor (bedroom)
Ceiling fans (living, bath)
Reading LED light
Electrical
LED Internal/External lighting
Command & Monitor Center (awning, slide-out, water heater, water tanks gauges, ….)
USB/12Vdc Charging stations 
120V receptacles (including GFCI ones)
Solar prep
60 /100 Watt Solar Panels (options)
Temperature Controller (Thermostat)
Water
Universal Docking Center (shower, black water tank flush, winterization…)
Gravity water fill
6 gallons Gas/Elect Quick Recovery water heater
Safety
Fire Extinguisher
Alarms/Monitors (LPG, CO, smoke)
Exterior security light
Break-away switch
GFCI protection
Emergency exit (Egress window)
Spare tire (rear-mounted)
Hitch with "Rota-Flex" Pin box
Options
29″ Surround-Soundbar
Slide Out Topper
19″ 12V LED TV Bedroom
10 Cubic Foot Refrigerator
15Kk BTU Air Conditioner w/ Ducting
Thermal Pane Windows
Free-Standing Table w/2 Chairs (substitution for the dinette booth)
2 Dinette Chairs
Lounge Recliners (substitution for Jackknife sofa)
60 /100 Watt Solar Panel
CSA (Canadian Dealers Only)
To see more fifth wheel campers: --> Top 2017 Fifth Wheels
Summarizing: Northwood Fox Mountain 235RLS fifth wheel is a lightweight, medium-size camper towable by "half-ton" truck. It can comfortably house four (ideally parents with children). But frankly, its layout makes it perfect for just two – young or senior couple….  

Note:  Check with the manufacturer and / or authorized RV Dealer for the up-to-date list of features, options as well as latest specifications. These written above may not be accurate and certainly are subject to change by the factory. We are not responsible for any inaccuracy, the above text is provided only for the general information.
This review was written based on publicly available information for the benefits of the community of RV-ers. We do not receive any gratification or financial benefits from RV manufacturers, dealers, and any other promoters of RVs. 
We are NOT involved in sale and/or retail of RVs!