Hélio O2 Travel Trailer
Ultra-Light RVs
Helio O2 travel trailer with its functional layout and standard features promises comfort for 2, while aluminum-fiberglass design offers durability and lightweight... 

       Hélio VR (Lavaltrie, Quebec) is one of the well-recognized Canadian manufacturers of travel trailers. The company offers a series of mini travel trailers HE and series of ultra-light teardrop trailers "O" (for "Outdoor"). The model Helio HE is basically sleeping space on wheels. Small, light (dry weigh about 390 lbs), it can be towed even by ATV, snowmobile, 3-wheeler not even mentioning cars. 
Helio O2 with its stylish awning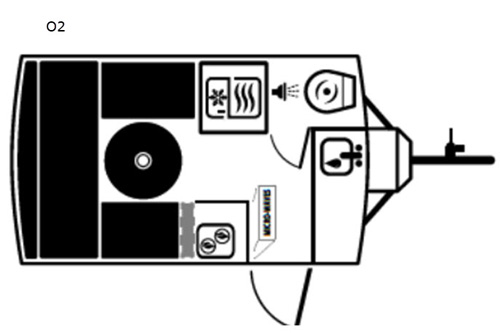 ... and its floor-plan
Much more comfortable even for longer journeys is the Series "Ox", which comes in version O2 (sleeping for two) and correspondingly O3 and O4 with more sleeping space at the price of less amenities.  All three Ox versions are based on the same model (same dimensions and GVWR). The main difference between models are interior layout and standard features impacting dry weight (about 1,135 lbs for O4). For the purpose of this article we selected the most impressive model Helio O2.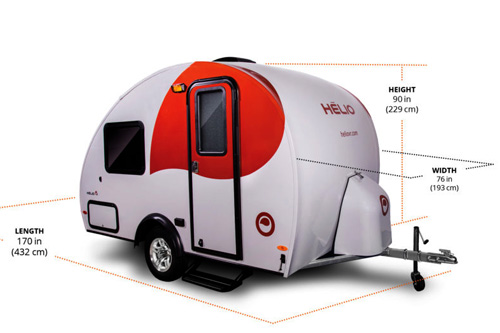 Helio O2 Lightweight Travel Trailer

           All Helio travel trailers are made to last. The aluminum frame makes it not only corrosion free and by that long-lasting, but also light. The monocoque shell is a sandwich of insulation (expanded polypropylene) and fiberglass. Overlapping molded parts making the shell are glued with resins making it not only rot and mold free but also a watertight. Keeping in mind specifics of Canadian climate (quite rainy), designers eliminated otherwise attractive rear panoramic window achieving this way better weather resistance. As famous Murphy laws predict, "all sealed joints leak" and windows are certainly weak spots in overall watertight design. Helio O2 exterior is gel-coated protecting the surface from discoloration due to prolonged impact of weather elements while nice graphics ads always appreciated elegance.
The floor is an exception, as designers decided to use traditional ¾" plywood. In this case however it is fully wrapped in a thick coat of fiberglass, so practically also weather resistant. Such floor offers the best of two words: mechanical strength and good thermal insulation of plywood, but also rot and mold free operation thanks to fiberglass coating.  The legitimate question however is – how well the underbelly's fiberglass coating protects from rocks and any other mechanical damages?  
Helio O2 Travel Trailer: View on the kitchenette 
Source: Vostrailers.ca
Helio O2 Travel Trailer: Part of the kitchenette and rear dinette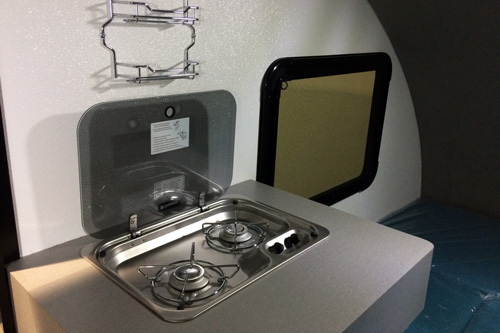 Stainless-steel 2-burner cooktop with glass cover
           Modern, light construction materials and electric brakes puts all Helio Ox models within the towing range of most family cars and SUVs (O2 dry weight is just 1.550 lbs, GVWR corresponding 2,000 lbs).
With its queen-size sleeping place made from folding rear, U-shaped dinette, the model Helio O2 is designed for two people. Thanks to this arrangement it was possible to offer functional and comfortable interior (despite its relatively small footprint). The kitchenette consists of front cabinets with stainless-steel sink and hot/cold water. Large part of the countertop is left free as the working space, while cabinets provide ample storage space. Remaining part of the kitchenette is taking the central part of the trailer and includes built into the cabinetry 2-way (120Vac/LPG) 3.3 cu. ft fridge with freezer. Under the fridge there is a storage space with drawers and an extra space that can be used either as a storage or space for a portable A/C unit. 
       On the opposite wall there is another cabinet with 2-burner stainless-steel cooktop and built-in microwave.  The cooktop takes almost all top surface, however thanks to the glass cover it can be also available for preparation of food. Remaining part of the camper houses spacious, U-shaped dinette with round table. It plays multiple roles – dinette, for 4, working or leisure place for reading, playing games etc… and finally at night it converts into a comfortable queen-size bed.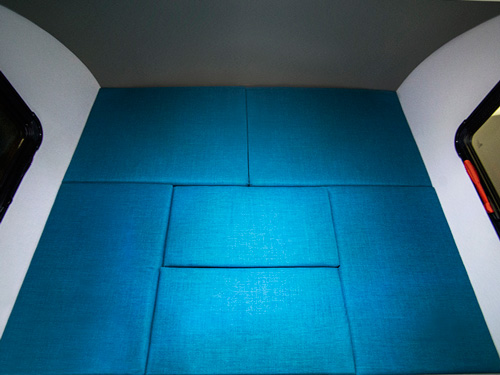 Folded dinette makes the queen-size bed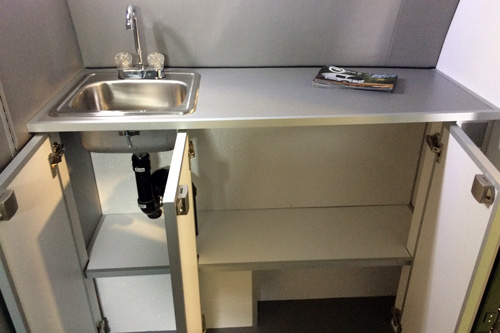 Kitchen cabinets 
       At this moment, most readers will probably say - well, nothing new, quite typical layout for small travel trailers. And they could be right if not the bath with shower and toilet. It's rather unusual feature in this class of travel trailers. Located at the front on the driver-side, the bath is contained in a molded-fiberglass cabin, so it's always available, offers privacy, while at the same time camper's interior is fully protected from spills of water.
Interior finish matches modernity with elegance. The ceiling is covered with soft automotive-style lining. The floor is finished in attractive pattern of fiberglass. Doors and cabinets are covered with laminated aluminum. Dinette's upholstery, windows' curtains and interior LED lights add some softness and warmth into this small, but certainly comfortable interior. Two side-windows and door allow for penetration of sunlight, but they are not match for visual effects that can only offer the panoramic rear window (not available in Helio's Ox series).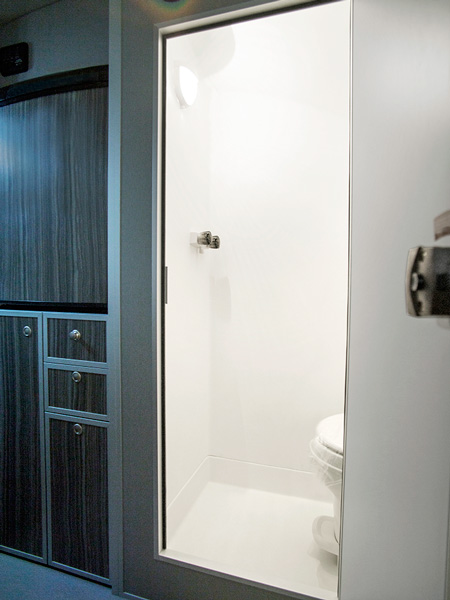 Wet bath is contained in molded-fiberglass cabin
      The reversible, roof mounted MaxxFan has thermostat and is set to automatically turn on, when the interior temperature exceeds 75 degF (you can also turn it on/off manually).
Optional, but frankly very stylish awning matching camper's teardrop shape beautifully extends (or maybe in this case creates) an outdoor living space. The large storage space under dinette's cushions have access from inside and outside so it can be also easily used for carrying necessary camping gear (folding table, chairs etc..). For better outdoor experience Helio also offers an optional BBQ.
Large storage space is accessible from the outside, but also by removing cushions, from the inside of the trailer
    The two rear stabilizers and tongue wheeled jack are adjustable manually, so some effort is needed to level the trailer.  Another manual operation is required by 6 gallons water heater. Accessible from the outside it needs manual ignition (box of matches will help).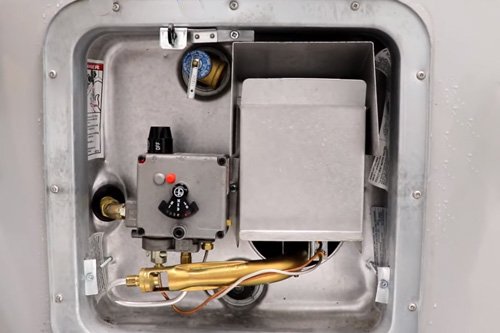 Water heater requires manual ignition!
Specifications
---
Exterior length

Exterior width

Exterior height

Interior height (1)

Dry weight


GVWR

Cargo

Tongue weight

Fresh water tank

Grey water tank

Black water tank

LPG

Sleeps

14'2"

76"

90"

72,5"

1,550 lbs

2,000 lbs

450 lbs

132 lbs

13 gals

10 gals

10 gals

20 lbs

2
---
1. At tallest point (63" over dinette, 65" over counter-top, 68" bath)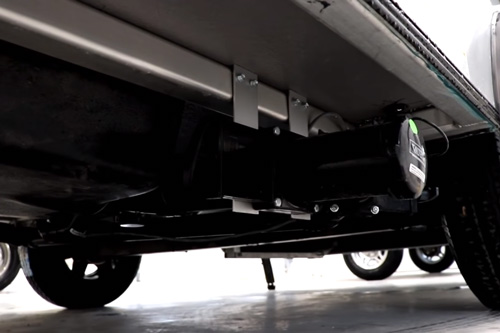 Helio O2 Travel Trailer: Underbelly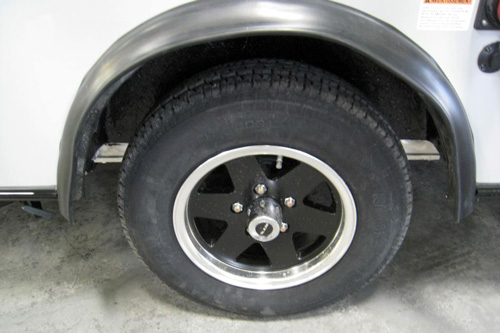 Helio O2 Travel Trailer: Wheel (source: Vostrailers.ca)
Construction:
Frame:  Aluminum
Shell: Monocoque, vacuum-bonded fiberglass sandwich w/EPP insulation
Insulation:  Expanded polypropylene (EPP), Walls R7, rood R10
Floor: ¾" Plywood wrapped in fiberglass
Exterior finish: Gel coat
Suspension: Flexiride independent suspension (Torflex type)
Wheels: 13" alloy w/radial tires
Brakes: Electric 
Coupling ball: 2" (top at 15" above ground level)
Connector: 7-wires
Helio O2 Travel Trailer: Structure of the shell (above) and floor (below)
Source: beckleysrvs.com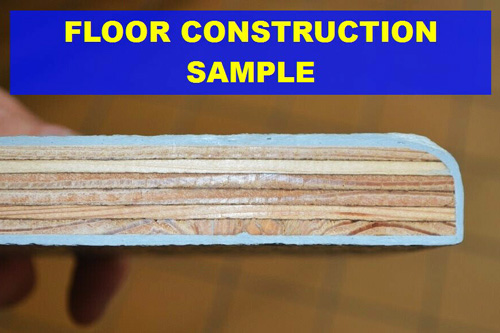 Interior features
Upholstery fabrics (dinette benches)
Window curtains
Padded interior ceiling
LED lights
Decorative fiberglass floor
Doors and cabinets: Honeycomb structure covered with aluminum laminate & capped
Sleeping area
Queen-size bed (74" x 65") (foldable dinette)
2 side-windows with nets and curtains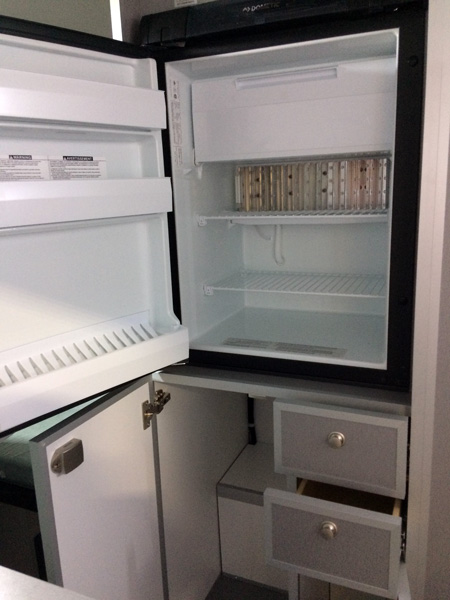 Dometic fridge w/freezer
Microwave
Kitchen/Dining
Dometic 3.3 cu.ft. fridge w/freezer 2-way (110V/LPG)
Dometic 2-burner stainless-steel cooktop w/glass cover
Stainless-steel sink w/ faucet
Microwave oven (0.7 cu.ft)
Kitchen cabinets
U-shaped dinette with sphere-shaped table (convertible to bed)
Water Heater (6 gallons, manual ignition)
Bath (Wet)
Molded-Fiberglass cabin with Shower and Toilet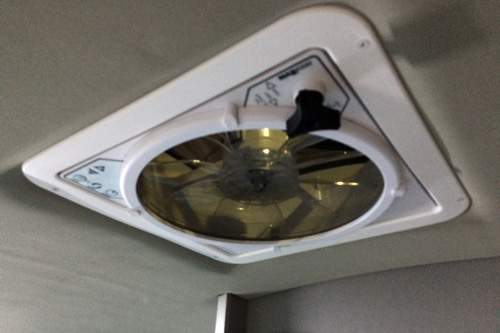 Helio O2 Travel Trailer: MaxxFan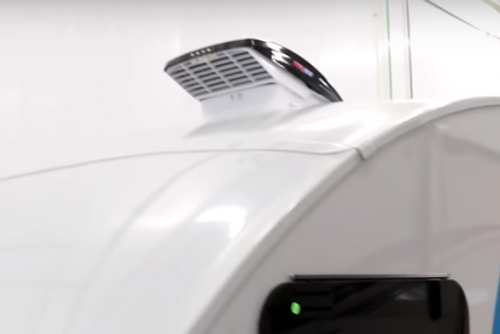 ......   here seen from the outside
Electrical
Control & Monitoring System (water tanks, battery, water pump)
12V MaxxFan w/automatic temperature control
4 interior 110V outlets
2 exterior 110V outlets
1 Charging station (12V & USB)
Porch light
Shore power inlet (30A)
Solar Power inlet (Zamp)
30A Converter
12V water pump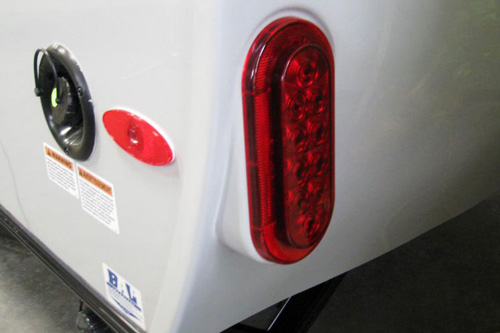 Exterior LED lights are part of the "molded" shell to prevent leaks
Storage
Storage space under the benches w/interior and exterior access
Cabinets throughout
Drawers
Drawers are part of the interior storage space
Exterior Features
Tongue-mounted molded-fiberglass storage for LPG tank and battery
Tinted windows w/screen
Retractable exterior step
Door with screen
2-rear stabilizers
Adjustable tongue jack w/wheel
City water/Fresh water inlets
Storage tube for black-water hose (rear underbelly)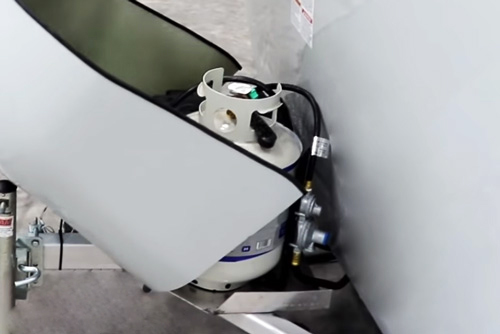 Front molded-fiberglass storage houses LPG bottle and the battery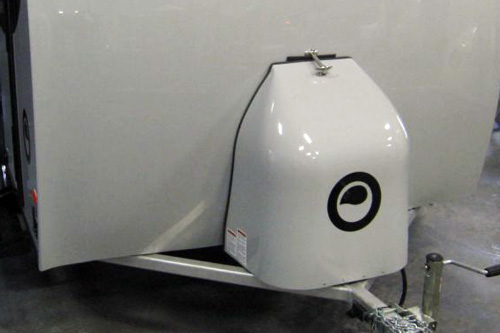 ..... here closed
 Security
Alarm and Monitor System (Propane, carbon monoxide & smoke detectors)
Fire extinguisher
Hitch break
Spare tire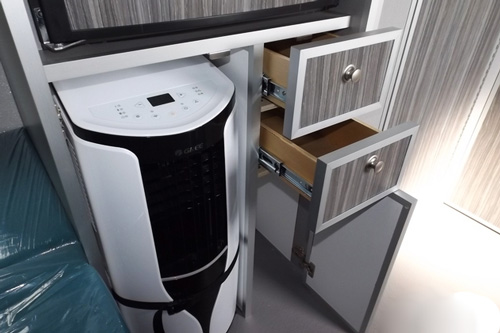 Optional portable A/C unit has its place in the cabinet under the fridge
Options
Visor awning
Portable solar panel (100W)
Portable BBQ
LPG heater
A/C unit 8k BTU
Outdoor shower
Front bike rack
Front stone guard
Helio O2 Travel Trailer: Interior (View from the dinette)

Summarizing: The Canada-made Helio O2 teardrop travel trailer seems to be an interesting solution for memorable RV-journeys for two. The well-thought layout and standard features promises functionality and comfort. The modern aluminum-fiberglass design offers durability but also light weight.  The latter puts it in the towing range of family cars and crossovers.
Note that Helio O2 comes with Canadian (CSA Z240 RV) and US (NFPA 1192) certifications.
Go back to: --> Top Small Campers
Unless otherwise indicated, the pictures are courtesy of Hélio VR (Lavaltrie, Quebec, Canada) 
Note:  Check with the manufacturer and / or authorized RV Dealer for the up-to-date list of features, options as well as latest specifications. These written above may not be accurate and certainly are subject to change by the factory. We are not responsible for any inaccuracy, the above text is provided only for the general information.
This review was written based on publicly available information for the benefits of the community of RV-ers. We do not receive any gratification or financial benefits from RV manufacturers, dealers, and any other promoters of RVs. 
We are NOT involved in sale and/or retail of RVs!