Hi-Lo Lightweight Travel Trailers
There is nothing more convenient than a recreational vehicle that combines both - light weight for towing and comfort for living.....

That is what Hi-Lo Lightweight Travel Trailers are all about; giving you the best of both worlds in the most fashionable way.
Prior to their inception, the Hi-Lo trailers were already huge subjects enough to evoke long curious stares.
Now they are crafted in enviable ultra-light sizes with a "collapse" for towing – to create little wind resistance and great stability.

Why Choose Hi-Lo Light Weight Travel Trailers?

The answer is simple: they are down for better towing and up for spacious living. Hi-Lo Lightweight Travel Trailers for small cars have tops that perfectly fit down over the bottom section creating an abundant stability and little wind resistance to the vehicle. In other words, they are low-profile travel trailers that are manageable in weight and size. Any camper would love the convenience and simplicity that these trailers provide.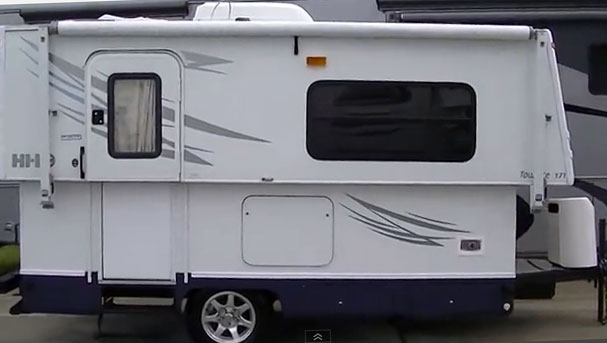 Hi-Lo TowLite 17T - it promises a lot and meets expectations!

Hi-Lo Lightweight Travel Trailers are generally easy to own. They last for many years, they provide excellent comfort, they efficiently save fuel, and they can be towed safely with small cars. Nothing could appeal greatly to holidaymakers than the easiness Hi-Lo Travel Trailers provide.  They are the best recreational vehicles for enjoying nature and relishing outdoors. Put another way, they let you see more "outside the box" by reconnecting you to the outdoors.

In fact, they provide enviable convenience expected only from an upright taller trailer. They also offer ample space, excellent comfort for all four seasons, and store compactly camper's possessions. The attention to detail that is put to the Hi-Lo Lightweight trailers for small cars is remarkable. Their craftsmanship and quality can make anyone go from ho hum to eye-catching in mere seconds.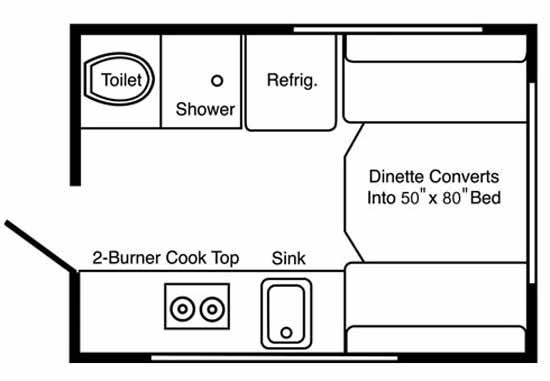 Floorplan of the Hi-Lo 15T Travel Trailer
Source: www.roamingtimes.com

Models of Hi-Lo Light Weight Travel Trailers

Hi-Lo TowLite 15T: If you are a larger self-contained camper that needs great amenities and benefits, then the 15T will gladly accommodate you. This particular trailer model comfortably sleeps two to four people. It is uniquely made with a rear-entry door. The Lightweight 15T model is not only adept for camping, but also accommodating any expectations holiday makers might have. It is just 15 feet long and perfect for small cars.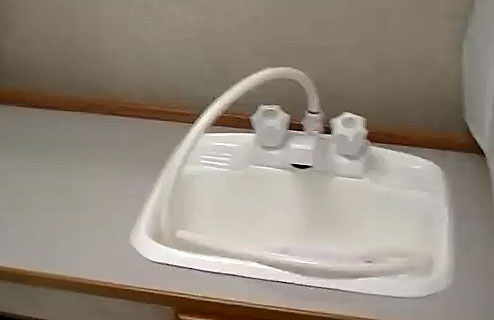 Model TowLite 17T: bath (visible sink with shower but includes also the toilet )......

Hi-Lo TowLite 17T: Want to make great camping memories as a small family? This model can effectively do that with a beautiful fold down bunk and attractive dinette bed. The Hi-Lo Lightweight 17T model boasts an ultra-light weight, front-window and an automatic down feature. This model lifts up to provide comfort of a regular recreational vehicle and takes a low profile when being towed by a small car (think family sedan, SUV or minivan).

---
 About Us / Privacy Policy / Resources
Go to: Pop-up Travel Trailers and RVs

or: Lightweight Travel Trailers