Highland Ridge UT2604BR
2017 Top Lite Travel Trailers
Highland Ridge RV UT2604RB travel trailer is an ultra-lite, higher-end RV; designed for 6 persons, towable by medium-duty tracks and SUVs, offers spacious living and over-sized bath. 

      Highland Ridge RV was formed in 2014 based on the assets of Open Range RV.

      The new company (subsidiary of Jayco), operates its own design and manufacturing facilities combining Open Range RV and Jayco experience and values with new visions and goals. The latter in words of management can be expressed as "more for less" which translates to more spacious RVs, but weighting less and offered at more affordable prices. 
Currently the Highland Ridge RV offers the series of travel trailers, toy haulers and fifth wheels. For this 2017 presentation we selected the model UT2604RB. It is an ultra-lite travel trailer designed specifically for towing by medium-duty pick-up tracks and some SUVs.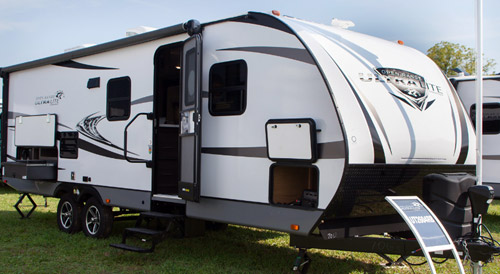 Highland Ridge RV UT2604RB Ultra-Lite travel trailer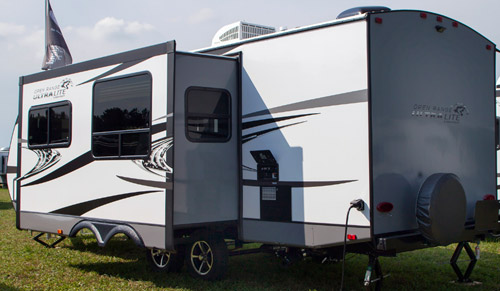 ... and its layout
     Despite its low weight (dry weight in the range of around 5,500 pounds depending on options) it is a large and spacious trailer (box length 26'7" and 250 square feet of space) with single slide-out, rear bath and may residential-like features. 
      While "ultra-lite" competition does not sleep it seems that two of UT2604RB internal features 'exceed" expectations and so are worth of special attention:
The 39" slide-out is deeper than industry standards (24" to 36") making the living/kitchen area more spacious than you can find in most travel trailers. More clearly - what you will find in UT 2604RB is not typical crowded space but the real Living Room comparable to those seen in luxurious RVs.
Another big-win is the bathroom. To be truthful – the rear location is not the best solution in trailers designed to sleep more than family of 2 (+2kids), due to privacy issues (UT2604RB can sleep up to 6). However the real location has great advantage over the side-one next to the Master Bedroom – it's the space. As you can see, the 2604RB's bath extends over the full width of the camper making it not only walk-in, but actually "stay-and-dress-in" one. It also offers enough of room to house full-size mirrored linen cabinets, hanging wardrobe, drawers and countertop. So actually the bath can be also considered as the dressing room that all of us (and especially women) will greatly appreciate due to tons of angled mirrors and large space for let's call it "cosmetics & stuff"….
Bedroom

Bedroom (on the right visible laundry chute)
Sliding doors provide privacy
       The queen-size bed (60" x 80") with storage box comes with mattress and bedspreads. Two bedside hanging wardrobes, large overhead cabinets and two nightstands with drawers seem to provide enough of storage space for typical every-day use cloths and personal stuff. Reading lights will allow you to spend time with your favorite book(s) and magazines while USB charging stations to keep ready phone, iPad and any other "electronics"…
The bedroom is TV-prewired (cable and 120V) so you can also watch movies (I would suggest nice romantic) before the sleep or morning news (if you really want to know what is going on in the world when on vacations). 
Very practical is the laundry chute – it allows you to get rid of dirty stuff straight to the basket in the exterior pass-through storage. 
Note:  Due to the central location of the Entertainment Center (ET), the bed is not truly the walk-around one. Simply speaking, front of the bed is too close to ET's wall (so actually you have to walk around the ET center wall). Despite some inconveniences this design seems to be gaining traction across the industry. Unfortunately, the benefits of such design are not fully exploited by manufacturers. In medium-size RVs designed mainly for single family (with kids) it should be possible to rotate the main TV 180 degrees to face the bedroom.  Well, the UT2604RB needs a 2nd (optional) TV and this is not something that goes together with a spirt of modern eco-friendly design we all talk about. 
Obviously it will not be a good idea for bunkhouse RV where "crowd" may wish to stay in the living room till late night (and watch TV), but for single family (eventually with two small kids) is more than beneficial.
     To finish with the bedroom – the privacy is offered by two solid sliding doors separating the Master Quarters from the living area. Fortunately, the bracket-mounted bedroom TV will not force you to close sliding doors so if the privacy is not an issue you can still enjoy "fresh-air-open-space" when in the bed.
Kitchen
Galley and in the background the entertainment center wall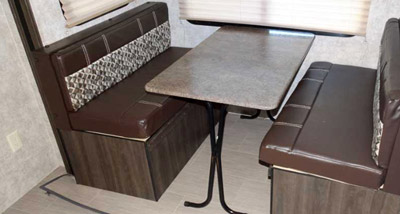 Standard dinette booth with portable table
Optional free-standing table with chairs 
        The kitchen with its stainless-steel appliances and angled countertop nicely fits into the living space. 3-burner range with oven, hood with light and exhaust fan, built-in microwave, large dual-doors fridge and freezer, cabinetry and large pantry seems to offer more than you will need for preparing meals.  LED lights mounted under-the-overhead cabinets and side window offer evening (and day) light.  
It's worth to mention that cabinetry and drawers are made from real plywood (as in high-end RVs). Pressed membrane countertops look like from natural materials and are stain and scratch resistant promising long lasting elegance. 
      Dinette both (42" deep) includes two benches with storage and free-standing portable table. It's a clever solution because you can move the table according to your needs. So for example you may need it in front of the sofa, or even move it outside to take advantage of an exterior pull-out kitchen. 
The large pantry and next to it wardrobe with shelf and hanging rod offers abundance of storage space for dry food and cloths.
If you want to add more residential style, the dinette booth can be replaced by an optional free standing table with four chairs. You will lose ability to sleep 2 more persons, but the gain is very clear:  charming ambiance and style. It will nicely match the standard residential lighting already installed above the dinette. 
Living/Entertainment
Here standard Jackknife sofa and optional dining corner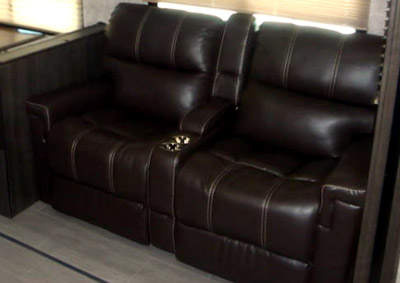 The sofa can be replaced by optional lounge chairs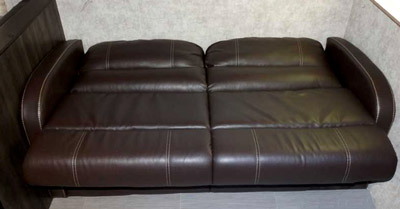 ... or Tri-Fold sofa (here opened)
Entertainment Center
       As mentioned earlier, the living area is spacious so you can actually enjoy staying inside in bad weather conditions. The jackknife sofa (sharing the slide with dinette) will be the place for relaxing or watching TV. But here you have more options to turn the living space into something more familiar. The sofa can be replaced by an elegant Tri-Fold Sofa or even better, two reclining lounge chairs with caps holders (both optional).
      The central Entertainment Center wall houses the large TV and Audio/Stereo system including all you can think of (CD/DVD/AM/FM/MP3/UBS…) and high quality Sound-Bar.  The shelf (with countertop- finish) above the A/V and storage space below will always find use.  Indeed, the bottom part of ET-Center wall can house an optional fireplace (needless to say how much it will bring of real and "emotional" warmness into your "home-away-from-home".
Add to that vaulted ceiling and you will have good picture of the interior ambiance and charm. 
      One more important feature: thanks to flush-floor slide, the living area is not partitioned into distinguishable sections making it feel roomier than it really is. Also, the flooring is entirely made from vinyl (instead of traditional carpet flooring in slides) what greatly helps to keep it clean. 
You will also notice that all heat registers are mounted in bases of cabinets. In other words there are no floor-mounted registers prone to accumulate dirt (and everything else that falls down).
      Well, there is no perfect world, so on the "losing side" we have to mention the daylight. Obviously the curbside kitchen and read bath deprive the living room from large panoramic windows reaching out to the nature. The generous slide's end-wall and side-walls windows as well as kitchen skylight cannot do more than they can, so you have to accept this fact. As the compensation you have large awning-protected outdoor patio (see below) so all you need to get closed contact with the Mother Nature it actually the good weather.
Bathroom
Surprise - you are in the bathroom!
Radius shower cabine
   ... and traditional vanity cabinet with sink
       The rear bath is probably the most residential part of the camper. The radius shower cabin has its own elegance (not mentioning practicality of sliding doors). The traditional vanity with sink, medicine cabinet with mirror door, skylight and porcelain, foot-flushed toilet are standard items. However what makes the difference is the roomy space enhanced by mirrors of large side-wall linen/wardrobe cabinets with drawers and solid surface countertop. It's basically the dressing section of the bath ….

Exterior
      The UT2604BR travel trailers comes with long 19ft power awning. Most RV awnings include the decorative LED strip, but here on top of lighting you will also find integrated exterior speakers. The main goal behind this design was to make sure that music is "contained" in the area of your patio (when awning is opened, the speakers point down). In other words you can enjoy your favorite tunes without forcing the whole campground to "accept" your choices. But there is also the second benefit – and it is the integrity of sidewalls (potential for leaks when speakers are wall-mounted). 

Here it is - an exterior speaker (one of two)
       The external pull-out kitchen offers basics appliances. These are: 2-burner cook-top with cover, sink with faucet and hot/cold water, mini-fridge that can hold more than just cold drinks and storage shelf. The kitchen is made from metal, so it's immune to weather, humidity (in other words no rot, no mildew etc…). But the best is still to come – and it is the optional bumper-mounted grill that can truly bring you not only memory of your backyard but also your favorite steaks! And if you kept the standard dinette booth then the free-standing dinette table can be moved outside.
You probably noticed the white front cap – well, the color is not an option; it's the conscious decision to reflect the sunlight helping this way to keep the bedroom cool.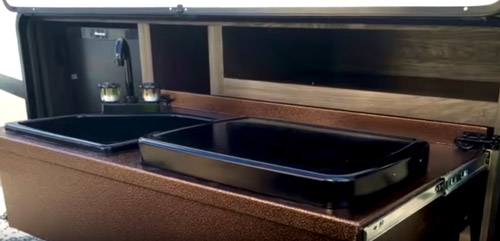 Exterior pull-out kitchen (here the 2-burner cook-top is covered)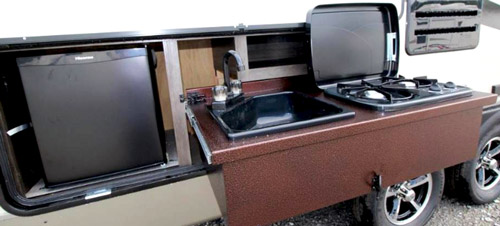 Pull-out kitchen 
Note: The Highland Ridge RV makes use of many advanced materials like aluminum, fiberglass and PCV to offer ultra-lite, eco-friendly and durable RVs. So it is surprising that wood, standard plywood and luan (instead of all-aluminum, Azdel and Ply-lite boards) are still used for construction of body. These traditional construction materials are heavier, prone to rot and offer inferior thermal properties compared to modern-ones.

Specifications
---
Exterior length

Box length

Exterior width

Exterior height

Interior height

Dry weight

Hitch weight

GVWR

Cargo capacity

Fresh water tank

Grey water tank

Black water tank

LPG

Awning

Slide-out

Sleeps

Layout

Interior footage

29'11"

26'7"

97"

131"

?

5,717 lbs (1)

705 lbs

7,400 lbs

1,683 lbs

52 gals

29 gals

29 gals

2 x 30 lbs

19 ft

39"D x 5'10"H

4 (6)

Rear bath

250 sqr.ft
(1) - Depends on features and options
---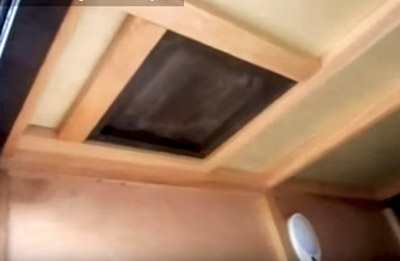 It's pass-through storage, however here you can see wooden structure (the opening shows the laundry chute from the bedroom)
Construction
Chassis: Steel I-beam
Body:   Aluminum, fiberglass, luan, plywood
Side-walls: Lamilux 1000, gel-coated fiberglass
Front Cap:  Fiberglass (white)
Roof: arched vaulted w/5" trusses, plywood and PVC cover
Floor: 24" On Center Joists, double-layer luan
Underbelly: Polypropylene (enclosed, heated)
Insulation: Roof (R-14 batten), Walls (R-5 block foam), Slide-out walls (R-9 block-foam), Floor (R-9 block foam)
Axles:  Twin , Equa-Flex suspension w/electric drum brakes
Wheels: Aluminum rims w/nitro-filled R15 tires
Flooring:  Linoleum (no carpet)
Slide-out: True Flush Floor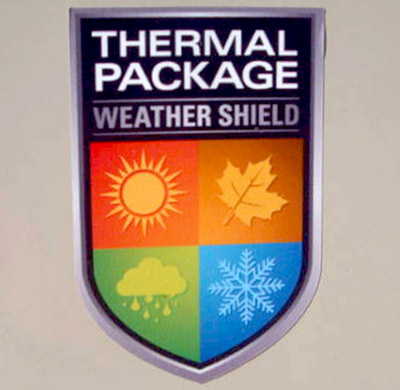 Graphical presentation of the meaning of "Thermal Package"
Mandatory Packages: 
Ultra Package
Customer Convenience Package
Thermal Package (R-38 reflective insulation roof, main floor and slide-out floor; 4" heat duct to enclosed underbelly)
      Although some dealers may price the UT2604 w/o these packages, they are mandatory so we consider all their elements as standard features. In practice you may see either the total cost for the trailer (low 30k$) or cost of its basic version (mid 20's k$) plus packages (few k$). Regarding your pocket – it does not change much. 
Interior Features
Walk-in slide-out (height 5'10", depth 39") w/flush-floor
Pleated Night Shades
LED lighting throughout
Linoleum flooring throughout
Sold-surface countertops (pressed membrane)
Stainless-steel appliances
Interior wallpaper w/wood finish
Real-plywood cabinetry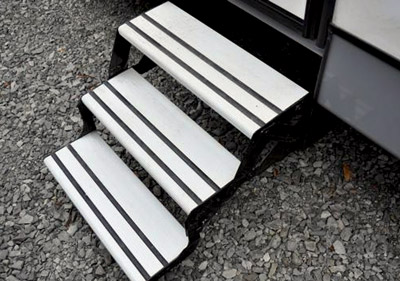 "Tread-Lite" Aluminum entry steps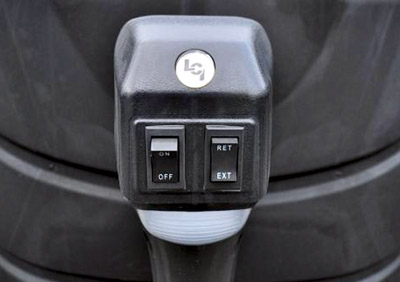 Power tongue-jack
Exterior Features
19" Solera Power Awning w/LED Light and Integrated Speakers   
Pass-Thru Storage   (32 cubic feet)
LP Quick Connect 
Aluminum entry steps (3)
Power tongue jack
4 Manual front/rear stabilizing jacks
Entrance door w/friction-hinges
Exterior pull-out kitchen (2-burner cook-top w/cover, sink w/faucet, mini-fridge, storage shelf)
TV antenna
GFCI receptacle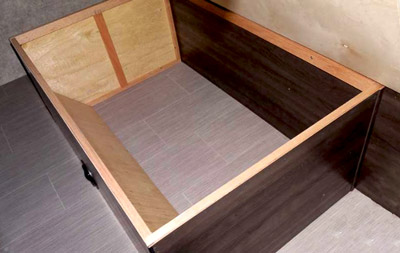 Under-the-bed storage
Bedroom
Queen-size bed w/storage
Mattress
Bedspreads
Two bedside wardrobes w/hanging rods)
Two nightstands w/drawers
Overhead cabinets
Reading lights
Dual sliding privacy doors 
TV hook-ups (power, cable)
24" TV (optional)
Vinyl flooring
Laundry chute
Window shades and valances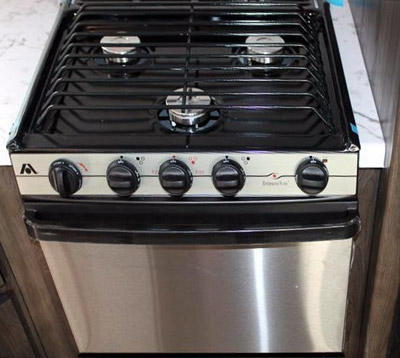 Stainless-steel range with oven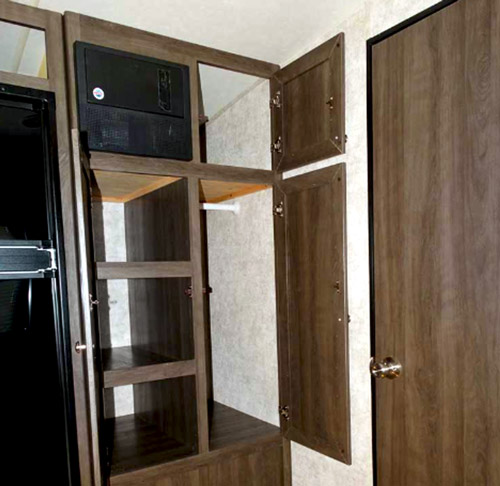 Next to the fridge pantry and wardrobe
Kitchen sink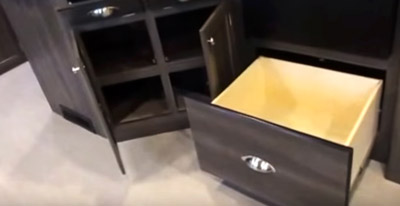 Under the sink cabinet and under the oven drawer
Kitchen
3-burner range w/oven
Hood w/light and exhaust vent
6.3 cu.ft 2-way Northwood Refrigerator and Freezer
Microwave (0.9 cu. ft)
Stainless-steel dual-bowls (60/40) sink w/high-rise faucet
Cabinetry w/drawers, storage space…)
LED lights (under overhead cabinets)
Large pantry/wardrobe
Dinette booth with benches w/storage (free standing table w/4 chairs IPO)
Portable dinette table (int/ext)
Skylight
Bathroom
Radius shower cabin w/sliding glass doors
Porcelain, feet-flushed toilet
Vanity cabinet w/sink
Medicine cabinet w/mirror door
Large mirrored linen cabinets and hanging wardrobe w/drawers 
MaxAir fan (optional)
Skylight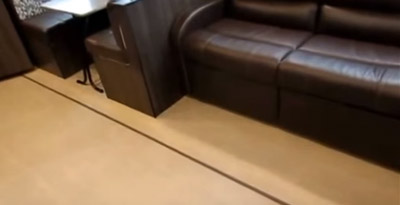 Flush-floor slide design and all-vinyl flooring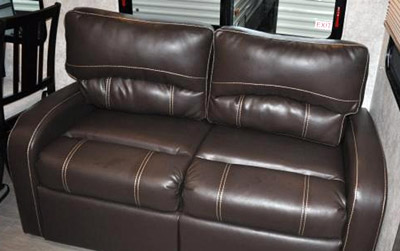 Optional Tri-Fold sofa
Living Room
Jackknife Sofa (optional Tri-fold sofa or two recliners IPO)
Slider windows in slide0out End Walls  
Residential dinette light 
Vinyl flooring (no carpet)
Overhead cabinets
Wardrobe (shared w/pantry)
Flush-floor slide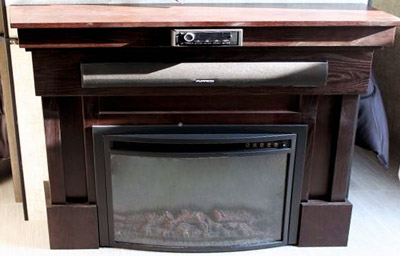 Optional fireplace is housed in the bottom part of the Entertainment Center wall
Entertainment
39" LED TV (Furrion)
Furrion DV5700  Audio/Video system (CD/DVD/AM/FM/MP3/USB)
Sound-bar
Exterior speakers (integrated in awning)
TV antenna
Cable/Satellite prep 
Electrical
Back-up camera prep
Residential lights (dinette, bath…)
Battery power converter
30A shore service
USB charging stations 
GFCI receptacles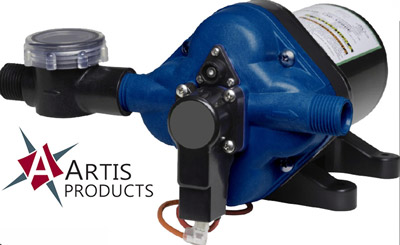 Water pump with filter
Water/Plumbing
18 Gph Gas/elect water heater (Atwood)
Water pump w/filter & strainer
City/Fresh water hook-ups
Black Tank flush
Exterior shower
Dump valves (enclosed, heated)
Climate
Dometic© Brisk II 13.5k BTU A/C Unit w/"Quick Cool" Feature (Main A/C)   (15k BTU optional)
Ducted A/C system
30k BTU Atwood high performance furnace
Ducted heating
Fireplace w/Mantel (optional)
Kitchen vent (MaxAir FanMate)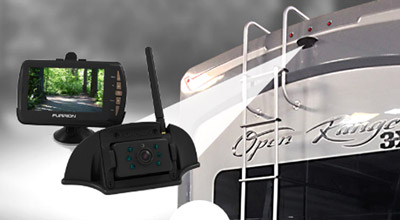 Backup camera
Safety
Spare Tire w/carrier and cover (rear-mounted)
Furrion back-up camera (option)
GFCI receptacle
Alarms/Detectors (smoke, CO, LP)
Electric drum brakes
Options
BBQ Grill w/Bracket 
15k BTU Dometic A/C unit
Fireplace w/Mantel 
Furrion back-up camera
Rear ladder
MAxAir fans
24" TV (bedroom)
Free standing table w/4 chairs (IPO dinette booth)
Theater Seats (IPO sofa)    
Tri-Fold Sofa (IPO regular Jackknife sofa)   
Bike rack (tongue-mounted)
Power front/rear jack stabilizers
Summarizing: The Highland Ridge RV UT2604RB travel trailer is an ultra-lite camper designed for up to 6 persons and towable by medium-duty tracks and SUVs. It provides residential-like comfort for family of 2 (+2 kids) offering very spacious living area, and oversized bath/dressing room. Large awning and an exterior pull-out kitchen extends the anyhow generous interior living/kitchen space to the nature…..
Please note that the Open Range Ultra Lite UT2604RB was awarded RV Pro Best in Show 2016
Short tour of the UT 2604RB travel trailer
Go back to: --> 2017 Top Ultra-lite Travel Trailers
Note:  Check with the manufacturer and / or authorized RV Dealer for the up-to-date list of features, options as well as latest specifications. These written above may not be accurate and certainly are subject to change by the factory. We are not responsible for any inaccuracy, the above text is provided only for the general information.
This review was written based on publicly available information for the benefits of the community of RV-ers. We do not receive any gratification or financial benefits from RV manufacturers, dealers, and any other promoters of RVs. 
We are NOT involved in sale and/or retail of RVs!