Homemade Camper
Some ideas and tips about how to make your own homemade camper

Camper trailers make traveling much easier, and they are suitable both for longer travels and shorter camping weekends.
While there are plenty of campers to choose from, often they are quite expensive.
Many people all around the world start building their own campers, and afterwards traveling to their favorite places.
You can also make your own travel trailer if you are handy and you like such activities.
Building your own camper is not so difficult. It also has many benefits, because when you make your own homemade camper you can make it look just like you want it, as big as you need it and add facilities and amenities that you really need. Personalized campers offer the best camping experience.
What materials can you use?
Regardless of the type of camper you would like to build, there are certain materials that are perfect for building a camper. If you have leftover materials from construction, you can save a lot of money by using it to build a small trailer. Here are some materials that can be used for this purpose:
-Hardwood
-Plywood
-Fiberglass
-Plastic
-Vynil
-Aluminum
What type of campers can be home made?
-Homemade teardrop campers
Teardrop campers are great because they are lightweight. If you want a camper that can be easily towed even by a motorbike, you should make a teardrop camper.
You can cut out the side walls of the teardrop camper using any of the materials listed above. For the shape of the teardrop camper you can study some models of teardrops such as the Little Guy teardrop campers, and than design your own, making it smaller or bigger depending on your needs.
Ideally you should use something that is lightweight, such as plywood or aluminum, which are also durable materials. Teardrop campers are also often without a window, which makes the building process easier.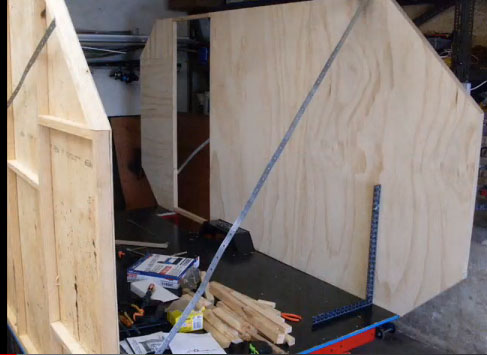 -Homemade travel trailers
Travel trailers are a bit more complicated to make than teardrop trailers, mostly because they require windows and they are also usually bigger. You will need a trailer frame before you start assembling the trailer. Plywood sidewalls and fiberglass rooftop are perfect for such a trailer. Most of the times homemade travel trailers also have a grey water tank that is built inside the trailer, placed under the floor in the frame, and they are wired for kitchen appliances and light.
-Homemade pop up camper trailers
Pop up campers are the most versatile and easy to use low budget campers. You can build a camper with a pop up roof to make it easier to tow and spacious inside. There are more systems that you can use for this purpose, and you will need good quality waterproof canvas. Pop up systems can be purchased separately, but many people who make homemade pop up camper trailers come up with their own system.
-Homemade camper by van conversion
Almost any van can be converted into a comfortable living space and travel-home. You only have to take some time to make sure you can use the space efficiently, and you can easily fit into a van a big bed, stove, fridge, portable toilet, cabinets, folding tables and more. Many people believe that converting a van into a trailer is the easiest way of having a home made camper. It is not only quite simple to make one, but it is also cheap, especially if you decide to convert an old van.
Visitor's Story:
If you are thinking about making a homemade camper, there are some important things to remember.
The size of your trailer and the amount of room that you need should be considered when planning the project.
Before you start your building project, get some needed materials to start the camper rolling.
The first thing you need is the trailer. Find a trailer that meets the requirements for your length and weight.
The next step will be to buy some wood. You will need lumber in sizes of 2"x2", 1"x2", 1"x3", 1"x4", 1"x6" and 1"x12" and so many feet of each size. Next onto your plywood in sizes of 5/8"x4'x8', 3/8"x4'x8', 3/16"x4'x8' and 1/8"x4'x8' and so many sheets for every size. These sizes are for an Acapulco or Bayou camper.
The next things you need to buy are the electrical and plumbing supplies. You will need 12-volt fixtures for the interior and exterior, 110-volt fixtures and a battery charger. The plumbing includes sink, water tank, holding tank, faucets, toilet and an electrical pump. You also need axles and steel to complete your project.
Homemade Camper Video
If you build a camper you can make it look anyway you want it to look, you may like the way a 1987 or a 1988 camper looks and want to build your camper to these specifications, either way, you are going to need the supplies. Once you start the work, you can add things along the way.
Once you have the homemade camper complete you can travel to Massachusetts or Michigan and see all the sights you have missed out on all this time. Once you tell people all the work you did to get this far, they will surely want to see the entire camper to see how you did this project and how many hours it took you to do it.