Hybrid Pop-up Campers
Hybrid pop-up campers combine the best of few worlds – experience of camping under the sky in the comfort of camper, large living space in an easy to tow lightweight trailer....

Camping is increasing in popularity.
As outdoor lifestyle becomes more ingrained in society, more and more people have begun spending time in nature.
This has led to a new wave in camping equipment, especially in the RV industry.
One of these new innovations hails from an older era, the age of the pop-up camper.
Pop-up campers have long been the go-to for camper enthusiasts who are short on space.
But, in the past few years campers have gotten bigger and bigger - until the hybrid pop-up camper.
    The hybrid pop-up camper combines the hard body of a typical camper with the pop-out aspect for the beds. The beds are covered with canvass and slide out from the main body of the camper. While this may seem like a basic concept, the hybrid pop-up camper trailers have several benefits. These benefits include, but aren't limited to: extra space, lower tow weight, and ease of set up.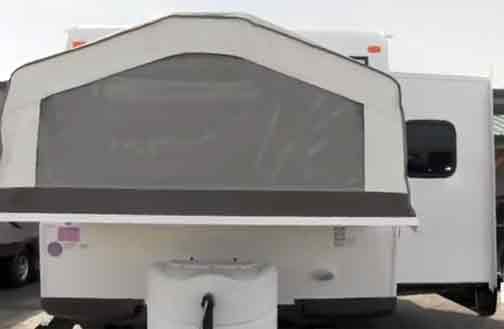 Rockwood Roo Hybrid Travel Trailer has bedrooms from canvas but also luxury of large living space with slide-out

    Hybrid campers have quite a bit more space than typical trailers. Because the beds aren't in the actual camper, when they slide out, they leave a much more spacious area in the trailer. This leaves an abundance of space for storage, cooking, and socializing. This extra space is extremely beneficial when it comes to storage. When packing for camping trips, it can be easy to get carried away with what to bring. Once all the food, clothes, and equipment is packed, it's hard to move around the camper. But, hybrids eliminate this problem, with their built in storage adding to the space having slide-out beds permits.

Jayco Jay-Feather Hybrid Camper

      Because hybrid campers don't have all the heavy bases and mattresses that regular trailers do, they are also much lighter than the typical camper. Beds in hybrids are set on a simple sliding system. The mattress is supported by a thick piece of wood or metal that is then supported by poles on the outside of the trailer. The lightness of this equipment is what keeps hybrids so light. While additional features can increase the weight, they still typically come out with lower GVWRs than camper trailers. This also gives the owners the ability to be more adventurous, going places that heavier campers wouldn't be able.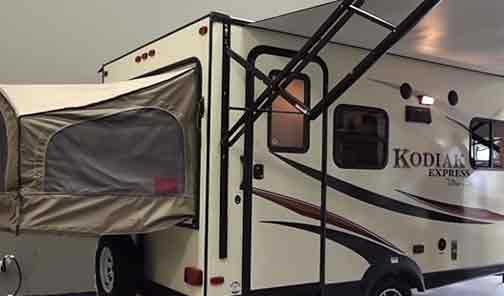 Dutchmen Kodiak Express Hybrid Camper

       Finally, hybrid campers are extremely easy to set up, especially when compared to tents. The only thing that really needs to be set up is the bed area. This is done with a simple sliding system, which then is supported on the outside. While two people are ideal for this job, it can be done by one. And, since the main body of the trailer is hard sided, there's no need to do the bending and crouching that other pop-ups require. This especially comes in handy when packing and unpacking.

      There are several models of hybrid pop-ups. While each one has its strengths, there are a few favorites. SylvanSport has a line that focuses on extra space for supplies, like bikes, kayaks, and fishing gear. The Rockwood's Roo hybrid has a beautiful interior, with real wood and double sinks in the kitchen. And the Bantam has a gorgeous, large interior, with spacious beds. All the hybrids by Rockwood, Jayco, Dutchmen and Aerolite come with amazing extras, like recessed lighting, DVD players, and electric jacks.

 About Us / Privacy Policy / Resources
Go to:  Pop-up Travel Trailers and RVs