145RB Jay Flight SLX
Small Travel Trailer
Jayco 145RB trailer with its 16'6" external length is the smallest from the series of Flight SLX campers including 14 different models; despite its small size it offers comfort available in larger campers …..
      Jayco, Inc. is a well-known brand name in the RV Industry. 
Founded in 1968 by Lloyd Bontrager after almost 60 years of successful operation, it is US largest family-owned RV manufacturer (no wonder as it combines widely recognized Amish craftsmanship with nowadays innovative technology.
Interestingly, in Jayco's impressive portfolio of pop-up and travel trailers, fifth wheels, toy haulers and class A and C motorhomes including also high-end luxurious models there is also room for small travel trailers.
One of them is the Jay Flight SLX 145RB camper. With its 16'6" external length it is the smallest from the series of trailers including 14 floor-plans.
Despite its small dimensions it is designed to provide as much of comfort as possible matching in this aspect many larger campers. 
Jayco's Jay Flight SLXtravel trailer - Model 145RB
     The well-equipped kitchen with 2-burner gas stove, 3 cubic ft. refrigerator, sink, microwave and hood as well as cabinetry and working space offer nice environment for preparation of even more "serious" meals. The front-end dinette provides genuine space for more than just breakfasts or a morning cup of coffee. For a night it converts to the large, queen-size bed for two persons, for a day it can be moved outside.
However even in such case, the sofa located on the opposite to galley (if not used as an "extra" sleeping place) serves as a comfortable seating space. The private bath with a wet toilet, shower with tub and skylight is what most campers will be looking for (forget the times of portable Porta-Potti – which until recently was the most common option for small campers). Similarly, the shower with the curtain – all besides the "closed door" of the bathroom at the back side of the camper brings new dimensions to the world of small travel trailers.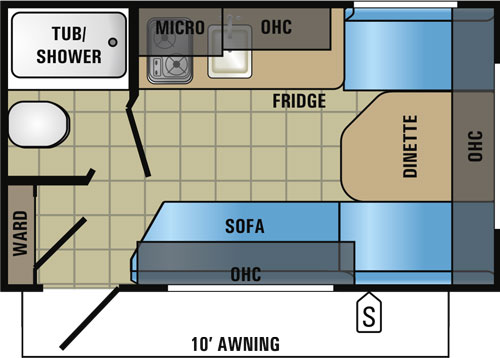 Jayco's 145RB Travel Trailer - floorplan
Abundance of overhead cabinets, large (almost-"walk-in"-type) wardrobe next to the entrance door at the back and accessible from outside large storage space under the sofa offer a lot of space for "stuff" (whatever it means).
Out of two options for AC: side-wall 8,000 BTU and roof-mounted 13,500 BTU, the latter offers by far much better performance at the price of "extra" external height. The 10ft long power awning friendly extends the living space allowing for "direct contact" with the nature thanks to the portable dinette…..
     The weak spots (well, there are always some) – are relatively small size of water tanks, somehow not-compatible with the needs of private bath w/toilet and shower (the Baja Edition representing models built in Idaho has 20 gallons fresh water tank).
Specifications:
Exterior length

Exterior width

Exterior height

Interior height

Dry weight

GVWR

Cargo capacity

Fresh water tank

Grey water tank

Black water tank

Water-heater

LPG tank

Sleeps

16'6"

85"

9'3" (w/roof AC)

6'1"

2,330 lbs

2,995 lbs

665 lbs

10 gals (20 gals Baja Edition)

15 gals

9 gals

6 gals

20 lbs (30 lbs Baja Edition)

2 (3)
Construction:
3-inch, cambered steel box tube frame
Fully integrated A-frame
Body material – wood
Sidewalls - aluminum
Unclosed underbelly (Baja Edition)
Front Diamond Plate 
Black diamond-plate sidewall skirt (Baja Edition)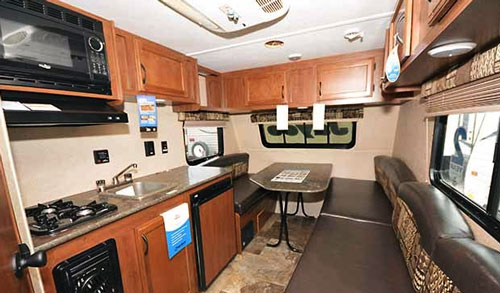 Jayco's 145RB trailer - interior seen from the rear-end
External Features
Double Step
Outside access storage (under the sofa)
10-foot Power awning (mandatory Customer Value Package)
2 (4 in Baja Editions) Stabilizer Jacks w/sand pads 
15" wheels for higher off-ground distance (Baja Editions)
Electric brakes
30 amps external service outlet
City water hook-up
Safety glass windows
Front window with rock-guard
Exterior speakers
Spare-tire w/cover (mounted at the back)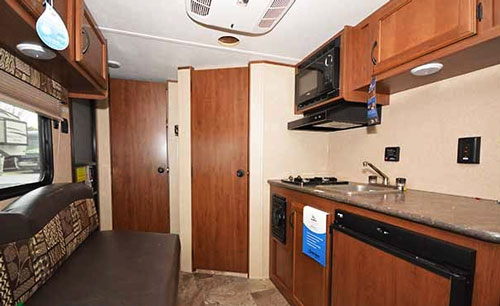 Jayco 145RB trailer: interior seen from the front-end (on the right door leasing to the bath)
Internal Features:
Kitchen:
2-burner stove
2-way (el/gas), 3 cu.ft refrigerator
Microwave
Acrylic Sink
Hood Vent
Large work space (countertop)
Dinette (converts to bed)
Toilet:
Wet Toilet w/foot-flush
Shower w/curtain
Wood-trimmed mirror
Bathroom Skylight
Other:
Overhead cabinetry throughout the camper (screwed & glued)
Maple-wood  doors
Sofa
Wardrobe-closet
Under-bed storage
6 gallons gas water heater
Water-heater bypass
Monitoring panel (fresh, grey and black water tanks, water pump, voltage…)
Battery power converter (45 amps)
Prewiring (AC, Heat, TV antenna)
Detectors (smoke, propane, carbon-monoxide)
Vinyl flooring
20 lbs LPG bottle (30 lbs for Baja Edition)
10 gallons water tank (20 for Baja Edition)
High efficiency Atwood furnace
Multimedia sound system (MP3/iPod/Bluetooth)
Options:
8,500 BTU sidewall-mounted AC
13,500 BTU roof-mounted AC
Presentation of the Jay Flight SLX travel trailer - model 145RB 
And this is may be the best testimony to Jayco's family-owned and operated RV business:  
"Jayco started with a dream. Lloyd, my late husband, and I had a dream that was based on our love of God and family and aimed at owning a business that would provide wholesome recreation for families to enjoy together. In 1968, in a barn on a country road, our dream became a reality."  
- Bertha Bontrager-Rhodes
---