Jayco Hummingbird 17RB 2018 Ultra-Lite RVs 
Jayco 2018 model of 17RB Hummingbird travel trailer is an ultra-lite, cleverly designed (given its size) camper with abundance of features for best possible living comfort...

        The series of Hummingbird travel trailers represents the latest of Jayco's ultra-lite, medium size RVs. For 2018, they come with six different floor-plans correspondingly 16FD, 16MRB, 17BH, 17FD, 17RB and 17RK. 
Lengthwise, Hummingbird 17xx models (as their name suggests) belong to the class of small medium-size travel trailers. The truth is that with the box length of 17'2" they are rather "overgrown hummingbirds" ("on Viagra" if you wish), however thanks to their ultra-lite weight and almost unprecedented for such small RVs set of features, amenities and level of comfort they seem to deserve their name.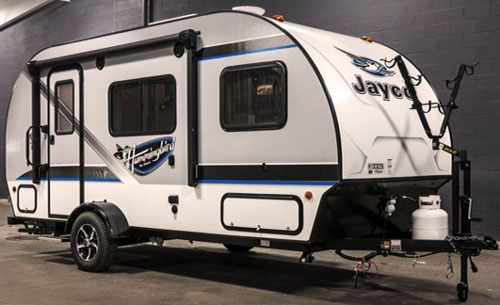 Jayco Hummingbird travel trailer: Model 17RB for 2018
(below with an open slide-out)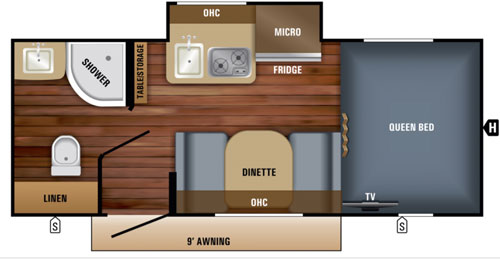 ... and its floor-plan
The 2018 series of 17xx Jayco's Hummingbirds includes: 
17MRB - It is the smallest model in 17xx series, designed for 2 persons (it's the only 17xx model without the slide-out section). To make it roomy and comfortable, the traditional bed was replaced by the Murthy structure so there was enough of space for full-size walk-in bath (note that the 17MRB represents the newest floor-plan not available in earlier versions of Hummingbirds).
17RB is designed for 3 persons (2+1 child) and similarly to 17MRB offers "precious" large, full size walk-in bath. 
17FD and 17RH can sleep 3-4 persons while 17BH 4 persons but it's all made possible at the "cost" of substantially "reduced-in-size" and frankly very tiny bath. 
17RB: interior with the view on the sleeping space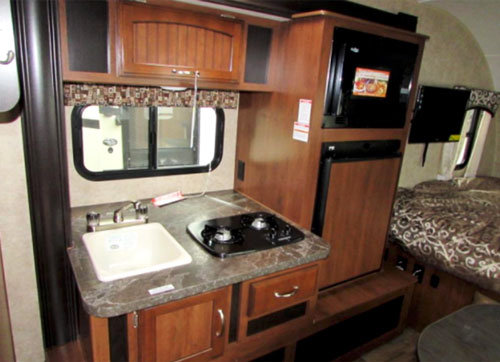 17RB: Galley
        For this presentation we selected the model 17RB as it seems to have the most favorable layout. It offers queen-size bed at the front of the camper, central galley located in the slide-out with a dinette on the opposite sidewall and by all accounts very large full bath at the rear end.  It can sleep 3 persons (one on the converted into bed dinette), but for the best comfort and travel experience it is suggested for 2 persons. 

The bed with Jayco's exclusive Simmons mattress, bedspreads and two pillows makes an "always-available" corner not only to sleep, but also to relax, read or watch TV… 
        The galley is fully housed in the street-side slide out. It is small, but well equipped for the needs of 2+1 crew. The 2-burner cooktop and sink take almost all counter-top space, so basically for any "more complex" food preparations you will have to use the dinette's table (just on the opposite side of the galley). Good news, you can comfortably sit during these "kitchen activities". Galley offers decent amount of storage space in elegant wood-trimmed cabinets. The largest one (on the right to the cooktop) houses built-in fried w/freezer and microwave. But this arrangement still leaves an ample amount of storage space in overhead and under-sink/cooktop cabinetry. Another important detail – despite space limitations, the galley has its own window offering the natural light as well as "visual contact" with the surrounding nature.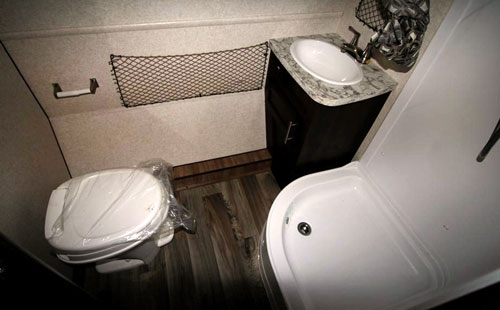 Spacious full-bath is the strong point of the 17RB design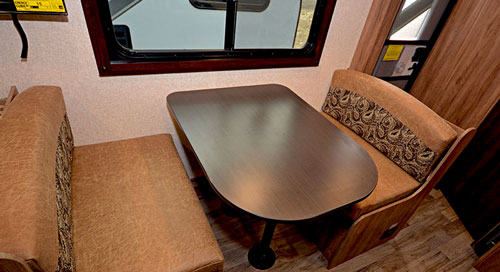 Dinette serves not only as a "dining quarter", but also as a work-space and for leisure time.... 
        The rear bath is a very nice surprise compared to usually tight, highly "claustrophobic" boxes typical for middle sized campers. Corner shower with vinyl curtain, vanity cabinet with sink, flush-toilet and larger cabinet w/mirror doors for towels and toiletry seems to be a sort of an oasis, where you actually can feel-like spending necessary time. Two "Net-pockets" on the walls offer an extra storage for whatever you may need in the bath.

On the slightly critical note – the mirror (possibly with the medicine cabinet) above the vanity in the bath will be certainly appreciated. Similarly, single-lever faucet (kitchen and bath sinks) will be more practical than currently used separate handles for cold and hot water.

        The large folding picnic table (2 x 4 feet) is part of the standard features. It is cleverly stored inside of the camper in the narrow vertical slot in front of the bathroom wall. Hidden from the sight it does not spoil otherwise elegant interior wall-paper finish with omnipresent wood-trimming. 
The standard power awning, with its 9 feet width and "intelligent" LED lighting is an open (and I guess welcomed) invitation to expand the living/dining area to the protected outdoors.
The relatively large exterior storage compartment will certainly help to carry all needed camping gear and offer an easy access to it. Note that 17RB Hummingbird is equipped with a quick-propane connect/disconnect so an exterior grill is an easy and obvious choice. The exterior pre-wiring for TV allows you to watch your favorite programs in an open space. It will be your choice, although I would suggest to make the best of it by focusing on the Mother Nature instead of more rather than less "fake and soap-like programs" (but this is my "unsolicited" personal opinion).
Moving to the outdoor activities - the tongue can be optionally equipped with the rack for 2 bikes. And bikes open tons of new opportunities to taste and feel the nature.
Tongue-mounted bike rack (for two) greatly adds to the RV-in experience
          The shells of hummingbird travel trailers are made from combination of aluminum and fiberglass. Jayco for its RVs exclusively makes use of "very high-pressure" lamination process (so-called Tuff-Shell). Although not explicitly disclosed by Jayco, most likely the shell structure is a sandwich of luan (lite, south-Asian plywood panels) rather than composite Azdel, that is why the robust lamination process is of highest importance. According to company claims Tuff-Shell process should result in significantly longer lasting lamination and so protection from water leaks and degradation. The "higher-risk" areas like exterior front and rear walls are additionally protected by an elegant black Dimond Plating.
The sidewalls, roof and floor have quite modest thermal properties equivalent to R5 (walls) R7 (floor) and R8 (roof). It's not much but together with standard 18k BTU furnace and optional 13.5k BTU roof-mounted A/C unit it will be sufficient for extend season RV-ing. As the matter of fact both appliances (furnace and A/C) are over-specified so they should be able to quite quickly gain control of the internal temperature as well as serve well in extreme weather conditions. It's not the ECO-type (green) solution due to energy needs, but certainly will answer the needs of RV-ers.
Jayco also offers an optional cold-weather protection: enclosed underbelly with Astro-Foil insulation. Let's be clear however – it will greatly help to survive unexpected drop of temperatures below the freezing point, it is not changing the reality. Hummingbird travel trailers with their relatively poor thermal insulation and limited energy resources are not All-Seasons campers.
As a sign of Eco-design, all Hummingbird travel trailers are pre-wired for solar energy. While the ultimate solution should consist of "integrated" roof-mounted solar panels, the current solution allows for portable panels. But it is a good step towards the more and more sought by the community of RV-ers green-design.
To see technical specs, construction details, pictures as well as standard and optional features, please -->  Next
Note:  Check with the manufacturer and / or authorized RV Dealer for the up-to-date list of features, options as well as latest specifications. These written above may not be accurate and certainly are subject to change by the factory. We are not responsible for any inaccuracy, the above text is provided only for the general information.
This review was written based on publicly available information for the benefits of the community of RV-ers. We do not receive any gratification or financial benefits from RV manufacturers, dealers, and any other promoters of RVs. 
We are NOT involved in sale and/or retail of RVs!
---