Jay Feather Micro 12SRK Small Travel Trailers
Jay Feather Micro 12SRK ultralight travel trailer with off-road and off-grid capability represents a low-cost solution for nature lovers. 
         For 2021, Jayco is rolling out a new series of travel trailers under the self-describing name Jay Feather Micro. This new ultralight series represents a substantial improvement compared to well-known Jayco's Hummingbirds. It includes 5 models with lengths ranging from 13'4" (model 12SRK to 23'2" (Model 199MBS) and dry weights correspondingly from 1,585 lbs to 4,660 lbs. All four largest models 166FBS, 171BH, 173MRB, and 199MBS address the very crowded market of small travel trailers. 

Jayco Jay Feather Micro - Model 12SRK
They offer a range of sleeping spaces from a family of 2+2 to up to 7-8 people (199MBS w/double-bunk and Murphy bed). All of them are equipped with interior baths (shower, & toilet), and 55 gallons of freshwater tanks and target more demanding adventurers. The exception is the smallest and lightest model– the 12SRK. It targets the specific group of RV-ers, (solo or young couples) enjoying all-day outdoor activities like biking, hiking, canoeing, beachgoers. In other words - all those adventurers that by conviction keep away from luxurious RV resorts, trying rather to enjoy the beauty of an unspoiled Mother Nature…. 

Jayco Jay Feather Micro - Model 166FBS

Jayco Jay Feather Micro - Model 171BH

Jayco Jay Feather Micro - Model 173MRB

Jayco Jay Feather Micro - Model 199MBS

For them, the travel trailer must meet just a few very specific requirements:
provide the safe, weather-protected space for sleeping and cooking (let's call it a sort of major upgrade from backpacking w/tent),
rugged off-road design w/short-term off-grid capability,
towable by small (2,000lbs-tow) off-road vehicles (class of Jeep-Wrangler, or similar size SUVs)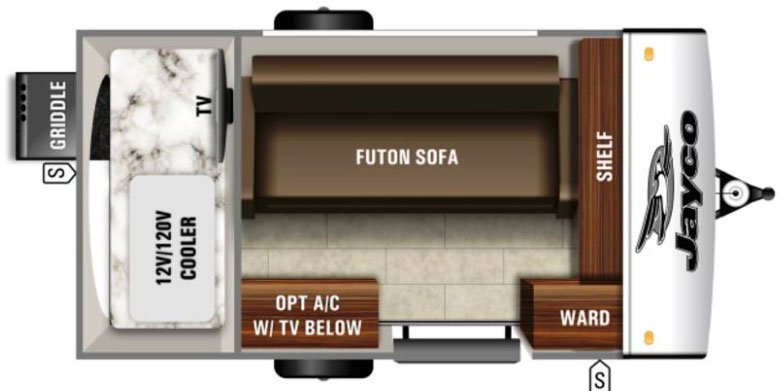 Model 12SRK: Floor-plan

Well, the Jay Feather Micro 12SRK with its overall length of 13'4" and dry weight of only 1,585 lbs creates such opportunities.  
           The trailer's aerodynamic, rounded, front profile contrasts with its sharply cut rear-end, housing the outdoor kitchen. The interior was designed mainly as a sleeping space, so it's almost entirely occupied by a retractable futon sofa. The small wardrobe, two shelves, and a cupboard offer some storage space for personal stuff. We can't say it's a living space, but certainly a place for a comfortable night. Otherwise, it's rather a "survival space" when you are caught in bad weather. The standard, roof-mounted power vent and the window (street-side) are all you have in place to provide fresh air. An optional, wall-mounted 8 kBTU A/C unit can help to fight the heat, although for that to happen, you must have access to the grid!
      Interior makes a perfect place for carrying typical camping gear (folding table, chairs, etc…) and even bikes (although Jayco offers an optional roof-mounted bike carrier for that purpose). 
Two external compartments complete the protected storage space, while an optional roof-mounted rack allows for carrying larger items like a canoe, kayaks…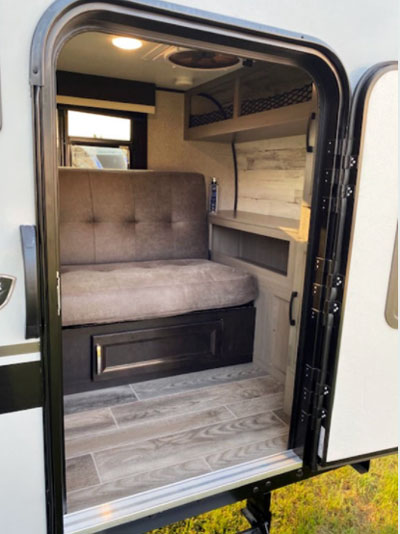 12SRK: Interior
           The outdoor kitchen is located at the rear-end of the trailer. It is protected from weather elements by an upward-opening rear hatch. It offers working space, a removable (sliding-out) 17" Blackstone griddle, and a removable 12Vdc/120Vac Dometic Cooler.  Overhead cupboards, shelf, and wall-mounted storage pockets offer precious although quite limited space for kitchen stuff.
           The Blackstone griddle is a novelty compared to traditional cooktops with open-flame burners. The 2.500 BTUs from the H-shaped burner quickly and pretty-much evenly spreads the heat over the rolled carbon-steel griddle top. The patented "rear grease management system" helps the cleaning process. Note that it is a portable, tabletop design with adjustable-height rubber feet for stability (can be easily removed from the rear kitchen).
Not surprisingly, as the 12SRK was designed for outdoor lovers, the entertainment system consisting of a 32" 12V TV screen with AM/FM/Stereo, in its basic arrangement is housed on the wall of the outdoor kitchen. It's your "under-the sky" version of a drive-in movie theater (rear hatch umbrella makes it possible even in unfriendly weather). But Jayco's design offers full portability, so you can remove the whole entertainment system and install it inside of the trailer, which certainly will be a much better option in bad weather conditions.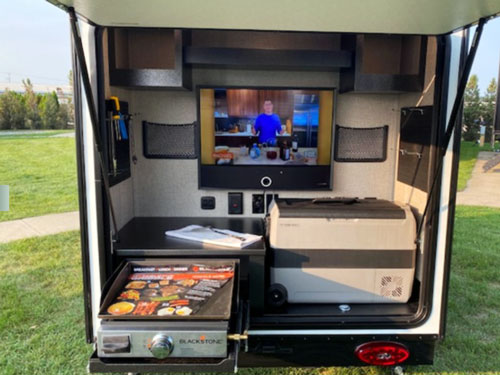 12SRK: Rear kitchen and Entertainment Center
         The fact is that the 12SRK travel trailer represents a low-cost solution for nature lovers. As a result, its basic version comes with a limited (essential) set of features.  For many, lack of bath may be a limiting factor, but that's the compromise between the weight, cost, and a level of comfort. It's worth to mention however, that designer and manufacturer made a genuine effort to provide enough flexibility in terms of how the limited resources can be used. Almost everything is self-contained which guarantees portability. Mentioned earlier entertainment system, but also cooler, and Blackstone griddle can be easily moved to where it may suit you better. Also, to help boondocking experience, all electrical devices run on 12Vdc!

Construction details
        Off-road design not only means high ground clearance and off-road tires (15" Goodyear) but first of all robustness and weather-resistant construction materials. 
The Norco frame is specially designed for lightweight trailers and represents one of the strongest strength-to-weight ratio frames available on the market. It's designed from low-alloy steel, assembled with high fatigue-strength huck bolts, and integrated with an A-frame. Electrically deposited coating adds corrosion resistance. Altogether – it's rugged and almost indestructible in off-road driving conditions design.
The shell is made from an aluminum frame with fiberglass laminated Azdel composite materials. That's what makes the shell rot & mold resistant! Note that Azdel is also a good sound barrier and has a better R-value than the wood of equivalent thickness! The front is protected from stones and debris by a diamond plate.
Extending out of the shell wheel-wells are more than any other part of the trailer exposed to mechanical stresses. To minimize the potential damage, they are made from impact-resistant galvanized steel.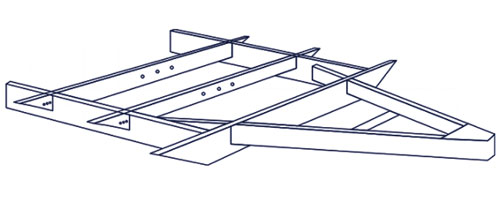 Norco frame: Concept for ultralight-weight travel trailers 
Practical notes:
          You will note the trailer's interior does not offer panoramic views nor sky-gazer windows. There are reasons for that.  Firstly, it is assumed that you have an abundance of "close-up and personal" contact with Mother Nature during your daily adventures. The other reason – windows represent weak spots in the thermal insulation barrier! While the 12SRK is not designed as an all-season camper, it is not equipped with a furnace.  You may appreciate good thermal insulation to continue outdoor activities over the extended seasons!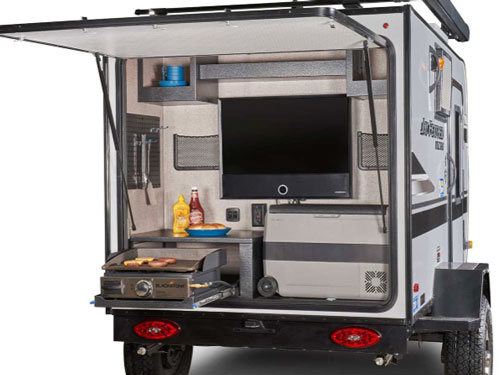 View at the rear kitchen
Specifications
---
Overall length

Exterior width

Exterior height

Interior headroom

Dry weight

GVWR

Cargo

Tongue weight

Freshwater tank

Greywater tank

Blackwater tank

LPG

Sleeps

Awning

13'4"

80"

7'10"

4'7"

1,585 lbs

2,795 lbs

1,210 lbs

180 lbs

25 gals

n/a

n/a

25 lbs

2

1
---
Construction
Chassis: Norco® frame with integrated A-frame
Shell: Aluminum w/Azdel composite, vacuum-bonded laminated walls
Axle: Single
Suspension: Dexter EZ-Lube rubber torsion
Protection: Front diamond plate 
Windows: G2o Tinted safety-glass
Wheels: 15" Goodyear Off-Road Tires w/aluminum rims
Wheel wells: Impact-resistant galvanized steel
Brakes: Self-adjusting, electric drum
Entry steps: Aluminum
Cabinetry: screwed/glued
Floor: Vinyl
Interior Features
Retractable futon sofa
Wardrobe
Overhead shelf
Vintage washed-gray finish (wood/wallpaper)
Curtains/shades
12SRK: Interior w/Entertainment Center
Exterior Kitchen
25 gallons fresh-water tank
12V/120V Dometic Cooler
17" pull-out Blackstone® griddle
Cupboards, shelf, wall-mounted pockets
Electrical outlets (120Vac/12Vdc)
Blackstone Griddle
Entertainment
32", 12V LED TV with built-in Bluetooth speaker
Exterior Features
20 lbs LPG bottle
LPG quick-connect port
2 storage compartments
Shower
Aluminum tread entrance steps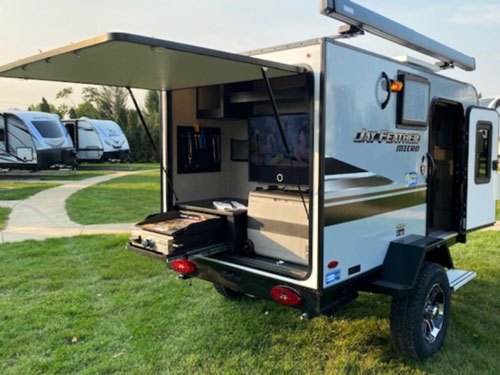 Jayco Jay Feather Mocro - model 12SRK
Electrical Features
30A service w/detachable power cord
Battery quick disconnect
Roof-mounted solar pre-wire 
Inverter pre-wire
LED lighting 
Power roof vent
Rear and side camera prep
Water pump
120Vac (GFCI) receptacles
12V receptacles
Safety
Alarms w/smoke, carbon monoxide & propane detectors
Lock system: Keyed Alike™
Options
8,000  BTUs side mount A/C unit
Customer value package (enclosed underbelly w/insulation, power tongue jack, spare tire… )
Go Power Solar package (190W panel and 30A controller)
Thule rack
Note that all Jay Feather Micro travel trailers come with 2-years limited and 3-years structural warranty!

Go back to: --> Top Small Travel Trailers
Note:  Check with the manufacturer and / or authorized RV Dealer for the up-to-date list of features, options as well as latest specifications. These written above may not be accurate and certainly are subject to change by the factory. We are not responsible for any inaccuracy, the above text is provided only for the general information.
This review was written based on publicly available information for the benefits of the community of RV-ers. We do not receive any gratification or financial benefits from RV manufacturers, dealers, and any other promoters of RVs. 
We are NOT involved in sale and/or retail of RVs!