Jeep Wrangler Action Camper
Go-Anywhere RVs
Jeep Action Camper does not compromise all-terrain capabilities of Wrangler allowing to explore the Mother Nature in a comfort of well equipped interior....
          Jeep Wrangler is recognized as a rugged, all-terrain vehicle able to take you on almost any imaginable exploration trip. 

In fact, sometimes it is hard to believe how far courageous, skilled driver can push the "combined" human & vehicle limits. The truth is that the Jeep Wrangler is probably one of very few popular Off-Road vehicles especially designed for "No-Road" conditions. Those having doubts I'm inviting to have good look at the picture below showing Jeep Wrangler JK Rubicon "In action".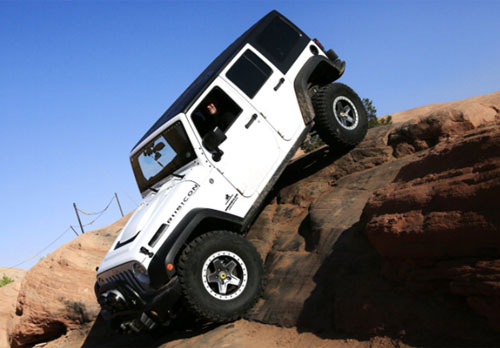 Jeep Wrangler AEV JK 350 Rubicon in action!

         No wonder, that it did not take long to come up with an idea to make on the basis of Jeep Wrangler an RV capable to take you anywhere, to negotiate all-terrain obstacles and still provide decent living conditions. Let's face it – many of us would like to explore difficult to access (and so most likely unspoiled) nature. But the time of "Pioneers" conquering the Big West is gone, to really enjoy the beauty of the Mother Nature we need some level of comfort like water, kitchen (instead of an open fire), toilet (instead of bush) and safe sleeping quarter(s) (keep in mind, the wilderness is full of not always ready for cohabitation creatures). But there is more than just our comfort – it's also our responsibility to preserve the beauty of nature by not leaving any traces of our journey.

         The challenge was taken up by Mr. Mario Donovan; co-founder of Adventure Trailers (Phoenix AZ).  Known as an aficionado of anything that can take him anywhere on two or four wheels, having experience from exploring vast and mostly wild territories of Eastern Africa (and to lesser extent rural California) Mr. Donovan commissioned his "dream-project" to an Austrian company Thaler Design. The rest is the successful history we will try to unfold below.
Using the best materials and construction methods from boat industry as well as 3D CAD tools Thaler Design designed and manufactured a slide-on truck camper commercialized under the name: Action Camper (note that camper's name is an "engraved" expression of its purpose: "Action"!). However, unlike traditional truck campers, this one was specifically designed for revamped four-door Jeep JK Wrangler Unlimited. The final product - Jeep Action Wrangler RV combines the best of two worlds (AT and RV): one of the top AT Vehicles and a comfortable camper for 2 designed to make the best use of each available square/cubic inch offered by the truck (Jeep Wrangler). 
Jeep Action Camper: road configuration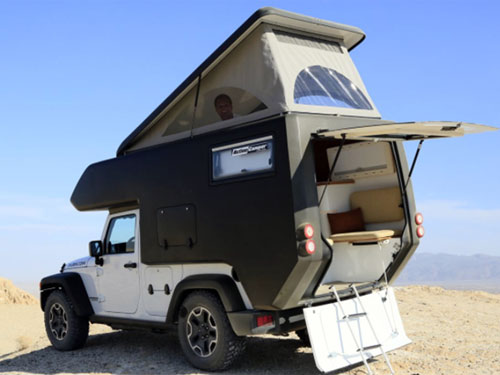 ... and in an "open" configuration with raised roof 
      While it can be only confirmed by users in real cross-country conditions, it seems that the Action Camper does not significantly compromise Jeep's "inherent" all-terrain capabilities.  
Camper's shell is made from fiberglass - lightweight, sturdy, waterproof as well no rust & mold material with good thermal insulation properties. It's worth to note that after removal of Wrangler's original components (hardtop, tailgate, rear seats w/seatbelts and rear roll cage) the installed Action Camper adds only 440 lbs to the combined dry weight of the Jeep. 
The rear part of the shell has "well-accented" departure angle helping Jeeps to keep their all-terrain driving capabilities. 
         Camper's interior offers surprisingly decent (if not comfortable) living conditions for two people. The hard-top pop-up roof with side-walls canvas opens the interior headroom to 6'3". The multipurpose space includes cleverly integrated sleeping space, kitchen, dining area and toilet. The individual components like storage compartments, cabinets, seats etc.  are "glued" into the shell. It's not only making it more practical and sturdy, in fact, such design approach significantly reinforces the whole camper's structure promising good durability and long (if not ever)-lasting functionality.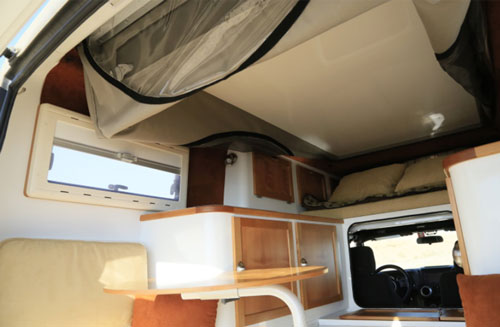 Jeep Action Camper: Interior seen from the rear entrance doors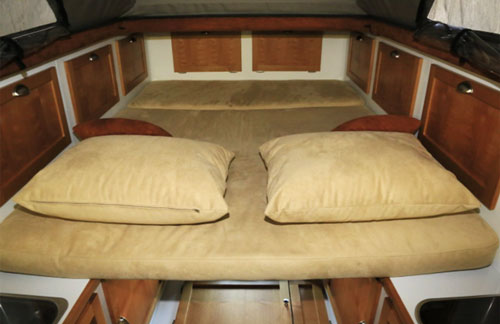 Sleeping space (note all storage compartments throughout)
2-burner stove with tinted glass cover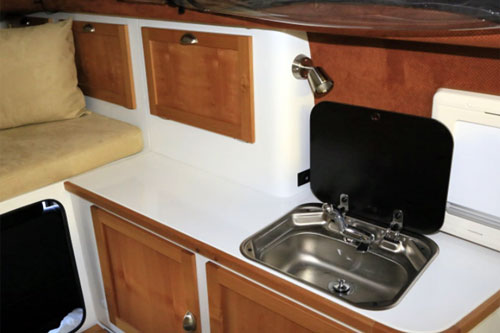 ... and on the opposite side sink with tinted glass cover
Once the bed is open  the countertops with flush-mounted cover lids can be used as the night tables. However if needed, you can still have access to both- the sink (here visible) and stove (on the opposite wall). So in Jeep Action Camper a cup of freshly brewed morning coffee served in a bed is not the dream, it's reality :-) 
        Queen-size sleeping space (79" x 59") comes with the mattress and large pillows w/removable washable, anti-mildew Alcantara covers. The "double-bed" when opened (pulled half-way out) partially spans over the countertops, allowing remaining countertop space to be used as night-tables. 
The galley includes several cabinets (two larger in front and three smaller on each side) offering ample storage space and working area (countertops). It is equipped with stainless-steel Dometic 2-burner gas stove with integrated knobs and starter-button. The LPG bottle is stored in the cabinet just under the stove. While you can reach it from the inside, for practical reasons you can also access it from the exterior (well-thought idea).  On the opposite side of the wall you will find stainless-steel sink with folding-down faucet and pull-out shower. Both appliances come with flush-mounted dark-tinted glass covers.
      The sizeable (10.6 gallons) refrigerator is located at the front of the camper so it can be also accessed from Jeep's front cabin (via small, but very practical "pass-through" opening). 
       At the rear side of the camper (highest headroom) there is small dining area including two seats and folding table. Thanks to sets of seat and backrest cushions (detachable, w/washable Alcantara covers) the dining area is comfortable not only for eating but also for rest, reading, playing games… . The table can be rotated to either side of the camper opening the access to the front area.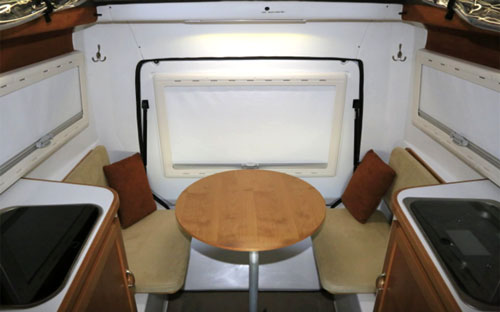 Dinette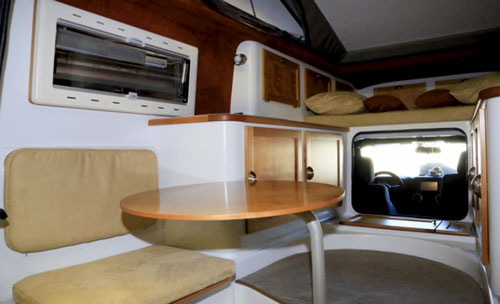 two large seats with cushions (here seen just one) and rotating round-table makes the dinette a comfortable place for more than just eating....
Note the carpeted area housing "basement"
       Obviously due to space limitations the Action Camper does not have fully-equipped interior bath. However, designers found the way to address "basic" needs. Camper includes a chemical toilet with 4 gallons fresh water and 5 gallons black-water tanks. 
While practical aspects had heavy impact on Action Camper design, the comfort and elegance were not left behind. For example, cabinet door frames are made from alder hardwood and doors themselves from alder plywood (alder with its tint spanning from light tan to reddish-brown has similar grain pattern and appearance to birch). Similarly, alder plywood was used for making the nicely rounded seats, backrests and dining table. The LED spotlights on the sidewalls above the galley add to interior's stylishness. 
Given the small size of the Action Camper, you will find there surprisingly plenty of storage space. On top of generous storage capacity of galley's cabinets and compartments all along the upper walls, there are also large storage compartments underneath both seats and smaller behind the fold-down backrests. Then there is an "extra-large" under-the-floor storage located in the central part of the camper (sort of a "basement") designed for heavier items (including spare tire, tools etc…).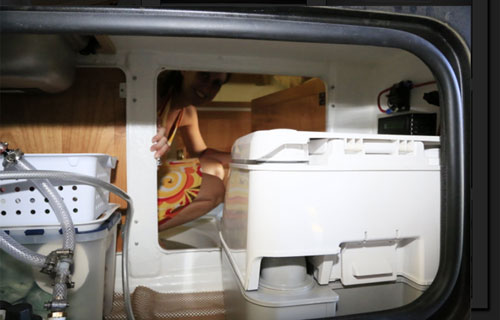 Cassette toilet in the storage is accessible from the outside.
        Jeep Action Camper is certainly not designed for use below freezing temperatures. The fiberglass shell makes relatively good thermal barrier and its most critical part (roof) has built-in honeycomb insulation. Additionally, overhead areas above the bed and along the living area walls are covered with layers of automotive insulation (upholstered with breathable Alcantara imitation of suede), however it will just help to extend the length of RV-ing seasons. For those "hard-to-die" the company offers optional Velcro-mounted thermal insulation for the canvas area under the raised roof. 
However, the bottom line is that the Action Camper does not have heating system and while you may be able to survive prolonged freezing temperatures, the water and plumbing system (as modest as it is) will certainly not.
For better energy autonomy the Action Camper can be equipped with up to four (roof-installed) 100W solar panels (for a total of 400W).
Specifications:
---
Extra dry weight (1)

Interior headroom (2)

Fresh water tank (3)

Grey water tank

LPG

Sleeps

Bed size

440 lbs 

6'3"

8 gallons

5 gallons

1 bottle

2

79" x 59"
---
1. RV's dry weight increase compared to the model of 4-doors Jeep Wrangler Unlimited
2. At the rear section of the camper with roof lifted-up 
3. Chemical toilet has its dedicated water tanks
Construction
Shell: Fiberglass
Pop-up roof: top fiberglass, side canvas with 3 vinyl windows
Rear entrance door (opening up) w/exterior steps
Interior Pass Through (between camper and Jeep's cabin)
Interior finish: Upholstered w/breathable Alcantara suede imitation
Connector: 6-poles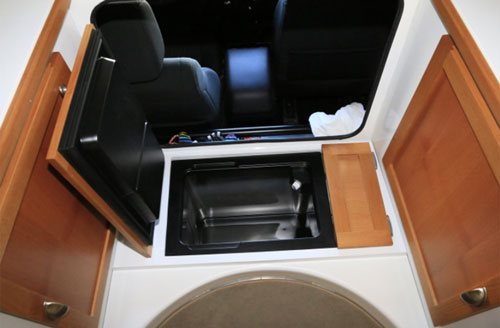 Fridge with an access from the camper and from Jeep's cabin (note the "Pass-Through" passage from the cabin into the camper)
Standard Features
Kitchen
2-burner gas stove w/flash-mounted glass cover
Sink with fold-down faucet and shower w/flash-mounted glass cover
10.6 gallons refrigerator
Fresh water tank (8 gallons) w/ automatic water pump
Grey water tank (5 gallons) w/ external drain plug
Cabinets w/ solid countertops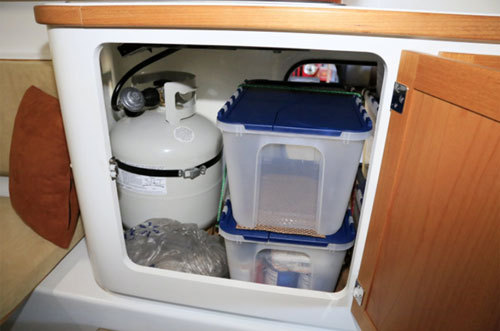 LPG bottle is stored in the kitchen cabinet just under the stove (Note that you have also access to this storage from the outside)
Living/Sleeping/Dining
Queen-size pull-out sleeping place made of two single beds
Dinette (rotating table and 2 folding seats w/cushions)
Double-walled, windows (2 on sides, one rear), opening w/lockable ventilation position
Insect screens, thermo-reflective blinds, 
Portable chemical toilet w/fresh and waste water tanks
"Pass-through" between camper and Jeep's cabin
Storage compartments
Interior/Exterior LED lights
USB ports
12V plugs
6-pole connector receiver 
Sliding-out entrance ladder (steps)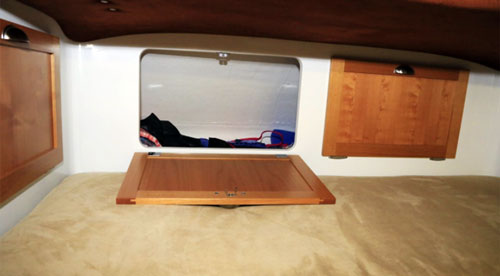 Jeep Action Camper is not short of storage area: here one of the wall storage compartments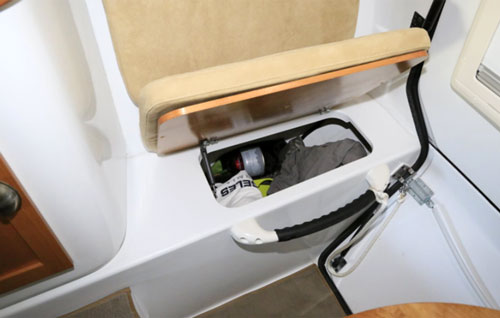 Storage compartment under the seat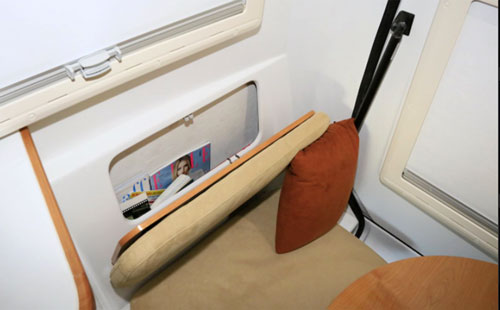 .. another storage compartment behind the backrest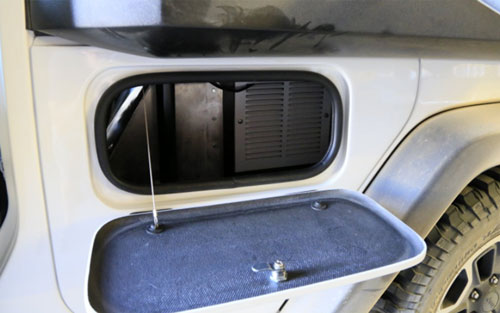 .... and an exterior storage compartment
Options
Dual battery system for the Jeep
Cable harness to connect the camper battery to the Jeep battery
Solar system (up to 4 x 100W panels plus controller)
Inverter
Water filtration system
2nd fresh water tank
Spare diesel tank
Entertainment system
Velcro-mounted insulation panels for the canvas area
      While "extras" will increase Jeep Action Camper's dry weight well above 440 lbs (standard configuration), most of them are worth to consider when you plan longer adventures into out-of-civilization/grid areas. And I guess that's the plan when you decided to own the Jeep Action Camper :-)

Summarizing: The Jeep Action Camper without significantly compromising the remarkable all-terrain capabilities of Jeep Wrangler, offers in a comfort of well-equipped interior possibility to explore the Mother Nature in a "Quite Different Way" – the way where the "Action" is at the first plan! It is distributed in North America by Adventure Trailers Inc. 
Due to initial success of the Action Camper, the company is actively working on modifications adapting the original camper's platform for use on other vehicles.
Go to: --> Review of Extreme Off-Road RVs
Note: All pictures are courtesy of Action Camper
Note:  Check with the manufacturer and / or authorized RV Dealer for the up-to-date list of features, options as well as latest specifications. These written above may not be accurate and certainly are subject to change by the factory. We are not responsible for any inaccuracy, the above text is provided only for the general information.
This review was written based on publicly available information for the benefits of the community of RV-ers. We do not receive any gratification or financial benefits from RV manufacturers, dealers, and any other promoters of RVs. 
We are NOT involved in sale and/or retail of RVs!