Jurgens Off-Road RVs
South-African Travel Trailers
Jurgens (South-African RV manufacturer) offers strong, sturdy yet practical and comfortable Safari Xcape and Xplorer off-road travel trailers desgned to face challenges of wilderness.
       It should be not surprising that Jurgens (South-African manufacturer of RVs operating since late 1950's) offers the series of off-road travel trailers

As we know, this region of Africa is rather dominated by vast areas of no-man lands (bush, savannas…) than modern network of highways. Off-road campers seem then to be an obvious choice for anyone attempting to explore wilderness.
The series of Safari off-road travel trailers includes models Xcape and Xplorer (both in standard and 2016 versions). Both designs show strong influence of challenges, namely: 
Safari Xcape 2016
visible: open exterior pantry, fridge (slide-out), and exterior tent w/shower  
Safari Xcape 2016 interior
limited trailer's dimensions, height and weight well within the towing range of traditional Jeep-likes 4WDs (note that in Africa quite often off-road condition means "no-road" condition, in contrast with US where mostly it means "dirt-road") 
requirement that basic features allow for prolonged activities in "out of grid" conditions (which locally means "out-of-civilization" in full meaning of these words.
Safety – here we understand it as the protection from wildlife including crawling and flying creatures as well as bigger "species".
High reliability and ruggedness; Well, keep in mind that in this corner of Africa not only the next garage may be hundreds of miles away but also your cellphone most likely will be out of reach throughout your "discovery trip" (unless you have the satellite-one).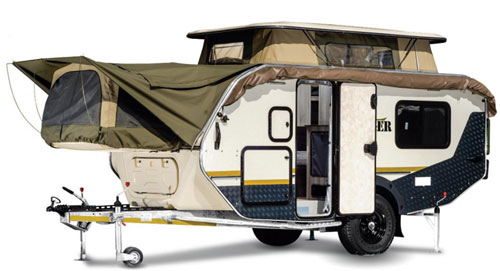 Jurgens larger model from the off-road series Safari:
Xplorer 2016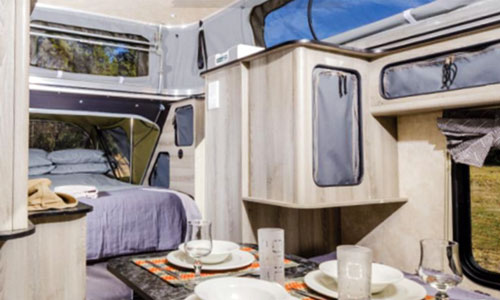 ... and it's interior
       Jurgens seems to answer these often-conflicting requirements. As you can see both models belong to the class of "Pop-Top" trailers. This design concept limits the height of the trailer on the road, provides comfortable headroom in camping configuration and still makes it "well-protected" (read-it "safe").  Both trailers come with bull-bars (in Canada known as "Moose-bars") as well as "Diamond Plate"-type steel stone protection all around the trailer. 
Other common characteristics of both trailers are "Slide-Out" tents and exterior galleys. In Xcape (smaller trailer) the tent opens on the curbside while in Eplorer in front over the tongue. (please note that South-Africa has "left-side" traffic). In both cases tents are well-above the ground level. Due to the fact that canvas-based tents make part the trailer we could say that both models make class of "Pop-Top Hybrid Travel Trailers". 
Exterior galleys a fully equipped with gas stove, sink w/hot and cold water, pantry and impressively large fridge w/freezer. Both galleys are protected by large awnings (standard features).
---



Overall length (1)

Overall width

Height closed

Height opened (2)

Dry Weight

GVWR

Cargo

LPG (3)

Sleeps

Xcape 2016


15.3'

73"

85.5"

108"

2,588 lbs

3,086 lbs

498 lbs

2 bottles

2

Xplorer 2016


18.9'

77.8"

92.2"

109"

3,130 lbs

3,638 lbs

508 lbs

2 bottles

4
---
1. Approximate values after conversion from original metric units
2. Exterior height with raised roof (pop-top) 
3. LPB bottles come with regulators
Construction:
Lifting mechanism for Pop-Top roof.
Axle: Single
Suspension: Independent swing-arm
Wheels: 15" w/black rims
Diamond-plate protection
Bull-bars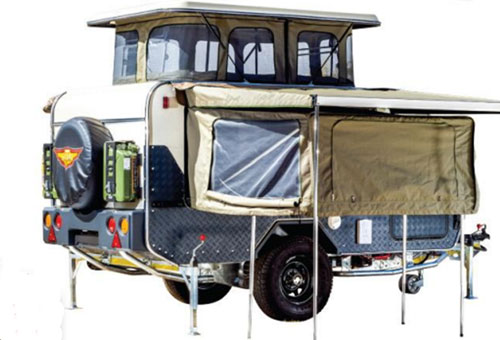 Safari Xcape 2016 - this time seen from its curbside
Standard Features:
Storage wardrobes, cupboards, lockers with removable canvas zip doors
Tableware holder
Dual-size bed (Stargazer-type in Xplorer)
12V water pump
Water heater (220Vac/gas)
Fresh water tank w/level indicator (Xcape – 16 gals, Xplorer – 29 gals)
Tongue (Jockey) wheel
4 jack stabilizers
2 LPG bottles with regulators
2 (5.3 gals each) fuel-canisters (mounted on the rear wall)
Spare tire (mounted on the rear wall)
220Vac/12Vdc SnoMaster refrigerator w/freezer (Xcape – 16 gals, Xplorer – 21 gals)
Beep-cycle battery system w/charger and level indicator)
220V shore connection
Interior/Exterior 220V receptacles
Interior/Exterior LED lights
Emergency kit (spare tire and triangle)
Bathroom (exterior cubical tent w/pull-out shower and exterior hose)
Porta-Pottie (with dedicated storage)
Awning(s)
Model's specific standard features
Xcape
Exterior "fold-out" galley w/2-burner gas stove, sink, hot/cold water tap and pantry w/workplace, drawers & shelves (canvas frontage).
Slide-out 220Vac/12Vdc 16 gallons SnoMaster refrigerator w/freezer
Xplorer
Exterior "Pull-out" galley w/2-burner gas stove, 21 gallons 220V/12V fridge, sink and hot/cold water tap
Dinette convertible to king-size bed (or 2 single beds)
Windows w/curtains 
Outside table
Two entry doors (on each side of the trailer)
As stated by the manufacturer, off-road Safari trailers are strong, sturdy but also practical and comfortable. They can safely take you "where the action is…".

Go back to: --> Review of Extreme Off-Road RVs
See more about: South-African RV Manufacturers
All pictures are courtesy of Jurgens (South-Africa)
Note:  Check with the manufacturer and / or authorized RV Dealer for the up-to-date list of features, options as well as latest specifications. These written above may not be accurate and certainly are subject to change by the factory. We are not responsible for any inaccuracy, the above text is provided only for the general information.
This review was written based on publicly available information for the benefits of the community of RV-ers. We do not receive any gratification or financial benefits from RV manufacturers, dealers, and any other promoters of RVs. 
We are NOT involved in sale and/or retail of RVs!